TOOL, STEEL BEANS In Portland, OR With Photos!

By Krishta Abruzzini, Pacific Northwest Writer
Thursday, October 26, 2023 @ 11:27 AM

| | | |
| --- | --- | --- |
| | | At Moda Center 10/19/2023 |
All Photos By Krishta Photography
Review Highlights By Maury Brown, Forbes Magazine
I recently (and very briefly) got the opportunity to photograph and see TOOL on their latest tour. A huge thank you goes out to the band's publicist in allowing us at KNAC.COM two reviews of this show, as the band makes its way across the U.S. and beyond.
Opening the show was solo, one-man band artist STEEL BEANS. Jeremy DeBardi (STEEL BEANS), sings, plays the drums, keyboards, and guitar all at once. He came out donned from head to toe in silver lame with a lawn blower propelling a cloth flame. Makes sense being this man prior to his fame was a lawn care guy. Having no idea who this was, I was both fascinated and more than a little concerned at what his act was all about, especially being an opener for the massive powerhouse that is TOOL. He came up with the name STEEL BEANS after stealing cans of baked beans when he blew the money his mom gave him on weed instead of groceries. He posted a video of himself playing online and it went viral, including comments from Dweezil Zappa and Lenny Kravitz. Memes began to circulate, and he became a hugely popular internet sensation. He has since landed a tour with TENACIOUS D and now TOOL. I thought he'd be somewhat schticky, but the dude has substance. His songs are crunchy and reminiscent of old SABBATH and that yummy 70's dirty rock vibe. Definitely worthy of his place on the stage that night.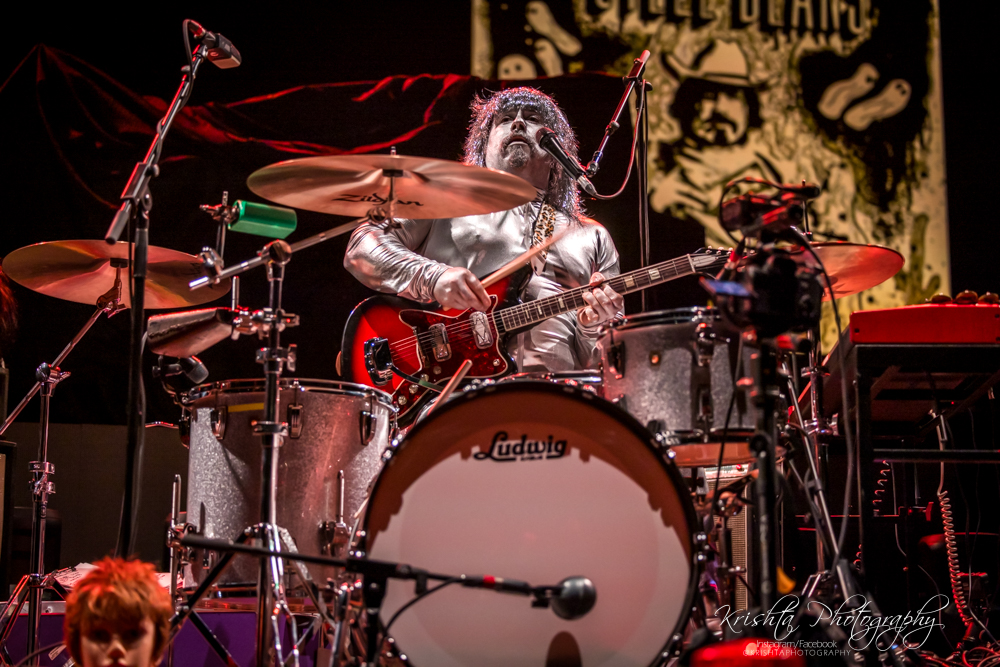 As headliner TOOL was about to go on, we as photographers were informed that the band was very leary about cameras. We were told that after our shoot, which was only one song, albeit in fairness, their songs tend to run long, we would have to put our cameras in our cars in order to return to the show. With over $10K worth of camera gear, in Portland, OR, that was not going to happen for me. Despite being told we should put them in our trunks where it might be safest, there's not one band out there that would be worth that risk. We waited in a room backstage after 3 songs of the opener and weren't allowed out into the venue with our gear. As we were escorted out to the stage for TOOL, we were told that security was on watch for the audience with their cellphones as well, and that they would only be given one warning, and kicked out of the venue if they attempted to take photos/videos a second time. So a formal review of the show was not going to happen this evening from me personally. Fortunately, I had my friend, who's a sports writer for Forbes, out in the audience and he gave me his take on the show, which I know was a religious experience for him. A big thank you to Maury Brown.
My one song review: The metal quartet of Justin Chancellor, Danny Carey, Adam Jones and Maynard James Keenan came out on the stage with one of the most dazzling LED background setups I've ever seen. They opened with "Fear Inoculum", which is the lead and title track of their latest album. Maynard, making (as always) his quirky appearance, was up on risers at the back of the stage often silhouetted by the stunning backlit screen, often crouching down veering at the audience between standing to sing. Visually it was spectacular. As a photographer, it was challenging trying to capture a swaying, often kneeling, darkly lit Maynard. I love a challenge however, and my ADHD was in full tilt between the lights and what was happening on the stage. It was definitely one of the loudest concerts I've been to. Still doesn't beat DINOSAUR JR. loud, but this one came in a close second. After the song, we photographers were quickly escorted backstage and out of the door of the venue, where most of us left not wanting to leave our gear in our cars. I feel like the venue should have a place for us to store our gear, especially those of us that plan to review the show as well as shoot. I'm not sure if this is a band policy, or the venue, but not a great plan in any event.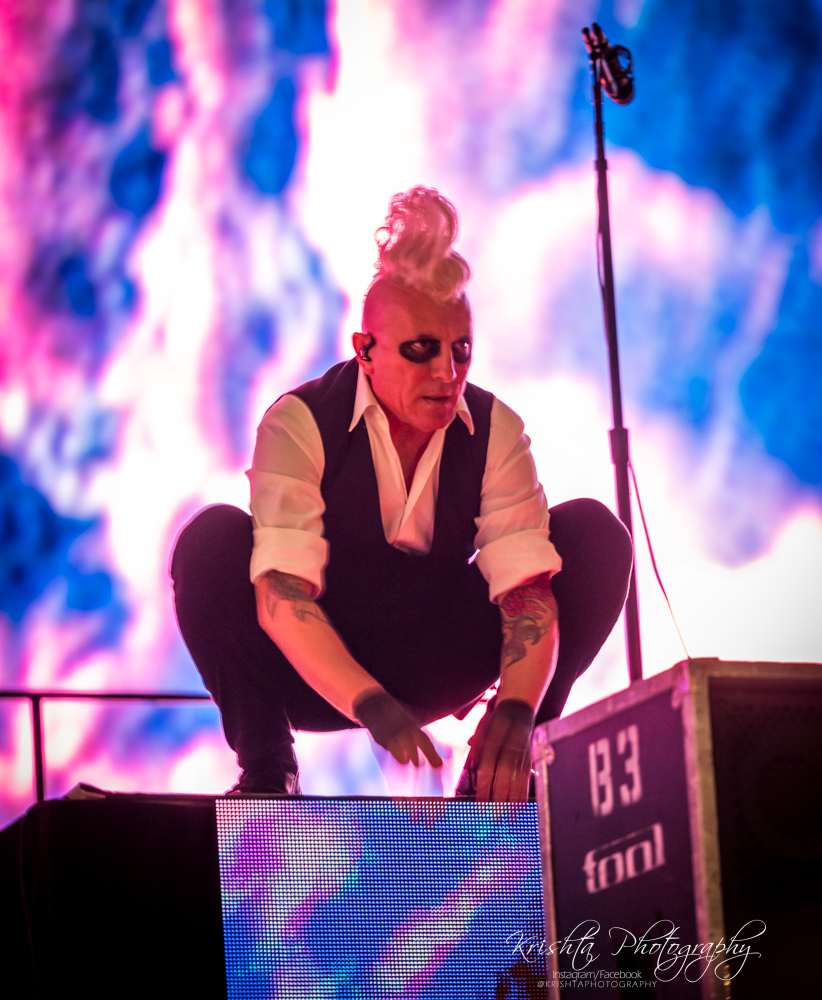 Maury Brown's Review: If there was any doubt that TOOL may be slipping over time, last night proved they are still a powerhouse of pulsating darkness, ethereal and arguably prog's crown prince. While not all deep tracks ("The Pot", "The Grudge", "Jambi" were performed), the set leaned into the atmospheric at times notably with "Culling Voices" and "Chocolate Chip Trip". Fans of older catalog material didn't get much to chew on with "Swamp Song" the lone song off Undertow. And the title track of AEnema. No "Sober". No "46 & 2". Instead, fans got much off Fear Inoculum. A highlight was the absolutely blistering "Rosetta Stoned" which hadn't been performed by the band on tour since 2018.
Maury tells me that he thought it was the best mix he's ever heard. He also said it was loud AF (I concur), and brought earplugs, but decided that since he's already deaf (being a lifelong musician himself), with the mix being so good, he might as well hurt himself and enjoy the ride.
SETLIST:
"Fear Inoculum"
"Jambi"
"The Pot"
"Rosetta Stoned"
"Pneuma"
"Descending"
"Swamp Song"
"The Grudge"
"Chocolate Chip Trip"
"Culling Voices"
"Invincible"
"AEnema"
Check out some more photos from the show!
All Photos By Krishta Photography