AUTOPSY Ashes, Organs, Blood And Crypts

By Peter Atkinson, Contributor
Friday, October 27, 2023 @ 8:12 AM

| | | |
| --- | --- | --- |
| | | Photo Credit: Nancy Reifert |
AUTOPSY
Ashes, Organs, Blood And Crypts
Peaceville Records




At this stage of the game, you should pretty much know what to expect when a new AUTOPSY album turns up - an unapologetically raw, gnarly death metal clamor punctuated by creepy crawl doom divergences, horrific cover artwork and songs redolent with nasty bits from a team that has been spewing out this sort of thing for a long, long time, even with a 14-year hiatus factored in.

Ashes, Organs, Blood And Crypts, the band's ninth album and fifth - to go along with three EPs - since its 2009 reformation, offers all of the above and with the usual low-brow aplomb. Following hot on the heels of the barely year-old Morbidity Triumphant, which was AUTOPSY's first full-length in seven years, Ashes picks up right where its predecessor left off, doling out the likes of "Marrow Fiend", "Well of Entrails", "Lobotomising Gods" and "Toxic Death Fuk" with lurid glee.

They follow the band's usual sprint and slog, or slog and sprint - or some variation thereof - script, delivering a putrid pile of gnashing, turbulent riffs and the combination of Chris Reifert's clattering drums and phlegmy, deranged caterwaul. The songs rarely, indeed if ever, stick to a single tempo the whole way through, even the shorter "Throatsaw", which clocks in at just 2:31.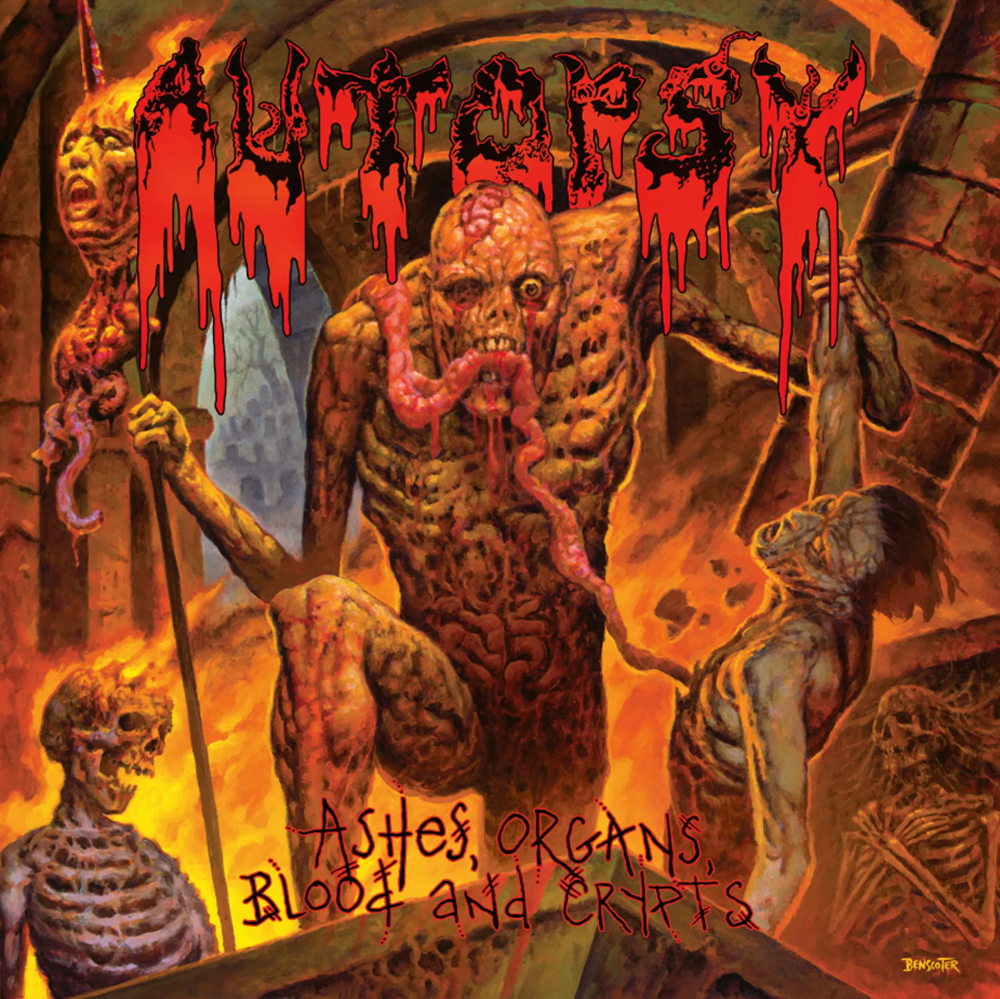 The opener "Rabid Funeral" starts as a fast and furious number with a tangle of leads from Eric Cutler and Danny Coralles before slowing to a crawl and some surprisingly bluesy soloing. On the flipside are "No Mortal Left Alive", which starts low and slow before ramping up to a determined chug, or the epic, dare I say majestic, doom that kicks off "Well of Entrails" before stomping on the gas to end at full bore.
Given the quick turn from Morbidity Triumphant, you might suspect that AUTOPSY was using Ashes an exercise is cleaning out the crypt, as it were, offering up the bones and dust left lying around. Or it could have been a pique of creative fervor, which is nothing new for a band that offered three albums and two EPs from 2010-2015. In either case, the material here is anything by slap-dash or second rate.
Indeed, while Ashes is as rough and tumble as always,it finds the quartet being atypically frisky and playing things a bit fast and loose, as evidenced by the back and forth of most of the songs, the old school hardcore bluster of "Toxic Death Fuk" or the manic thrashiness of "Death Is The Answer". And like "Rabid Funeral", "Marrow Fiend" is awash in dueling leads from Cutler and Coralles. Their nifty soloing - which can often be overlooked in the band's steadfastly unpolished sound - really pops here and gives the album some unexpected zazz, such as that applies to someone like AUTOPSY.
Newish bassist Greg Wilkinson, who joined for Morbidity Triumphant, makes himself more at home here with his grindy bottom end delivering a swagger to match the crafty guitar work. It thickens an already murky stew but adds a bit of spice along the way. Add Reifert being Reifert and you've got a genuinely, well, triumphant album from a band that keeps doing what it does yet manages to do it better the older and crustier it gets.
4.0 Out Of 5.0