Well one year and 2 months ago I witnessed a small snippet of this event in person at the sold out LA Forum for which we were the only radio station Broadcasting live outside before the show with the many restless rabid pure rock fans.

First "Headbangers Journey" then "Global Metal" and now "Flight 666" Sam Dunn & Scot McFadyen are on a roll with a subject matter that is near and dear to me and this time its a massive under taking on the road and in the air with the mighty Iron Maiden on a customized Boeing 757, "Ed Force One", which carried the band, crew and tons of gear all while being piloted by Bruce Dickinson no less!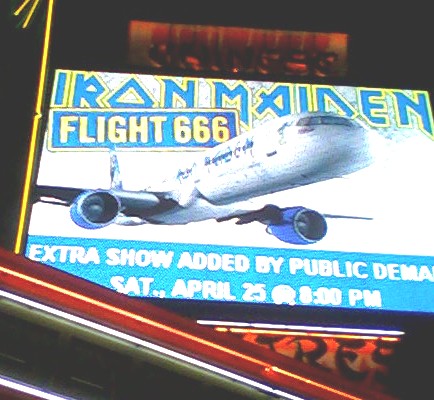 This tour covered 5 Continents 23 concerts, 50,000 miles and over 500 hours of footage shot for the "Somewhere Back in Time Tour".
Tonight their film will be screened in over 450 special digital movie theaters in 42 Countries at once. There is also a lot of breathtaking "chase footage" shot alongside the plane as well as sweeping images of all the countries visited. It's pretty sweet.
"Flight 666" is a no brainer for all Maiden fans to enjoy. Its not just a straight concert performance, but a nice behind the scenes glimpse into one of the thee most successful Metal bands period and shows just how popular they are throughout the world and why. The Mumbai scenes were amazing as was South America for the many passionate fans there. Just incredible.
The one part that grabbed me and there were many was the Columbian fan in tears long after the concert with drumstick in hand overcome by emotion...THAT was an awesome moment and glad the film makers left it in. Something I could relate to in my youth seeing my favorite bands live in person.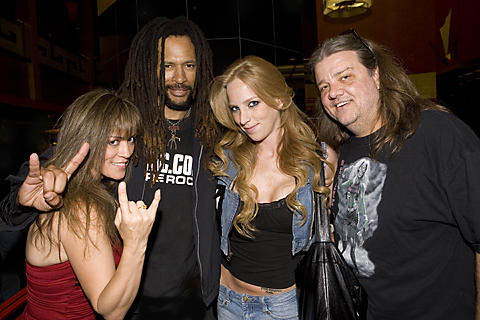 It easy to take for granted living in Los Angeles because we get to see a lot of tours but for some countries its much more of an event to see a band like Maiden and in some cases the sole highlight in the lives of many.
"IRON MAIDEN: FLIGHT 666" comes out in May 25th on EMI Records, June 9th in Canada & The US via Universal Music on Blu-ray, 2-DVD Set and Live Double Soundtrack Album.
(Photo by Laurie Scavo)

So if you dont get to see this in the theatre like me I urge you to pick it up next month. You really do feel like your there when you see this and if you were well you just might spot yourself headbangin'and singing along to the songs.
Up The Irons!!
A huge thank you to Evan Saxon at D&E entertainment, Gregg Journigan @ EMI/Rockline and to everyone involved who gave Sam & Scot the "greenlight" to bring their vision to the screen and soon to DVD!