Ozzy Osbourne: Year Of The Madman


By Don Sill, Contributor
Tuesday, May 7, 2002 @ 3:26 PM


| | | |
| --- | --- | --- |
| | | From The Osbournes To T |
Damn… What a year for Ozzy... First he hits us with his new album (Down to Earth; released August 22, 2001) where on his first single, "Get's Me Through" he claimed; "I'm not the kind of person/ you think I am." He then backed up his statement on March 5th, 2002 with the MTV hit The Osbournes, which takes us inside the Osbourne home and shows the world first hand the kind of person that Ozzy really is. The Osbournes is a reality based sitcom which exploit's Ozzy's family as a sort of 'real-life Adams Family' pinning his children as 2 misfit rich kids (Jack & Kelly), who dye their hair odd colors and pierce their faces just to prove that they are indeed the creepy offspring of the anti-Christ. Lovely wife Sharon is cast as the caretaker and brains of the family, accompanied by a pack of spoiled dogs & cats that most likely eat better than most humans do. (So far no animals have head their heads bitten off, although Ozzy does flirt with the idea from time to time.) As for Ozzy, he is the burnt out dad with incomprehensible language skills, who's past crazy antics, controversial behavior and metal mayhem have supported this dysfunctional millionaire family for nearly 30 years. Sure, it's exploitation to the fullest… Ozzy explains, "It's like the fuckin' Real World in the Ozzy Osbourne house, man. The cameras are a bit inhibiting, but then you get used to them." This show has become a phenomenon that has turned the Osbourne family (dogs included) into celebrities. With a long list of mainstream magazine covers and appearances on Rosie, Jay and Howard, you can bet that this family has found the money-shot in good ol' daddy. One thing's for sure; Ozzy and his family have the whole world talking. "Oh God, I'm addicted to The Osbournes," says the fellow Metal God, Rob Halford. "It's just the funniest thing, a real joy to watch, it's so much fun and I love it to death. The real irony of that show is that Ozzy is the sanest member of his family. He's just this regular dad trying to hold it all together. He's got this crazy wife and crazy kids and he's just there with his head in his hands and like 'gimme strength to make it through another day.' It's so funny, I love it."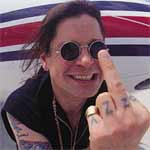 Another fellow metal icon, Lemmy of Motorhead adds, "I haven't seen it yet, but I'm sure it's most unfortunate [Laughs]." When asked if he would ever allow the cameras to come and invade his privacy, Lemmy said, "No, I wouldn't... I don't mind the cameras, I just usually don't like the people carrying them." The Osbournes ultimately became the most watched program on television and the highest rated show in MTV history. Not bad for a guy who some put off as an aging novelty act. Aside from his hugely successful reality television show, Ozzy has been garnering kudos with his string of enormous Ozzfest concerts. Ozzfest is a traveling rock concert that tours the U.S. all summer long and each show rocks throughout the entire day from morning to night with up to 20 bands in attendance. This head banging carnival showcases some of the biggest names in metal music as well as introduces many rookie bands to the fans, as well making Ozzfest a staple on the metal music industry and a must see for all true metal heads... "[Ozzfest] has gone way beyond my expectations, man,." explains Ozzy, "But, I can't take the credit for all those bands, ya know... It really should be called the 'Jack & Sharon Fest' 'cause they book the bands and they work the whole tour. My wife's amazing, man." This year Ozzfest welcomes such newbies as: The Apex Theory; Flaw; Soil; Meshuggah; 3rd Strike; Ill Nino and the Lostprophets, as well as hot billboard breakers as: Mushroomhead; Adema; P.O.D. and Drowning Pool, as well as veterans: Rob Zombie; Hatebreed; System of a Down and Zakk Wylde. "Sharon and Jack really have some great bands lined up for this time around," Says Ozzy. "But, I just do my own thing and I hope people enjoy the show and buy my stuff." For a new band, the Ozzfest is an excellent way to get out, rock hard and win over legions of fans nation wide and expand their audience. Acts such as Drowing Pool, Disturbed, Godsmack & SOAD began on the Ozzfest 2nd stage and earned enough bones to graduate to the main stage, showing growth and promotion through the ranks of the metal hierarchy. "It's the rock genre's showcase," says Nonpoint's Elias Soriano. "It's a who's who of rock music and whose hot and coming up in rock music right now in the present. Ozzfest is a big great showcase."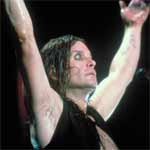 Although the more popular bands play on the main stage, it was the second stage that often keeps the momentum of what rock and roll is all about. It's where the fans could discover new bands, let loose, be free and release all there pent up aggression and rage on the mosh pit battle field. Kids clawing and kicking with excitement, pushing and shoving and knocking around like loons make for quite a chaotic ambience. "Our goal was to take over that fucking tour, man," says Spineshank's Jon Santos, who toured with Ozzfest in 2001. "It's a lot of fun and there's a lot of unity on the second stage. It's like a big-ass family over here." The vibe is more like a dysfunctional family and there may have been unity, but the atmosphere is usually anything but tame, as water bottles fly through the smoggy air and sweaty tee shirts are torn and left mangled in muddy mosh pits… sunburned bodies surfing over countless hands as thousands jump, bang and bump to the insanity of the hard stomping music of the second stage. "The kids are jumping and singing along with the songs and really reacting very well," says No One front man, Murk, who also graced the second stage last year. "The Ozzfest is just great, man." "It's like heavy metal summer camp," says Hatebreed vocalist/lyricist, Jamey Jasta. "Kids just come for the day, have a blast, get trashed, go and buy some records and some tee-shirts and see a bunch of great bands… a bunch of different style bands and at the end of the day -- it's like you're never the same." Most fans will never be the same again after their unique experience at Ozzfest. 13 hours of fast, in-your-face metal that refuses to let up or back down for even a millisecond does have a long lasting effect.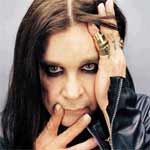 The mighty Ozzfest has become an institution for metal bands old and new as well as for metalers and headbangers everywhere. "Ozzfest makes Woodstock look like Disney Land, man," says a fan. "Screw love and all that shit, I just want to knock people down." Aside from a hit television show a, hit album and a hit tour, Ozzy also has a Playstation 2 video game ("Ozzy Osbourne's Black Skies") and his very own star on the Hollywood Walk of Fame, proving that after 30 years in the game, he's still hotter than the devil himself. So, you can call him overloaded, overblown, overbearing, over the top, over weight, over indulged, overexposed and even over the mountain, but just don't you dare call Ozzy Osbourne over. "I must be a phenomenon," says Ozzy, "Because kids of all ages still love me... My mind still thinks I'm 21 you know, and I'm still carrying this old butt around." For more on Ozzy and the Ozzfest log to: ozzy.com or ozzfest.com.




Please log in to view RANTS

If you don't have a username, click here to create an account!