The Stones Tour Goes Up Like A Led Zeppelin


By Phyllis Pollack, Contributor
Thursday, May 9, 2002 @ 4:47 PM


| | | |
| --- | --- | --- |
| | | The Rolling Stones Annouce The |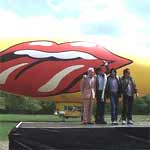 The Rolling Stones announced plans for their upcoming World Tour 2002/2003 on Tuesday, May 7, at a press conference that was held after the group landed in a blimp in New York City's Van Cortland Park. The band, comprised of Keith Richards, Mick Jagger, Charlie Watts and Ron Wood, literally descended upon fans and members of the press, who witnessed the spectacle in awe. Their tour is slated to begin on September 5th of this year at Boston's CMGI Field. The Stones will be playing shows in both stadiums and arenas, as well as gigs in small clubs. In the past, more intimate club gigs were always slated as surprise gigs, and were announced at the last moment. The Rolling Stones still hold the record for the three most attended tours of all time, "Bridges To Babylon," "Steel Wheels," and "Voodoo Lounge." Coinciding with the tour, the Stones will be releasing a CD set, containing some of their greatest hits, as well as previously unreleased material from the band. The Stones will be recording new material for the album in Paris, and thereafter, the band will be on their way to Toronto for rehearsals for the tour. So far, the Stones have not publicly revealed the name of the tour, which will relate to the title of the upcoming album package that will be released by Virgin Records. The Stones will be finalizing their concert tour in the States in February of 2003, and from the U.S., the band will continue touring in Europe, Japan, Australia, and in other countries. The opening acts have not been announced yet, although some dates will include No Doubt, Sheryl Crow, and Jonnie Lang. The Rolling Stones originally formed forty years ago, in 1962. A year later, drummer Charlie Watts joined the group. Guitarist Mick Taylor replaced Bryan Jones, who died in 1969, after drowning in his swimming pool under the influence of drugs and alcohol. After Taylor departed from the band, guitarist Ron Wood took his place in 1975 as Keith Richards' perfect foil. Bassist Bill Wyman announced his own departure from the group in 1993, and Darryl Jones has since filled in for him. As with the past several tours, the Stones will be joined the extraordinary back-up singer, Bernard Fowler. ROLLING STONES – WORLD TOUR 2002/2003 09/05/02 Boston CMGI Field
09/08/02 Boston The Orpheum Theatre
09/10/02 Chicago United Center
09/13/02 Chicago Comiskey Park
09/16/02 Chicago Aragon Ballroom
09/18/02 Philadelphia Veterans Stadium
09/22/02 Philadelphia Tower Theater
09/26/02 New York Madison Square Garden
09/28/02 New York Giants Stadium
09/30/02 New York Roseland Ballroom
10/04/02 Washington, DC FedExField
10/12/02 Detroit Ford Field
10/14/02 Cleveland Gund Arena
10/16/02 Toronto Air Canada Centre
10/18/02 Toronto SkyDome
10/20/02 Columbus Nationwide Arena
10/22/02 Ft. Lauderdale National Car Rental Center
10/23/02 Miami American Airlines Arena
10/26/02 Atlanta Turner Field
10/31/02 Los Angeles STAPLES Center
11/02/02 Los Angeles Edison Field
11/04/02 Los Angeles Wiltern Theater
11/08/02 San Francisco Pac Bell Park
11/14/02 San Diego Sports Arena
11/23/02 San Antonio SBC Center
11/25/02 Nashville Gaylord Entertainment Center
11/29/02 Las Vegas Venue To Be Confirmed
01/08/03 Montreal Molson Centre
01/10/03 Pittsburgh Mellon Arena
01/25/03 Houston Reliant Stadium
01/30/03 Phoenix America West Arena
02/01/03 Denver Pepsi Center

Additional cities and venues to be announced.






Please log in to view RANTS

If you don't have a username, click here to create an account!






Represent! Get Your KNAC.COM Bumper Sticker

Happenings This Week on KNAC.COM

THE DEAD DAISIES Announce EU & UK Summer Tour

MENZAJAMS Presents NICK MENZA Benefit Concert, Auction

JIZZY PEARL'S LOVE/HATE Confirm UK Tour

MONSTERS OF ROCK CRUISE 2019 Lineup Revealed

DEVIN TOWNSEND Announces ERAS Part 1 Vinyl Collection

RAGE Members Form New Band REFUGE, Release New Single

ANGEL VIVALDI Announces The "Melodic Decadence" Summer Tour

Guitarist PAUL CROOK Launches All-Star Interactive Band DEVILSTAR

NIGHT DEMON Reveal Details For "Darkness Over North America Tour" 2018

FATES WARNING Announce Live Over Europe Album

Three KING DIAMOND Vinyl Reissues, Abigail, Fatal Portrait And Them Now Available

DEVILDRIVER Reveals Outlaws 'Til The End Country-Gone-Metal Covers Album

Rock/Metal Artist DEREK HESS Announces "31 Days in May" Mental Health Awareness Tour

CANDLEMASS To Release New EP House Of Doom

HOGAN'S GOAT Unleash "Shit Kicker" Video

TNT Releases New Single "Tears In My Eyes"

EVERY MOTHER'S NIGHTMARE Album Smokin' Delta Voodoo Gets Reissue

Canada's LOUD AS HELL Announces 2018 Line Up W/ FIT FOR AN AUTOPSY, ARCHSPIRE, INTO ETERNITY, NINJASPY And More

RED DEVIL VORTEX Launches "Something Has To Die" Video

HALESTORM Add Dates To Female-Fronted Hard Rock Tour

A PERFECT CIRCLE Share New Song "So Long, And Thanks For All The Fish"

TREMONTI Releases Music Video For Debut Single "Take You With Me"

LIZZY BORDEN Returns With His First Album In 11 Years, My Midnight Things

LORD OF THE LOST Announce New Album Thornstar, European Tour Dates

LOUDWIRE Announces GEN-X SUMMER With BUCKCHERRY, P.O.D., LIT, & ALIEN ANT FARM

VILE CALIBER Release New "Willpower" Track, Video

MARDUK Announce New Album Viktoria

THE RAVEN AGE Reveal New Vocalist MATT JAMES

GHOST Set To Release New Album Prequelle

CKY Announce Summer Co-Headline Tour With SLAVES

AMANDA SOMERVILLE'S TRILLIUM Reveal New Album, Tectonic

THE ATOMIC BITCHWAX Confirm North American Tour With THE SWORD

MADBALL Announce For The Cause Album Details

Symphonic Metallers GRAVESHADOW Unveil New Video For "Warchief"

MISS MAY I Launch New "Under Fire" Music Video

SEVENTH WONDER Announce New Album, Tiara

ARTILLERY To Reissue B.A.C.K. Album In June

YES Featuring ANDERSON, RABIN, WAKEMAN Announce QUINTESSENTIAL YES: THE 50th ANNIVERSARY TOUR

STRIKER Unleash "Pass Me By" Video

VICIOUS RUMORS Announce "Digital Dictator - 30th Anniversary Tour"

LAS RAGEOUS Band Performance Times Announced

PHOENIX RISING Release Video For "Lights Out"

DORO Unveils Cover Artwork + Title Of New Upcoming Album Forever Warriors, Forever United

ALICE COOPER Extends North American "Paranormal Evening" Tour Through October

TRIVIUM Launches "Endless Night Video

TOOL Music Clinics Announced For May

AFTERSHOCK Festival Reveals 2018 Band Lineup

VOICES OF EXTREME Announce Debut UK Tour

SALEMS LOTT Release "Royal Desperado" Video

VANLADE Stream "The Curse at Raven's Reach" Song

SABER TIGER Eastern Europe 'Devastation Tour' Announced

BULLET "Fuel The Fire" In Newly Launched Video

SEVENDUST Are "Not Original" With New Video

TREMONTI Stream New Album Title Track "A Dying MAchine"

MEGADETH Announce Killing Is My Business...And Business Is Good: The Final Kill Deluxe Reissue Of Iconic Debut Album

NERVOSA Debut "Never Forget, Never Repeat" Track

FIVE FINGER DEATH PUNCH Stream New "Fake" Track

KORPIKLAANI Announce New Studio Album, Kulkija

RINGS OF SATURN Release Music Video For "Margidda"

EXMORTUS Premiere New Single, "Make Haste"

MILLENNIAL REIGN "Break The Tide" With New Video

THE NIGHT FLIGHT ORCHESTRA Reveal New Album Sometimes The World Ain't Enough

GRAVEYARD Debuts New Video For "Please Don't"

GRANNY 4 BARREL Unleash "She Likes Guns" Video

Original VICIOUS RUMORS Bassist DAVE STARR Celebrates 30th Anniversary Of Digital Dictator Album

K.K. DOWNING Unveils Autobiography Cover For US Edition Of Heavy Duty: Days And Nights In Judas Priest

LORDI Reveal Sexorcism Album Details

TETRARCH Announces Upcoming Headline Tour Dates

ALESTORM, GLORYHAMMER Announce North American Tour

FLESHGOD APOCALYPSE Equipment Stolen In Sweden

NEKROGOBLIKON Unleash Bombastic New Track, "The Magic Spider"

WITCH MOUNTAIN Confirms North American Summer Tour

SOULFLY/CAVALERA CONSPIRACY Guitarist MARC RIZZO Announces NYC Listening Party

WORHOL Streams New Track "Is This What's Left Of Me"

OTEP Announces "FIRE & FURY" North American Summer Headline Tour Dates

A KILLER'S CONFESSION Releases Music Video For "Angel On The Outside"

GRUESOME Announce Second Full-Length Album, Twisted Prayers

KOBRA AND THE LOTUS Premiere Music Video For Japanese Version Of "Let Me Love You"

WELCOME TO ROCKVILLE Band Performance Times Revealed

BULLET FOR MY VALENTINE Set To Release New Album Gravity

GODSMACK Premiere "Bulletproof" Video/Short Film

POWERWOLF Unveil The Sacrament Of Sin Album Details

DIMMU BORGIR Unleash "Council Of Wolves And Snakes" Single, Video

HATCHET Releases "Desire For Oppression" Video

FORT ROCK Band Performance Times Announced

AT THE GATES Premiere "A Stare Bound In Stone" Video

GALACTIC EMPIRE Announce New Ablum Episode II

RIOT V Debut Heart Of A Lion Video

SLAYER Announces The Repentless 6.66-inch Special Collector Vinyl Box Set

ALICE COOPER Guitarist RYAN ROXIE To Release New Solo Album Imagine Your Reality

MOTOGRATER Announce Spring And Summer Tour Dates

JUNGLE ROT Premiere "The Unstoppable" Video

Joe Lynn Turner's SUNSTORM To Release The Road To Hell Album

TWISTED SISTER Frontman DEE SNIDER Returns To Broadway IIn The Epic Concert Rocktopia

TREMONTI Anounce New Album A Dying Machine