The Stones Tour Goes Up Like A Led Zeppelin


By Phyllis Pollack, Contributor
Thursday, May 9, 2002 @ 4:47 PM


| | | |
| --- | --- | --- |
| | | The Rolling Stones Annouce The |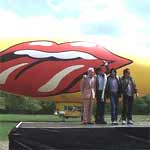 The Rolling Stones announced plans for their upcoming World Tour 2002/2003 on Tuesday, May 7, at a press conference that was held after the group landed in a blimp in New York City's Van Cortland Park. The band, comprised of Keith Richards, Mick Jagger, Charlie Watts and Ron Wood, literally descended upon fans and members of the press, who witnessed the spectacle in awe. Their tour is slated to begin on September 5th of this year at Boston's CMGI Field. The Stones will be playing shows in both stadiums and arenas, as well as gigs in small clubs. In the past, more intimate club gigs were always slated as surprise gigs, and were announced at the last moment. The Rolling Stones still hold the record for the three most attended tours of all time, "Bridges To Babylon," "Steel Wheels," and "Voodoo Lounge." Coinciding with the tour, the Stones will be releasing a CD set, containing some of their greatest hits, as well as previously unreleased material from the band. The Stones will be recording new material for the album in Paris, and thereafter, the band will be on their way to Toronto for rehearsals for the tour. So far, the Stones have not publicly revealed the name of the tour, which will relate to the title of the upcoming album package that will be released by Virgin Records. The Stones will be finalizing their concert tour in the States in February of 2003, and from the U.S., the band will continue touring in Europe, Japan, Australia, and in other countries. The opening acts have not been announced yet, although some dates will include No Doubt, Sheryl Crow, and Jonnie Lang. The Rolling Stones originally formed forty years ago, in 1962. A year later, drummer Charlie Watts joined the group. Guitarist Mick Taylor replaced Bryan Jones, who died in 1969, after drowning in his swimming pool under the influence of drugs and alcohol. After Taylor departed from the band, guitarist Ron Wood took his place in 1975 as Keith Richards' perfect foil. Bassist Bill Wyman announced his own departure from the group in 1993, and Darryl Jones has since filled in for him. As with the past several tours, the Stones will be joined the extraordinary back-up singer, Bernard Fowler. ROLLING STONES – WORLD TOUR 2002/2003 09/05/02 Boston CMGI Field
09/08/02 Boston The Orpheum Theatre
09/10/02 Chicago United Center
09/13/02 Chicago Comiskey Park
09/16/02 Chicago Aragon Ballroom
09/18/02 Philadelphia Veterans Stadium
09/22/02 Philadelphia Tower Theater
09/26/02 New York Madison Square Garden
09/28/02 New York Giants Stadium
09/30/02 New York Roseland Ballroom
10/04/02 Washington, DC FedExField
10/12/02 Detroit Ford Field
10/14/02 Cleveland Gund Arena
10/16/02 Toronto Air Canada Centre
10/18/02 Toronto SkyDome
10/20/02 Columbus Nationwide Arena
10/22/02 Ft. Lauderdale National Car Rental Center
10/23/02 Miami American Airlines Arena
10/26/02 Atlanta Turner Field
10/31/02 Los Angeles STAPLES Center
11/02/02 Los Angeles Edison Field
11/04/02 Los Angeles Wiltern Theater
11/08/02 San Francisco Pac Bell Park
11/14/02 San Diego Sports Arena
11/23/02 San Antonio SBC Center
11/25/02 Nashville Gaylord Entertainment Center
11/29/02 Las Vegas Venue To Be Confirmed
01/08/03 Montreal Molson Centre
01/10/03 Pittsburgh Mellon Arena
01/25/03 Houston Reliant Stadium
01/30/03 Phoenix America West Arena
02/01/03 Denver Pepsi Center

Additional cities and venues to be announced.






Please log in to view RANTS

If you don't have a username, click here to create an account!






Represent! Get Your KNAC.COM Bumper Sticker

Happenings This Week on KNAC.COM

DREAM CHILD Debut First Video For "Under The Wire"

REDEMPTION Launches "Someone Else's Problem" Video

KING DIAMOND LP Picture Disc Reissues Now Available For Abigail II: The Revenge, House of God And Voodoo

TOMBS Announce North American Dates

POWERWOLF Release New Song "Incense & Iron"

VAN CANTO Release Official Video For "Melody"

HAKEN, LEPROUS Join Forces For North American Tour

PARADISE LOST Announce U.S. Headlining Tour

BROKEN HOPE Announce European 30 Year Anniversary Tour

THE UNITY Set To Rise With New Album In September

STURGIS BUFFALO CHIP 2018 Lineup Finalized

REVOCATION Launches Video For "Of Unworldly Origin

PIG DESTROYER Premiere "Army of Cops" Video

VOIVOD Reveal The Wake Album Details, Release Date

2018 GENERATION AXE Tour Announced With STEVE VAI, ZAKK WYLDE, YNGWIE MALMSTEEN, NUNO BETTENCOURT, TOSIN ABASI

ARMORED DAWN "Sail Away" With Debut Single, Video

MACHINE HEAD Announce 2nd Leg Of North American "Catharsis" Tour

MUSHROOMHEAD Pay Tribute To The Evil Dead In New Video For Alternate Version Of "We Are The Truth"

VICIOUS RUMORS Announce New Singer NICK COURTNEY

DEE SNIDER Unleashes "Become The Storm" Video

JOE SATRIANI Announces G4 EXPERIENCE V5.0: ROCKS THE DESERT

TRIBULATION Confirm North American Tour Dates In Support Of Down Below

INKCARCERATION Music And Tattoo Festival Band Set Times, Sponsors Announced

OMNIUM GATHERUM Release "Gods Go First" Video

GREAT WHITE 'Release' TERRY ILLOUS, Announce New Singer MITCH MALLOY

SIX FEET UNDER Unveils Unreleased Material Collection Unburied

MOB RULES Have A "Ghost Of A Chance" With New Video

DORO Stream Second Album Single "Lift Me Up"

DOYLE Announces Summer UK & European And Winter North American Dates

IMMOLATION Release "When The Jackals Come" Video

ALICE COOPER Reveals New Live Album A Paranormal Evening At The Olympia Paris

TORNADO Set To Unleash Commitment To Excellence Album

SKELETONWITCH, MANTAR Announce UK/European Co-Headline Tour

BLACK FAST Debut Third Single "Husk"

PANTERA Mini-Guitars Coming To San Diego Comic-Con

HALCYON WAY Stream New "Slaves To Silicon" Track

BLACKTOP MOJO Announce North American Tour Leg Two

MUNICIPAL WASTE Release "Slime And Punishment" Video

TRAUMA Drop Lyric Video For "The Rage"

YOB Reveal Fall European Tour

BULLETS AND OCTANE Release "Fuck You Song" Video

IMMORTAL GUARDIAN Unveils New Single "Zephon"

MAMMOTH GRINDER Share "Cosmic Crypt" Video

KILLER BEE Work On New Album

MANIMAL Set To Release New Album Purgatorio

JUNGLE ROT Stream New Single "A Burning Cinder"

ABORTED Unveil New Album TerrorVision

GEMINI SYNDROME To Headline The "Synner Conversion Tour"

CAULDRON Reveal New Album New Gods Details

MASSIVE WAGONS Release "Under No Illusion" Video

DEICIDE Announce New Album Overtures Of Blasphemy

WE CAME AS ROMANS Post "Vultures With Clipped Wings" Video

JUNKYARD DRIVE Reveal New Album Details

ARMSTRONG METALFEST Offers 2018 Digital Sampler For 2018 Line-Up

THE NIGHT FLIGHT ORCHESTRA "Turn To Miami" In New Video

POWERMAN 5000 Stream New Track "Footsteps and Voices"

RELAPSE CONTAMINATION TOUR Returns With DYING FETUS Headlining

FELSKINN Release "Close Your Eyes" Video

MONSTROSITY Set For First New Album In 11 Years, The Passage Of Existence

GHOUL Announce "Weapons Of Mosh Destruction 4" Tour

HOLLYWOOD UNDEAD Debut "Gotta Let Go" Video

TESTAMENT, CARNIFEX To Perform During Comic-Con 2018

MOURNING GREY Unleash "Up To You" Video

NWOBHM Legends SATAN Reveal Details For New Album, Cruel Magic

KOBRA AND THE LOTUS Launch "Velvet Roses"

BRAINSTROM Set To Release Midnight Gh

LIGHT THE TORCH Announce Summer, Fall Tour Plans

KINGDOM COME Celebrates Debut Album With 30 Year Anniversary Tour

THE EXPLOITED Announce North American Tour