The Stones Tour Goes Up Like A Led Zeppelin


By Phyllis Pollack, Contributor
Thursday, May 9, 2002 @ 4:47 PM


| | | |
| --- | --- | --- |
| | | The Rolling Stones Annouce The |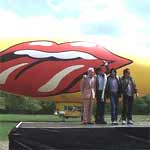 The Rolling Stones announced plans for their upcoming World Tour 2002/2003 on Tuesday, May 7, at a press conference that was held after the group landed in a blimp in New York City's Van Cortland Park. The band, comprised of Keith Richards, Mick Jagger, Charlie Watts and Ron Wood, literally descended upon fans and members of the press, who witnessed the spectacle in awe. Their tour is slated to begin on September 5th of this year at Boston's CMGI Field. The Stones will be playing shows in both stadiums and arenas, as well as gigs in small clubs. In the past, more intimate club gigs were always slated as surprise gigs, and were announced at the last moment. The Rolling Stones still hold the record for the three most attended tours of all time, "Bridges To Babylon," "Steel Wheels," and "Voodoo Lounge." Coinciding with the tour, the Stones will be releasing a CD set, containing some of their greatest hits, as well as previously unreleased material from the band. The Stones will be recording new material for the album in Paris, and thereafter, the band will be on their way to Toronto for rehearsals for the tour. So far, the Stones have not publicly revealed the name of the tour, which will relate to the title of the upcoming album package that will be released by Virgin Records. The Stones will be finalizing their concert tour in the States in February of 2003, and from the U.S., the band will continue touring in Europe, Japan, Australia, and in other countries. The opening acts have not been announced yet, although some dates will include No Doubt, Sheryl Crow, and Jonnie Lang. The Rolling Stones originally formed forty years ago, in 1962. A year later, drummer Charlie Watts joined the group. Guitarist Mick Taylor replaced Bryan Jones, who died in 1969, after drowning in his swimming pool under the influence of drugs and alcohol. After Taylor departed from the band, guitarist Ron Wood took his place in 1975 as Keith Richards' perfect foil. Bassist Bill Wyman announced his own departure from the group in 1993, and Darryl Jones has since filled in for him. As with the past several tours, the Stones will be joined the extraordinary back-up singer, Bernard Fowler. ROLLING STONES – WORLD TOUR 2002/2003 09/05/02 Boston CMGI Field
09/08/02 Boston The Orpheum Theatre
09/10/02 Chicago United Center
09/13/02 Chicago Comiskey Park
09/16/02 Chicago Aragon Ballroom
09/18/02 Philadelphia Veterans Stadium
09/22/02 Philadelphia Tower Theater
09/26/02 New York Madison Square Garden
09/28/02 New York Giants Stadium
09/30/02 New York Roseland Ballroom
10/04/02 Washington, DC FedExField
10/12/02 Detroit Ford Field
10/14/02 Cleveland Gund Arena
10/16/02 Toronto Air Canada Centre
10/18/02 Toronto SkyDome
10/20/02 Columbus Nationwide Arena
10/22/02 Ft. Lauderdale National Car Rental Center
10/23/02 Miami American Airlines Arena
10/26/02 Atlanta Turner Field
10/31/02 Los Angeles STAPLES Center
11/02/02 Los Angeles Edison Field
11/04/02 Los Angeles Wiltern Theater
11/08/02 San Francisco Pac Bell Park
11/14/02 San Diego Sports Arena
11/23/02 San Antonio SBC Center
11/25/02 Nashville Gaylord Entertainment Center
11/29/02 Las Vegas Venue To Be Confirmed
01/08/03 Montreal Molson Centre
01/10/03 Pittsburgh Mellon Arena
01/25/03 Houston Reliant Stadium
01/30/03 Phoenix America West Arena
02/01/03 Denver Pepsi Center

Additional cities and venues to be announced.






Please log in to view RANTS

If you don't have a username, click here to create an account!






Represent! Get Your KNAC.COM Bumper Sticker

Happenings This Week on KNAC.COM

EYES SET TO KILL Announce New Self-Titled Album

KIP WINGER To Release Solo Box Set Collection

KAMELOT Unveil Title Of Upcoming Album

WITHIN THE NOVA Announce New Album Infinite Cycles

POP EVIL Release "Colors Bleed" Video, Single

MARCO MENDOZA Unleashes "Viva La Rock" Single, Video

THE SKULL To Kick Off "THE SKULL Plays Trouble" North American Headlining Tour

MGT Debut Video For "Every Little Dream"

L.A. GUNS To Release Made In Milan Live Album

ALL HAIL THE YETI Unveils New Video, "Slow Season"

DEF LEPPARD, JOURNEY Announce Summer Co-Headline Tour

HATEBREED To Continue Celebrating 20 Years Of Desire And 15 Years Of Perseverance With Spring 2018 Tour

Guitarist ETHAN BROSH Returns With Conspiracy Album

HERETIC'S DREAM Release "A Price To Pay" Video

NORDIC NOISE FESTIVAL 2018 Announces Full Lineup

SPIDER ROCKETS Set To Release Along Came A Spider Album

New Supergroup DREAM CHILD Revealed

HOLLYWOOD UNDEAD Launch "Your Life" Single, Video

Annual BASH FEST Events Announced, Coincide With NAMM

RINGS OF SATURN Announce "The Dank Meme Tour" 2018

JANET GARDNER Releases "Candle" Video

BLACK VEIL BRIDES Release New Video For "Wake Up"

POWER TRIP Announces North American Headline Tour

UNCURED Join The "POINT BLANK WITH SOULFLY (Nailbomb Set) Tour"

THE DEAD DAISIES Set To Burn It Down In 2018

Don't Miss DIMEBASH At Observatory OC In Santa Ana, CA On January 25th

FU MANCHU Premieres Title Track From New Album Clone Of The Universe

EXHUMED Announces "Grind Over Europe II" Headlining Dates

OF MICE & MEN Drop Cover Of PINK FLOYD's "Money"

CORROSION OF CONFORMITY Unveil "The Luddite" Video

URIAH HEEP Update North American Tour Schedule

KAOTEON Set To Release New Album Damnatio Memoriae

WARBRINGER Announce Special "Waking Into Nightmares" Shows In April

NIGHTWISH Reveal Track List For Decades Compilation

SANCTUARY To Tribute Upcoming Tour To WARREL DANE

ARJEN LUCASSEN Reveals Ayreon Universe - The Best of Ayreon Live Album

VISIGOTH Launches Video For "Warrior Queen"

THUNDER Set To Release New Live Album Stage

FIREWIND Unleash 'We Defy' Music Video

BON JOVI Announces 2018 "This House Is Not For Sale Tour"

ROBINSONS, IRON MAIDEN And HELP FOR HEROES Join Forces To Launch LIGHT BRIGADE Beer In The U.K.

EDGE OF PARADISE To Open For METAL ALLEGIANCE At NAMM 2018

WHITE WIZZARD Streams Title Track To New Album Infernal Overdrive

Swedish Heavy Rockers JIRM, Formerly Known As JEREMY IRONS AND THE RATGANG MALIBUS, Set To Release Surge Ex Monumentis Album

JOE PERRY Reveals All-Star Band For Roxy Show

JOHN CORABI To Release Live 94 (One Night In Nashville)

AXEL RUDI PELL Set For New Album Knights Call

Frontiers Music Srl Welcomes TORA TORA

PHIL CAMPBELL AND THE BASTARD SONS Release New Video For "Welcome To Hell"

IRON REAGAN And GATECREEPER Announce Split LP

KITTIE Celebrate 20 Years With New Documentary

CURRENTS Release New Video For "Delusion"

WE CAME AS ROMANS Announce Spring 2018 Headline Tour

ANUBIS GATE Release Full Video For Track "Black"

BLACK LABEL SOCIETY Debut "Trampled Down Below" Track

OUTDREJAS Spreads Positive Message With "Pomise" Video

5RAND Present New Video For Track "Erase"

SPREAD EAGLE Sign To Frontiers Music Srl

THE CROWN Announce New Album, Cobra Speed Venom

VOICES OF EXTREME Sign To Z RECORDS

WITHERFALL To Play First Shows On 70000 TONS OF METAL Cruise

MIKE LEPOND'S SILENT ASSASSINS Release New Single "Hordes Of Fire"

ST. JAMES, Featuring Drummer CARL CANEDY (THE RODS) Launch "Attitude" Video

URIAH HEEP Announce 2018 North American Tour

OFFENSIVE GROUND Release "Salvage Dump" Video

Metal Legend Producer CHRIS TSANGARIDES Dies At 61

KILLER DWARFS Sign To EMP Label Group, New Live LP Live, No Guff Coming In April

ALLEGAEON Launches Cover Of RUSH's "Animate"

W.E.T. To Release Earthrage Album In March

X JAPAN Return To U.S. For COACHELLA 2018 Debut

UNRULY CHILD Announce Unhinged- LIVE FROM MILAN! CD/DVD

OBLIVION Reveal New Album Resilience Details

KICKIN VALENTINA Release "Crazy" Music Video

JUNGLE ROT Preparing Tenth Studio Album

JUDAS PRIEST Unleash "Lightning Strike" Video

Original ALICE COOPER GROUP Guitarist/Songwriter MICHAEL BRUCE Releases No More Mr. Nice Guy Biography Limited Edition Box Set

MAMMOTH GRINDER Share "Servant Of The Most High" Video

AS I LAY DYING Frail Words Collapse, Shadows Are Security LP Reissues Now Available

BULLETBOYS Unveil From Out Of The Skies Album

VISIGOTH Reveal Details For Conqueror's Oath Album

RED FANG Announce Custom Wine; Additional Tour Dates

NEW YEARS DAY Unveil Diary Of A Creep EP Specifics

New Label RFL RECORDS Announces First Signings, Seeks New Talent

A PERFECT CIRCLE Welcome 2018 With New Song "Disillusioned"

SOLDIERS OF SOLACE Reveal We Are Immortal Album Details

EMP LABEL GROUP Launches Outlaw Country/Southern Rock Imprint "EMP OUTLAW"

SEBASTIEN Reveal Act Of Creation Album Details