Dio
Killing The Dragon


By Jeff Kerby, Contributor
Wednesday, May 29, 2002 @ 11:35 AM


| | | |
| --- | --- | --- |
| | | (Spitfire) |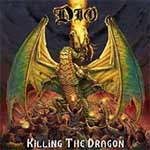 Once upon a time there was a dragon. He was a very, very evil dragon too. You know the type--they shoot fire from their nostrils and generally make huge lizard-like asses out of themselves. Anyway, this particular scary creature went all over the world wreaking havoc on the poor little peasants and cheap hookers. During this creature's reign of terror, the tired masses of people who lived really crappy lives and barely had enough money to pay for porridge, all cried out for someone, ANYONE, to help them, but since neither Spiderman or Superman had been created yet, the oppressed had to pray for deliverance to come from within. Day after day, year after year, the citizens watched as the winged-being scorched any person who had the misfortune of stumbling into his path. Throughout this period, the hero of our saga, Dio, found himself witnessing some of the worst brutality ever committed upon the human race. Even though all of this violence upset him very much -- blood, guts, gory evisceration -- he was somehow able to harness his emotions in order to evade what was most certainly going to be an extremely violent death… that was until…until…until that damn dragon had the nerve to scrunch up his mangled, clawed fingers in the form of an unlicensed METAL SIGN! This, of course, meant that there had been a trademark infringement, and now something definitely had to be done. "That's it." Dio told himself. "We must now begin the process of Killing the Dragon." Ok, ok, don't get me wrong -- I think Dio has some genuine feeling about his "sign of the horns," but if you want to believe that the timing of his disclosure had nothing to do with the release of this album, you'd be sadly mistaken. When he went on about the "widespread abuse of his creation," many questioned his motivations for such an attack. Give him some credit though; he generated quite a lot of publicity last week with his diatribe against all who would use the sign of metal falsely. Yeah, it was sort of hokie, and yeah, it's easy to write him off sometimes as the guy who only pens images about goblins, swords and magic, but those who do run the risk of misunderstanding one of metal's godfathers. Although he typically uses medieval imagery as a metaphor for more current topics and issues, there is no denying his status among rock's elite. On the outside, Killing the Dragon would appear to be more mystical hocus pocus designed to entertain those who play Magic and love the Hobbit, but in reality, the ten songs that comprise this disc are primarily about injustices and the people who perpetrate them on an unsuspecting public. The first target on Dio's list is the computer -- which he deems as being a "god in modern society. It is a small God with an electrical heart, and it is time to rebel against it." When one thinks about all of the hours spent typing and staring at a shining screen of sterility, his point becomes apparent… Uh, but that doesn't mean you shouldn't log on to KNAC.COM every chance you get. Computer bad, KNAC.COM good. Then he adroitly switches gears in "Along Comes a Spider" which addresses the malady of women who manipulate men -- desperate men -- uh, like me, for instance. When Dio sings, "Now I'm not superstitious, but every time you've tried, along comes a spider," you know what he means. In everybody's life there is always that one chick that for some reason you can't shake free of, and invariably that will be the one female who will shit all over you and ruin your life as you twist and turn in a gooey hell never to break free!! Whew. Ok. I'm all right now. The tormented vocals on this track let you know that he feels you pain. Dio has long been a champion for the cause of runaways and the lost youth of the world, and he returns to address their plight in track "Throw Away Children." It is said that this song was supposed to be used for the charity The Children of the Night, which is an organization devoted to rescuing children from street prostitution, but in the end, some of the lyrics were deemed too depressing. "Don't answer eyes that smile,
Don't let them in.
They see the lonely child
She feels their sin,
But it's getting so much colder,
And she's afraid." Although these words form a powerful image of life in the darkness of the skin trade, the track didn't have the cheery vibe of "We Are the World," so it wasn't used, and it ended up on here on Killing the Dragon where it becomes another brick in the wall of injustice. This collection of tunes isn't just a myriad of depression -- you know that any Dio release is going to have several songs addressing the power of rock. "Better In the Dark," "Push" and "Cold Feet" are energetic rave-ups that will probably end up in the set list when Dio leaves to tour with the Scorps and Deep Purple to promote this record. In all of these, as in the entire record, the musicianship is stellar. You couldn't expect any less. The inclusion of guitarist Doug Aldrich to the fold may not make long time fans forget about Vivian Campbell, but he does a commendable job, and his axe work makes Killing the Dragon another in a long line of hard rocking Dio offerings. Even though Ronnie James Dio may touch on a lot of the same themes in his music year after year, there is no denying that he has found his own unique niche in metal that he's managed to cultivate into a solid career that can stand right next to a Motorhead or an AC/DC with regard to consistency and integrity. Each Dio release feels like an old familiar friend -- one who doesn't rap or scratch or take on various trendy accoutrements. Even if this lead singer doesn't have a patent on the metal sign, -- at least I think he actually believes in what it stands for and being true to what that means to him. There are worse ways of gaining publicity than pointing out those who look to exploit metal in order to gain credibility. In this age where Ozzy's pictured on lunchboxes and the cover of Rolling Stone, it should mean something to metalheads everywhere to know that at least one former lead singer of Black Sabbath is still out there representing the metal community and staying dangerous while Killing the Dragon. *** .




Please log in to view RANTS

If you don't have a username, click here to create an account!






CRADLE OF FILTH Existence Is Futile

BEAST IN BLACK Dark Connection

MASSACRE Resurgence

DREAM THEATER A View From The Top Of The World

JAY JAY FRENCH Twisted Business: Lessons from My Life in Rock 'N' Roll

BLACK LABEL SOCIETY, PRONG And OBITUARY In Portland, OR With Photos!

GEMINI SYNDROME 3rd Degree - The Raising

DORO/WARLOCK Triumph And Agony Live

BETWEEN WORLDS Between Worlds

ALCATRAZZ V

BEHEMOTH Sventevith (Storming Near the Baltic) Reissue

ALICE COOPER, ACE FREHLEY In Nashville, TN With Photos!

CARNIFEX Graveside Confessions

BLOOD RED THRONE Imperial Congregation

GUS G. Quantum Leap

BILLY IDOL The Roadside EP

AVATAR, MAGIC SWORD In Houston, TX With Photos!

APRIL WINE, MONKEYJUNK At The Ottawa Bluesfest

MINISTRY Moral Hygiene

CRYPTA Echoes Of The Soul

SKILLET In Houston, TX With Photos!

Immortal Axes: Guitars That Rock Book

IRON MAIDEN Senjutsu

GRINDER BLUES El Dos

GEORGE LYNCH Seamless Review #2

IN THIS MOMENT, BLACK VEIL BRIDES In Houston, TX With Photos!

WARLANDO Festival 2021 Photo Gallery

KISS In Ridgefield, WA With Photos!

LAURENNE/LOUHIMO The Reckoning

TREMONTI Marching In Time

ROCKLAHOMA 2021 Day 3 Photo Gallery

ROCKLAHOMA 2021 Day 2 Photo Gallery

ROCKLAHOMA 2021 Day 1 Photo Gallery

CARCASS Torn Arteries

SETH La Morsure de Christ