U.D.O.
Man And Machine


By Daniel Höhr, European Correspondent
Saturday, June 8, 2002 @ 12:02 AM


| | | |
| --- | --- | --- |
| | | (Breaker Records / SPV) |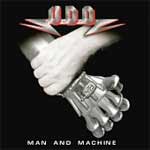 This one's been out for about two months now and, hell, no review on the loudest dot com on the planet? Well, I suppose it would be enough to say that U.D.O.'s new album is on the shelves. Full stop -- five stars. Buy it. U.D.O. is pretty much self-explanatory, so why waste your time when you should be on your way to the next record store anyway? But since you clicked on this link to actually read something I gotta do at least a bit of writing, though you know damn well who Udo Dirkschneider is. Or don't you? The only excuses for never having heard of Udo is that you are either young or into Fred Durst, which is not an excuse but a serious failure in acquiring a decent taste in music. Anyway, I find U.D.O.'s new album very reassuring that there's still uncomplicated raise-your-fist-and-bang-your-head balls-to-the-wall heavy metal around. I mean, those who think the Accept tradition is dead, had better give this album here a listen. It's gonna change you mind -- believe me. German's metal flagship Udo Dirkschneider and the music his name primarily stands for is as alive as ever. Together with his band Stefan Kaufmann (g), Igor Gianola (g), Fitty Wienhold (b) and Lorenzo Milani (d), Udo kicks some serious ass in the truest Accept-type metal fashion, so there can't be any doubt about whether he is a Metal God or not. Check out the title track, "Man And Machine," "Private Eye," The Dawn Of The Gods" or "Network Nightmare." Any questions? Far from being yet another eighties retro-album, Man And Machine (not to be mixed up with the 1989 release Mean Machine) sticks to traditional heavy metal virtues without sounding old-fashioned. To the contrary. The songwriting, the performance and the great production sound, which was taken care of by Udo Dirkschneider and Stefan Kaufmann, make it absolutely clear that the record has its rightful place in the year 2002 and when all is said and done, hey -- this is the sort of honest, beefy, riffy metal album that should be seen more often on the shelves. And I'm not a traditionalist. Man And Machine is above all a 'live' album. Not that it is a live recording, but all 11 tracks are tailor-made for live performances in front of the really big crowds. Hell, I can already hear and see it: U.D.O. live at Wacken in front of 20,000 metalheads shouting along to "Hard To Be Honest" or "Like A Lion." And yes, the ballad "Dancing With An Angel," a great duet with German metal lady Doro Pesch, will call for a sea of cigarette lighters. German metal at its best. Full stop. Buy it. Now. *****




Please log in to view RANTS

If you don't have a username, click here to create an account!






CRADLE OF FILTH Existence Is Futile

BEAST IN BLACK Dark Connection

MASSACRE Resurgence

DREAM THEATER A View From The Top Of The World

JAY JAY FRENCH Twisted Business: Lessons from My Life in Rock 'N' Roll

BLACK LABEL SOCIETY, PRONG And OBITUARY In Portland, OR With Photos!

GEMINI SYNDROME 3rd Degree - The Raising

DORO/WARLOCK Triumph And Agony Live

BETWEEN WORLDS Between Worlds

ALCATRAZZ V

BEHEMOTH Sventevith (Storming Near the Baltic) Reissue

ALICE COOPER, ACE FREHLEY In Nashville, TN With Photos!

CARNIFEX Graveside Confessions

BLOOD RED THRONE Imperial Congregation

GUS G. Quantum Leap

BILLY IDOL The Roadside EP

AVATAR, MAGIC SWORD In Houston, TX With Photos!

APRIL WINE, MONKEYJUNK At The Ottawa Bluesfest

MINISTRY Moral Hygiene

CRYPTA Echoes Of The Soul

SKILLET In Houston, TX With Photos!

Immortal Axes: Guitars That Rock Book

IRON MAIDEN Senjutsu

GRINDER BLUES El Dos

GEORGE LYNCH Seamless Review #2

IN THIS MOMENT, BLACK VEIL BRIDES In Houston, TX With Photos!

WARLANDO Festival 2021 Photo Gallery

KISS In Ridgefield, WA With Photos!

LAURENNE/LOUHIMO The Reckoning

TREMONTI Marching In Time

ROCKLAHOMA 2021 Day 3 Photo Gallery

ROCKLAHOMA 2021 Day 2 Photo Gallery

ROCKLAHOMA 2021 Day 1 Photo Gallery

CARCASS Torn Arteries

SETH La Morsure de Christ