W.A.S.P.
Dying For the World


By Jeff Kerby, Contributor
Tuesday, June 11, 2002 @ 2:46 PM


| | | |
| --- | --- | --- |
| | | (Sanctuary) |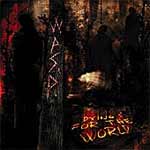 Somewhere in Rockerland two great minds discuss music… "No way, man. I'm not going to buy the new W.A.S.P album." "Me either, dude." "Yeah, I hate all that old school devil stuff -- it's so Mansonlike. I mean, I always knew that meat he used to chomp on wasn't real, and that it was just fake blood -- I guaranfuckintee it. I heard that fucker even wears a white suit and drinks fruit juice." "The hell with that Hawaiian Punch stuff. Have you ever read any of his interviews? Shit, he uses all these big words and crap. Some of them even have like more than three 'syylalalbles' and stuff. And he talks about all these gay-ass guys like Paul McCartney and Neil Young--" "Like, I even give a shit. I just want to hear about groupies -- hell, yeah, skanky-ass groupies. Yeah, yeah, maybe I'd also wanna know if he ever had blisters or a 'veranerial' disease." "Aaah, who cares? Screw him -- that fucker probably even went to school." Yeah, he went to school all right -- the School of Heavy Metal where he graduated to form W.A.S.P in the early eighties only to return today as the headmaster ready to show the new generation of pupils how it's done. Besides demonstrating for the youngsters what real metal is, Dying For the World seems destined to serve as musical confirmation to long time rockers of just how full of sinister angst this band has always been. Even if you don't care for one second about the size of Blackie's vocabulary or the hidden meaning behind his stage theatrics, you have to admit that "Wild Child," "Blind in Texas" and "I Wanna Be Somebody" continue to stand as three of the best songs to come out of the era. While many other bands of that day who sported spandex and rode around Sunset in limos have long since been relegated to package tours or applying for the recently opened fry cook vacancy at Applebee's, W.A.S.P has just completed what may be the best work they've produced since their debut. The introductory track to the disc, "Shadow Man" is one of two songs which deal primarily with religion, and it sets the tone for the album both in respect to theme as well as tempo. Here, Blackie takes aim at those who would claim to know all under the authority of the Lord when he asks, "Where's the God that made you, oh you're Superman, going down forever -- to never land." The immediacy of the track is evident as Frankie Banali's drumming provides the perfect touchstone to the axe-spewing mayhem that accompanies Blackie's haunting shrieks and wails. "Black Bone Torso," which appears third on this offering, addresses the church and their underhanded cover up of all who have abused the power of the cloth. One might expect the lyrics on this vitriolic indictment to be conveyed over a searing metal backdrop, but instead, Lawless turns down the guitars and chooses to condemn the guilty with a stark, concrete whisper punctuated by the steady pounding of the skins of justice. A major theme of Dying for the World concerns 9/11 and the subsequent rage that filled a nation. The result is a triumvirate of cathartic songs which express the inherent need for vengeance and atonement against those who've brought violence to our homeland. "Hell For Eternity," "Revengeance," and "Stone Cold Killers" all make good on Blackie's claim that his new CD is great music to "go kill people by." These tunes demand that retribution be achieved by the same brutality that caused their deaths. The guitar work provided on these songs never gets self-indulgent or overly consumed with flashiness; it simply mirrors the immediacy of the accompanying words. Blackie shows that he also understands the complexity of emotion as is exemplified in the tune entitled, "Hallowed Ground." On this pivotal track, the message articulates the understanding that America's reaction to the bombings was never one-dimensional and that the desire to lash out violently has always been borne out of a sadness for those who would never be again. If lyrics like the following make the listener uncomfortable in their vulnerability, then chances are it says more that particular individual than it does about the material, which stands as a testament to sorrow and insecurity. "Take me down,
To the place where I will kneel,
And let me lay my shadow down,
In through the eyes of a child's inner me,
No pain to heal my bloodied brow." As if to underscore the importance of the message of this song, another version appears at the end of the disc, sans the wall of sound present on the previous rendition. Normally, this might seem like filler, and if this second version didn't add anything to the content of the first, then that's exactly what it would be. Blackie avoids this potential perception by seeming to tell the story of the lyrics from a lonely room in the back of his mind. It's not every metal vocalist who could pull this off without the bare bones track sounding disingenuous or incredibly unmetal in some way. This should come as no surprise to long time listeners who already know that Lawless' distinctive wail could somehow make an acoustic version of "Mary Had a Little Lamb" carry ominous sincerity. Other topics contemplated in the three remaining songs contained here range from the self-analyzation of "My Wicked Heart" which proclaims, "Father I'm here in the dark and I know my heart is darkness" to the pariahs of the music industry in the raucous "Rubber Man," while "Trail of Tears" discusses the plight of the Cherokee Nation when forced out of their homes by the government lifetimes ago. The latter is slow burning song that churns and may very well be the most texturally adventurous song on the new disc. To put Dying For the World in perspective, it must be realized that any time a metal musician utilizes stage theatrics to entertain and expound upon their music, they run the risk of being misunderstood or dismissed as being either guitar-slinging charlatans or one dimensional puppets -- W.A.S.P is neither. Along with their visually challenging live shows, they have created some of the metal's best tunes over the past two decades, and this new effort can actually stand right next to classics like W.A.S.P. and The Last Command. There are no smoke and mirrors present here, no gimmicks -- just the best album Blackie has written in ten years. If you want to complain about the fact that you don't like the front man's persona or that you don't think anything they could produce without Chris Holmes would rock, then that's to your detriment. Time and time again the question has been posed, "where has all the good metal gone?" The answer is simple in this case -- it's right here. ***1/2

Please log in to view RANTS




YNGWIE J. MALMSTEEN, GLENN HUGHES In Worcester, MA With Photos!

ALICE COOPER Road

RAT ROD Four On The Floor

GIRLSCHOOL WTFortyFive?

DANKO JONES Electric Sounds

AVATAR, ORBIT CULTURE, THE NATIVE HOWL In Houston, TX With Photos!

THE DEAD DAISIES In Hollywood, CA With Photos!

KILL DEVIL HILL Seas Of Oblivion

THE DEAD DAISIES In Ottawa, Canada

MAMMOTH WVH In Santa Ana, CA

UADA Crepuscule Natura

BARONESS Stone

KAMELOT, BATTLE BEAST, XANDRIA In Houston, TX With Photos!

CRYPTOPSY As Gomorrah Burns

RAY ALDER II

GHOST, AMON AMARTH In Houston, TX With Photos!

U.D.O. Touchdown

DETHKLOK Dethalbum IV

STEVE VAI In Ottawa, Canada

PANTERA, LAMB OF GOD In Houston, TX With Photos!