TWISTED SISTER/VINCE NEIL Live in Austin, Texas


By Larry Petro, News Monkey
Tuesday, June 18, 2013 @ 7:49 AM


| | | |
| --- | --- | --- |
| | | At The Republic Of Texas Bike Rally On June 15th |
Review By Jody Hickman

Growing up, TWISTED SISTER was my favorite band. I was raised on country music, but in high school, TWISTED SISTER was the band that got me hooked on metal. In fact, during my senior year in high school, I kept five tapes in my car: TWISTED SISTER - Under The Blade, You Can't Stop Rock And Roll, Stay Hungry, Come Out And Play, and W.A.S.P. - The Last Command. Since then, TWISTED SISTER has only played Houston twice, in 1986 on their Come Out And Play tour and 2008 at the Rock The Bayou Festival, both incredible shows. So when I saw they were coming to Austin, I started making plans for a road trip. We got to the Travis County Expo Center about 5:30 and quickly made our way to the far side of the grounds where the stage was set up. After a bite to eat, we claimed our spots on the barricade, front and center, baking in the unshaded Texas heat. About 45 minutes before showtime, the MC came out and did his thing. Then they tossed out box after box of ROT shirts to the crowd. I ended up catching 5, keeping two for myself.

Finally showtime! AC/DC "For Those About To Rock" was followed by Samuel L. Jackson's prayer from Pulp Fiction, then Vince Neil and band hit the stage to "Live Wire". I was never a big MOTLEY CRUE fan and less of a Vince Neil fan. He misses too many notes and skips way too many words for my taste. However, this time he was pretty damn good! Maybe I was distracted by his band, Jeff Blando on guitar, Dana Strum (from SLAUGHTER) on bass, and this maniac named Zoltan Chaney on drums. In my opinion, Zoltan stole the show with his wild antics. Vince's set was composed of mostly MOTLEY CRUE classics plus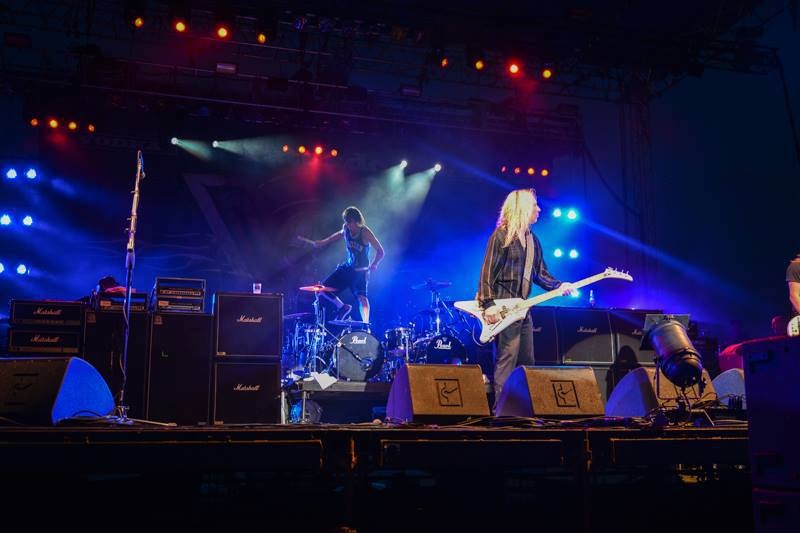 the title track to his Tattoos and Tequila album. He also gave his band a chance to shine on their own. **Blando Medley** as it was called on the setlist started with Jeff Blando's guitar solo Zeppelin style with a bow. Then they broke in to a Zeppelin song ("Whole Lotta Love" if I remember right) with Jeff handling the vocal duties. Afterward, Jeff announced they they wanted to dedicate the next song to a fallen hero, Ronnie James Dio. Vince Neil popped up behind the drums and actually played the first 30 seconds or so before Zoltan took over for their version of "Heaven and Hell". After the guitar solo, Vince reappeared as they transitioned into "Kickstart My Heart". They finished with two more Crue classics before giving up the stage. I came away surprised and impressed.
Vince Neil setlist:
"Live Wire"
"Dr. Feelgood"
"Piece of the Action"
"Looks That Kill"
"Tattoos and Tequila"
"Home Sweet Home"
"Don't Go Away Mad"
"S.O.S"
**Blando Medley**
"Kickstart My Heart"
"Girls Girls Girls"
"Wild Side"
During the break, there was a tribute to the military culminating with a custom made chopper being raffled off to a vet. Once the stage was cleared again, to lights went down to TWISTED SISTER's intro music, AC/DC's "Long Way to the Top". TWISTED SISTER exploded onto the stage to their classic anthem "You Can't Stop Rock an Roll". The original lineup of Dee Snider, Jay Jay French, Eddie Ojeda, Mark Mendoza, and A. J. Pero remains, although they no longer wear their signature makeup and stage costumes. They still play with the same fire and energy as they did in their glory days of the early to mid 80s. Even though he's pushing 60, Dee was a constant ball of energy, hopping around, running all over stage, yet never missing a note. To me, Dee is the best frontman in rock or metal. Nobody can can get a crowd going like Dee Snider. He can insult the crowd without being personally insulting to get them motivated, (unlike the Geoff Tate incident at Rocklahoma). He's also somewhat of a comedian onstage with rants ranging from Bret Michaels on ,Celebrity Apprentice,, to feminine products using their song, to bubbles at a concert not being metal, but who might like them. It's too bad TWISTED SISTER doesn't tour anymore, only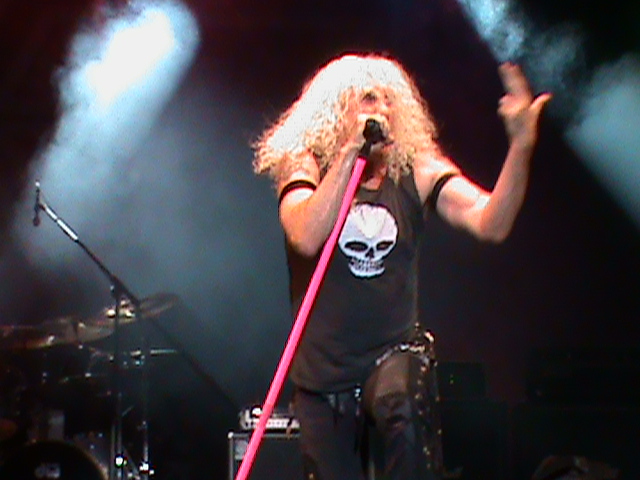 playing select dates and festivals, because they are as good as ever, not showing their age at all. The only complaint I could have was some of my favorite songs like "Come Out And Play", "I Am, I'm Me", and "SMF" didn't make the setlist. I figured since this was a biker rally, "Ride To Live, Live To Ride" would be a lock. It didn't make the cut either. Instead, they closed with what Dee called the ultimate biker song, STEPPENWOLF's "Born To Be Wild". All and all, it was an unforgettable show. It's too bad TWISTED SISTER quit making new music because their last two songs they released are in my top ten favorite TS songs, "Heros Are Hard To Find" from the Strangeland soundtrack and "30" which came from Dee's appearance on the tv show Gone Country. The only thing missing from a perfect day would've been a meet and greet with my teenage hero.

TWISTED SISTER's setlist:
"You Can't Stop Rock And Roll"
"Shoot 'Em Down"
"Stay Hungry"
"The Beast"
"The Kids Are Back"
"I Believe in Rock And Roll"
"We're Not Gonna Take It"
"The Fire Still Burns"
"We're Gonna Make It"
"Under The Blade"
"The Price"
"Burn In Hell"
"I Wanna Rock"
"Born To Be Wild"
Check out Jody's fan filmed videos from the show!

"We're Not Gonna Take It"


"Heaven & Hell"/"Kickstart My Heart"


"I Wanna Rock"





Please log in to view RANTS

If you don't have a username, click here to create an account!





LOU DIBELLO Heat Wave

DRIVE IDEFI (A Tribute To David Earl Taylor And Rick Chavez)

Dimevison 2: Roll With It Or Get Rolled Over

TARJA From Spirits And Ghosts (Score For A Dark Christmas)

BEYOND THE BLACK, KOBRA AND THE LOTUS, BEAST IN BLACK In Cologne, Germany With Photos!

ATROPHY Live In Ottawa, Canada With Photos!

NIGHT LEGION Night Legion

IRON SAVIOR Reforged- Riding On Fire

BUTCHER BABIES Lilith

GREAT WHITE In Houston, TX With Photos!

ARCH ENEMY, TRIVIUM In Portland, OR With Photos!

QUEENSRYCHE In St. Petersburg, FL With Photos!

SORCERER The Crowning Of The Fire King

SWEET & LYNCH Unified

MORBID ANGEL Kingdoms Disdained

BABYLON A.D. Revelation Highway

RIOT Through The Storm Reissue

SAMMY HAGAR AND THE CIRCLE In Clearwater, FL With Photos!

PRIMAL FEAR Best Of Fear

GWAR, U.S. BASTARDS, HE IS LEGEND, GHOUL In Portland, OR With Photos!

ALARM FOR WAR Enemies Of The State

CIRCUS OF POWER Four