SEVEN WITCHES
Rebirth
FrostByte Media

Greetings metalheads! This is my review of the brand-new SEVEN WITCHES album, titled Rebirth. The first thing I noticed is how the album has a very crisp production, a heavy guitar tone. Produced by Jack Frost himself, it has that classic metal sound that any true metalhead would enjoy.

Here is a breakdown of each track, along with my brutally honest opinion. Enjoy!!!

The first song, "Man in the Mirror (Enemy Within)", starts with a very doom-laden riff before exploding into a Helmet-ish guitar sound that would take one back to the sounds of the 90s.

"Claustrophobic (No Way Out)" has a Bush-era ANTHRAX vibe to it, especially in the chorus. A lot of people do not like the Bush-era ANTHRAX, but I enjoy them, as I did this particular song.

"Nightmare Man" is next, which starts off with a very heavy riff courtesy of main man Jack Frost. The one thing that is noticeable is the rather soulful voice of new lead singer Anthony Cross. I say soulful, as he does not have the more gruff metallic voice that you might expect in metal. In fact, his voice is reminiscent of M. Shadows of AVENGED SEVENFOLD, particularly in the chorus.

"Stand Or Fall" makes me think of something out of a horror movie, thanks to Jack's guitar play.

"Murderer? (Hang 'em High)" is next, another slower, mid-paced plodder. I must give Mr. Frost his props, as he should be put in the category with some of Metal's best rhythm guitarists, ala Hetfield, Ian,& Schaffer. However, I do wish he would get himself a real lead guitarist. While his leads aren't horrific by any stretch, I think if you want to hit that upper tier Power Metal category, you need a badass lead guitarist.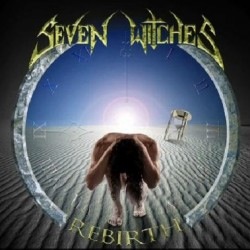 "True Blood" is a mid-tempo rocker. It first sounded a bit average till a nice Sabbath type riff kicks in, giving the song a much needed boost. An ode to the popular TV show perhaps?
A solid rhythm section, now filled by former TYPE-O NEGATIVE drummer Johnny Kelly and bassist Ronnie Parkes help "Head First" start slow before another crunching riff by Jack takes it up a notch. Perhaps it is an ode to Mother Earth and our own destruction.
Title track "Rebirth" speaks of rising from the ashes, much like SEVEN WITCHES itself. A revolving door of players, not unlike ICED EARTH, makes it hard for fans to stay with Mr. Frost as line-up after line-up come and go.
"Riders of Doom is more mid-tempo, a bit more upbeat through the chorus. It is definitely a solid riff there. PoisonAll the Pe"ople reminds me of a bit of NEVERMORE (RIP?), one of my favorite US Power Metal bands. Thanks to multiple time changes and mood swings, it can easily be a standout track. It even sounds like Alan Tecchio, vocally.
I notice too that the songs are short, precise, to the point and not long, drawn out affairs, which I think is a plus on this album. Will this Rebirth finally be the one to stick? Only time will tell. A solid Power Metal album it is. While it probably won't go down as a genre-defining moment, it should sit well with the rest of the SEVEN WITCHES catalog.
*** Out Of 5