TED NUGENT w/ LAURA WILDE Live in Cleveland, OH With Photos!


By Geoff Ketler, Cleveland Contributor
Saturday, August 3, 2013 @ 11:46 AM


| | | |
| --- | --- | --- |
| | | "The Black Power Tour" Destroys The House Of Blues In Cleveland |
"You canít do this in France" Ė Ted Nugent

It was another bustling day in downtown Cleveland. The Cleveland Indians were back at home, the weather was perfect and Uncle Ted was in town to lay waste to the House of Blues. The Black Power Tour was here to celebrate Ted Nugentís Motown and blues roots. When Uncle Ted first picked up a guitar the electric blues was climbing the charts. It was the influences of Motown, funk, and blues that would become the foundation of the Motor City Mad Manís musical style. Before his tour stop in Cleveland, Ted Nugent took time out of his busy schedule to chat with me. You can read the interview in its entirety HERE.

All the way from Australia, Laura Wilde started the night off right. The 23-year-old blonde bombshell got the crowd stirred up with her straight up bluesy rock ní roll. Her music reminded me a little of Joan Jett but with way more guitar solos. Highlight of the set was hearing the cover of "Jailbreak" by her fellow countrymen, AC/DC. Her set was limited to just 30 minutes, but it was enough to engage the audience and grab the attention of some new fans. Laura and her band hung out at the merch table afterwards to meet and greet everyone. Recently, KNAC.COM contributor Valerie Nerres conducted an interview with Laura Wilde and you can check it out HERE.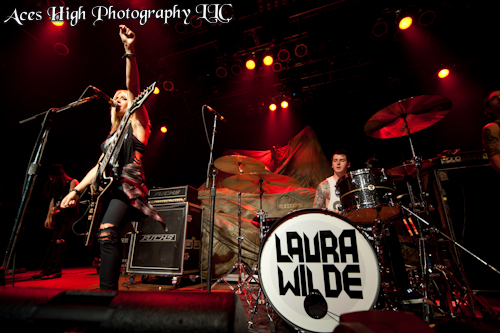 Setlist:
"Show Me Love"
"Angel"
"Scarlett Woman"
"For You"
"I Love This City"
"Jailbreak" (AC/DC Cover)
Drum Solo
"Sold My Soul"
"Tragedy"
As the stage filled with fog, a backlit, instantly recognizable silhouette of Ted Nugent holding his Gibson Byrdland guitar stood in front of Wild Mick Brownís drum riser. Uncle Ted took the stage as he always doesÖin the middle of a guitar solo before finally going into the opening riff of "Gonzo". The packed house went nuts. The audience was probably divided evenly between those wearing camouflage hunting caps and those wearing their old Nugent tour shirts. Fans of all types and ages were there to witness the full-bluntal Nugity. In fact, I noticed quite a few people brought their 10-12 year-old children. Nugent has been rocking audiences for several generations and fans of old were here to introduce their youngsters to Uncle Ted.

Ted Nugent made the proclamation that his band, consisting of Derek St. Holmes, Wild Mick Brown, and Greg Smith, is the tightest band in the world. After witnessing the show it is really difficult to argue with that statement. Ted told the audience, "I didnít invent perfection, but tonight Iím going to perfect that perfection." From a technical standpoint, the band was spot-on. There were no noticeable hiccups or errors. The mix sounded excellent and I was blown away by Derek St. Holmes. This was the first time I had seen Nugent since he reunited with Derek and I was really interested to hear that voice from all of the classic Nugent tunes. He did not disappoint me. Derek St. Holmes sounded phenomenalÖI truly couldnít differentiate between his live vocal now and what you hear on the radio every time they play "Stranglehold".

As expected, Ted Nugent was never at a loss for words as he engaged the audience. Topics of discussion ranged from Detroitís recent bankruptcy to the NSA spying on our phone conversations. At one point he asked the crowd if any of them purchased their tickets for tonightís show with food stamps. A few people (probably having had several adult beverages) yelled out, "yeah!" Without missing a beat, Ted replied; "You soulless pieces of shit-you need to leave here and move to Canada-we donít want you." It wasnít all about politics though, Uncle Ted also paid tribute to his Motown influences and funk brothers by throwing in a little blues ditty in the middle of "Wang Dang Sweet Poontang" (the greatest love song ever written). He talked about Howliní Wolf and Muddy Waters as well as Little Richard; having all been cited by Ted as his major influences. His mantra for the evening and for the tour Ė "Donít forget where you come from." The setlist really echoed the mantra as it was weighted by many classics such as "Hey Baby", "Great White Buffalo", and "Stranglehold".
There was no denying the energy and intensity emitting from Ted and the boys, but after a half-century of touring, swinging on vines, jumping off of Marshalls, and riding buffaloes out on stage, Tedís knees are basically shot and his actions on stage have mellowed over recent years. Nonetheless, he manages to pull off an excellent show, leaves it all on the stage, and his musicianship is unmatched. It was an excellent show and I felt like the band had put on a clinic. Several times during the set Ted referenced how so many bands nowadays never really perfect their instrument and never rehearse or practice. The entire set was performed as if it were a well oiled machine. Song after song and solo after solo just poured out of the group effortlessly. We were all witnesses of these veteran players at the top of their game.
Setlist:
"Gonzo"
"Just What the Doctor Ordered"
"Wango Tango"
"Turn It Up"
"Free-for-all"
"Stormtroopin"
"Wang Dang Sweet Poontang" (Blues Jam)
"Live It Up"
"Queen of the Forest"
"Fred Bear"
"Hey Baby"
"Cat Scratch Fever"
"Stranglehold"
Encore: Check out the photos from show!
All Photos By Geoff Ketler/Aces High Photography

Please log in to view RANTS




ALICE COOPER Road

RAT ROD Four On The Floor

GIRLSCHOOL WTFortyFive?

DANKO JONES Electric Sounds

AVATAR, ORBIT CULTURE, THE NATIVE HOWL In Houston, TX With Photos!

THE DEAD DAISIES In Hollywood, CA With Photos!

KILL DEVIL HILL Seas Of Oblivion

THE DEAD DAISIES In Ottawa, Canada

MAMMOTH WVH In Santa Ana, CA

UADA Crepuscule Natura

BARONESS Stone

KAMELOT, BATTLE BEAST, XANDRIA In Houston, TX With Photos!

CRYPTOPSY As Gomorrah Burns

RAY ALDER II

GHOST, AMON AMARTH In Houston, TX With Photos!

U.D.O. Touchdown

DETHKLOK Dethalbum IV

STEVE VAI In Ottawa, Canada

PANTERA, LAMB OF GOD In Houston, TX With Photos!

OVERKILL, EXHORDER, HEATHEN In Los Angeles With Photos!

PUPIL SLICER Blossom