Iron Maiden Auction Exclusive Items To Raise Funds For Clive Burr


By Sefany Jones, Contributing Editor
Wednesday, June 19, 2002 @ 11:09 AM


| | | |
| --- | --- | --- |
| | | Incredible Memorabilia Will Be |
For Immediate Release: IRON MAIDEN
Auction launched to raise funds for former drummer, Clive Burr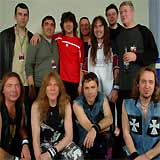 Following three fantastic sell out nights at London's Brixton Academy; record breaking merchandising sales and a phenomenal chart breaking success with the single "Run To The Hills," Iron Maiden are proud to announce that they have already raised approaching a quarter of a million pounds sterling for the Clive Burr MS Trust. Both EMI Records and Zomba Music Publishers have also kindly donated their profits from their side of the single. Seen enclosed are key UK EMI Executives with Manager Rod Smallwood backstage at Brixton Academy presenting the band and Clive Burr with their cheque. The sequence of events leading to the shows was the sad news last year that ex-member and friend, Clive Burr, revealed he was suffering Multiple Sclerosis while being interviewed for a documentary about their legendary Number Of The Beast album. The band immediately rallied together and performed the three special shows in London to an audience of fans that had traveled from the four corners of the world to show their support. All profits from the three shows were placed in the The Clive Burr Multiple Sclerosis Trust which is a fund that will not only help Clive and MS sufferers, but will also contribute to vital research into the debilitating disease which affects so many people. To help raise more funds the band have decided to release from their own archives some very exclusive Memorabilia from their career spanning over 20 years to help raise further funds for the trust. Maiden's drummer Nicko McBrain is kindly donating his monster full performance Drum Kit. The drum kit is his full Full 31 Piece Signia Marquee Premier Kit including Paiste Cymbals and is a chance of a lifetime opportunity to bid for a large piece of rock history. The kit has been used by Nicko on tour, at Festivals, TV performances (including their recent performance of "Run To The Hills" on Top Of the Pops) and drum clinics around the world spanning the last 8 years. The kit comes with stands and the drums are in Hardcase cases. For the guitarists there is a Fender Stratocaster 'Iron Maiden' Signature Series Guitar signed by all members of the band including ex-drummer Clive Burr. The Iron Maiden guitars are part of a Limited Edition Stratocaster made by Fender to the specifications given by Dave Murray, Janick Gers and Adrian Smith. The Stratocaster features Seymour Duncan Pickups and Locking Floyd Rose Tremelo. For the first time the band have decided to make available to the public an 'Eddie' stage prop from their 'No Prayer from the Road' Tour which is truly monstrous. The construction features an eight-foot high Eddie head and shoulders and two arms which were part of the Stage set where Eddie emerged from a huge on stage coffin similar to the No Prayer album cover. The band have raided their storage facility and have unearthed rare Monsters Of Rock posters from their 1988 Headlining Monsters of Rock shows in France, Italy and Spain as well as a very rare 1985 Powerslave Tour poster for their sell-out shows at Radio City Hall in New York. Also up for grabs are some exclusive Clive Burr Event T-shirts from the recent London Brixton Academy, which have been signed by the entire band and Clive Burr, and 20 signed copies of the Limited Edition Event Postergrammes. These items were signed specifically for this auction and are only available at the action -- you will not find these signed items anywhere else in the world! This is the only official Iron Maiden auction and all the items are a must for eager collector. All proceeds will go to the Clive Burr Trust. The auction will commence at Midday 12pm (GMT) on June 28th on EBay and will run for 10 days to give everyone plenty of opportunity to bid. The auction items will be listed on the Charities page on www.ebay.co.uk and will also be also listed on www.Ebay.com Full information on each of the items, including photographs, will be posted on the bands website, www.ironmaiden.com with direct links to the auction on Friday 28th June.




Please log in to view RANTS

If you don't have a username, click here to create an account!






Represent! Get Your KNAC.COM Bumper Sticker

Happenings This Week on KNAC.COM

NIGHTWISH Announce North American Leg Of HVMAN. :||: NATURE. World Tour

HAKEN, SYMPHONY X Join For Co-Headline North America Tour

ALCATRAZZ Releases New Video For "Grace Of God"

KILL RITUAL Announce Thy Will Be Done EP

BLOOD RED THRONE Shares "Transparent Existence" Video

NORDIC NOISE Festival Celebrates 10th Anniversary In 2022

THE THREE TREMORS Return With New Album, Guardians Of The Void

STEVE VAI Reveals 'Vai Academy 6.0 - Finding Your Note' Dates

THY ART IS MURDER Unleash Video For "Dead Sun"

DEEP PURPLE Unveils New Album Turning To Crime

GEMINI SYNDROME Share New Video For "Absolution"

TWISTED SISTER Guitarist JAY JAY FRENCH Announces New Memoir Signings

NITA STRAUSS, DAVID DRAIMAN Team Up For New Video "Dead Inside"

BULLET FOR MY VALENTINE Release "Rainbow Veins" Video

DONNIE VIE Announces New Single Party Time", Solo Career Box Set The Donnie Vie Collection

TRIVIUM Debut New Video For "The Phalanx"

LORD OF THE LOST Announces Livestream BluRay/DVD/CD The Sacrament of Judas

BEAST IN BLACK Share New Video For "One Night In Tokyo"

VADER Set To Release Blitzkrieg In Texas: Live 2005

HYPOCRISY Unleash "Dead World" Video

SHADOW OF INTENT Announce New Album Elegy

MINISTRY Launches Video For "Disinformation"

ENSLAVED Release Video For Track "Ruun II - The Epitaph"

METALVILLE RECORDS To Release Christmas Sampler R#XMAS

Doom Act CAVERN DEEP Release Full Album Music Video

NON RESIDENTS Premiere Full New Album Stream For Against Police Brutality

4th Annual WOMEN WHO ROCK Benefit Concert Announced, Presented By Gibson Gives

WAGE WAR Launches New Album Title Track Video, "Manic"

HYPERSPACE METAL FESTIVAL Announces 2022 Lineup

SABATON Return With New Album The War To End All Wars

MEMPHIS MAY FIRE Drop "Somebody" Video

LZZY HALE Of HALESTORM Partners With Strung Guitar String Jewelry Line For A Good Cause

RIVERS OF NIHIL Launch "The Void From Which No Sound Escapes" Video

AFTERSHOCK Band Performance Times, Onsite Experiences, Food & Beverage Offerings Announced

THE DEVIL WEARS PRADA Share New Video For "Sacrifice"

BATTLE BEAST Reveal New Album Details For Circus Of Doom

ANTHRAX Bassist FRANK BELLO Set To Release New Memoir, Fathers, Brothers, And Sons: Surviving Anguish, Abandonment, And Anthrax

ALL HAIL THE YETI Unveils Within The Hollow Earth EP

THEM EVILS Unleash New Video "Remember My Name"

BAY STRIKES BACK TOUR Featuring TESTAMENT, EXODUS And DEATH ANGEL Postponed Until 2022

LORDS OF BLACK Share New Video "Bound To You"

ZAKK WYLDE, DEATH WISH COFFEE Partner For 'Valhalla Java Odinforce Blend'

AD INFINITUM Drops New Video "Afterlife" Featuring NILS MOLIN (AMARANTHE, DYNAZTY)

BARONESS Confirm 'Your Baroness – An Intimate Evening With Baroness' Tour

PLUSH Announces Self-Titled Debut Album, Releases New Single "Athena"

OF MICE & MEN Share New Song "Mosaic"

THE UNITY Set To Release New Live Album, The Devil You Know – Live

SODOM's M-16 Album Gets 20th Anniversary Edition

SWALLOW THE SUN Set To Hit The Road On The 2021 U.S. 'Moonflowers Tour'

IMPERIAL TRIUMPHANT Announce New Live Album An Evening With Imperial Triumphant

MADAME MAYHEM Releases New Single, Video "I Am More"

FIT FOR AN AUTOPSY Reveal New Album Details For Oh What The Future Holds

THE STORE FOR MUSIC Launches Label GLOBAL ROCK RECORDS, Signs LILLIAN AXE

1000 BONE CYLINDER EXPLOSION Premieres Full New Album Bind

AS I LAY DYING Release New Single, "Roots Below"

NORTHTALE Unveil New Album Eternal Flame

STARSET Are "Leaving This World Behind" With New Streaming Transmission

TOOL Announce Extensive 2022 Tour Dates For U.S. & Europe

KILLSWITCH ENGAGE Share "Us Against The World" Video

MINISTRY Move Upcoming Tour Dates To 2022

THE DARKNESS Unleash New Single, Video For "Jussy's Girl"

RUNNING WILD Stream New Single "The Shellback"

WHITECHAPEL Launches "A Bloodsoaked Symphony" Video

LIZZY BORDEN Vinyl Reissues For Master of Disguise And Deal With The Devil Now Available Via Metal Blade

LORDI Release New Video, 2-Track Single For "Abracadaver"

TWISTED SISTER Guitarist JAY JAY FRENCH To Release New Memoir, Twisted Business: Lessons from My Life in Rock 'N' Roll

UNTO OTHERS Announce 2021 U.S. Headline Tour

CRADLE OF FILTH Set To Kick Off 'Lustmord and Tourgasm' Tour North American Tour

NILE Announce 2022 U.S. Tour Dates With INCANTATION, SANGUISUGABOGG And I AM

OMNIUM GATHERUM Release New Single, Video For "Reckoning"

CRAZY LIXX Share New Song "Reach Out"

THE LURKING FEAR Reveals Sophomore Album Death, Madness, Horror, Decay

WOLVES IN THE THRONE ROOM Announce Winter 2022 North American Tour

ARMORED SAINT Launches "The Truth Always Hurts" Live Video

DREAM THEATER Release Video For Debut Single "Invisible Monster"

VOLBEAT Unveil New Album Servant Of The Mind

KISSIN' DYNAMITE Releases Second Single, Video For "What Goes Up"

SLIPKNOT Offspring Band VENDED Release Debut Single "Asylum"

GEMINI SYNDROME Announce Fall 2021 'Initiation' Headline Tour Dates

SCATTERED HAMLET Share New Album Title Track Video For "Stereo Overthrow"

FULL OF HELL Unleash "Eroding Shell" Video

TREMONTI Shares New Single "Now And Forever"

KISS' Destroyer Album Gets Super Deluxe 45th Anniversary Edition

EPICA Launches 'Epica Beer' In Cooperation With Kazematten Brewery

REV JONES Set To Release New Solo Album, In The Key Of Z

NWOBHM Legends VARDIS Announce New Double Live Album, Guaranteed No Overdubs: 100 MPH @ 100 Club

HEMLOCK Announce 'Violence & Vic-Tour'

GWAR, FANAPLY Confirm Digital Collectibles For NFTs

L.A. GUNS Drop New Video For "Cannonball"

VOLBEAT, GHOST Confirm 2022 Co-Headline Tour

KING'S X Frontman DUG PINNICK Releases New Single, Video For "Key Changer"

FEAR FACTORY Releases Aggression Continuum: The Instrumentals Album

CRADLE OF FILTH Unleash "Necromantic Fantasies" Video

EXODUS Shares New Single, "Clickbait"

BEHEMOTH Announce Live Release In Absentia Dei

OZZY OSBOURNE Set To Release Special 10" "Hellraiser" Single, Featuring Mash-Up With LEMMY

ALIEN WEAPONRY Reveals New Video For "Hatupatu"

JOHN 5 Returns With New Album Sinner

INSOMNIUM Launches New Video For "The Wanderer"

NIGHT RANGER's Somewhere In California Gets 10th Anniversary Vinyl Release For Record Store Day

ENSIFERUM, DARK TRANQUILLITY Join For European Co-Headline Tour

BRING ME THE HORIZON Release "DiE4u" Single, Video

RAVEN Announces 'Metal City' US Tour

ABORTED Share New Video For "Dementophobia"

MONOLORD Set For New Album Your Time To Shine

Rock City Guitar Virtuoso SAMMY BOLLER Confirms First Ever Headline Tour

ENUFF Z'NUFF Announces New Covers Album, Enuff Z'Nuff's Hardrock Nite

FAITH NO MORE, MR. BUNGLE Cancel Upcoming Performances

BEATALLICA Reveal Cover Art, Announce Details For The Devolver Album

OPETH Announces Fall 2021 Co-Headline Tour With MASTODON

MONSTER MAGNET Unleashes Lyric Video For "Solid Gold Hell"

STEVE VAI Confirms 2022 'Inviolate' U.S. Tour

HELLOWEEN Teams Up With Incendium For Comic Book And Action Figures

OBITUARY Announce Livestream Event On September 25th

GRINDER BLUES Ask "Who Wants A Spankin" With Streaming New Track

STATIC-X Announce 'Rise Of The Machine' North American Tour 2022

SOLENCE Release New Album Deafening

JERRY CANTRELL Releases New Album Title Track Video For "Brighten"

KING'S X Frontman DUG PINNICK To Release 5th Solo Album, Joy Bomb

VAMPIRES EVERYWHERE Share New Video For "Death Of Me"

SUFFOCATION Announce New Album Live In North America

BROTHERS IN ARMS Release Second Single, Video For "Bitch Is Crazy" From Debut Album Sunset And Clark

ENTERPRISE EARTH Unveil New Album The Chosen

LIVING DEAD GIRL Reveals Hair-Raising New Video For "Exorcism"

KHEMMIS Set For New Album Deceiver

SUNFLOWER DEAD Release New Single "Falling Down"

SONATA ARCTICA Reveal Rescheduled Tour Dates

HYPOCRISY Announce New Album Worship

DORO Streams Second Track From Triumph And Agony Live, "Für Immer"

BULLET FOR MY VALENTINE Unload New Video For "Shatter"

STARSET Return With Fourth Studio Album Horizons

THE AGONIST Unveil Days Before The World Wept EP

ROCK 'N' ROLL FANTASY CAMP Moves Florida Events To 2022

TODD LA TORRE Unleashes New Video For "Vexed"

ROB ZOMBIE Announces Limited Edition 8-Track For The Lunar Injection Kool Aid Eclipse Conspiracy

SPONGE Vocalist, FEAR FACTORY Drummer, And Bassist DAVID ELLEFSON Join Forces In THE LUCID

HELMET Set To Release First-Ever Live Album, Live And Rare

WE CAME AS ROMANS Premiere "Black Hole" Video

VADER Confirm Second Part of 'De Profundis XXV' Tour

TONY MARTIN Announces Release Date For Solo Album Thorns

CAVO Share New Single "Cynical"

MYLES KENNEDY Drops New Video For "A Thousand Words"

PARADISE LOST To Release The Lost And The Painless 6CD/1DVD Set

MASSACRE Reveal New Single "Ruins Of R'Lyeh"