Iron Maiden Auction Exclusive Items To Raise Funds For Clive Burr


By Sefany Jones, Contributing Editor
Wednesday, June 19, 2002 @ 11:09 AM


| | | |
| --- | --- | --- |
| | | Incredible Memorabilia Will Be |
For Immediate Release: IRON MAIDEN
Auction launched to raise funds for former drummer, Clive Burr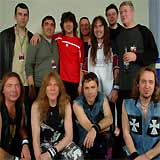 Following three fantastic sell out nights at London's Brixton Academy; record breaking merchandising sales and a phenomenal chart breaking success with the single "Run To The Hills," Iron Maiden are proud to announce that they have already raised approaching a quarter of a million pounds sterling for the Clive Burr MS Trust. Both EMI Records and Zomba Music Publishers have also kindly donated their profits from their side of the single. Seen enclosed are key UK EMI Executives with Manager Rod Smallwood backstage at Brixton Academy presenting the band and Clive Burr with their cheque. The sequence of events leading to the shows was the sad news last year that ex-member and friend, Clive Burr, revealed he was suffering Multiple Sclerosis while being interviewed for a documentary about their legendary Number Of The Beast album. The band immediately rallied together and performed the three special shows in London to an audience of fans that had traveled from the four corners of the world to show their support. All profits from the three shows were placed in the The Clive Burr Multiple Sclerosis Trust which is a fund that will not only help Clive and MS sufferers, but will also contribute to vital research into the debilitating disease which affects so many people. To help raise more funds the band have decided to release from their own archives some very exclusive Memorabilia from their career spanning over 20 years to help raise further funds for the trust. Maiden's drummer Nicko McBrain is kindly donating his monster full performance Drum Kit. The drum kit is his full Full 31 Piece Signia Marquee Premier Kit including Paiste Cymbals and is a chance of a lifetime opportunity to bid for a large piece of rock history. The kit has been used by Nicko on tour, at Festivals, TV performances (including their recent performance of "Run To The Hills" on Top Of the Pops) and drum clinics around the world spanning the last 8 years. The kit comes with stands and the drums are in Hardcase cases. For the guitarists there is a Fender Stratocaster 'Iron Maiden' Signature Series Guitar signed by all members of the band including ex-drummer Clive Burr. The Iron Maiden guitars are part of a Limited Edition Stratocaster made by Fender to the specifications given by Dave Murray, Janick Gers and Adrian Smith. The Stratocaster features Seymour Duncan Pickups and Locking Floyd Rose Tremelo. For the first time the band have decided to make available to the public an 'Eddie' stage prop from their 'No Prayer from the Road' Tour which is truly monstrous. The construction features an eight-foot high Eddie head and shoulders and two arms which were part of the Stage set where Eddie emerged from a huge on stage coffin similar to the No Prayer album cover. The band have raided their storage facility and have unearthed rare Monsters Of Rock posters from their 1988 Headlining Monsters of Rock shows in France, Italy and Spain as well as a very rare 1985 Powerslave Tour poster for their sell-out shows at Radio City Hall in New York. Also up for grabs are some exclusive Clive Burr Event T-shirts from the recent London Brixton Academy, which have been signed by the entire band and Clive Burr, and 20 signed copies of the Limited Edition Event Postergrammes. These items were signed specifically for this auction and are only available at the action -- you will not find these signed items anywhere else in the world! This is the only official Iron Maiden auction and all the items are a must for eager collector. All proceeds will go to the Clive Burr Trust. The auction will commence at Midday 12pm (GMT) on June 28th on EBay and will run for 10 days to give everyone plenty of opportunity to bid. The auction items will be listed on the Charities page on www.ebay.co.uk and will also be also listed on www.Ebay.com Full information on each of the items, including photographs, will be posted on the bands website, www.ironmaiden.com with direct links to the auction on Friday 28th June.




Please log in to view RANTS

If you don't have a username, click here to create an account!






Represent! Get Your KNAC.COM Bumper Sticker

Happenings This Week on KNAC.COM

CLUTCH Announce New 2019 Winter Tour Dates

WARKINGS Unleash "Sparta" Music Video

SWALLOW THE SUN Unveil New Album Details For When A Shadow Is Forced Into The Light

New Supergroup SPIRITS OF FIRE, Featuring TIM "RIPPER" OWENS, CHRIS CAFFERY, STEVE DIGIORGIO & MRK ZONDER, Reveal Debut Album

STEEL PANTHER Announce First US Tour Dates Of 2019 With The "Heavy Metal Mardi Gras" Tour

EINDHOVEN METAL MEETING Reveals Band Running Order

THE GLORIOUS SONS Confirm 2019 U.S. Headline Tour

TYGERS OF PAN TANG Set To Release Hellbound Spellbound Live 1981

SLASH FEATURING MYLES KENNEDY AND THE CONSPIRATORS Launch Music Video Shot By Fans For "Mind Your Manners"

HYPOCRISY, FLESHGOD APOCALYPSE & AENIMUS Announce North American Tour

NEW YEARS DAY Stream New Song "Skeletons" From Forthcoming Album

JOE PERRY Debuts New Video For "Quake" Featuring GARY CHERONE

HARD ROCK HELL XIII Reveals Inital Bands For 2019

DEVIN TOWNSEND Announces "An Evening With" Acoustic Solo Tour

BULLETS AND OCTANE Release "When We Were Young" Single/Music Video

RED DRAGON CARTEL Announces North American Tour

AUGUST BURNS RED Releases Winter Wilderness EP

ARTILLERY Releases Video For Third Single, "Pain"

LACUNA COIL Releases 'Nothing Stands In Our Way' Book

KANE ROBERTS Set To Release The New Normal Solo Album

IRON MAIDEN Announce "Legacy Of The Beast" 2019 Dates

NORDIC NOISE Announces First Bands For 2019

A PERFECT CIRCLE Drop Gleefully Apocalyptic Video For "So Long, And Thanks For All The Fish"

TRIPTYKON, ROADBURN Collaborate In The Completion Of CELTIC FROST's Unfinished Requiem

More MEGADETH Inaugural MEGACRUISE Details Revealed

QUIET RIOT Set To Release One Night in Milan Live Album

CRIMSON REIGN Debut '"The Darker Side Of Life" Video

CORROSION OF CONFORMITY Announces 2019 North American Headlining Tour

MEMPHIS MAY FIRE Premiere "The Old Me" Video

Ex-DOKKEN Supergroup Changes Band Name From SUPERSTROKE To THE END: machine

VANDENBERG'S MOONKINGS Release Lyric Video For "Walk Away"

DEKO MUSIC Launches New Label With Specialty Vinyl Releases

SILVER TALON Rises From SPELLCASTER Ashes

TANTRIC Premieres Official "Letting Go" Music Video

RAVEN Set To Unleash New Live Album Screaming Murder Death From Above: Live in Aalborg

SLEEPKILLERS Drop Video For "Dirty Foot"

BILLYBIO (BIOHAZARD/POWERFLO) Set To Release Debut Solo Album, Feed The Fire

DREAM THEATER Unveil New Album Distance Over Time, 2019 North American Tour

LIKE A STORM Release New Video For "Pure Evil"

HOLLOW CRY Unleash New Track, "Procrastinated"

OZZY OSBOURNE Announces Tour Dates With MEGADETH

BILL HUDSON's NORTHTALE Unveil First Song "Shape Your Reality" From Upcoming Album

CELLAR DARLING Stream New Single, Video For "Insomnia"

METALWINGS Launch "For All Beyond" Video

BEDLEM, Featuring PAUL WANDTKE (ex-TRIVIUM), Releases Debut LP Back To Bedlem

MEKA NISM Premiere Music Video "Black Sky"

BLACK WATER RISING Premieres New Video For "World of Frustration"

HERMAN FRANK Set To Release Fight The Fear Album

AMON AMARTH Launches "Raise Your Horns" Live Video

"Burn In Hell" With DANKO JONES' New Track

HOLLYWOOD UNDEAD Release Surprise EP, Psalms

BUCKCHERRY Reveal First New Track in Over Three Years, "Head Like A Hole"

THE POWER OF THE RIFF's Final Lineup Announced

New Book, Long Live Queen: Rock Royalty Discuss Freddie, Brian, John & Roger, Out Now

THE NIGHT FLIGHT ORCHESTRA Debut New Music Video, Kick Off European Tour

GODSMACK Announce 2019 European Tour Dates

SEVENDUST Release Music Video For "Unforgiven"

TENGGER CAVALRY Frontman Curates Nomadic Metal Compilation, Sound of The Raging Steppe

SODOM Go "One Step Over The Line" With New Single, Video

WHITECHAPEL Set To Release New Album The Valley

AUGUST BURNS RED Confirm Winter 2019 Tour Dates

DUST BOLT Are Trapped In Chaos With New Album

More OZZFEST New Year's Eve Los Angeles Details Revealed

MAGNUM Announce New Live Album Live At The Symphony Hall

KAMELOT Announce 2019 North American Tour

ARCHITECTS Release "Modern Misery" Video

BEAST IN BLACK Unveil From Hell With Love"

THE MARYLAND DOOM FEST Confirms Its 2019 Full 5th Anniversary Lineup

FIGHT THE FURY Drop New Video "My Demons"

LAST UNION Featuring MIKE LEPOND, ULI KUSCH And JAMES LABRIE Reveal Twelve Album Details

AMBERIAN DAWN Premiere Video For "Cherish My Memory"

ALTITUDES & ATTITUDE Feat. DAVID ELLEFSON (MEGADETH), FRANK BELLO (ANTHRAX) Ready New Album Get It Out

QUEENSYRCHE Unveil New Album The Verdict, Spring Tour

BRITISH LION Stream New Track "Spit Fire" Ahead Of November Tour

HAMMERFALL To Release Legacy Of Kings - 20 Year Anniversary Edition Boxset

STELLAR CIRCUITS Drops "Skylights" Video

GRANNY 4 BARREL Kick Off Tour With CKY

SOILWORK Release "Full Moon Shoals" Single, Video

NIGHTWISH Confirm Re-Issue End Of An Era Live Album

ASHES OF ARES Unleash "Let All Despair" Video

MARTY FRIEDMAN Reveals 2019 U.S Tour Dates

ACCEPT Reveal Live Video For "Symphony No. 40"

VOLBEAT To Release Live Album, Concert Film Let's Boogie! Live From Telia Parken

KISS Announces First "End Of The Road" Tour Dates

GIN ANNIE Set To Release Debut Album 100% Proof

SURF CITY BLITZ Reveals Band Performance Times, Motorcycle Event Times, Onsite Activities & More

JETBOY Are "Beating The Odds" With New Track Streaming

LORD OF THE LOST Reveal Confession (Live at Christuskirche) CD/DVD

WARKINGS Release Second Glorious Single "Hephaistos"

OPETH Announce LA Garden Of The Titans Film Screening

METAL ALLEGIANCE Confirm Their Annual Los Angeles January Metal Assault

Music Industry Veterans Look To Reward Fans, Sites, And Musicians With Revolutionary CNOTE

Canadian Rockers ONE Go All Or Nothing With New Album

STEVE VAI Unveils "Dark Matter" Video

CENTURY MEDIA RECORDS Streams Documentary Of WARREL DANE Recording Shadow Work

TED POLEY's Modern Art Album Gets Splatter Vinyl Issue

POWERWOLF Premiere Video For Title Track "The Sacrament Of Sin"

REPENTANCE Stream New Single, "Enter The Gallows"

ICE NINE KILLS Drop "Stabbing In The Dark" Video

STATIC-X Returns with Original Band Lineup, Announces New Album, World Tour For 20th Anniversary Of Debut Album, Wisconsin Death Trip

SIRENIA Launch Official Video For "Into The Night"

Artist VINCENT CASTIGLIA Documentary Bloodlines: The Art And Life Of Vincent Castiglia Out In November

STRIKER Go "Head First" With New Video

2019 ROCKSTOK Festival Announced

JINJER Releases New Single And Video For "Ape"

OZZFEST To Celebrate New Year's Eve In Los Angeles

LIKE A STORM Announce December Headline Tour

MAC SABBATH Debuts Meaty Marionette Music Video For "Sweet Beef"

JORN To Release 50 Years On Earth - The Anniversary Box Set

MYLES KENNEDY Releases The Great Beyond Video

STARBREAKER, Featuring TONY HARNELL And MAGNUS KARLSSON, Readies New Album Dysphoria

AFTERSHOK Unleash "Forever In Metal" Video

FATE DESTROYED Caution "We Fall" In New Music Video

INGLORIOUS Announce New Album Ride To Nowhere

DIRE PERIL Unleash "Blood In The Ice" Video

ARTILLERY Releases New Single, "Crossroads To Conspiracy"

BEAST IN BLACK Reveal New Album "From Hell With Love"

FRACTAL CYPHER's New Music Video Reaches "From The Above And To The Stars"

TENGGER CAVALRY Announce North American Tour

GHOST Reaches Into The Past For "Dance Macabre" Video

REVERENCE Announce Vengeance Is...Live Live Album

KATAKLYSM Release New Animated Video For "...And Then I Saw Blood"

ALL THAT REMAINS Guitarist OLI HERBERT Passes Away At 44

WAR OF THRONES Unleash "Say What" Video

JIZZY PEARL'S LOVE/HATE Returns To The UK For Four Special Shows