Iron Maiden Auction Exclusive Items To Raise Funds For Clive Burr


By Sefany Jones, Contributing Editor
Wednesday, June 19, 2002 @ 11:09 AM


| | | |
| --- | --- | --- |
| | | Incredible Memorabilia Will Be |
For Immediate Release: IRON MAIDEN
Auction launched to raise funds for former drummer, Clive Burr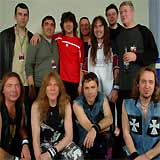 Following three fantastic sell out nights at London's Brixton Academy; record breaking merchandising sales and a phenomenal chart breaking success with the single "Run To The Hills," Iron Maiden are proud to announce that they have already raised approaching a quarter of a million pounds sterling for the Clive Burr MS Trust. Both EMI Records and Zomba Music Publishers have also kindly donated their profits from their side of the single. Seen enclosed are key UK EMI Executives with Manager Rod Smallwood backstage at Brixton Academy presenting the band and Clive Burr with their cheque. The sequence of events leading to the shows was the sad news last year that ex-member and friend, Clive Burr, revealed he was suffering Multiple Sclerosis while being interviewed for a documentary about their legendary Number Of The Beast album. The band immediately rallied together and performed the three special shows in London to an audience of fans that had traveled from the four corners of the world to show their support. All profits from the three shows were placed in the The Clive Burr Multiple Sclerosis Trust which is a fund that will not only help Clive and MS sufferers, but will also contribute to vital research into the debilitating disease which affects so many people. To help raise more funds the band have decided to release from their own archives some very exclusive Memorabilia from their career spanning over 20 years to help raise further funds for the trust. Maiden's drummer Nicko McBrain is kindly donating his monster full performance Drum Kit. The drum kit is his full Full 31 Piece Signia Marquee Premier Kit including Paiste Cymbals and is a chance of a lifetime opportunity to bid for a large piece of rock history. The kit has been used by Nicko on tour, at Festivals, TV performances (including their recent performance of "Run To The Hills" on Top Of the Pops) and drum clinics around the world spanning the last 8 years. The kit comes with stands and the drums are in Hardcase cases. For the guitarists there is a Fender Stratocaster 'Iron Maiden' Signature Series Guitar signed by all members of the band including ex-drummer Clive Burr. The Iron Maiden guitars are part of a Limited Edition Stratocaster made by Fender to the specifications given by Dave Murray, Janick Gers and Adrian Smith. The Stratocaster features Seymour Duncan Pickups and Locking Floyd Rose Tremelo. For the first time the band have decided to make available to the public an 'Eddie' stage prop from their 'No Prayer from the Road' Tour which is truly monstrous. The construction features an eight-foot high Eddie head and shoulders and two arms which were part of the Stage set where Eddie emerged from a huge on stage coffin similar to the No Prayer album cover. The band have raided their storage facility and have unearthed rare Monsters Of Rock posters from their 1988 Headlining Monsters of Rock shows in France, Italy and Spain as well as a very rare 1985 Powerslave Tour poster for their sell-out shows at Radio City Hall in New York. Also up for grabs are some exclusive Clive Burr Event T-shirts from the recent London Brixton Academy, which have been signed by the entire band and Clive Burr, and 20 signed copies of the Limited Edition Event Postergrammes. These items were signed specifically for this auction and are only available at the action -- you will not find these signed items anywhere else in the world! This is the only official Iron Maiden auction and all the items are a must for eager collector. All proceeds will go to the Clive Burr Trust. The auction will commence at Midday 12pm (GMT) on June 28th on EBay and will run for 10 days to give everyone plenty of opportunity to bid. The auction items will be listed on the Charities page on www.ebay.co.uk and will also be also listed on www.Ebay.com Full information on each of the items, including photographs, will be posted on the bands website, www.ironmaiden.com with direct links to the auction on Friday 28th June.




Please log in to view RANTS

If you don't have a username, click here to create an account!






Represent! Get Your KNAC.COM Bumper Sticker

Happenings This Week on KNAC.COM

MICHAEL ANGELO BATIO Unleashes "The Badlands" Video

LORD OF THE LOST Set For New Ensemble Album, Swan Songs III

THE PRETTY RECKLESS Drop New Single "Death By Rock And Roll"

ALICE COOPER Says "Don't Give Up" In New Video

TETRARCH Reveals '"I'm Not Right" Single, Video

DEATH Stream Another Non Analog Series Concert

KUARANTINE Featuring CHRIS JERICHO Drop Debut Single, A KISS Cover Of "No No No"

SORCERER Launches Video For Single "Deliverance"

DEE SNIDER To Release For The Love of Metal Live Album & DVD/Blu-Ray

GREY DAZE Share New Video For "Soul Song"

STATIC-X Drop Video For New Song "All These Years"

PRIMAL FEAR Release First Single "Along Came The Devil"

POWERWOLF Launches Blistering Video for Live Classic, "Sanctified With Dynamite"

AVATAR Return With New Album Hunter Gatherer, Video

PRETTY BOY FLOYD Vocalist STEVE SUMMERS Announces GoFundMe Campaign Following Tragic Family Loss

VOLBEAT Share New Animated Video For "Leviathan"

LORDI Schedules 'Scream Stream' Event For May 22nd

MISERY SIGNALS Return With First New Album In Seven Years, Ultraviolet

ALESTORM Launches "Fannybaws" Video, Single

BEHEMOTH Announces New EP, A Forest

MAGNUS KARLSSON'S FREE FALL Releases New Video For "Dreams And Scars" (Featuring RENAN ZONTA Of ELECTRIC MOB)

SLAY AT HOME Virtual Metal & Art Fest Announces First Wave Of Bands, More Each Day

JINJER Releases Intense Music Video For "Noah"

MICHAEL SCHENKER FEST Share "The Beast In The Shadow" Lyric Video

KILLSWITCH ENGAGE Launch Live Performance Video Og Acoustic Version Of "We Carry On"

KING DIAMOND To Stream Songs for the Dead: Live at the Fillmore in Philadelphia

EXHUMED Streams New Song "Rot Your Brain"

ASKING ALEXANDRIA Unleash New Video For "House On Fire"

CHAOS MAGIC Release New Desert Rose Covers EP

SUICIDE SILENCE Announces Virtual World Tour

AUTOGRAPH Set To Drop "Souls On Fire" Single

STEEL PANTHER Announces Live Streaming "Concert To Save The World"

ONSLAUGHT Unveil New Album Generation Antichrist

AS I LAY DYING Release Video For "Torn Between"

TRAPT Unveil New Album Shadow Work

PUSCIFER Returns With Timely "Apocalyptical" Video

HALESTORM Announce #ROADIESTRONG Support Campaign

WITHIN TEMPTATION "Entertain You" With New Single

AVERSIONS CROWN Drop "Born In The Gutter" Video

CENTURY MEDIA RECORDS Hosts ISOLATION FESTIVAL

CARL CANEDY Returns With Solo Outfit, CANEDY, New Album Warrior

CROBOT Stream New Track "Gasoline"

GRAVE DIGGER Unleash Video For "Lions Of The Sea"

THE NIXONS Drop The Sonic Boom With New EP

BAD AS Continue The "Endless Race" With New Track

TOKYO MOTOR FIST Announce Sophomore Album Lions

BAD COMPANY Singer BRIAN HOWE Dead At 66

METALOCALYPSTICK Festival 2020 Cancelled

MERCYFUL FATE Album Reissues For Mercyful Fate, Melissa And Don't Break the Oath Set For June

ENSIFERUM Reveal New Album Thalassic Details

Help Celebrate The Loudest Day Of The Year, MOTORHEAD DAY!

MICHAEL GRANT & THE ASSASSINS Set For Debut Album Always The Villain

L.A. GUNS Featuring PHIL LEWIS & TRACII GUNS Release New Single "Let You Down"

MORSE, PORTNOY, GEORGE Return With 2 New Albums, Cov3r To Cov3r & 'Cover To Cover Anthology

DESTRUCTION Reveal Tracklist For Born To Thrash - Live In Germany

GWAR Announces "Scumdogs of the Universe 30th Anniversary Box Set

VEIL OF MAYA Release New Track "Outsider"

MARYLAND DOOM FEST 2020 Rescheduled For October

VADER Stream New Track "Bones"

ENUFF Z'NUFF Unveil New Album Brainwashed Generation

THE SWORD Share Cover Of KISS Track "She"

KING 810 Share New Song, Video For "Dukes"

MICHAEL ANGELO BATIO Set To Release New Album More Machine Than Man

ARMORED SAINT Drop "Isolation (Live from Isolation)" Video, Digital Single

KILLSWITCH ENGAGE Reveal Atonement II B-Sides For Charity Album

BLEED FROM WITHIN Release "Night Crossing" Video

NORDIC NOISE 2020: Streaming for Vengeance Announced

THE HU Release "Song Of Women" Video Featuring LZZY HALE Of HALESTORM

2020 ARMSTRONG METALFEST Officially Cancelled

NIGHT DEMON Release New Single, 7" "Kill The Pain"

IRON MAIDEN The Live Collection - Remastered Coming In June

HAKEN Launch Video For "Canary Yellow"

ACATRAZZ Return With First New Album In 30+ Years, Born Innocent

ACID BLOOD Share New Video For "Waste No Time"

EVERY MOTHER'S NIGHTMARE's RICK RUHL Check In About New Album

FIREWIND Drop "Welcome To The Empire" Video

DEATH Share Non Analog - On Stage Series - TIJUANA 10-06-1990 Digital Album

VISCERA Release "Hammers And Nails" Video

ONLINE FEMALE FEST: The First Virtual Female Festival In History Announced

SEPTEMBER MOURNING Unleash "Madness" Upon The World With New Video

SAINT ASONIA Embark On Virtual Tour

NAPALM RECORDS Presents #NapalmSofaSeries

INKCARCERATION Announces Cancellation Of 2020 Festival

NITA STRAUSS Announces Rock Guitar Fundamentals Online Teaching Program

RAVENSCRY Release "The Door Inside" Single

WITHIN TEMPTATION To Stream Most Iconic Show Of Their Career, Black Symphony Live At Rotterdam Ahoy

METAL HALL OF FAME To Add New Voting Categories

SVEN GALI Stream New Track "Now"

LOUD AS HELL Forced To Cancel 2020 LineUp

PARADISE Share New Video "Straight From Hell"

JEFF SCOTT SOTO Releases Surprise Live Album, Loud & Live In Milan

MINISTRY Issues "Alert Level" Explosive New Track & Lyric Video

STATIC-X, DOPE Gear Stolen During Covid Lockdown

HYDROGYN Issue Special Covid-19 Song "Hostage"

PEARL JAM Reveal Gigaton Album Visual Experience On Apple TV 4K

ALESTORM Shares New Video For "Tortuga"

PARADISE LOST Unleash New Single "Ghosts"

PASSION Release Under The Covers Covers EP

KATATONIA Drop "The Winter Of Our Passing" Video

SCOTT STAPP Releases Provocative "Survivor" Visualizer

JORN Launches "New York Minute" DON HENLEY Cover Video

FLYING COLORS Confirm 4-Day Online Backstage Summit

ABYSMAL DAWN Release "Coerced Evolution" 3D Video

ALTER BRIDGE Postpone May Headline Tour

TRIVIUM Share New Song "Bleed Into Me'"

SKINLAB Releases New Video For Single "Amerikill"

Photographer JEREMY SAFFER Announces Halloween Release For Daughters of Darkness Coffee Table Photo Book

GILBY CLARKE Drops New Album Title Track Video For "Rock n' Roll Is Getting Louder

U.D.O. Announce New Album We Are One

LAMB OF GOD Debut "New Colossal Hate" Track And Lyric Video

MUSHROOMHEAD Return With New Album A Wonderful Life

AUGUST BURNS RED Launch NOFX "Linoleum" Cover Video, Featuring SILVERSTEIN's SHANE TOLD

LAMB OF GOD Delays New Self-Titled Album Release

PUDDLE OF MUDD Stream New Track "Sunshine"

DESTRUCTION Invites Fans To Be Part Of The New Live Album Born To Thrash - Live In Germany

FROM ASHES TO NEW Debuts New Video, "Panic"

RAVENSCRY Release "The Entertainer" Lyric Video, Single

CURRENTS Unveil Details For New Album The Way It Ends

MIKE LEPOND'S SILENT ASSASSINS Stream New Track "Ironborn"

STEEL PANTHER Launch "Let's Get High Tonight" Video

THUNDERMOTHER Unveil New Album Heat Wave

LOVEBITES Drop "Golden Destination" Video

THE RODS Stream New Track "1982"

RON KEEL BAND Head South X South Dakota With New Album

THE DEAD DAISIES Break The Silence With "Unbroken"

SORCERER Launches Video For "Dance With The Devil"

DANZIG Set To Release New Album Danzig Sings Elvis

DEAD GIRLS ACADEMY Launch "This Is War" Video

DARKEST HOUR Reschedules 25th Anniversary West Coast North American Tour

ART OF SHOCK Unleashes "Dark Angeles" Video

ASHER MEDIA RELATIONS Releases Free Metal Compilation, Stay The Fvck Home #CovidEdition - Metal For Your Isolation

TRIVIUM Share New Song "Amongst The Shadows & The Stones"

CANNABIS CORPSE To Host 4/20 "Wake and Bake" Special

A DAY TO REMEMBER Return With "Mindreader" Single

WOLFHEART Releases Performance Video For "Reaper"

INFECTED RAIN Reveals Rescheduled North American Tour Dates With Headliners SWALLOW THE SUN

ASKING ALEXANDRIA Release New Track "Down To Hell"

WEDNESDAY 13 Announces Fall 'Near Dark' North American Headline Tour

PIERCE THE VEIL Share Quarantine Performance Video For "Hold On Till May"

Supergroup BPMD (BLITZ, PORTNOY, MENGHI, DEMMEL) Reveal New Album American Made