Iron Maiden Auction Exclusive Items To Raise Funds For Clive Burr


By Sefany Jones, Contributing Editor
Wednesday, June 19, 2002 @ 11:09 AM


| | | |
| --- | --- | --- |
| | | Incredible Memorabilia Will Be |
For Immediate Release: IRON MAIDEN
Auction launched to raise funds for former drummer, Clive Burr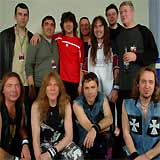 Following three fantastic sell out nights at London's Brixton Academy; record breaking merchandising sales and a phenomenal chart breaking success with the single "Run To The Hills," Iron Maiden are proud to announce that they have already raised approaching a quarter of a million pounds sterling for the Clive Burr MS Trust. Both EMI Records and Zomba Music Publishers have also kindly donated their profits from their side of the single. Seen enclosed are key UK EMI Executives with Manager Rod Smallwood backstage at Brixton Academy presenting the band and Clive Burr with their cheque. The sequence of events leading to the shows was the sad news last year that ex-member and friend, Clive Burr, revealed he was suffering Multiple Sclerosis while being interviewed for a documentary about their legendary Number Of The Beast album. The band immediately rallied together and performed the three special shows in London to an audience of fans that had traveled from the four corners of the world to show their support. All profits from the three shows were placed in the The Clive Burr Multiple Sclerosis Trust which is a fund that will not only help Clive and MS sufferers, but will also contribute to vital research into the debilitating disease which affects so many people. To help raise more funds the band have decided to release from their own archives some very exclusive Memorabilia from their career spanning over 20 years to help raise further funds for the trust. Maiden's drummer Nicko McBrain is kindly donating his monster full performance Drum Kit. The drum kit is his full Full 31 Piece Signia Marquee Premier Kit including Paiste Cymbals and is a chance of a lifetime opportunity to bid for a large piece of rock history. The kit has been used by Nicko on tour, at Festivals, TV performances (including their recent performance of "Run To The Hills" on Top Of the Pops) and drum clinics around the world spanning the last 8 years. The kit comes with stands and the drums are in Hardcase cases. For the guitarists there is a Fender Stratocaster 'Iron Maiden' Signature Series Guitar signed by all members of the band including ex-drummer Clive Burr. The Iron Maiden guitars are part of a Limited Edition Stratocaster made by Fender to the specifications given by Dave Murray, Janick Gers and Adrian Smith. The Stratocaster features Seymour Duncan Pickups and Locking Floyd Rose Tremelo. For the first time the band have decided to make available to the public an 'Eddie' stage prop from their 'No Prayer from the Road' Tour which is truly monstrous. The construction features an eight-foot high Eddie head and shoulders and two arms which were part of the Stage set where Eddie emerged from a huge on stage coffin similar to the No Prayer album cover. The band have raided their storage facility and have unearthed rare Monsters Of Rock posters from their 1988 Headlining Monsters of Rock shows in France, Italy and Spain as well as a very rare 1985 Powerslave Tour poster for their sell-out shows at Radio City Hall in New York. Also up for grabs are some exclusive Clive Burr Event T-shirts from the recent London Brixton Academy, which have been signed by the entire band and Clive Burr, and 20 signed copies of the Limited Edition Event Postergrammes. These items were signed specifically for this auction and are only available at the action -- you will not find these signed items anywhere else in the world! This is the only official Iron Maiden auction and all the items are a must for eager collector. All proceeds will go to the Clive Burr Trust. The auction will commence at Midday 12pm (GMT) on June 28th on EBay and will run for 10 days to give everyone plenty of opportunity to bid. The auction items will be listed on the Charities page on www.ebay.co.uk and will also be also listed on www.Ebay.com Full information on each of the items, including photographs, will be posted on the bands website, www.ironmaiden.com with direct links to the auction on Friday 28th June.

Please log in to view RANTS



OVERKILL Announce 'Scorching The Earth' US Tour

BLAZE BAYLEY Set To Drop New Live Album Damaged Strange Different And Live

TOOL Announce Fall North American Tour

NITA STRAUSS Unleashes "Victorious" Video Featuring DOROTHY

MELVINS, BORIS Announce Co-Headline "Twins Of Evil Tour"

FREYA Return With New Album Fight As One

LACUNA COIL Release New Single, "Never Dawn"

POP EVIL Adds New Dates To US Summer Tour

SYLOSIS Unveil New Album A Sign Of Things To Come

EXTREME Share New Single, "Other Side Of The Rainbow"

PRIMAL FEAR Presents "Another Hero" Video/Single

GUNS N' ROSES Reveal Support Acts For North American Tour

HEROES AND MONSTERS Drop "Angels Never Sleep" Video

SIGNS OF THE SWARM Set For New Album, Amongst The Low & Empty

FREAKSHOW Return With New Single, "Lovin You, Lovin Me"

CRYPTA Unveil New Album Shades of Sorrow

ONI Debut Crushing New Single, "Silence In A Room Of Lies" (Feat. JARED DINES)

BLOOD STAINED DUSK Release New EP, Deadlights Beckon Me

LITTLE MISS NASTY Announce HOUSE OF YES Residency Dates

DIETH Releases New Video "Walk With Me Forever" Featuring DAVID ELLEFSON's First Ever Solo Lead Vocal Performance

RAY ALDER Launches New Single "My Oblivion"

SCREAM MAKER Reveal New Album Land of Fire

THE DEFIANTS Share "Go Big or Go Home" Video

BLACK VEIL BRIDES, VILLE VALO Join For Co-Headline Fall Tour

ELEGANT WEAPONS Unleash New Album Title Track Video For "Horns For A Halo"

DANKO JONES Has A "Good Time" With New Video

ECLIPSE Return With New Album Megalomanium

ROCKIN' ENGINE Drop "Monsters Under Your Bed" Video

THE HAUNT, STARBENDERS Announce Co-Headline Tour

KAMELOT Release New Video For "New Babylon"

ESCAPE THE FATE Announces Late Summer/Early Fall "Out Of The Shadows" Tour

CADAVER Unveil New Album The Age Of The Offended

EXTREME Add UK, Europe Dates To "Thicker Than Blood" World Tour

FIFTH ANGEL Unleash "Resist The Tyrant" Video

WITHIN TEMPTATION Release New Single "Wireless"

ART OF SHOCK Unleash "Death Stays Silent" Video

KATAKLYSM Set To Release New Album Goliath

NARCOTIC WASTELAND Announces "Don't Meth With Texas" Dates

TESLA Set To Release Full Throttle Live Album

GHOST Stream New IRON MAIDEN Cover For "Phantom of the Opera"

U.D.O. Return With New Album Touchdown

ALCATRAZZ "Bring On The Rawk" With New Video

OBITUARY Announce UK, Ireland Tour And Summer Festival Appearances

STITCHED UP HEART Drop New Single "To The Wolves"

RAVEN "Surf The Tsunami" In New Video

LA's GATES OF METAL FESTIVAL Announces October 14-15 Line-Ups

FALLUJAH Announces 'The Death Empyrean Tour'

LORD OF THE LOST Share "The Curtain Falls" Video

DANCE GAVIN DANCE Announce 'The Jackpot Juicer US Tour'

EVILE Unveil New Album The Unknown

EVERCLEAR Announces Fall Headlining Tour

TOLEDO DEATH FEST Announces New Headliners

BUTCHER BABIES Unleash New Single, Video For "Red Thunder"

STEEL PANTHER Announce 2nd Leg Of 'On The Prowl' US Tour

ASKING ALEXANDRIA Launch New Video For "Dark Void"

Sold Out SHIPROCKED 2024 Reveals Music Lineup

SAUL Return With New Album This Is It... The End Of Everything

THE DEVIL WEARS PRADA, FIT FOR A KING Announce Fall 2023 Co-Headline 'Metalcore Dropouts Tour'

RHAPSODY OF FIRE Share New Track "Kreel's Magic Staff"

Guitarist NITA STRAUSS Set For New Album The Call Of The Void

LIV KRISTINE Shares New Video For "River Of Diamonds", Featuring MOONSPELL Frontman

BLUE RIDGE ROCK FESTIVAL Reveals Full Music Lineup

SEVENDUST Unleash New Video For "Everything"

MEMPHIS MAY FIRE Announce Summer Tour Dates

DEVILDRIVER Drops "This Relationship, Broken" Video

MILWAUKEE METAL FEST Reveals Daily Schedules

WYTCH HAZEL Unveils New Video For "Strong Heart"

RAY ALDER Shares New Single "Waiting For Some Sun"

THE WINERY DOGS Release New Video For "Breakthrough"

THY ART IS MURDER Get Godlike With New Album

MAMMOTH WVH Drop New Track "Like A Pastime"

ATTILA Announce 'About That Life 10-Year Anniversary Tour'

LEATHÜRBITCH Set For New Album Shattered Vanity

BUCKCHERRY Premiere "Shine Your Light" Video

VOMITORY Return With New Album All Heads Are Gonna Roll

SEVEN KINGDOMS Drop New Video For "A Silent Remedy"

H.E.A.T Share Video For New Track "Will You Be"

KARBHOLZ Set For Second Album Of 2023, Kapitel 10: Wilde Augen

WINGER Premiere "Tears Of Blood" Video

MILWAUKEE METAL FEST Launches 25% Off Ticket Promo

FILTER Launch New Single "Face Down"

ARMSTRONG METALFEST Announces 2023 Lineup

SCAR SYMMETRY Unleash "Chrononautilus" Video

LIKE MOTHS TO FLAMES Share New Single "I Found The Dark Side of Heaven"

VOYAGER Reveals New Album Fearless In Love

DEF LEPPARD Releases Video For "Hysteria"

MITCH MALLOY Unveils New Solo Album The Last Song

LOST HEARTS Drop New Single "Night To Remember"

ARMORED SAINT Documentary, Armored Saint - A Band of Brothers Set For May Premiere In Hollywood

3TEETH Re-Emerge With New Single, Video "Merchant Of The Void"

ROCKLAHOMA Reveals Daily Band Lineups

GARY MOORE The Sanctuary Years Box Set Coming

TENNESSEE METAL DEVASTATION MUSIC FEST Unveils Full Lineup

TOM KEIFER #KEIFERBAND Launch New Video For "Untitled"

SONIC TEMPLE ART & MUSIC FESTIVAL Announces Band Performance Times, Additional On-Site Experiences, Food & Beverage Offerings & Official Mobile App

THE LONELY ONES Confirm Summer Tour Dates

Guitarist CHRIS CAFFERY Reveals First New Single In Five Years, "May Day"

THY ART IS MURDER Share Full Concert Stream For Decade Of Hate (Live In Melbourne 2023)

BURNING WITCHES Drop New Video, "World On Fire"

LAMB OF GOD Announce String Of Summer Shows

SAVAGE EXISTENCE Unleash "Standing In Flames" Video

200 STAB WOUNDS Release Masters of Morbidity EP

ENFORCED Launches New Album Title Track Video For "War Remains"

MASSACRE Surprise Fans With New Live Album, Submergence: Live Beyond 2019

GARDNER/JAMES Release New Video For "'85"

VIRGIN STEELE Unveil New Album The Passion of Dionysus

AEROSMITH Announces 'Peace Out' Farewell Tour

CRADLE OF FILTH Reveals "Demon Prince Regent" Video

METAL CHURCH Share New Song "Making Monsters"

INGESTED Release "With Broken Wings" Video

TRIUMPH Live At The US Festival Set For Release

PLUSH Releases New Single "Left Behind"

RAVEN BLACK Announces 'The Scream Tour' Summer Dates

WELCOME TO ROCKVILLE Unveils Band Performance Times, On-Site Experiences, Food & Beverage Offerings

VEXED Reveal New Album, Negative Energy

AVATAR Unleash Video For "Chimp Mosh Pit"

BEAST IN BLACK Announce Fall 2023 North American Tour

GIRLSCHOOL Return With WTFortyfive? Album

THE DEFIANTS Drop New Video For "19 Summertime"

ALL TIME LOW Announce North American "The Sound Of Letting Go On Tour"

MOTORHEAD Set For Previously Unreleased Live Show, Live At The Montreux Jazz Festival 2007

JAG PANZER Presents "Stronger Than You Know" Single