Iron Maiden Auction Exclusive Items To Raise Funds For Clive Burr


By Sefany Jones, Contributing Editor
Wednesday, June 19, 2002 @ 11:09 AM


| | | |
| --- | --- | --- |
| | | Incredible Memorabilia Will Be |
For Immediate Release: IRON MAIDEN
Auction launched to raise funds for former drummer, Clive Burr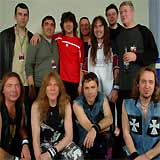 Following three fantastic sell out nights at London's Brixton Academy; record breaking merchandising sales and a phenomenal chart breaking success with the single "Run To The Hills," Iron Maiden are proud to announce that they have already raised approaching a quarter of a million pounds sterling for the Clive Burr MS Trust. Both EMI Records and Zomba Music Publishers have also kindly donated their profits from their side of the single. Seen enclosed are key UK EMI Executives with Manager Rod Smallwood backstage at Brixton Academy presenting the band and Clive Burr with their cheque. The sequence of events leading to the shows was the sad news last year that ex-member and friend, Clive Burr, revealed he was suffering Multiple Sclerosis while being interviewed for a documentary about their legendary Number Of The Beast album. The band immediately rallied together and performed the three special shows in London to an audience of fans that had traveled from the four corners of the world to show their support. All profits from the three shows were placed in the The Clive Burr Multiple Sclerosis Trust which is a fund that will not only help Clive and MS sufferers, but will also contribute to vital research into the debilitating disease which affects so many people. To help raise more funds the band have decided to release from their own archives some very exclusive Memorabilia from their career spanning over 20 years to help raise further funds for the trust. Maiden's drummer Nicko McBrain is kindly donating his monster full performance Drum Kit. The drum kit is his full Full 31 Piece Signia Marquee Premier Kit including Paiste Cymbals and is a chance of a lifetime opportunity to bid for a large piece of rock history. The kit has been used by Nicko on tour, at Festivals, TV performances (including their recent performance of "Run To The Hills" on Top Of the Pops) and drum clinics around the world spanning the last 8 years. The kit comes with stands and the drums are in Hardcase cases. For the guitarists there is a Fender Stratocaster 'Iron Maiden' Signature Series Guitar signed by all members of the band including ex-drummer Clive Burr. The Iron Maiden guitars are part of a Limited Edition Stratocaster made by Fender to the specifications given by Dave Murray, Janick Gers and Adrian Smith. The Stratocaster features Seymour Duncan Pickups and Locking Floyd Rose Tremelo. For the first time the band have decided to make available to the public an 'Eddie' stage prop from their 'No Prayer from the Road' Tour which is truly monstrous. The construction features an eight-foot high Eddie head and shoulders and two arms which were part of the Stage set where Eddie emerged from a huge on stage coffin similar to the No Prayer album cover. The band have raided their storage facility and have unearthed rare Monsters Of Rock posters from their 1988 Headlining Monsters of Rock shows in France, Italy and Spain as well as a very rare 1985 Powerslave Tour poster for their sell-out shows at Radio City Hall in New York. Also up for grabs are some exclusive Clive Burr Event T-shirts from the recent London Brixton Academy, which have been signed by the entire band and Clive Burr, and 20 signed copies of the Limited Edition Event Postergrammes. These items were signed specifically for this auction and are only available at the action -- you will not find these signed items anywhere else in the world! This is the only official Iron Maiden auction and all the items are a must for eager collector. All proceeds will go to the Clive Burr Trust. The auction will commence at Midday 12pm (GMT) on June 28th on EBay and will run for 10 days to give everyone plenty of opportunity to bid. The auction items will be listed on the Charities page on www.ebay.co.uk and will also be also listed on www.Ebay.com Full information on each of the items, including photographs, will be posted on the bands website, www.ironmaiden.com with direct links to the auction on Friday 28th June.




Please log in to view RANTS

If you don't have a username, click here to create an account!






Represent! Get Your KNAC.COM Bumper Sticker

Happenings This Week on KNAC.COM

2018 METAL JAM Announced For March 24th

GODSMACK, SHINEDOWN Announce Co-Headline Summer Tour

TESSERACT Premiere New Video For "King"

LIFE OF AGONY Announce "Rise Of The Underground Tour 2018"

20TH CENTURY MUSIC To Release WICKED WITCH Material, Featuring ZAK STEVENS And JEFF PLATE

SALEMS LOTT Release New "Shattered To Pieces" Video

FREEDOM HAWK Unleashes New Track "Solid Gold"

BELTFED WEAPON Unveils Cancer-Benefit "P.O.W." Lyric Video

OVERKILL Release First Live Clip "Hammerhead" Off Of Live In OverHausen

METALOCALYPSTICK Fest Announces 2018 Line Up

RIVERS OF NIHIL Launch "A Home" Video

CANDIRIA Confirm Beyond Reasonable Doubt 20th Anniversary Tour

SEVENDUST Release Music Video For "Dirty"

MONUMENT Stream New Track "Attila"

BLACK VEIL BRIDES Share "When They Call My Name" Video

PRIMITIVE RACE Reveal Limited Edition Soul Pretender Vinyl Release

SAXON Unleash "Nosferatu (The Vampire's Waltz)" Video

JOE PERRY Confirms Three "Joe Perry And Friends" Shows

RANDOM EYES Announce Grieve No More Physical CD Release

STRYPER Launches "Sorry" Video

LAMB OF GOD Announce Select One-Off Headline Shows

FLAW Announces 2018 US Tour

FIVE FINGER DEATH PUNCH Unveil New Album And Justice For None, Summer Co-Headline Tour With BREAKING BENJAMIN

FARGO To Release Comeback Album Constellation In May

JIZZY PEARL of LOVE/HATE Says "You're Gonna Miss Me When I'm Gone" With New Video

PRIMORDIAL Releases "Exile Amongst The Ruins" Video

THE BLACK DAHLIA MURDER Announces Spring Tour Dates In North America

REVERENCE Stream New Track "New Order"

SMALL TOWN TITANS Celebrate 24 Years Of Superunknown With Cover Of SOUNDGARDEN's "Spoonman"

THE AMORETTES Debut "Everything I Learned I Learned From Rock N' Roll" Video

THE DEAD DAISIES "Rise Up" With New Single Streaming

ALICE COOPER Announces Summer 2018 North American "Paranormal Evening" Tour

W.A.S.P. Release Video Clip For "Doctor Rockter"

NAPALM DEATH Drop "Call That An Option?" Single, Now Streaming

BUTCHER BABIES, NONPOINT Join For "Kings & Queens" Co-Headline Tour

APOCALYPTIC LOVERS Announce Album Redemption Vol I Vinyl Campaign

CAULDRON Reveal Record Store Day Canada "Letting Go" 7" Single

INKCARCERATION Music And Tattoo Festival Adds More Bands

LEATHER LEONE Project LEATHER Set To Release Leather - II Album

MEMORIAM Debut "Nothing Remains" Second Single, Video

MORBID ANGEL Confirm US Headline "Kingdoms Disdained" Tour

BETWEEN THE BURIED AND ME Release "Millions" Video

THE SWEET Announce 50th Anniversary Tour

PRAYING MANTIS Reveal New Album Gravity

ROB ZOMBIE, MARILYN MANSON Join Forces For "Twins Of Evil - The Second Coming" Summer Tour

LORDS OF BLACK Set To Release Icons Of The New Days Album

A PERFECT CIRCLE Share "Disillusioned" Video

FIREHOUSE Guitarist BILL LEVERTY Releases Two New Songs

HALLOW POINT Reveals New Music Video For "Blistering"

BEYOND THE BEATS: Rock & Roll's Greatest Drummers Speak! Book Coimg Out March 13th

WAR OF THRONES Unleash "Aftermath" Video

RUBY THE HATCHET Announces U.S. Tour Dates

SANTA CRUZ Kick Off American Tour, Unveil Lyric Video For New Single

MEKA NISM Releases Video For "The War Inside"

YOB Announces North American Tour, New Album Out In June

Award-Winning Feature Documentary Mind Over Matter Set For New York Premiere At ReelAbilities Film Festival

JUDAS PRIEST Release "Spectre" Video

Two LIZZY BORDEN Vinyl Reissues Now Available For Love You To Pieces And Menace To Society

MONSTER MAGNET Launch "Ejection" (HAWKWIND Cover) Video

WELCOME TO ROCKVILLE Festival Experiences Announced

MOTÖRHEAD To Celebrate Record Store Day 2018 With Special Collector's Vinyl

TWITCHING TONGUES Are "Gaining Purpose" With New Video

NO LEGACY RECORDS Debuts With A Full-Length Compilation Vinyl Release Vol. 1: Socal/Norcal

CENTURY MEDIA RECORDS Announces NEVERMORE Vinyl Reissues For Enemies Of Reality (Remixed & Remastered) And This Godless Endeavor (Reissue 2018)

VEGA Set To Release New Album Only Human

THE CROWN Streams New Single, "We Avenge!"

DON AIREY To Release New Studio Album One Of A Kind

AVENGED SEVENFOLD Announce 2018 "End Of The World Tour"

TRAUMA Announce Newly Rescheduled Tour Dates

LIFE OF AGONY Announce First West Coast Headline Dates In Over A Decade

SAVAGE HANDS Post New Video For "Unconditional"

FORT ROCK Festival Experiences Announced

SHATTERED SUN Premiere New Video "Blame"

SLAYER Announces Second American Leg For Final Tour

BULLET Release New Single, Video For "Ain't Enough"

BULLETS AND OCTANE Reveal Waking Up Dead Album Details

FROM ASHES TO NEW Release "Crazy" Video

AT THE GATES Reveal New Album Title Track Video "To Drink From The Night Itself"

GUS G Is "Letting Go" With New Music Video

JUDAS PRIEST Unleash New Song, Announce NYC Signing

KAMELOT Premiere First New Track For "RavenLight"

ETHAN BROSH To Support ROSS THE BOSS On North American Tour

VANLADE Release New Song "Highway Hounds" Free Download

MONUMENT Reveal Hellhound Album Details

JYRKI 69, MGT Set To Bring Goth Rock To West Coast

KOBRA AND THE LOTUS Stream New Track "Losing My Humanity"

TEMPT Premiere First Official Video For "Under My Skin"

DOKKEN Debut Live Video For "In My Dreams"

Inaugural INKCARCERATION Music & Tattoo Festival Announced

NEKROGOBLIKON Premiere New Track, "The Skin Thief"

TENGGER CAVALRY Calls It Quits

REVERENCE Stream New Track "New Order"

DRIFTER Debut "Black Mamba" Video

ACT OF DEFIANCE Kick Off US Headlining Tour

FIRE FIGHT Release "The Ghost Inside" Video

BLACK DAHLIA MURDER, WHITECHAPEL Confirm Co-Headline USA Tour

EPICA Launch "Decoded Poetry" Video

SPARZANZA Streams New Single, "Whatever Come May Be"

Fourth Annual RIDE FOR RONNIE Motorcycle Ride & Concert Event Details Announced

ALL GOOD THINGS Drop "Break Through This Wall" Video

GODSMACK Storm Back With When Legends Rise Album

GHOST Reveal Dates For 'Rats On The Road' US Tour

HEAVY MONTREAL Returns For 2018, Lineup Revealed

STONE SOUR Announces Spring US Headlining Tour

PRONG Announces Zero Days 2018 West Coast Tour Dates

SEVENDUST Return With New Album All I See Is War

EYEHATEGOD Announces Headline Tour With CRO-MAGS

DIABLO BLVD Debut "The Future Will Do What It's Told" Video

POWERMAN 5000 Announces 'New Wave Tour' 2018