Iron Maiden Auction Exclusive Items To Raise Funds For Clive Burr


By Sefany Jones, Contributing Editor
Wednesday, June 19, 2002 @ 11:09 AM


| | | |
| --- | --- | --- |
| | | Incredible Memorabilia Will Be |
For Immediate Release: IRON MAIDEN
Auction launched to raise funds for former drummer, Clive Burr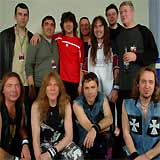 Following three fantastic sell out nights at London's Brixton Academy; record breaking merchandising sales and a phenomenal chart breaking success with the single "Run To The Hills," Iron Maiden are proud to announce that they have already raised approaching a quarter of a million pounds sterling for the Clive Burr MS Trust. Both EMI Records and Zomba Music Publishers have also kindly donated their profits from their side of the single. Seen enclosed are key UK EMI Executives with Manager Rod Smallwood backstage at Brixton Academy presenting the band and Clive Burr with their cheque. The sequence of events leading to the shows was the sad news last year that ex-member and friend, Clive Burr, revealed he was suffering Multiple Sclerosis while being interviewed for a documentary about their legendary Number Of The Beast album. The band immediately rallied together and performed the three special shows in London to an audience of fans that had traveled from the four corners of the world to show their support. All profits from the three shows were placed in the The Clive Burr Multiple Sclerosis Trust which is a fund that will not only help Clive and MS sufferers, but will also contribute to vital research into the debilitating disease which affects so many people. To help raise more funds the band have decided to release from their own archives some very exclusive Memorabilia from their career spanning over 20 years to help raise further funds for the trust. Maiden's drummer Nicko McBrain is kindly donating his monster full performance Drum Kit. The drum kit is his full Full 31 Piece Signia Marquee Premier Kit including Paiste Cymbals and is a chance of a lifetime opportunity to bid for a large piece of rock history. The kit has been used by Nicko on tour, at Festivals, TV performances (including their recent performance of "Run To The Hills" on Top Of the Pops) and drum clinics around the world spanning the last 8 years. The kit comes with stands and the drums are in Hardcase cases. For the guitarists there is a Fender Stratocaster 'Iron Maiden' Signature Series Guitar signed by all members of the band including ex-drummer Clive Burr. The Iron Maiden guitars are part of a Limited Edition Stratocaster made by Fender to the specifications given by Dave Murray, Janick Gers and Adrian Smith. The Stratocaster features Seymour Duncan Pickups and Locking Floyd Rose Tremelo. For the first time the band have decided to make available to the public an 'Eddie' stage prop from their 'No Prayer from the Road' Tour which is truly monstrous. The construction features an eight-foot high Eddie head and shoulders and two arms which were part of the Stage set where Eddie emerged from a huge on stage coffin similar to the No Prayer album cover. The band have raided their storage facility and have unearthed rare Monsters Of Rock posters from their 1988 Headlining Monsters of Rock shows in France, Italy and Spain as well as a very rare 1985 Powerslave Tour poster for their sell-out shows at Radio City Hall in New York. Also up for grabs are some exclusive Clive Burr Event T-shirts from the recent London Brixton Academy, which have been signed by the entire band and Clive Burr, and 20 signed copies of the Limited Edition Event Postergrammes. These items were signed specifically for this auction and are only available at the action -- you will not find these signed items anywhere else in the world! This is the only official Iron Maiden auction and all the items are a must for eager collector. All proceeds will go to the Clive Burr Trust. The auction will commence at Midday 12pm (GMT) on June 28th on EBay and will run for 10 days to give everyone plenty of opportunity to bid. The auction items will be listed on the Charities page on www.ebay.co.uk and will also be also listed on www.Ebay.com Full information on each of the items, including photographs, will be posted on the bands website, www.ironmaiden.com with direct links to the auction on Friday 28th June.




Please log in to view RANTS

If you don't have a username, click here to create an account!






Represent! Get Your KNAC.COM Bumper Sticker

Happenings This Week on KNAC.COM

SAXON Frontman BIFF BYFORD Needs Heart Surgery, Shows Canceled

CHARM CITY DEVILS Set For Fourth Album, 1904

STITCHED UP HEART Release New Track "Warrior"

OTHERWISE, BLACKTOP MOJO Join For Co-Headline Tour

LO-PAN Releases New Video "Savage Heart"

NASCAR's TYLER REDDICK, KILLSWITCH ENGAGE Partner Up For Playoff Push

RAM Unleashes "Spirit Reaper" Video

NOVEMBERS DOOM Reveal New Album Nephilim Grove, Two New Tracks

Author J.J. ANSELMI To Release Doomed To Fail: The Incredibly Loud History of Doom, Sludge, and Post-Metal Book

THE DEVIL WEARS PRADA Share New Song "Please Say No"

AS I LAY DYING Launch New Video For Fourth Single "Blinded"

Former TNT, SHY Vocalist TONY MILLS Passes Away At 57

INSOMNIUM Launch New Album Title Track Video For "Heart Like A Grave"

MEGADETH, UNIBROUE Team Up For 'Saison 13' Beer

LACUNA COIL Unleash "Reckless" Music Video

CLUTCH Release New Recording Of Classic Single "Electric Worry"

EXMORTUS "Swallow Your Soul" With Evil Dead-Inspired Animated Video

KXM Release "Time Flies" Video

ALTER BRIDGE Jump "In The Deep" With New Song

AGNOSTIC FRONT Get Loud! With 12th Studio Album

ALL THAT REMAINS Drop "Just Tell Me Something" Video

CANNABIS CORPSE Stream New Song "Blunt Force Domain"

ANGELES Unveil Tracklisting For Fire It Up Album

SLAYER Announces The Repentless Killogy Motion Picture And The Repentless Killogy,

THE THREE TREMORS Reveal 3-Disc Set The Solo Versions

PAPA ROACH Debut "Come Around" Video For Mental Health Awareness

AFTERSHOCK Festival Announces Band Performance Times, Official Pre-Party And Afterparty Details

IRON KINGDOM Share New Video "Road Warriors"

SODOM Set To Release Out Of The Frontline Trench EP

SOTO Launch New Video For "Torn"

ALICE COOPER Throws Fans Breadcrumbs With EP

WILDSTREET Unleash "Tennessee Cocaine" Video

Decades Old GHOST Lost Vinyl, SEVEN INCHES OF SATANIC PANIC Surfaces For 9-27 Re-Release

I PREVAIL Unleash "Gasoline" Video

EXMORTUS To Release Legions Of The Undead EP

STEEL PANTHER Stream New Track "Gods Of Pussy"

CIRITH UNGOL Ready Live Album/DVD I'm Alive

STATEMENT Launch "California Dreaming" Video

TRIBULATION Set For Alive & Dead At Sodra Teatern Live Album

EXHUMED Share NSFW "Naked, Screaming, And Covered In Blood" Video

LOUDER THAN LIFE Fesitval Reveals Band Performance Times, Additional Details

THE WIZARDS OF WINTER Stream New Track "Handel's Torch"

OTHERWISE Set To Defy With New Album Release

LIFE OF AGONY Unleashes Anthem For Survivors With New Music Video For "Lay Down"

SLEEPING WITH SIRENS Drop Sixth Studio Album How It Feels To Be Lost

SONATA ARCTICA Release "Who Failed The Most" Video

AMARANTHE Debut "Helix" Video

NILE Reveal New Album Vile Nilotic Rites

THE AGONIST Premiere "As One We Survive" Video

DESPISED ICON Announce New Album Purgatory

OF MICE & MEN Drop "Taste Of Regret" Video

DEATH ANGEL Announces North American Headline Tour

ROB HALFORD Set To Release Celestial Holiday Album

GYGAX Announces 'High Fantasy' October Western US Tour

CULT OF LUNA Launches "Lay Your Head to Rest" Video

PRETTY MAIDS Unveil New Album Undress Your Madness

MICHAEL MONROE Launches "Last Train To Tokyo" Video

ABSENCE OF DESPAIR Announce "The Autumn Slaughter Tour"

ENFORCER Release "Sail On" Music Video

GATECREEPER Share New Single "Everlasting"

TYGERS OF PAN TANG Set To Drop Ritual Album

AIRBOURNE Launch Official Video For "Boneshaker"

MERCYFUL FATE/KING DIAMOND Guitarist MICHAEL DENNER Reveals Debut DENNER'S INFERNO Album In Amber

BLACK HEART SAINTS Release Video For "Lines"

THE DARK ELEMENT featuring ANETTE OLZON & JANI LIIMATAINEN Announce Second Album Songs The Night Sings

WAGE WAR Unleash "Grave" Video

SIGHTS & SOUNDS Have No Virtue With New Album

HRH SLEAZE IV Fest Announced For August 2020

KADAVAR Drop "Children Of The Night" Video

KING'S X European Tour Cancelled Due To Family Emergency

LEPROUS Release New Single, Video For "Below"

RINGS OF SATURN Reveal New Album Gidim

MUNICIPAL WASTE Announce The Last Rager EP

FIT FOR AN AUTOPSY Drop New Album Title Track Video For "The Sea of Tragic Beasts"

SCOTT STAPP Announces South American Tour Dates

EDGE OF PARADISE Set To Release Universe Album

HELION PRIME Welcomes New Vocalist MARY ZIMMER, Debut New Song

ANGEL WITCH Unmask Angel Of Light Album Details

FOZZY Drops New Track "Nowhere To Run"

VANDEN PLAS Reveal The Ghost Xperiment – Awakening Album

TAKE IT OFF: KISS TRULY UNMASKED Book Coming In November

LEPROUS Unveil New Album Pitfalls

FLYING COLORS Launch "You Are Not Alone" Video

TYKETTO Ready Live Album Strength In Numbers Live

TOOL Drop New Album Fear Inoculum, Announce North American Tour

AT THE GATES Announces European Headline Tour

SUNN O))) Announces The Release Of Pyroclasts LP

CATTLE DECAPITATION Announces US Headline Tour

EXHORDER Drops New Track, "Hallowed Sound"

STONE TEMPLE PILOTS Reveal Purple Super Deluxe Edition

SEVEN KINGDOMS Release "The Water Dance" Video

STEVE VAI To Release Stillness In Motion Blu-Ray

DRAGONFORCE Launches "Heart Demolition" Video

UNLEASH THE ARCHERS Reveal New EP Explorers

BLAZE BAYLEY Releases 9 Minute Epic Lyric Video

BRET MICHAELS Announces 'Hometown Heroes' Dates

QUIET RIOT Return With New Album Hollywood Cowboys

ALESTORM Announce Canadian Headline Tour Dates

DAVID ELLEFSON Releases "Sleeping Giants" Video

THE DEVIL WEARS PRADA Set To Release The Act

SONATA ARCTICA Launch Video For "Cold"

KOBRA AND THE LOTUS Launch Lyric Video For New Single "Get The F*ck Out of Here"

BAD WOLVES Reveal Sophomore Album N.A.T.I.O.N.

FATES WARNING Vocalist RAY ALDER To Release Solo Album What The Water Wants

INSOMNIUM Unleash "Valediction" Single, Video

GATECREEPER, EXHUMED Join For Co-Headline Tour

DISCIPLES OF VERITY, Featuring LIVING COLOUR Vocalist COREY GLOVER, Launch New Single "Worthy"

MORBID ANGEL Announce US Headlining "Sickness Tour"

SACRED REICH Release New Album, Stream New Song "Divide And Conquer"

TOOTHGRINDER Unveil New Album I Am

ALTER BRIDGE "Take The Crown" With New Track

OZZY OSBOURNE Reveals Definitive Vinyl Box Set See You On The Other Side

AIRBOURNE Unveil New Album Boneshaker

HURRICANE Releases Cover Of QUEEN/DAVID BOWIE's Classic "Under Pressure"

HAVOK Announces US Headline Tour Dates

DREAM THEATER Launch "Barstool Warrior" Animated Video

JINJER Return With New Album Macro

PERIPHERY Drop "Chvrch Bvrner" Video Ahead Of Tour

RINGS OF SATURN Announce 2019 "The Gidim Release Tour"

SANTA CRUZ Unveils Lyric Video For "Into The War"

BEARTOOTH Reveal The Blackbird Session EP

SONS OF APOLLO Announce 2020 'MMXX Tour'

MONOLORD Release "The Last Leaf" Video

TURBOKILL To Release Debut Album in October

DORO Premieres "Freunde Fürs Leben" Single, Video

FALLING IN REVERSE Announce Fall Tour Plans

ENTRAILS Reveal Rise Of The Reaper Album Details

1349 Announce Second Batch Of North American Fall Tour Dates

SHIPROCKED 2020 Announces Band Additions

SLASH FEATURING MYLES KENNEDY AND THE CONSPIRATORS Drop "Shadow Life" Performance Video

ATREYU To Embark On Fall 20th Anniversary Tour

KILLSWITCH ENGAGE Release "The Signal Fire" Video

CHEVELLE Confirms Intimate Headline Dates And Festival Appearances

WEDNESDAY 13 Debuts Track "Bring Your Own Blood"

CANNABIS CORPSE Unveil New Album Nug So Vile Details

KING DIAMOND Announces North American Tour Dates

SONS OF APOLLO Launch Live Clip For "Labyrinth"

LOGAN EP One Step Closer, Featuring Original LILLIAN AXE Vocalist JOHNNY VINES, Gets Expanded Re-Release

LIZZY BORDEN Streams "The Scar Across My Heart" Track

JOE ELLIOTT Fronted Project DOWN 'N' OUTZ Announce Release Of New Studio Album This Is How We Roll

BLACK TUSK Announce Fall U.S. Tour Dates

STARSET Drop Video For "Manifest"

IRON KINGDOM Stream New Single "White Wolf"

NWOBHM Legends TRESPASS Release "Be Brave" Video

AFTERSHOCK Announces Onsite Entertainment & Unique Food Offerings

SLAYER's NASCAR Sponsorship Is Pulled From Bristol Motor Speedway

Mexico's CIRROSIS (CRS) Drop New Lyric Video For "Tan Lejos de Dios"

EXES FOR EYES Announces #TheAluminumProject; Selling New Album For Only $1 Of Strength and Sorrow

REVIVAL BLACK Announce Debut Album Step In Line

GWAR Return To UK/Europe For November/December Tour

Supergroup FLYING COLORS Announce Third Album Third Degree

RAM Launches Video For New Single, "Blades of Betrayal"

ALLEGAEON Announces "Apoptosis Tour Pt II" USA Headlining Trek

EXHUMED Return With Horror New Album

CREED's Human Clay Gets 20th Anniversary Vinyl Reissue

Music Industry Legend JON ZAZULA (JONNY Z), Pens Tell-All Book, Heavy Tales: The Metal. The Music. The Madness. As Lived by Jon Zazula

TOXIC HOLOCAUST Unveil New Album Primal Future: 2019

SWEETWATER STUDIOS Hosts ANTHRAX In Recording Master Class

MAYHEM Reveal Details For New Album Daemon

HELLYEAH Stream New Track "Perfect"