SPREAD EAGLE Subway To The Stars

By Alex Yarborough, Orlando Contributor
Wednesday, August 28, 2019 @ 12:35 AM

| | | |
| --- | --- | --- |
| | | |
SPREAD EAGLE
Subway To The Stars
2019 Frontiers Records Srl




"A train to leave it all behind, station only we can find, we ride these broken cars… our subway to the stars…"

Back in 1990, I saw the video for the song "Scratch Like A Cat" on MTV and immediately went out and bought the gritty, self-titled debut album from New York's SPREAD EAGLE. This album presented a band with the attitude, energy and street pedigree of bands like LA GUNS and GUNS N' ROSES. While not as popular as either band, SPREAD EAGLE certainly had the chops. The sophomore release was called Open To The Public (1993); ultimately, a more mature album than the debut. There are several classic tracks on these two albums, namely "Switchblade Serenade", "Broken City", "Revolution Maker" and "Rhythm Machine" among many others. I saw the band live in 1993, and I'll never forget them delivering a great set, then exiting the stage to shake hands and sign autographs, with absolutely no rock star BS. Ray West (vocals), Rob DeLuca (bass), Tommi Gallo (drums) and Paul DiBartolo (guitar) won over this fan for good that day.

Years went by, and I heard nothing from SPREAD EAGLE. It seemed like all they had in them were the two albums, and they were done. Suddenly, in 2006, the band had a reunion of sorts, when Ray West and Rob DeLuca reformed SPREAD EAGLE with Chris Caffery (SAVATAGE, TRANS-SIBERIAN ORCHESTRA) on guitar and John Macaluso (TNT, YNGWIE MALMSTEEN) on drums. After that, Rob DeLuca joined SEBASTIAN BACH's band and even played with UFO. Ray West joined the band WEAPONS OF ANEW. Eventually, in 2019, I heard news of a new album to be released by Frontiers Records featuring West, DeLuca, new guitarist Ziv Shalev and new drummer Rik DeLuca. I didn't know what to expect.

I had no real interest in reviewing Subway To The Stars. Rarely do bands that have been away for this amount of time (26 years!) deliver something worthwhile. I had moved on from the band, and considered them extinct. Then I heard a few songs, and I decided to give Subway To The Stars a closer listen. I'm glad I did. This album was quite a wake up call for me.

Appropriately, the album opens with the sounds of a New York subway car arriving at the station. You hear the stops being announced, and the warning to stand clear of the closing doors. (These sounds pop up a few more times between songs and at the end of the album). As the car departs, the band blasts into the title track. And what a killer song … I dig that bridge "Street justice–mistrusted–now you're busted!" before the infectious chorus. Plenty of grinding guitars from Shalev and a boiling bass line from DeLuca dominate the track. Ray West sounds awesome! "29th of February" is the second track. Aging at one-fourth time, what a concept and rocking song. "Sound of Speed" punches you in the face immediately. The track is about driving fast and captures that early SPREAD EAGLE soul and energy, yet allows moments for new drummer Rik DeLuca and guitarist Ziv Shalev to shine. You can watch the video on KNAC.COM HERE.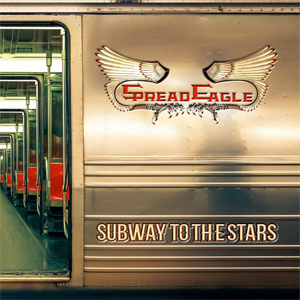 "Grand Scam" is a speedy cut, while "More Wolf Than Lamb" grinds along at an ALICE IN CHAINS style pace. "Cut Through" is a winner, with enough street bite to remind me of the debut album. "Little Serpentina" is anchored by the "stay" refrain that is repeated during the chorus. "Antisocial Butterfly", like the majority of STTS, is propelled by West's gritty vocal delivery. "Gutter Rhymes For Valentines" is a mid-tempo rocker, and final track "Solitaire" is a cool sing-along acoustic ballad, reminiscent of their song "Faith".
Ultimately, SPREAD EAGLE is a band defined by its gritty street metal sound, and Ray West's voice. STTS is not an album I expected to like, yet was pleasantly surprised. I ended up listening to the album over and over again. If you are an old fan of the band like me, check this album out. Crank it up to fully appreciate it. Welcome back SPREAD EAGLE!
4.5 Out Of 5.0