THE CULT Under The Midnight Sun


By Krishta Abruzzini, Pacific Northwest Writer
Wednesday, November 30, 2022 @ 9:58 AM


| | | |
| --- | --- | --- |
| | | |
THE CULT
Under The Midnight Sun
Black Hill Records




I held off giving my final review of this album until I saw THE CULT playing live. I was hoping it would change my mind a bit on their latest release titled Under The Midnight Sun. THE CULT has only released five albums in the past 21-years. Tom Dalgety, a studio hand that has worked with KILLING JOKE, PIXIES, RAMMSTEIN and GHOST produced this 8-song album.

Under The Midnight Sun is named with the inspiration from a concert THE CULT played at the Provinssirock Festival in Finland at the time of year that the sun does not set. Astbury noticed that a bright and shining sun at 4am brought a different feel that he wanted to capture with this album's music. Billy Duffy wanted to get away from what he considered their typical bluesy rock riffs, although I wouldn't tend to label the band's music as bluesy. I feel THE CULT leans more towards power chord riffs from their most commercially successful albums, such as Electric and Sonic Temple.

After listening to the album several times over, I have to be honest, this entire album does not resonate with me at all. Most of the songs are lacking in the hook and punch that this band typically has. I kept waiting for each of the 8-songs to have something I could grab ahold of, but there was nothing. Having the understanding that this is a new direction for them, or perhaps way back to their first studio album, Dreamtime in 1984, each track on the new album sounds more like a soundtrack you might hear in the background of a Netflix series. It's somewhat lackluster with zero punch. I'm the type of fan that wants to hear more songs such as "The Witch" or "Love Removal Machine". It would be different if at least one or two of the songs packed more of their typical groove, but not one had much sustenance. So far, most critics like the album, so I may be the one guy that just doesn't get it.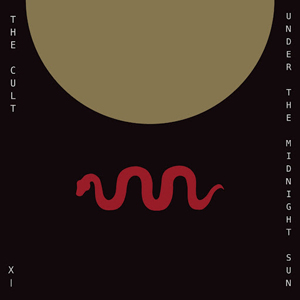 At their show, they played two tracks off the new release, "A Cut Inside" and "Mirror", probably the best choices off the album to play live honestly as they are the most semi-commercial songs. Before I go on hating about this new album, I just have to say that THE CULT's latest tour is nothing but badass. Astbury, Duffy and band are beyond tight, their stage presence is mesmerizing, and they pull their audience in like no other. Astbury knows his fans want to hear the hits, and the timing of placing the two songs into their 14-song set was perfectly executed.
"A Cut Inside" really brings out a DOORS influence, not only instrumentally, but with Astbury's semi-talking/singing in the beginning with a tribal sounding percussion in the backdrop. "Mirror" brings a heavy U2, somewhat militant feel, with an overly cliche lyric of 'We own the night" that reverbs into its fade. The album ends with a really confusing strings heavy, (again) DOORS influenced song, "Under The Midnight Sun". The entire album is basically a mashup of THE DOORS and U2, which isn't perhaps the worst influences you can have for your music, but it doesn't work for me personally.
Astbury at his show was funny and witty, which is a first for me as I've only seen him with political views being somewhat of a curmudgeon talking of Darfur and human rights. At the show I recently attended, he spoke of spirituality, the Dalai Lama and hallucinogens, which clearly I have not ingested nearly enough of any to understand this album. While I am a huge fan of most of their music, this one was completely lost on me.
0.0 Out Of 5.0

Please log in to view RANTS