OBITUARY Dying Of Everything


By Peter Atkinson, Contributor
Friday, January 13, 2023 @ 9:35 AM


| | | |
| --- | --- | --- |
| | | |
OBITUARY
Dying Of Everything
Relapse Records




After nearly 40 years, depending on your math - given a couple of early name changes and a 1997-2003 hiatus - Florida death metal legends OBITUARY could certainly justify soldiering on as a legacy act and fall back on their landmark first two albums, Slowly We Rot and Cause of Death. But like some others from back in the day – notably CARCASS and AT THE GATES – OBITUARY not only has managed to stay energized, relevant and vital long into its second act, it continues to build momentum.

The band's most recent releases – 2014's Inked In Blood and the self-titled 10th album from 2017 – have arguably been the best since it regrouped, and coincided with bringing bassist Terry Butler (ex-of DEATH, SIX FEET UNDER and MASSACRE) and lead guitarist Kenny Andrews into the fold, as well as linking up with Relapse Records, all of which has given OBITUARY its most solid footing since the early '90s. Dying Of Everything helps relaunch the band into the "post-Covid" era with authority – and a fittingly fatalistic outlook.

Obituary concluded with "Ten Thousand Ways to Die". Six years - and one worldwide pandemic and countless other horrors, grand and small - later, OBITUARY takes that sentiment to its logical extreme with Dying Of Everything. The album opens with "Barely Alive" and spirals downward with "Without A Conscience" and "Weaponize The Hate" leading to "War" and "Torn Apart". Even the seemingly hopeful "My Will To Live" portends grim death, to wit: "Bury me with a cross / With the cross tide / My will / Sentence me to the sand / Liquify / My will to live."

OBITUARY delivers these "we're all fucked" musings with its instantly familiar "redneck stomp" - heaving grooves with their signature beefy, ragged tone doled out over simple arrangements powered by Donald Tardy's mule-kick rhythms and topped by his brother John Tardy's fire-breathing voice. Yet while the sound largely remains the same, the band brings some added oomph and feistiness to it this time out. The riffs are somehow "riffier", or at least more muscular, and the energy level is higher here than it has been in some time, which is a nice surprise after the long layoff - and the fact that these guys are all 50-somethings.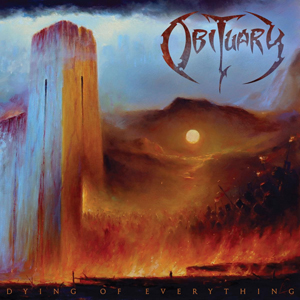 "Barely Alive", the title track, "Torn Apart" and "Weaponize The Hate" ride sustained, often furious gallops. And "The Wrong Time", the old schoolish "By The Dawn" and "War" chug and crunch quite mightily thanks to the cascading, yet often infectious guitar work of Trevor Peres and Andrews. "The Wrong Time" is as catchy as anything the band has done, taking a listener friendly traditional metal tune structure and giving it some OBITUARY-style wallop.
Low and slow death march numbers that have long been a staple don't figure quite as prominently on Dying, but certainly make their mark when they do pop up. It's here that John Tardy really works his magic, turning his voice into another instrument, building on the weight of the riffs and lurching pace with breathy, elongated growls that transform "My Will To Live" to "My will to liiiiiive!" or accenting "Without A Conscience" with its threatening "I'll put an end to yoooouuuuu!" Tardy saves his best for last and creepy crawl closer "Be Warned", offering "bewaaaaaaare and be waaaaaaaarned" in a ghostly, guttural moan that captures the essence of the entire album.
And it is a genuinely menacing sentiment, which speaks to OBITUARY's enduring conviction and resonance. Despite the ever-present specter of death, Dying Of Everything finds the band very much alive and certainly kicking. Though it initially struggled to truly return to form following the reunion, OBITUARY has been on its game over the past decade and continues to make subtle improvements and tweaks as time passes to not only keep crushing, but keep moving forward. So much for aging gracefully.
4.0 Out Of 5.0

Please log in to view RANTS