KARBHOLZ Share New Single "Gar Nichts"


By Larry Petro, News Monkey
Monday, March 13, 2023 @ 1:24 PM


| | | |
| --- | --- | --- |
| | | From The Upcoming New Album Kapitel 11: Barrikaden, Out March 24th |
German punk/rock titans KARBHOLZ present the official video for "Gar Nichts", the third single from the upcoming new studio album Kapitel 11: Barrikaden, set for international release on March 24 via Metalville Records.

The last single before the new album Kapitel 11: Barrikaden finally sees the light of day on March 24th: A few more "graceful" sounds have found their way onto the new album, which we don't want to withhold from you. But of course, lyrically and musically, there's a punch in the face at the end. It's like a good boxing match - take it slowly, and when the guard is down, send it to the floor with a beautiful left haymaker!

See & hear KARBHOLZ's "Gar Nichts" video in its entirety on KNAC.COM HERE.

It will be 18 years in 2023 for the four friends of KARBHOLZ from the tranquil town of Ruppichteroth in Western Germany.

Some people might think that, at some point, the wear and tear must show. Not at all, because the forced break of the past two years was by no means just a stroke of bad luck for Torben (vocals), Adrian (guitar), Stefan (bass), and Henning (drums). True to the motto "The break is also part of the music!," the time was used to catch their breath, recharge, and creatively come together and reunite in the rehearsal room. Once again, the four guys were supported by the producer team Eike Freese (Chameleon Studios) and Alexander Dietz (Heaven Shall Burn, Chemical Burn Studios).

On Kapitel 11: Barrikaden you can hear 11 pieces. Songs that tell stories from life, sometimes in a small way, sometimes in a big way. The opener and namesake "Barrikaden", which questions entrenched social structures and interpersonal beliefs with a hard metal edge. The vehement "Raubtier", which tries to reawaken the same. "Unter ferner Liefen" - "always me and my mind" - an ode to one's own irrationality. Or also the brute "Eins gegen Ein", which longs for peace with itself, comes to the conclusion that in the battle with itself - unfortunately - there is usually no winner, before it betrays its true, all-encompassing intention in the end. These are some examples that make clear where KARBHOLZ have their musical influences. There's more KILLSWITCH ENGAGE in here than DIE TOTEN HOSEN. That makes it hard to pigeonhole the songs.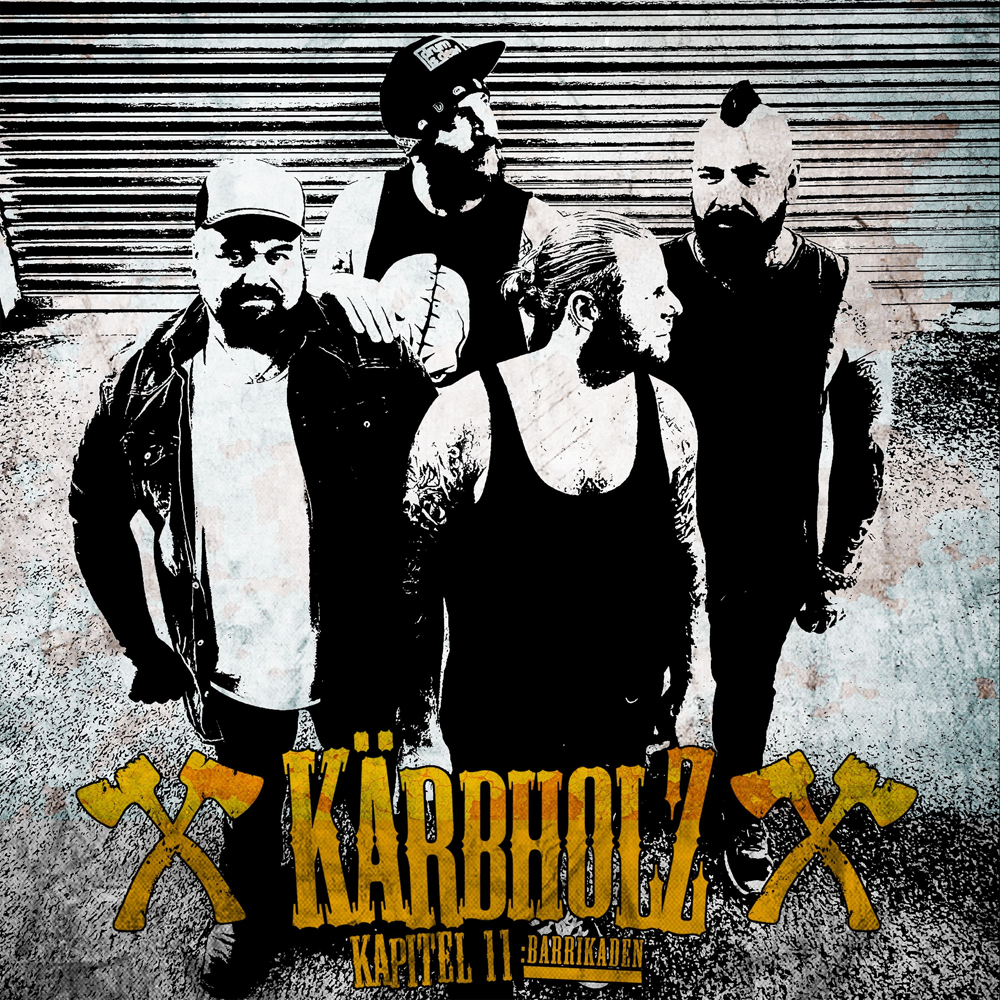 But of course, not all that glitters is metal. The musical range of the album is proven by songs like the poem Der Zug set to music, the "almost crossover" brawler "Mut gegen Perspektive" or "Gar Nichts", which alternates between bittersweet harmonies and rigorous reckoning with false friends.
KARBHOLZ's Kapitel 11: Barrikaden is a good 40-minute musical journey through the various corners of the KARBHOLZ cosmos, but without ever losing itself. An album that usually only reveals its musical complexity at second glance, but in the end leaves you feeling good and sends you on another journey of discovery.
Kapitel 11: Barrikaden will be released on CD, vinyl, as a fan box, and digitally. Cover and tracklisting are as follows:
Tracklistng for KARBHOLZ's Kapitel 11: Barrikaden
"Barrikaden"
"Raubtier"
"Unter ferner liefen"
"Gar nichts"
"Eins gegen Eins"
"Der Zug"
"Mut gegen Perspektive"
"Ohne Deckung"
"Ja zum Leben"
"Zu dir oder zu mir"
"Gib mir Deine Hand"

Please log in to view RANTS