All Photos By Travis Failey Photography
When the news broke that the surviving members of PANTERA were thinking about reforming and touring, it was met with many questions and high levels of speculation and some negativity. The negativity is well documented as fans let it be known that without founding members Vinnie Paul and Dimebag, that this wasn't PANTERA and was viewed as a money grab by Phil Anselmo and Rex Brown along with the estate of deceased brothers. There were also doubts that their loyal fans would still attend the shows and if their fill-ins could handle the roles.
There were also questions regarding who would join Brown and Anselmo on stage with many thinking that Charlie Benante from ANTHRAX and Zakk Wylde would be the obvious and perfect choices to fill their spots. Not only due to their talents but also because of their close relationships with their departed friends and with Vinnie's wife Rita.
There were other questions about touring etc. with everything answered in July and August of 2022 when the official word came down that Zakk and Charlie would officially join Rex and Phil. They also announced the first shows would be festival dates in late 2022 and that a huge headlining tour with LAMB OF GOD along with other festival headlining dates would take place in 2023.
"It's a PANTERA celebration — that's what it is," Wylde said back in July during an interview with Matt Pinfield and Jose Mangin of Danny Wimmer Presents. "You're celebrating Vinnie and Dime's greatness and you're celebrating all the mountains that PANTERA conquered and crushed."
Fast forward to last Saturday as the annual Welcome to Rockville 4-day festival took place in Daytona with PANTERA closing out the night on the Space Zebra main stage. All the former questions were answered in spades as over 50 thousand fans were in attendance to see the 4-piece hit the stage to play their favorite PANTERA songs live once again.
Prior to the band taking the stage, I stood next to many parents in the crowd with their teenage kids. They didn't seem as concerned as I was for them as I've been at PANTERA shows in the past with mosh pits raging completely out of control. I mentioned to one teenage girl's dad that I would help box out if things got crazy which he appreciated and was thankful for much later as she was taking elbow shots until we adjusted her positioning.
A black curtain with "Pantera" in red donned the stage as home videos of Dimebag and Vinnie with the rest of PANTERA played on the stages side screens. As the screens went black and two white silhouettes of Dime and Vinnie were shown, Phil Anselmo stood behind the huge curtain until it dropped with huge smoke plumes encompassing the stage with "A New Level" opening the 15 song set.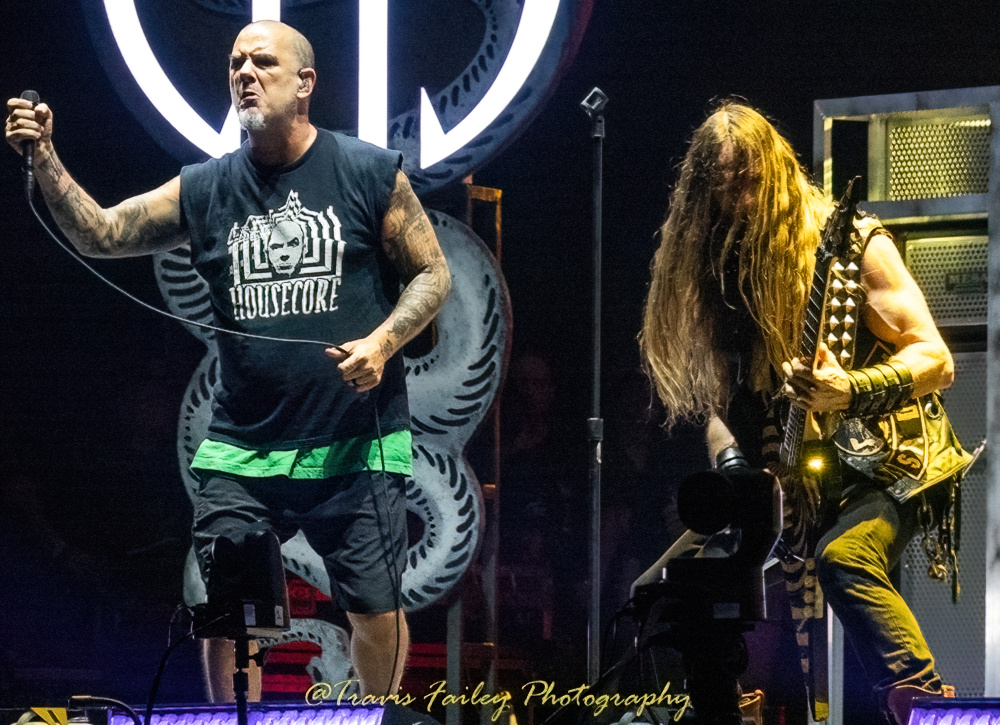 Fans threw up their fists, horns and phones as they screamed "A New Level Of Confidence And Power" as bodies started crowd surfing and smashing together in the pits.
After "Mouth of War", Anselmo gave props to the crowd for their energy and enthusiasm and introduced "Strength Beyond Strength" which led into many PANTERA fans favorite song in "Becoming" with Zakk Wylde screaming the opening riffs with his guitar. Zakk was great all night but was much more reeled in than his past performances with BLS or Ozzy as he has to be as tight as possible to the original material that Dimebag played.
After another fan favorite and chorus churner in "I'm Broken", the reformed PANTERA went into deep track mode with the super aggressive "Suicide Note Part 2" from The Great Southern Trendkill. This song was a perfect example of why Charlie Benante was the perfect substitution for Vinnie Paul. Benante to me is one of the best and can play everything and anything from slow rhythms to complete double bass thrash masters. I could see him perfectly from where I was standing, and he had no issues throughout the set staying in time with Rex Brown and the rest of the band or getting exhausted.
The rest of the set was a seamless run of "hits" from the PANTERA catalogue that included "This Love" and "Fucking Hostile" with a deep track in "Yesterday Don't Mean Shit" mixed in. The only time the set slowed down was when PANTERA played the BLACK SABBATH cover "Planet Caravan". Afterwards, Anselmo introduced the band and kept referring to Zakk as Zachariah which was amusing as the crowd chanted "Zakk".
Anselmo then dedicated "Walk" to the fans and as they went into a complete frenzy in the pits as the pyro was in full effect. Explosions and fire balls encompassed the stage directly to the right and left of Benante and you must give props to the pyro guys as it was an awesome display.
PANTERA kept the heat on with "Domination" and "Hollow" as the band's logo above them burst into flames which was an amazing visual and instead of taking the dreaded encore break, Anselmo addressed the crowd once again as Wylde played the opening notes to "Cowboys From Hell".
He thanked everyone involved with the show and the fans and said it wasn't a perfect show from him. From the crowd's viewpoint, I'm not sure if they realized his errors but my ears didn't and as the band finished with one of the most important songs in the history of Heavy Metal in "Cowboys From Hell" the crowd was still going off in the pits. The band came out and took a bow and a few pics then Anselmo took the mic once again. He said that this is the way we end the shows as the veterans know and asked everyone to join in as they have done in the past to sing "And She's Buying The Stair Fucking Way To" and dropped the mic for the crowd to scream "Heaven".
As the thousands in attendance departed, every question that was previously raised by the fans and pundits alike were answered. PANTERA was back and if you have been a fan of the band and refuse to see the current lineup, then that is on you. The band has shown nothing but respect for Dime and Vinnie and their memory and I believe they are there in spirit with the fans in the crowd and smiling a "black tooth grin" with their friends on stage.
For upcoming shows and info https://pantera.com/tour/
Check out some more photos from the show!
All Photos By Travis Failey Photography