ROCKLAHOMA Announces Daily Band Performance Schedule

By Larry Petro, News Monkey
Monday, August 28, 2023 @ 5:31 AM

| | | |
| --- | --- | --- |
| | | Friday, September 1 Through Sunday, September 3 At Pryor Creek Music Festival Grounds In Pryor, Oklahoma |
Rocklahoma has announced the daily performance schedule for America's Biggest Labor Day Weekend Party, and the festival's brand-new app is now available for download at www.Rocklahoma.com/mobileapp, allowing fans to create their own personal schedule and access the most up-to-date festival information ahead of and during the festival weekend.

Rocklahoma will feature three full days of performances from top rock acts including Godsmack, Pantera, Rob Zombie, Limp Bizkit, Bush, Chevelle, Corey Taylor and many more, Friday, September 1 - Sunday, September 3 at Pryor Creek Music Festival Grounds in Pryor, Oklahoma, just outside Tulsa. The festival is hosted by Eddie Trunk and will kick off with the Rocklahoma campgrounds opening on Sunday, August 27, with music performances getting underway at the official Rocklahoma pre-party on Thursday, August 31. The only way to access the campground party is to purchase a Rocklahoma weekend pass.

Fans are invited to kick off the party early at The Roadhouse on Thursday, August 31 for the Rocklahoma Kick-Off Party, featuring performances from Warrant, L.A. Guns, BulletBoys and Voodoo Moonshine. The pre-party is open to anyone with a Rocklahoma weekend pass. The Roadhouse will also feature food trucks, a full-service bar, and a great place to hang with friends throughout Rocklahoma.

A limited number of Rocklahoma passes are still available at www.Rocklahoma.com and fans can save by purchasing now, before week of show price increases.

The full list of music performance times (subject to change) is below and can be found here: www.Rocklahoma.com/schedules.

Friday, September 1
The Freedom Stage
9:50 PM Godsmack
7:30 PM Chevelle
4:40 PM Daughtry
3:00 PM Ayron Jones
1:30 PM Fame On Fire
The Renegade Stage
11:45 PM Shot Of Poison
8:40 PM Code Orange
5:35 PM Atreyu
3:45 PM Black Stone Cherry
2:15 PM Flat Blac
12:50 PM Dead Poet Society
The Roadhouse
6:30 PM Skid Row
12:20 PM Dead West
11:35 AM Small Town Sindrome
10:50 AM Eyebolt
Saturday, September 2
The Freedom Stage
10:15 PM Limp Bizkit
8:14 PM Bush
4:45 PM Theory Of A Deadman
3:09 PM P.O.D.
1:48 PM Plush
The Renegade Stage
11:35 PM Steven Adler
9:22 PM GWAR
7:16 PM Asking Alexandria
5:38 PM The Hu
3:57 PM Fuel
2:26 PM Crobot
1:13 PM Dayseeker
The Roadhouse
6:22 PM KIX
12:40 PM 90LB Wrench
12:00 PM Snake Bite Whisky
11:20 AM Daymes Rocket
10:40 AM Bat Allison
Sunday, September 3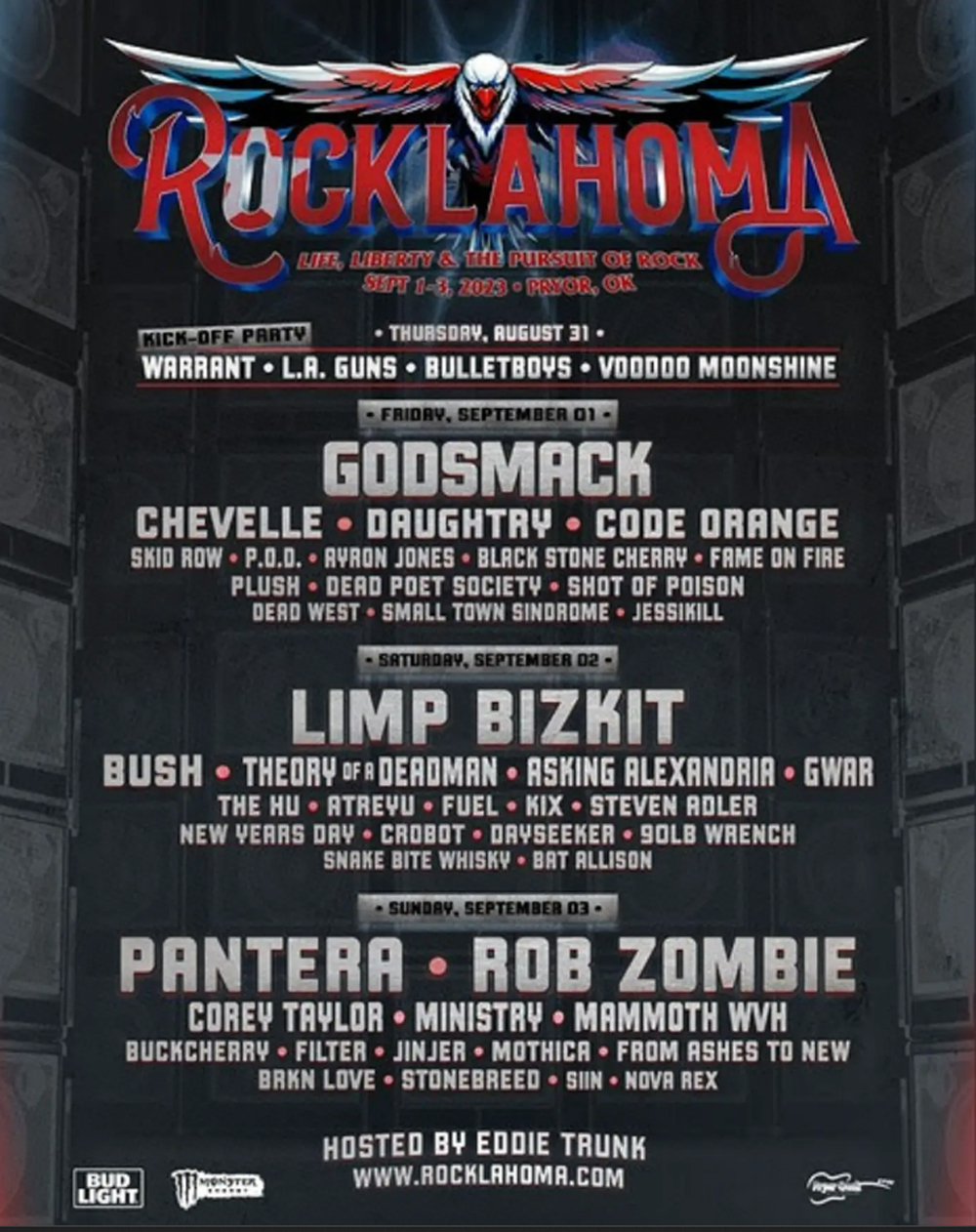 The Freedom Stage
10:10 PM Pantera
8:00 PM Rob Zombie
4:40 PM Corey Taylor
3:00 PM Mammoth WVH
1:30 PM Mothica
The Renegade Stage
9:15 PM Ministry
5:35 PM Jinjer
3:45 PM Filter
2:15 PM From Ashes To New
12:50 PM BRKN Love
The Roadhouse
6:30 PM Buckcherry
12:15 PM Stonebreed
11:30 AM Dime Store Riot
10:45 AM Nova Rex
Thursday, August 31 (Pre-Party) *
The Roadhouse
10:50 PM Warrant
9:20 PM L.A. Guns
8:05 PM BulletBoys
7:00 PM Voodoo Moonshine
* The Rocklahoma Pre-Party is open to weekend pass holders only.

Gates to the Rocklahoma General Admission festival area open at 10:30 AM daily and gates to the VIP festival section open at 12:30 PM daily.

Weekend and single day General Admission passes, as well as camping passes, are available now at www.Rocklahoma.com starting at $99 per day, plus fees. All premium weekend VIP passes and packages are SOLD OUT. Note: All weekend passes allow entrance for the Thursday pre-party in addition to Friday, Saturday, and Sunday. Single day purchases do not include access to the Thursday night party.

Rocklahoma is known for the best festival camping grounds in the U.S., featuring multiple options throughout the festival site, including "Glamping" opportunities. The campgrounds are a unique part of the Rocklahoma experience and will be open from Sunday, August 27 at Noon CT through Tuesday, September 5 at Noon CT. "Glamping" check-in begins on Thursday, August 31 with a Monday, September 4 check-out. General Admission, VIP camping, and VIP Glamping packages are available at checkout and are only available as an add-on to festival admission passes. Information on camping add-ons can be found at https://rocklahoma.com/camping/.

Rocklahoma was founded in 2007 and showcases the best rock artists performing on three stages, with a wide range of onsite camping amenities and unparalleled VIP packages that live up to the festival's motto of "Life, Liberty & the Pursuit of Rock". Rocklahoma is hosted by Eddie Trunk.

Rocklahoma is located just 45 minutes northeast of Tulsa, in Pryor, OK. The Pryor Creek Music Festival Grounds is a premier destination for a multi-day festival and includes onsite camping with access to restrooms and shower houses, a general store for campers, VIP reserved seating, hospitality areas, and much more.

Rocklahoma is proud to be sponsored by Bud Light, Monster Energy, DEB Concerts, Cutwater, ZYN, Sunbelt and Route 66 RV.