IMMORTAL GUARDIAN Reveal New Album Unite And Conquer

By Larry Petro, News Monkey
Friday, September 15, 2023 @ 11:14 AM

| | | |
| --- | --- | --- |
| | | Out October 27th |
Photo Credit - Carl Puentes
Power/Progressive Metal band IMMORTAL GUARDIAN has slowly been teasing their forthcoming album since the spring of 2022 releasing new songs digitally alongside some great music videos every few months. Fans of the band have enjoyed the development and creativity of the album's content and evolvement into a concept and final work. Unite And Conquer finally has a release date, Oct. 27th, and preorders launch today.
"We definitely took a new direction with our writing process and overall sound on the new album. We tried some new things IMMORTAL GUARDIAN has never done, but also kept a taste of our classic sound in the process," explains guitarist/keyboardist Gabriel Guardian. "We were all going through some crazy experiences in our lives while making this album and I think it really reflects in the music. As we did during our Psychosomatic album, we were writing these songs in real time as we lived through these major events in the world and in our personal lives."
Unite and Conquer, like the hailed and successful 2021 Psychosomatic was written and recorded by the band themselves with credit going to Gabriel Guardian and bassist Joshua Lopez, who also mixed the album at his Widowmaker Studios. They enlisted the help of artist/photographer Masiha Fattahi (Threshold) with further design work by Jobert Mello (Sabaton, Primal Fear, Acid Reign), as well as guest vocalists Ralf Scheepers (Primal Fear, Gamma Ray) and Vicky Psarakis (The Agonist) to create a stellar new album.
"For generations, humanity has longed for a truth. The right to unite what has been divided. We long to be free from all our differences, genders, colors, nationalities, religions, beliefs, and any other type of separation," elaborates vocalist Carlos Zema. "This real freedom relies on our minds, in being free from all these fears, repressions, oppressions, and everything else that stops us from being united. In the name of this truth, our voice will echo endlessly - Freedom!"
"IMMORTAL GUARDIAN's Unite And Conquer, lyrically traverses a multifaceted emotional journey, from introspection and self-discovery that passionately calls for unity and change. The poetic verses entwine seamlessly with the captivating melodies, delivering a musical narrative that resonates with the listener on a profound level, leaving an indelible mark on the heart and soul. With a simple message -- this is the time to Unite and Conquer."
Always lyrically insightful and pushing musical boundaries, the latest from IMMORTAL GUARDIAN will please fans of progressive, power, and traditional metal with so much tasty playing and melodies. Evidence is already apparent in the five songs released to date, but there is still another half of the album ready to enjoy.
Pre-order Unite And Conquer now on limited-edition vinyl -- the standard retail version (250 copies on insomnia red and black splatter) or the exclusive to band/label variant (100 copies on bone/black mix), as well as CD and Digital. https://lnk.to/immortalguardian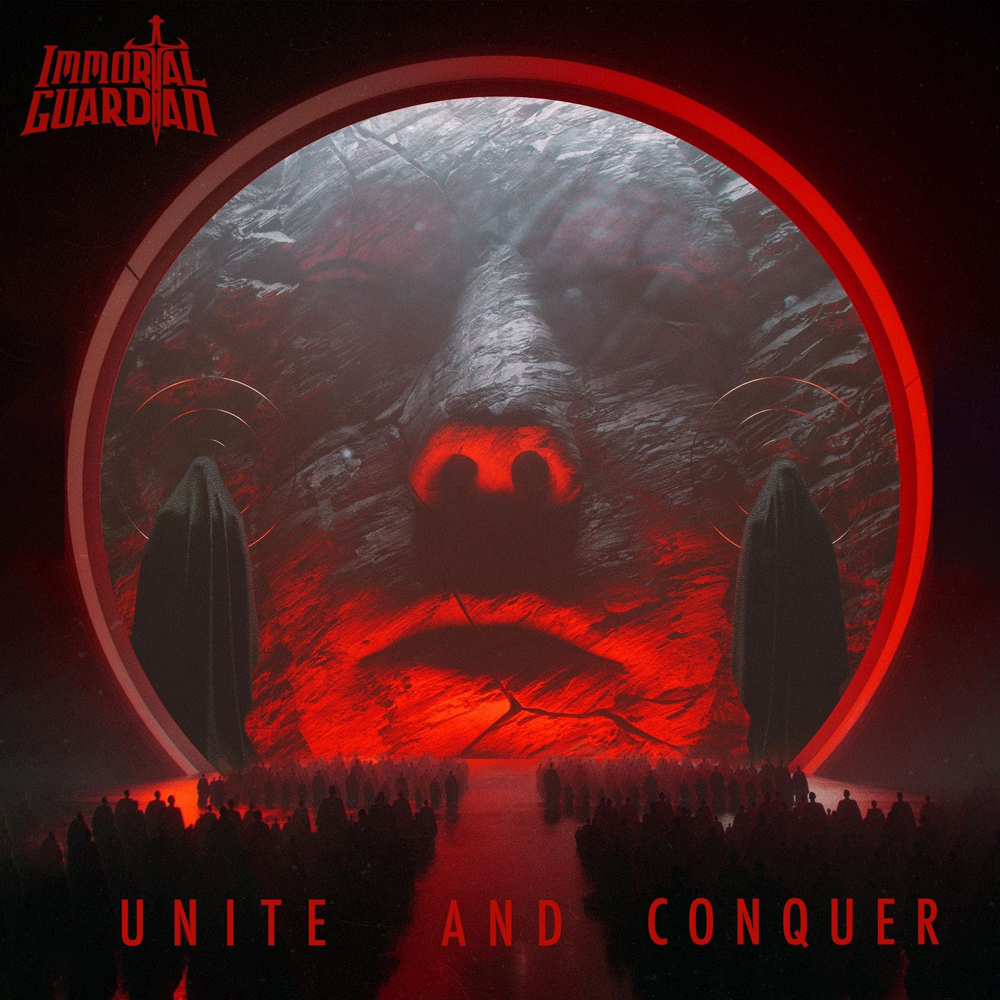 Check out videos for "Roots Run Deep", "Perfect Person", "Ozona", "Echoes" and "Southern Rain" which form a basis for their next conceptual piece, and find out why Metal Rules says - "one of the most interesting bands that have emerged in recent years on the international power metal scene."
Track Listing:​
"Ozona"
"Echoes"
"Roots Run Deep" ft. Ralph Scheepers (Primal Fear)
"Perfect Person"
"Divided we Fall"
"Lost in the Darkness" ft. Vicky Psarakis (The Agonist)
"Southern Rain"
"Unite and Conquer"
"Un Dia A La Vez"
"Rise of the Phoenix"
More info will be released by IMMORTAL GUARDIAN and M-Theory Audio in the weeks and months to follow, including new tour dates. https://www.facebook.com/igmetal/.