KILL DEVIL HILL Drop "Pharmaceutical Sunshine" Video

By Larry Petro, News Monkey
Friday, September 15, 2023 @ 11:16 AM

| | | |
| --- | --- | --- |
| | | Off Their Upcoming Album Seas of Oblivion, Out September 20th |
Preparing for the release of their upcoming album, Seas of Oblivion, out September 20th, KILL DEVIL HILL releases their new single "Pharmaceutical Sunshine"- a song that speaks to the current opioid epidemic currently affecting countless families across the United States. With Johnny Kelly on drums (Type O Negative), Mark Zavon on guitar, Dewey Bragg on vocals, and Matt Snell (ex-Five Finger Death Punch) on bass, KILL DEVIL HILL combines gut-punching guitar riffs and hard-hitting vocals to create a uniquely modern take on classic doom and metal. The group is best known for their ability to deliver thundering doom in their music, with strong spiritual messages behind the lyrics. This track in particular promises to be one that stops audiences in their tracks, as it covers topics that hit close to home for many around the country, not to mention, one that band members have experienced first-hand.

WATCH "Pharmaceutical Sunshine" on KNAC.COM HERE

KILL DEVIL HILL members explained how this new track holds a special place in their hearts and reflected on a deeply personal journey that was ongoing at the time they recorded the song. Lead vocalist Dewey Bragg describes, "This song is a heartfelt reflection on the far-reaching impact of the opioid epidemic, not only on my own family but on countless families across America." Several band members have felt the effects of this in their own families, triggering a heart-felt inspiration to use music as a tool to speak to the masses about this ongoing crisis in our country - and hopefully provide a beacon of hope for those in need of a helping hand, and a voice of understanding.

We are in the middle of an unprecedented epidemic that is frequently swept under the rug but has now gotten so far out of control that it's become impossible to ignore. Overdose deaths related to opioids and synthetic opioids like Fentanyl are skyrocketing, up over 30% in just one year. More than 130 people die of opioid-related overdoses every day. That's like a Boeing 737 crashing daily, and yet the story barely makes the news. Addiction can cause deep depression, which intensifies the desire to use in order to escape, leading even further down that dark path. I've seen close friends and even a family member struggle with these issues, and it is truly heartbreaking to watch. It's perfectly natural for someone who is constantly living under a cloud of depression and addiction to reach for a little "Pharmaceutical Sunshine" to lift them out of that dark place, but unfortunately, it only tightens the downward spiral. This song was written to shine a light on this massive issue, and hopefully, through raising awareness, can help some to avoid the terrible pitfalls of opioid addiction." - Mark Zavon, guitarist, KILL DEVIL HILL

Not only does the song speak to the deeply troubling epidemic across America, but it reinvigorates fans by bringing them what KDH delivers best - bridging the gap between contemporary and classic metal with emotionally charged lyrics and vocals containing a powerful message at their core. In "Pharmaceutical Sunshine", KILL DEVIL HILL showcases their ability to point their creativity at a worthy cause, calling attention to a sinister undercurrent which has claimed far too many victims.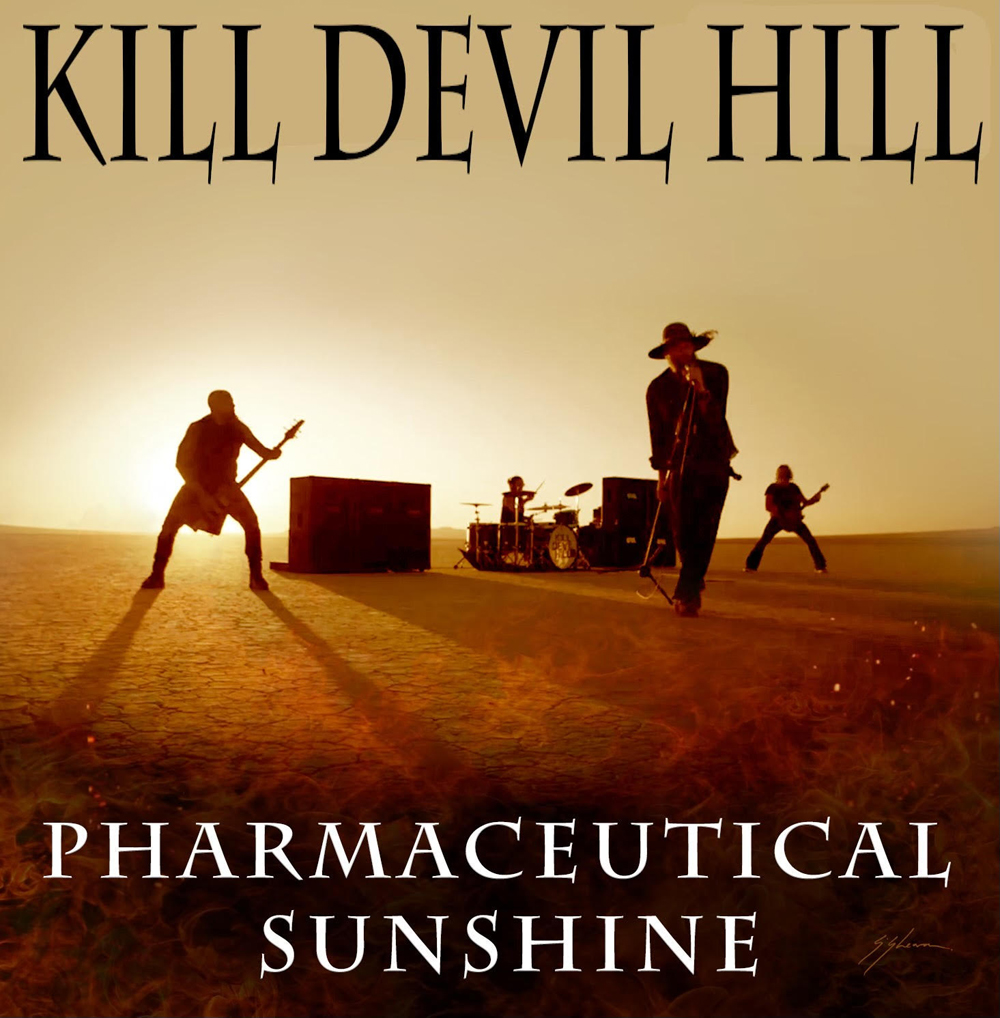 KDH created "Pharmaceutical Sunshine" in hopes that audiences can connect with and relate to the painful experience conveyed through the lyrics and message of the song - and hopefully find some solace in the music in a time of intense emotional turmoil.
"Music has the power to transcend barriers and touch hearts. I firmly believe that this song can serve as a beacon of hope for those who are struggling with addiction or have been affected by it in some way. It is my sincere desire that the lyrics and melodies provide comfort, encouragement, and support to those who may be in the midst of their own battles."- Dewey Bragg, lead vocals, KILL DEVIL HILL
With a style comparable to SOUNDGARDEN and ALICE IN CHAINS, KDH uses their addictive sound to pull in audiences to a new way of experiencing metal music. Not only does KDH deliver an unforgettable sound, but they convey deeply spiritual and meaningful messages behind each and every track they deliver. "Pharmaceutical Sunshine" is a perfect example of their ability to take something incredibly painful, and turn it into a deeply moving, anthemic representation of an emotional human journey many people can relate to. This song provides comfort, encouragement, and support to anyone who is in need - and inspires us to find a solution for this issue through understanding the true weight of the pain it has caused for so many of us.
Pre-save the upcoming KILL DEVIL HILL album Seas Of Oblivion Today!
https://ingrv.es/seas-of-oblivion-8gg-g
Physical Bundles
https://www.legendshop.co/category/kill-devil-hill