DIO DISCIPLES Live in Akron, OH With Photos!


By Geoff Ketler, Cleveland Contributor
Sunday, September 22, 2013 @ 11:33 AM


| | | |
| --- | --- | --- |
| | | A celebration of the life and career of one of the greatest vocalists of all time, Ronnie James Dio. |
Akron is the hometown of vocalist-extraordinaire Tim "Ripper" Owens and tonight he was bringing the DIO DISCIPLES home with him to perform at his new venue. I was anxious to catch my first show at the all new Rippers Rock House. I had stopped by before to grab dinner, but this was my first chance to take in a concert at the newly-renovated bar/restaurant. By the time I arrived the sold-out show had already summoned a huge line of people that wrapped around the building hours before show time. You had the feeling while standing there that we were all about to witness something special.

The audience was packed in tight, but thankfully DIO DISCIPLES would not keep us waiting. Shortly after doors opened the band hit the stage, opening with "Killing the Dragon". Tim "Ripper" Owens was at the helm on vocals all night because Oni Logan had family obligations. Ronnie's bandmates and friends rounded out the rest of the group with Simon Wright behind the drums, Craig Goldy handling the guitars, Bjorn Englen on bass, and Scott Warren on keyboard.
DIO DISCIPLES went on to play a flawless set that included songs from RAINBOW, BLACK SABBATH, and DIO. The supergroup offered up a sampling of each of the many aspects of Ronnie James Dio's career. What can I say about Ripper's vocals?…they were ridiculously good. I have to admit that although I am a northeast Ohio native, this was the first time that I saw Ripper live. Yeah…I know…where the hell have I been? His vocal is every bit as good live as it is on any of his studio work. During a quick break early in the set, Ripper's kids came up on stage with a birthday cake decked out with lit candles and everything. Tim "Ripper" Owens had turned a year older just days earlier and because of his relentless touring schedule it was sort of a rarity that he was actually in town for his birthday. We all sang "Happy Birthday" and Ripper blew out his candles and embraced his family. It was one of those "feel good" moments.
The band was extremely tight and plowed through the set effortlessly. Craig Goldy handled all of the guitar parts with perfection and Simon Wright played like a beast behind the kit. Tim "Ripper" Owens spoke about Ronnie frequently between songs. Tim mentioned several times how Ronnie always knew and remembered everyone by their first name. If he met you twenty years ago, he would still remember everything about you today. I would be lying if I said I didn't tear up from time to time during the set. I am man enough to admit that. The truth is that this wasn't really a concert, but more of a celebration of the life and career of Ronnie James Dio. One of the many highlights was hearing "Kill the King". It is just an excellent song with a blazing solo that Craig Goldy nailed. The set ended with "Heaven and Hell" and the band came back out to encore with "Rainbow in the Dark" and "We Rock" to close out the night.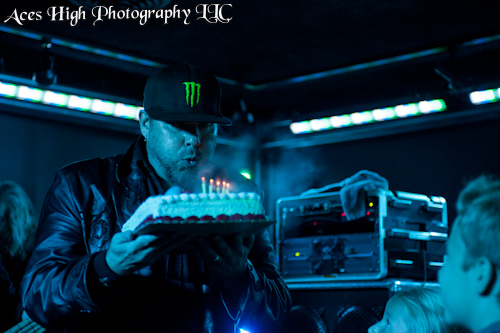 Afterwards the entire band hung out at the bar and shook hands, took pictures, and signed autographs. It was an excellent experience all around and a triumphant homecoming for Tim "Ripper" Owens.
https://www.facebook.com/DioDisciples
Setlist
"Killing the Dragon"
"Holy Diver"
"I"
"Egypt"
"Stargazer"
"Last in Line"
"Stand Up and Shout"
"Don't Talk to Strangers"
"All the Fools Sailed Away"
"Mob Rules"
"Catch the Rainbow"
"Kill the King"
"Long Live Rock n Roll"
"Man on the Silver Mountain"
"Heaven and Hell"
Encore:
"Rainbow in the Dark"
"We Rock"
Check out some photos from the show!

All Photos By Geoff Ketler/Aces High Photography




Please log in to view RANTS

If you don't have a username, click here to create an account!