ALTER BRIDGE
Fortress
Roadrunner/EMI Records





I was really interested in doing this review as I have liked Myles Kennedy for a while now since he joined Slash's band. The first time I saw him was when he played "Thor", The God of Thunder in the film Rockstar, so I really wanted to see what his own project would be like.

The first song, "Cry Of Achilles" opens up with an acoustic inspired opening but quickly goes heavy with intricate guitar work and soulful melodies. This is a great song and if the rest of the album is like that I will be pleased.

Up next is "Addicted To Pain", a quick paced song about the various struggles we all have. I am not a drummer, but the drum groove is so infectious it makes me want to pick up the drums and bang away. This song is also the first video from the album.

Like a machine gun firing short quick bursts, so does "Bleed it Dry", the third track on the release. Myles' vocals weave in and out of the melody like a vine climbing a wall. The guitar work compliments the song and does not overshadow the meaning.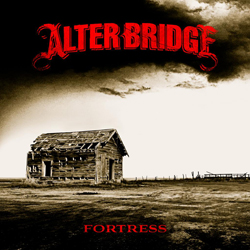 The slower paced start of "Lover" really tugs at the heart strings. The almost whisper vocals along with the bluesy guitars is a change of pace from the other songs but it fills the rooms with a positive feeling and really expands the direction of the band. This is probably the most radio friendly song on the album.
The ominous "The Uninvited" will remind you of its namesake horror film with all the suspense and mystery of a great movie.
"Peace Is Broken" opens with a guitar attack that gets in your bones. I think this is my second favorite song on the album.
"Calm in the Fire" really goes into a different direction in so much, imagine JOURNEY meets a symphony and is doing a James Bond movie soundtrack. I have this song 4 stars, damn good!
The song "Waters Rising" has a different feel to it and hard to describe but different is good.
Up next is "Farther Than The Sun", which reminds me of an IRON MAIDEN type epic. Big majestic type guitars and chords.
"Cry me a River" seems like a comment that you want say to an ex you hate. A little cocky with a whole lot of groove, this song really a fun tune.
"All Ends Well" is a soft song with implications of a classic love song. A future wedding song? Who knows, but if you want to impress the woman in your life, play this and tell her it makes you think of her and you will get one "get out of jail free" card to keep.
The last song is the also the name of the album, "Fortress", a song that is an epic in the making with highs and lows, rises and falls and intricate musicianship and vocals.
**** Out Of 5
ALTER BRIDGE is:
Myles Kennedy on vocals and guitar
Mark Tremonti on guitars
Brian Marshall on bass
Scott Phillips on drums
www.alterbridge.com