Birth, School, METALLICA, Death - The Biography Volume 1


By David Kemp, Midwest Contributor
Sunday, November 17, 2013 @ 9:07 AM


| | | |
| --- | --- | --- |
| | | by Paul Brannigan and Ian Winwood |
METALLICA, the name alone conjures up memories of a time and place in my life. I used to be a fan. I became a fan for the same reasons that they started playing music and I stopped being a fan for those same reasons. This book brought all those memories flooding back to me with vivid detail.

The writers who meticulously researched the band, the associates, the players and names to make a complete picture. They even went so far as to speak with the legendary photographer Bill Hale, who I personally know as to his view on historic events in the bands life. The people they interview and checked facts with were there. They lived, partied, fought, toured and slept next to them.

This is just Volume One as it covers the birth of the band up to their historic Black Album. The authors are highly respected music journalists and I write this review today, the day the book becomes available.

Let me start by saying why I was a fan, why I stopped and why this book may just have brought me back to the fold. I was a fan because METALLICA were originals, they fought the system and they didnít go with trends; they did it for the music and the fans. Why I stopped? Well, to be honest, following a band that everyone already likes and preppies and jocks in school followed didnít appeal to me. I used to be made fun of for wearing a METALLICA patch on my jacket and a concert T shirt.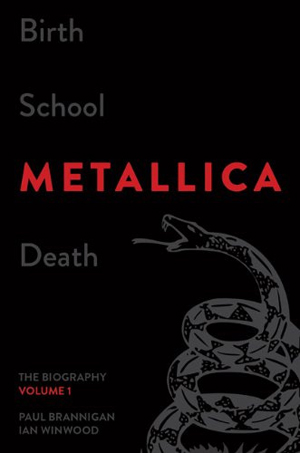 Fast forward to the Black album they were all over MTV and every football player was listening to them in the gym and with the Napster controversy that was my final breaking point. They cared about money and not the fans. Well, time makes us wiser and more opened minded. I even spoke with Jason Newsted recently so this was the perfect time to relive both of our pasts, the band's and mine.
The book opens up with the start of the members lives and as band members change we also get their back story of their lives as well. Trust me, METALLICA had a lot of members both in the band and in behind the scenes. The authors pull no punches and donít make the band seem like angels, but a cold hard look at the people involved. From James Hetfield's start as a shy front man to the vision of power he is today, to Cliff Burton being the calm, cool, collected one except when he needs to take charge and drop the hammer, pun intended.
For those that read the book the hammer reference will make a lot of sense. The start of Dave Mustaine with the band all the way to his ride home on a Greyhound Bus at the end of his tenure. The humble beginnings of Kirk Hammett and Jason Newsted, to the cocky youth of Lars Ulrich, who apparently is just as cocky today as reported by sources. The chapters are named after songs and releases by the band and what was going on at the time. If this were a movie review I would be able to say you felt like you were there, almost 3D like and this book has a similar feel.
This was a quick read with the chapters flying by in just minutes. It has 8 pages of rare photos. This book made me miss my METALLICA and who I was at the time and in fact I plan on listening to them after I finish this review. It doesnít have a low point except the death of Cliff and since itís a biography it has to tell the truth. If you are or were a METALLICA fan, or just want a great biography to read I highly recommend Birth, School, METALLICA, Death - The Biography Volume 1 by Paul Brannigan and Ian Winwood.
Birth, School, METALLICA, Death, The Biography - Volume One by Paul Brannigan and Ian Winwood. Available from Da Capo Press Hardcover, $27.99, 378 Pages. ISBN 978-0-306-82187-5
5.0 Out Of 5.0




Please log in to view RANTS

If you don't have a username, click here to create an account!