Good news for the Portuguese crew from high school back in the day: The ancestral motherland will finally get represented in one of my reviews for a change - and so will you. For good measure you'll also be introduced to a couple of German bands including one with a hot Norwegian blonde who's actually married to the lead singer of the other band.

Now ain't that some freaky-ass FLEETWOOD MAC shit Teutonic style goin' on there or what? But save your obrigados for after the review.

Starting off the set on what was easily the coldest blackest day this winter would be ATROCITY, whose past tour stops so far this year included the 4-day 70000 Tons Of Metal cruise which, to be fair, made every other day on the tour thus far cold and black by comparison. Ironically the aforementioned song was absent from the playlist in favor of songs both stemming from their early death metal days up to their more sophisticated goth/industrial matchup period which included their current disc, Okkult. Frontman Alexander Krull casts a giant menacing figure onstage (especially with that mic stand of his which could have passed for a branding iron) but he's really a laid-back dude once you get to know him. Or include him in one of your selfies even if it's unintentional. And that's how two female concertgoers - Olivia from Ottawa and Samantha from Quebec - ended up on stage with the band during "Blood-Stained Prophecies" and "Satan's Braut", gyrating and twerking their way to infamy as guitarists Thorsten Bauer and Sander Van der Meer exchanged lightning-fast riffs in between. Suffice to say, if ATROCITY had been working on a cover of CHEAP TRICK's "I Dig Go Go Girls" they probably could have worked that song into their set right after at the time but I doubt that would've gone down well with Alexander's life partner. Still, when they closed with "Death By Metal", "Blut/Necropolis" and "Reich Of Phenomena", ATROCITY had already rose above a cult following as far as the crowd were concerned. I know their set made my cold black night.

http://www.atrocity.de/
https://www.facebook.com/AtrocityOfficial

Quick question for all: How many of you figured out that ATROCITY and co-headliners LEAVES' EYES were basically the same band? I eventually clued in when I realized that sound check for the latter was really short. In fact I'd wager that it took longer for their gorgeous frontwoman Liv Kristine (ex-THEATER OF TRAGEDY, current Mrs. Alexander Krull) to get her Victorian-era ballroom gown on than it did for the rest of the band to cue up their mics. Opening with "Galswintha" from their most recent disc, Symphonies Of The Night, Liv laid down some dulcet and soothing vocals while her bandmates plied away at the harmonic and orchestral yet equally progressively heavy tones, classical-inspired arpeggios and Nordic rhythms which made up the nucleus of LEAVES' EYES sound. Alexander Krull immediately made his comeback during "Take The Devil In Me", his demonic growling shaping perfectly with Liv's placidly clear vocals rather than contrasting with them. He stayed on for the rest of the set excluding "Elegy" and with his lady by his side, he proved that he was the inspiration for the expression "going into beast mode", giving songs such as "Hell To The Heavens" and "Mot Fjerne Land" the stark and dark complexities their lyrics demanded. And dammit, is there nothing that Liv Kristine can croon that can make her any more vocally appealing than she already is? Offstage, Liv is all class, always willing to meet with her legions of fans after the show including the two 20-something Bosnian ladies donning an exact replica of her stage outfit that night. 'Twas hard to have to only settle with one photo of myself with Liv Kristine though, especially as up close she reminded me of a former work colleague from DND who always had a keen eye for fashion whenever she came into work but it was hard to follow up to the aforementioned duo from the Balkans rockin' her size two Victorian gown so I had to give them the spotlight right then and there. Looking for top-notch symphonic metal with Nordic mythology and similar overtones being performed with passion and quality? The Eyes have it.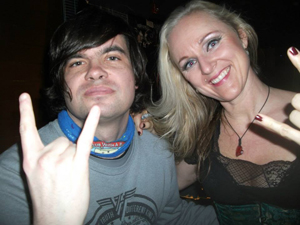 http://leaveseyes.com/
https://www.facebook.com/leaveseyesofficial
Speaking of a hard act to follow especially after watching Liv Kristine shimmy and headbang in a ballroom gown and corset for the past 45 minutes, Tim, my former roommate/colleague from the Vancouver Olympics, had given headliners MOONSPELL a top recommendation, having seen them twice. My own knowledge of the band went as far as knowing their songs "Finisterra" (which they played) and "In And Above Men" (which they didn't since the title would've been hard to explain let alone place a visual upon) and an interview with Full Metal Jackie who once gushed on about how exotic their Portuguese accents sounded on the air.
And that they often sing in three languages: English, Portuguese and Latin.
Opening with "Axis Mundi" off of their most recent album Alpha Noir/Omega White (a double album for which they've been promoting non-stop for close to two years straight now), MOONSPELL attract a full house of black-clad punters and seize onto their enthusiasm for dear life for the rest of the show. Frontman Fernando Ribeiro initially cast an odd first impression when he donned a Roman gladiator helmet during the song but once him and the band plowed through more of their commonly-known tracks like "Finisterra" and "Scorpion Flower" it was the music that did the talking. And given his suave stage presence and his bandmates' dark atmospheric yet heavy groove Fernando was pretty much talking about how metal, hard rock and goth rock can all co-exist for the common good. It seemed to work for me since Fernando cut a fine form that wandered between David Coverdale and Alice Cooper with some Andrew Eldritch cast wthin the mix. Guitarists Ricardo Amorim and Pedro Paix"o amassed as much of the best elements of the metal genre's guitar theatrics as they possibly could, merged them with some gothic undertones and came out with some pretty solid riff styles of their own. Bassist Aires Pereira may be the most recent addition to MOONSPELL having joined back in 2007 but he brought some old-school stylings to the table. And drummer Miguel Gaspar was on form with his multi-faceted and multi-ranged tubthumping maintaining a consistent rhythm.
Closing their set with classic favorites "Alma Mater, "Full Moon Madness" and "Everything Invaded", MOONSPELL made an impressionable mark upon their new Ottawa fanbase and brought Alpha Noir/Omega White into a full grey area. And for a band that often saw itself as a gothic dark metal band they put on a colorful performance.
Thanks to the Ritual for keeping the joint classy and super.
https://www.facebook.com/moonspellband
Setlist:
"Axis Mundi"
"Alpha Noir"
"Finisterra"
"Night Eternal"
"Opium"
"Abysmo"
"Nocturna"
"Scorpion Flower"
"Luna"
"Lickanthrope"
"Love Is Blasphemy"
"Vampiria"
"Alma Mater"
"Full Moon Madness"
"Everything Invaded"