CHILDREN OF BODOM, DEATH ANGEL & TYR Live in Cleveland With Photos!


By Geoff Ketler, Cleveland Contributor
Saturday, March 29, 2014 @ 7:31 AM


| | | |
| --- | --- | --- |
| | | The Halo Of Blood Over North America Tour Comes To Cleveland |
After canceling a previous show in Cleveland last fall, citing vocalist/guitarist Alexi Laiho having some health issues, the Finnish metal band CHILDREN OF BODOM made a return to the city as part of their "Halo of Blood Over North America Tour". They brought with them the veteran bay-area thrashers DEATH ANGEL and the Scandinavian folk metal group TYR.

Opening the show was TYR. Viking metal, power metal, folk metal, progressive metal - call them what you will, but there is no doubt that the band from the Faroe Islands was heavily influenced by Viking lore, mythology, and history. I honestly wasn't sure what to expect. I had done little research prior to the show except for taking a peek at a few music videos on YouTube during my lunch break here and there. I was blown away by their performance. The band was very, very tight and the vocal
harmonies were just haunting. Guitarist Terji Skibenæs just shredded solo after solo. I can understand why people may call them progressive metal because of the deep compositions and time changes that make up much of their material. Altogether TYR was a pleasant surprise and I hope to catch them again in the future.
Setlist:
"Hold The Heathen Hammer High"
"Blood Of Heroes"
"Another Fallen Brother"
"Mare Of My Night"
"Lady Of The Slain"
"Shadow Of The Swastika"
If I told you that CHILDREN OF BODOM was my sole reason for attending this show, I'd be lying to you. I love COB and have seen them before, but what really had my attention was finally getting to see DEATH ANGEL. As part of the San Francisco, Bay-Area thrash scene; DEATH ANGEL was one of the founding fathers of the genre, if you will. Although that place in time was well before my arrival on the door step of thrash (my favorite genre), it is still very nostalgic to see one of the originals out doing what they do and have done for decades. They would not let me down.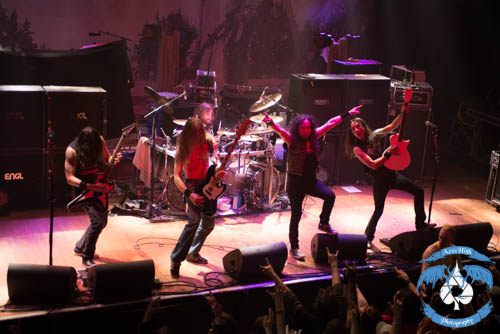 After a swift set change, DEATH ANGEL took the stage to the eerie intro to "Left For Dead". Vocalist Mark Osegueda was a complete freak on stage. After admitting he was under the weather (I don't think anyone could tell) he went on to belt out sustained screams one right after another. The band – despite their veteran status – was at no loss of energy. I loved hearing several new songs, including the title track, off of their recent release The Dream Calls For Blood. Mark Osegueda encouraged the fans to stir up the pit for their last song of the night, "Thrown To The Wolves" – a thrash masterpiece, a thrashterpiece, off of their 2004 release, The Art Of Dying. What a show.
Setlist:
"Left For Dead"
"Son Of The Morning"
"Claws In So Deep"
"Succubus"
"Execution-Don't Save Me"
"The Dream Calls For Blood"
"Mistress Of Pain"
"Thrown To The Wolves"
After the final set change of the night and after one of DEATH ANGEL's hospitable roadies tossed me an ice-cold water (thank you), it was time to do the "Deathroll". CHILDREN OF BODOM took the stage with "Sixpounder". Guitarist/vocalist Alexi Laiho was in the familiar position, surrounded by monitors with head cocked to the side, belting out vocals and wailing on guitar. Between songs or during one of Janne Wirman's keyboard solos, Alexi would retreat back to his amp and grab a drink that usually ended up getting spit into the air. During any dueling leads between Alexi and Janne, Alexi would get up on the keyboard riser and they would trade solos back and forth often staring into one another's eyes to sort of see who would blink or flinch first.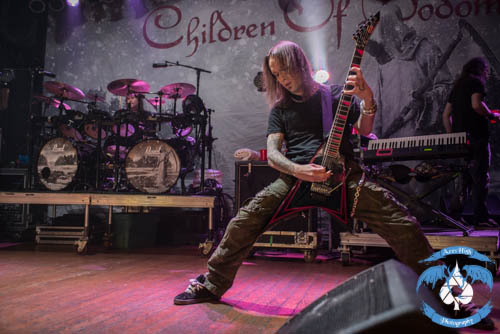 I had just made it out of the photo pit and upstairs to the balcony to catch "Hate Crew Deathroll", which essentially unleashed hell on the general admission floor. Security was catching crowd surfers two at a time, one in each arm, as pit continued to grow. The entire set continued smoothly. The only slight hiccup was just the apparent displeasure Alexi was having with the volume in his monitors. He kept waving his arms to get the attention of the sound engineer to his left and motioning for him to turn them down. After ending their set with "Down Fall", CHILDREN OF BODOM encored with "In Your Face" to end the evening. It was a fantastic night of new and old school metal. From the Vikings pillaging villages of Scandinavia to the early eighties inception of thrash metal and Finnish death metal at its finest; the bands complimented each other so well and each of them had something different to offer. It was a great show for any fan of metal.
Setlist:
"Sixpounder"
"Living Dead Beat"
"Bodom Beach Terror"
"Halo Of Blood"
"Scream For Silence"
"Hate Crew Deathroll"
"Lake Bodom"
"Follow The Reaper"
"Dead Man's Hand On You"
"Are You Dead Yet?"
"Blooddrunk"
"Angels Don't Kill"
"Towards Dead End"
"Hate Me!"
"Downfall"
Encore: Check out some more photos from the show!

All Photos By Geoff Ketler - Aces high Photography




Please log in to view RANTS

If you don't have a username, click here to create an account!






CRADLE OF FILTH Existence Is Futile

BEAST IN BLACK Dark Connection

MASSACRE Resurgence

DREAM THEATER A View From The Top Of The World

JAY JAY FRENCH Twisted Business: Lessons from My Life in Rock 'N' Roll

BLACK LABEL SOCIETY, PRONG And OBITUARY In Portland, OR With Photos!

GEMINI SYNDROME 3rd Degree - The Raising

DORO/WARLOCK Triumph And Agony Live

BETWEEN WORLDS Between Worlds

ALCATRAZZ V

BEHEMOTH Sventevith (Storming Near the Baltic) Reissue

ALICE COOPER, ACE FREHLEY In Nashville, TN With Photos!

CARNIFEX Graveside Confessions

BLOOD RED THRONE Imperial Congregation

GUS G. Quantum Leap

BILLY IDOL The Roadside EP

AVATAR, MAGIC SWORD In Houston, TX With Photos!

APRIL WINE, MONKEYJUNK At The Ottawa Bluesfest

MINISTRY Moral Hygiene

CRYPTA Echoes Of The Soul

SKILLET In Houston, TX With Photos!

Immortal Axes: Guitars That Rock Book

IRON MAIDEN Senjutsu

GRINDER BLUES El Dos

GEORGE LYNCH Seamless Review #2

IN THIS MOMENT, BLACK VEIL BRIDES In Houston, TX With Photos!

WARLANDO Festival 2021 Photo Gallery

KISS In Ridgefield, WA With Photos!

LAURENNE/LOUHIMO The Reckoning

TREMONTI Marching In Time

ROCKLAHOMA 2021 Day 3 Photo Gallery

ROCKLAHOMA 2021 Day 2 Photo Gallery

ROCKLAHOMA 2021 Day 1 Photo Gallery

CARCASS Torn Arteries

SETH La Morsure de Christ