Brofest UK #2 - Day 3


By Rob McNees, Vinyl Aficionado
Monday, April 14, 2014 @ 6:23 AM


| | | |
| --- | --- | --- |
| | | |
Day 3 begins with me rolling out of the rack and my feet and legs feeling like jello. I found the thickest pair of socks I brought, and begrudgingly headed out. Instead of the long walk tho, I caught the bus over to F&B's (yes, again. It was great everytime!) for the meal of the day. Then the slow, semi-painful walk to the university. I wasn't moving too fast and by the time I got there, the opening band EVIL BLOOD was heading towards the end of their 40 min. set. Their story is quite interesting as the band originally formed in Yugoslavia in 1982! Even releasing a 3 track single on Christmas Eve of '82. The band has gone thru many members and band names (including LORD OF DARKNESS, DJINN & BENEATH, which had ex-VENOM drummer Abaddon in it's ranks). The only constants in the band have been Bat Connan (vocs, gtrs) & Loki (bass). Nowadays the band has returned to the name EVIL BLOOD. Musically, when I finally arrived and my ears tuned into the stage, I would have sworn Italian cult band BULLDOZER was playing, I kid you not. Songs played included a song off the original single "Ave Satanas", "Midnight In Sodom", "Seventh Sabbath" and the self-titled "Evil Blood". If old-Skool Speed Metal sounds like your cup of tea, then check 'em out.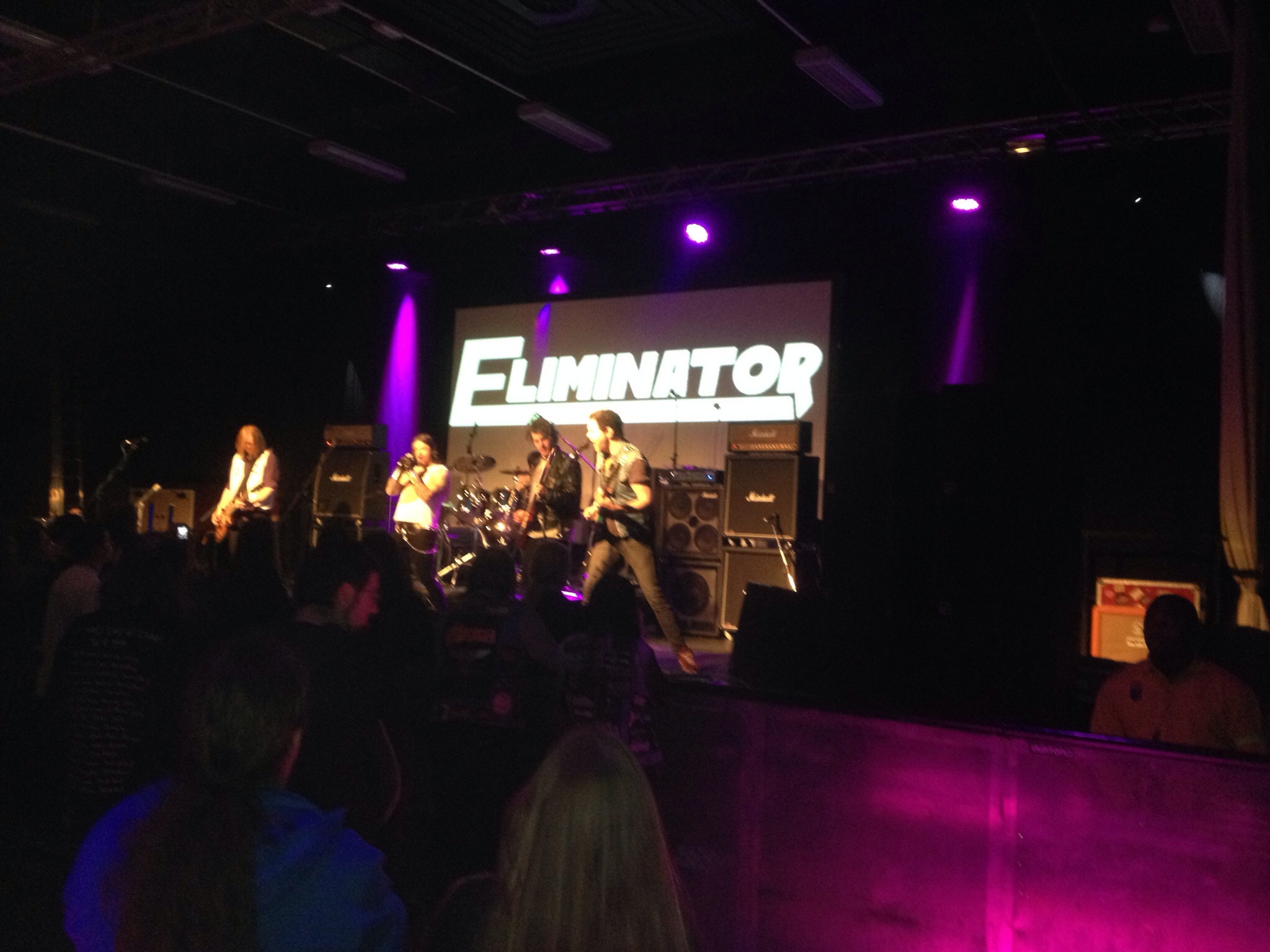 Next up was UK band ELIMINATOR. Thanx to a great record label here in The States (Shadow Kingdom Records) I was able to pickup their We Rule The Night EP a week before our vacay. It's a great blend of NWOBHM styled music and Power Metal. So even tho I didn't really know the music, I had an idea what to expect. And musically, they didn't disappoint. But I do have a recommendation. While I take under consideration that there was a contingent that knew ELIMINATOR's songs, most of the punters there (me included) had no idea what they were playing. New singer (since 2013) Dave Pugh has a great voice, but a little introduction now and then to a fest full of possible new converts might go a long way to building a bigger audience. The only song I know they played was "Danger In The Skies".
Up next, the first NWOBHM band of day 3, Northampton's SOLDIER. Their output back in the day was small, but it was quality to be sure. Alot of great compilation albums were released during the NWOBHM heyday, and the Heavy Metal Heroes volumes from Heavy Metal Records was no exception. SOLDIER's contribution in 1981 to Volume One of H.M.H. was the amazing "Storm Of Steel". They followed that up in 1982 was the must-have 7" "Sheralee" w/ "Force". I still see them floating around once in awhile, so if you don't own it then find it! These days SOLDIER is promoting their latest album which was released last year, Dogs of War. I did pickup my copy (on, you guessed it, High Roller Records).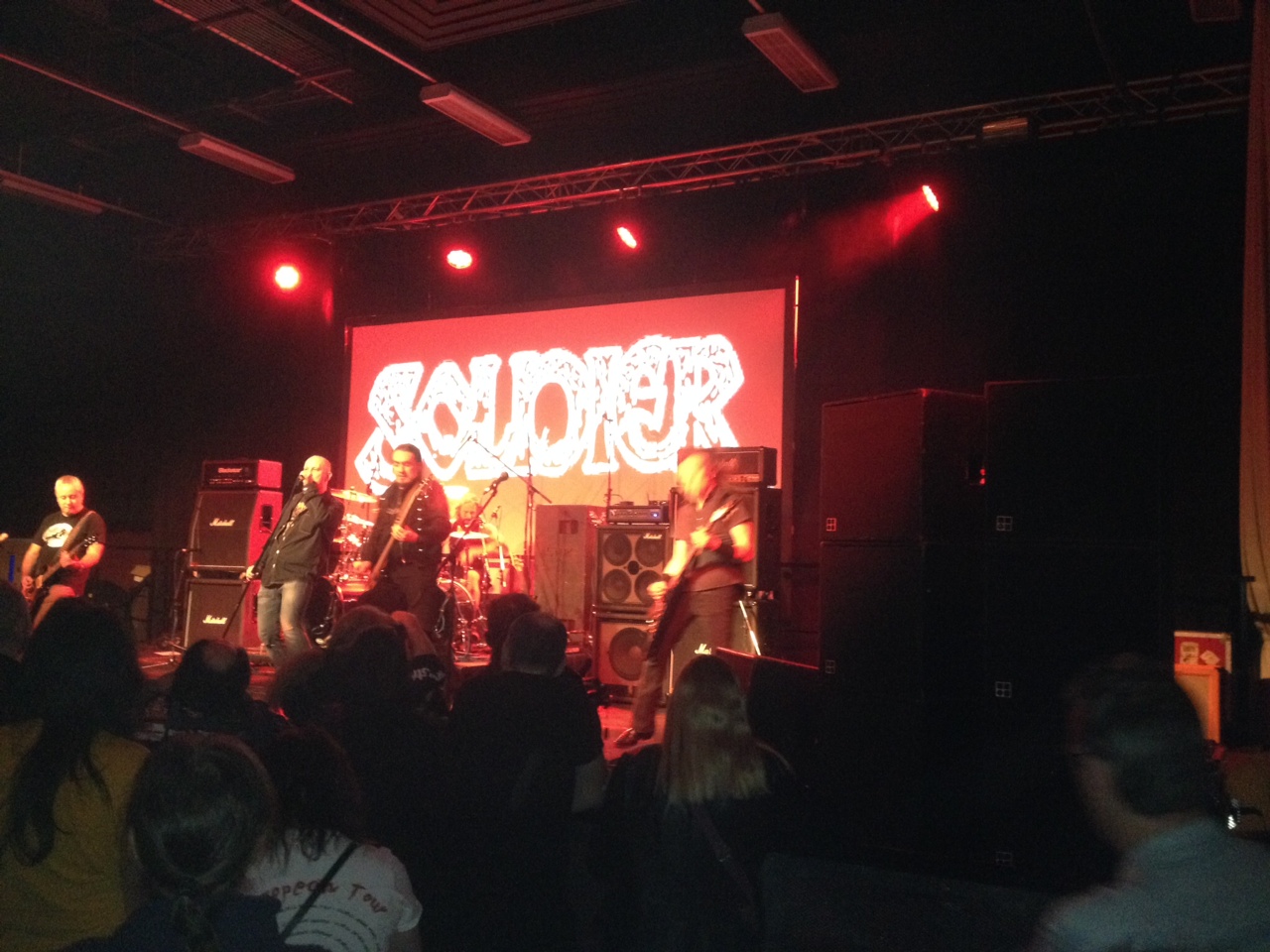 Lone original member guitarist Ian Dick led the band into the Brofest stage playing songs off the new album including the title track, "No Mans Land" and "I Can't Breathe". I was stoked when they struck up "Storm Of Steel", and the new band did it justice to be sure. But my only complaints: they didn't play "Force", a minor complaint but since I only really knew those 3.....and they closed with "Sheralee". You would think that would be a great thing, except they intro'd the band, and talked over a quarter of the song. I wish they'd have played that classic cut in its entirety and used a newer song to do the intros etc. Minor complaints aside, it was outstanding to finally see SOLDIER live.
BASHFUL ALLEY from Lichfield were up next. Although they released demos starting in 1980 and released one every year thru 1983, their only Vinyl output (and the only thing I had for years) was a epic single released in 1982. "Running Blind" w/"My, My, My". While both songs are good, "Running Blind" is an instant classic and should be heard by everyone! A compilation was released in 2005 called It's About Time on Vinyl and cd which had all the demo tracks plus that 7"!! Live, Rob Tidd (guitars and vocals) led the band thru both songs from the single plus "It's About Time" and "Light It Up" from the comp among others. A fun set was enjoyed by all.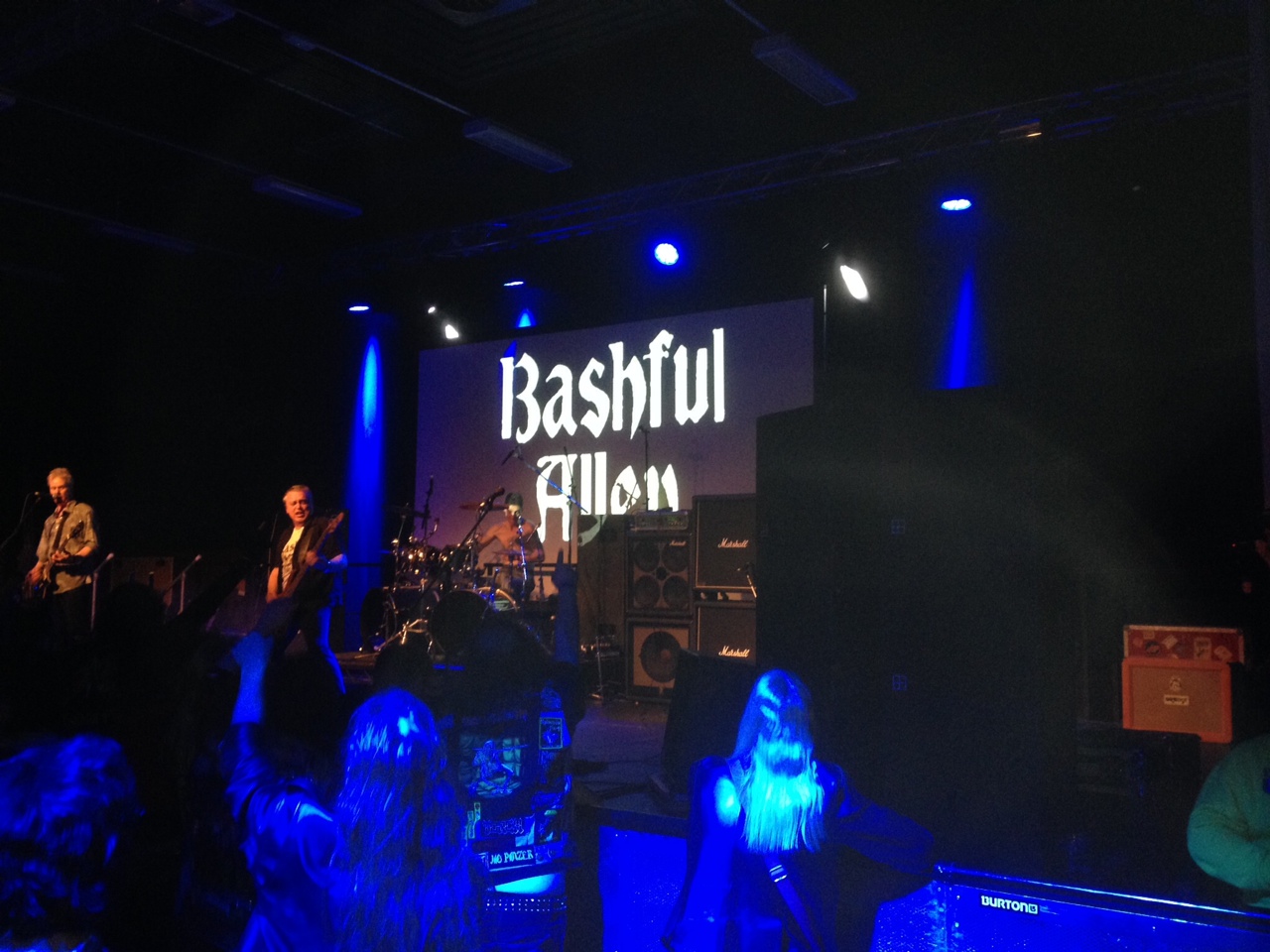 SPARTAN WARRIOR from Sunderland was next, who were label mates to Day 2's GOLLOW GROUND. Led by the Wilkinson Brothers: Neil on guitar and Dave on vocals, they were a solid band then, and are still today. Their first album Steel N' Chains was released in 1983 and was a headbangers delight. Their next release, titled simply Spartan Warrior was equally as impressive, showing the band had not run out of steam. Guardian put together another great comp in 1983 called Pure Overkill and included SPARTAN WARRIOR, RISK, INCUBUS, (the UK versions of both of course) MILLENIUM and TOKYO ROSE. Not as rare as Roksnax or Roxcalibur but still a good album. Live, the band played a killer set, touching on the best of both albums. The three that stuck out all came of the Steel N' Chains album, including the title track, "Stormer" and "Cold Hearted". If your unfamiliar with SPARTAN WARRIOR, I think it'd be worth your time to search them out and acquire an album or two. If you're a fan of the greats of the NWOBHM, you won't be disappointed.
ATOMKRAFT were next up and they have a very interesting past. Even tho they released demos (Demon in 1981, Atomkraft, also in 1981 and Total Metal in 1983), their Vinyl debut was not until 1985, the Future Warriors album on legendary Neat Records. ATOMKRAFT are funny in the fact that because they came out a tad later and because they played a more furious Thrash style, most people who talk about the NWOBHM don't mention them (or WARFARE, a similar styled band). And Thrash fans don't really cite them as early influences. But maybe they should. ATOMKRAFT opened for SLAYER (yes, THE SLAYER) on the latter's Hell Awaits tour in 1985 at London's historic Marquee. How's that for cred??? ATOMKRAFT's only original member is Tony 'Demolition Man' Dolan. ATOMKRAFT is just a part-time band now for Tony, as his full time gig is M-PIRE OF EVIL, which features ex-Venom guitarist Jeff 'Mantis' Dunn. Live for Brofest 2014, ATOMKRAFT had a special surprise: playing Future Warriors in its entirety! And Tony and crew didn't disappoint. The 3 piece, rounded out by Kraen Meier from Denmark's SACRIFICIAL on guitar and Paul Caffrey from Irish Thrash titans GAMA BOMB, blazed thru the album in fine form, the band tight and punishingly heavy. Tony live, is alot like Lemmy, commanding the crowd and playing that Rickenbacker bass more like a rhythm guitar. From "Future Warriors" thru "Total Metal" and next to last tune "Burn In Hell", it was non-stop pummeling. And for the last song on the album and the set, "Heat And Pain", Tony brought in a special guest, the aforementioned Mantis. Now for those who don't know, Tony was a member of VENOM, making his debut on 1989's Prime Evil alongside Mantis and Abaddon when Cronos first left the band. In fact PRIME EVIL was the first name of M-PIRE OF EVIL, but with an American band of the same name around, the name change was a necessity. In any event, ATOMKRAFT deserves a look by all fans of heavy music (and M-PIRE OF EVIL too for that matter). Buy or Die!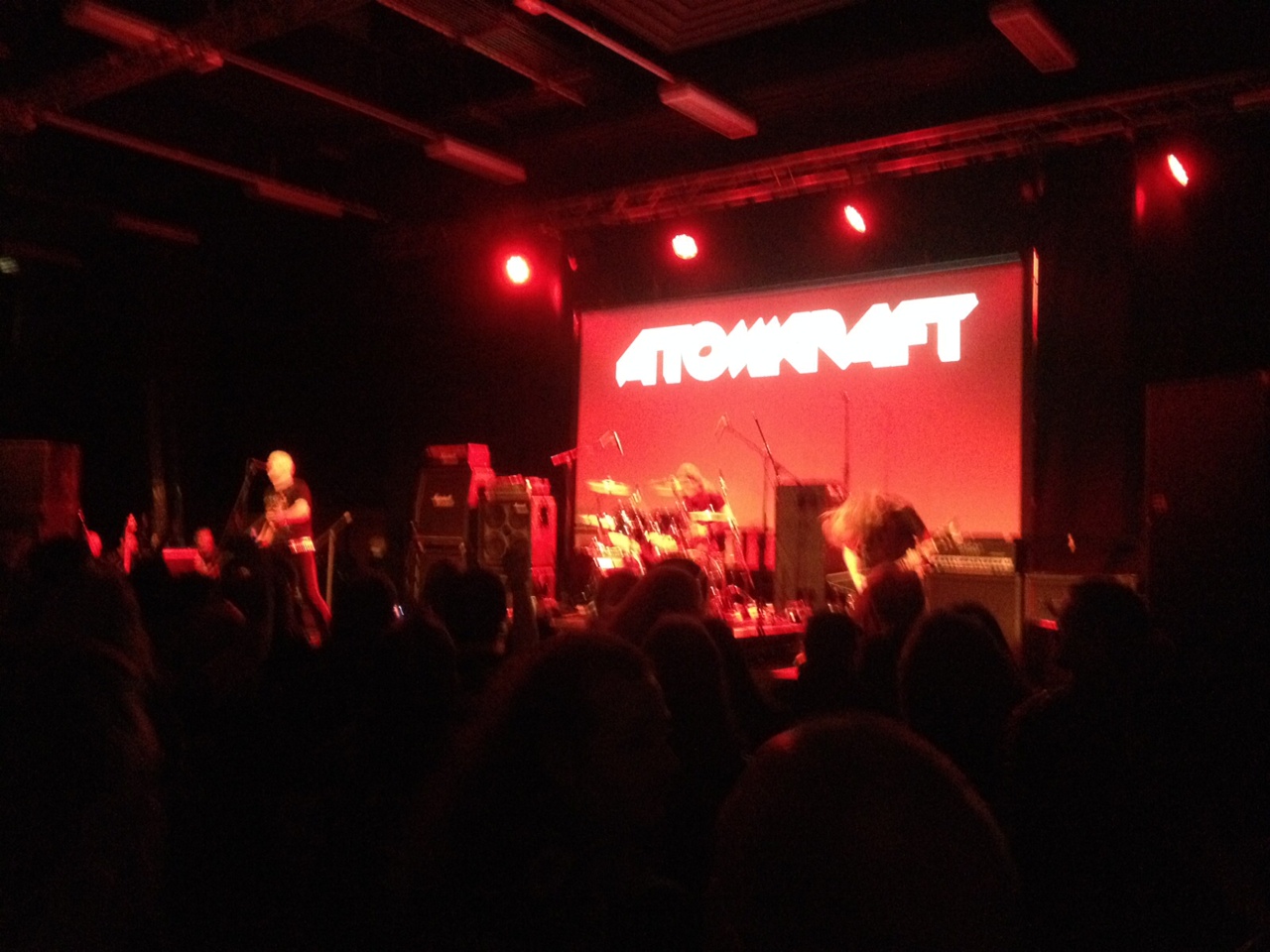 Following that were BLITZKRIEG. Probably the biggest name IMO @ Brofest because of some little band called METALLICA doing a cover of their self-titled classic "Blitzkrieg" back in 1984 on the Creeping Death 12". Leading the charge for BLITZKRIEG as always is vocalist Brian Ross. He's sung for AVENGER, LONE WOLF and also for SATAN, whose Court In The Act album is a bonafide classic of the NWOBHM. He still sings for them as well. As a matter of fact, Brian had played a gig the night before w/SATAN in Germany, turned around and flew home just in time for this Brofest show. Talk about a world traveler! BLITZKRIEG started out with a demo in 1980 before unleashing the hallowed Buried Alive 7" in 1981, which featured "Blitzkrieg" on the flip side. A live tape was issued in '81 as well before the first album, A Time Of Changes was finally released in 1985. That was the last output till a EP called 10 Years Of Blitzkrieg was released in 1991. Ross resurrected BLITZKRIEG for good in the mid-90's and it's been going strong ever since. The latest album Back From Hell was released last year, with the latest incarnation of the band including Brian's son Alan on guitar. Live, they debuted the track "Sahara" off the latest album, a slower mid-paced track. They also played "Dark City" from 2002's Absolute Power, a great track and of course, both songs off of the aforementioned legendary 7". It was amazing to finally see BLITZKRIEG live, as the chances of seeing them in the US are fairly slim I'm afraid. SATAN, however, does have a small run coming up this year in the USA. Check around and see where the closest date to you is and GO!!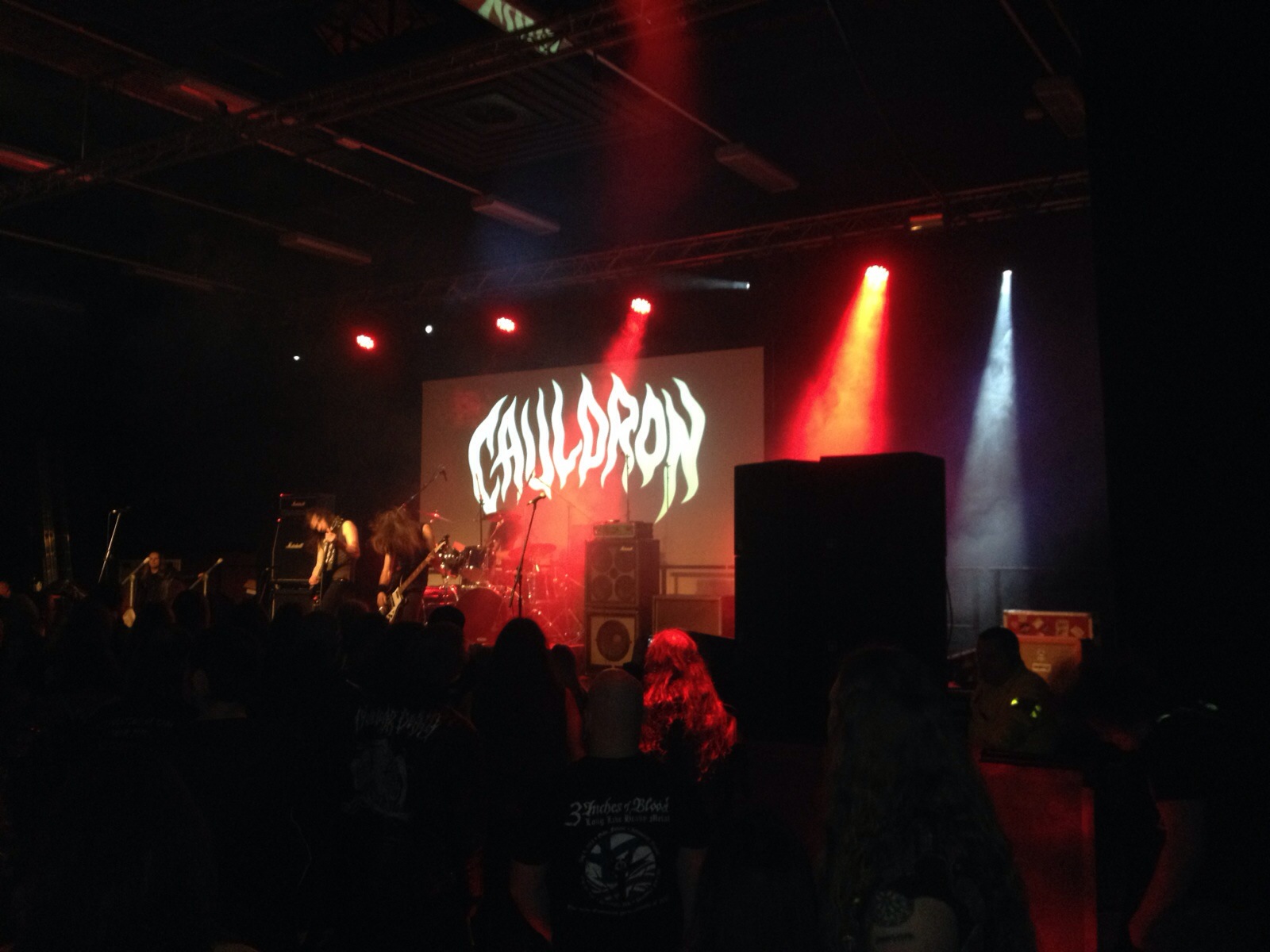 Now this next band had me quite puzzled. Not that they were on the bill, as they fit quite nicely with their brand of metal but where they were at on the bill. Playing AFTER BLITZKRIEG?? And all the other legendary NWOBHM bands that played on this final day? Hmmm. Anyhow these Canadian's formed in 2006 from the ashes of GOAT HORN. I first heard of CAULDRON from old drummer Al Biddles, who was drumming for TOXIC HOLOCAUST at the time. Having put out 3 albums since 2009, the band has no shortage of material. Live material included "All Or Nothing" from the Burning Fortune album (2011). And their show closer, which was a barnburner! A cover of "Die Hard" by Newcastle's own NWOBHM Legends VENOM!!! As an added bonus, joining them onstage was ex- VENOM guitarist Jeff 'Mantis' Dunn and ATOMKRAFT/M-PIRE OF EVIL's Tony Dolan. That had the crowd abuzz and ready for the final 2 bands of the fest.
Which brings me to JAGUAR. One of the heavier bands of the NWOBHM, their early output was purely essential. Some even credit them for being an early proponent of Thrash metal, citing their live show at The Dynamo (Holland) in 1982. With the crowd screaming 'Faster!', the band obliged, playing some songs at breakneck speed. It needs to be heard to be believed!! JAGUAR's Vinyl output (after a couple of demos in '80 & '81) started with the Back Street Woman 7" in 1981 and Axe Crazy 7" in 1982, both essential to any collection, but Axe Crazy really setting the bar high for the band. And they didn't disappoint, releasing Power Games, a great album, in 1983 on Neat Records. After that, the band took a horrible musical change of direction. They did re- form in 1998. Which brings to the live show @ Brofest. Singing for the band since the reformation is Jamie Manton. I had been warned about him earlier in the evening and the warning proved to be spot on. While I love British humor, there's a limit to where & when I wish to be bombarded with it. And while the band is cranking out classic NWOBHM, I DO NOT want to see the singer jumping around on a fucking POGO-STICK!!! I shit you not! And he did it several times throughout the set. I found it extremely annoying and downright stupid. And Jamie does possess a good voice, but how he overly sings the last word in just about every sentence just grated on my last nerve. Plus his incessant babbling on about nothing resulted in the band having to cut the encore out of the 40 min set: the killer "Axe Crazy".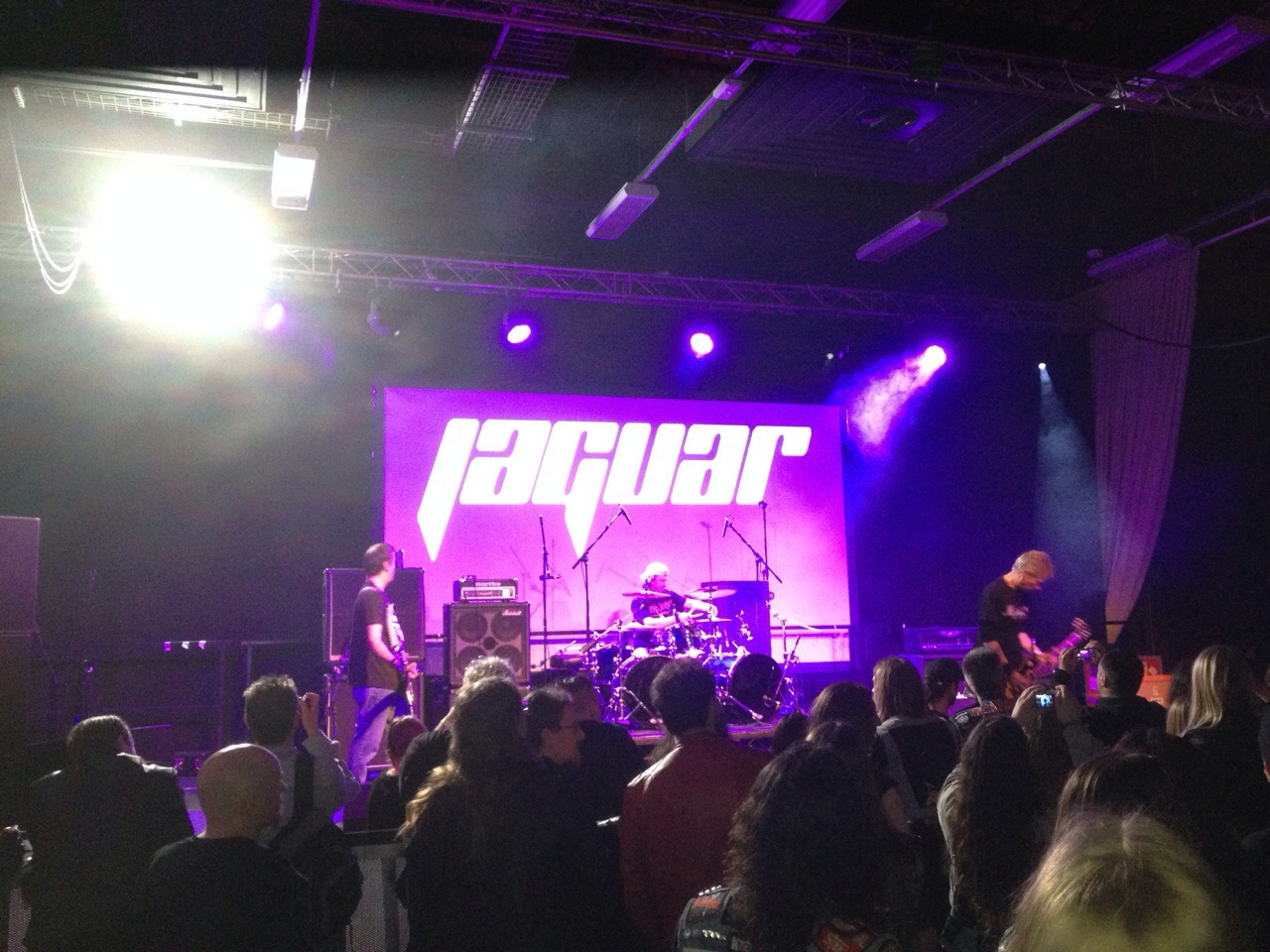 They did manage to play "Master Game", "Rawdeal" and "Dutch Connection" off of Power Game, and 1 new track ("Once And All"?) off of a new album Metal X to come out sometime this year. I talked to several punters after this set about how they liked it, and it was definitely a 'take it or leave it' mentality with it split about 50/50. For me, easily the biggest disappointment of Brofest. I leave it. Sorry lads.
Which brings us to the final band of Brofest (UK) 2014. Yorkshire's VARDIS. For me, VARDIS were not the atypical NWOBHM band, instead being influenced by British bands like STATUS QUO and SLADE. Playing a more upbeat, 12 bar boogie with attitude, the band wrote memorable feel-good songs that could make even non-rockers tap their toes to their hard rockin' songs! Starting out with the 4-song 100 MPH 7" EP released in 1979 (a killer rarity that I to this day still don't possess), followed by their first album, a LIVE album no less! It too, was titled 100 MPH, and showcased the VARDIS boogie and energy firsthand. A very proficient band, they released 6 singles and an EP between the live album and their next full length, The World's Insane in 1981. The next full length, Quo Vardis came out in 1982, and was followed by a single and another live EP in 1982 as well. The bands last album was Vigilante, released in 1986 and the band called it a day that same year from mismanagement. So VARDIS the band had not appeared live in 28 years!! But they showed no rust as they stormed into opener "Let's Go", off the 7" of the same name from '80, and the band was off and running. They played all my favorite hits, "Situation Negative", "Dirty Money" and "If I Were King", all featured on the 100 MPH live album. Also "Out Of The Way" and "Destiny" from that album were aired as well. VARDIS sounded amazing and never missed a beat. From The World's Insane album the title track was featured. I would be hard pressed to tell you who had more fun, the Brofest crowd or VARDIS themselves. Mr.'s Steve Zodiac (guitar), Gary Pearson (drums) & Terry Horbury (bass) finished Brofest 2014 in fine style, a fitting end to this scribe's thought to be impossible dream of seeing some of the legends of the NWOBHM Live on English soil!! A dream I hope to be able to live again one day.
So one would think that's the end right?? After all, how does one top that?? Well, an after-show party at the Head of Steam Pub that's how!!! So Rodney & I walked (of course) all the way over, and by the time we got there the party was already in full swing! Upstairs, it was business as usual while the downstairs was reserved for only the hardcore left who just didn't want the night to end. A DJ spun anthems from MANOWAR, STORMWITCH, AGENT STEEL, VIRTUE, TWISTED SISTER, HOLOCAUST and so many more! Metalheads from all over the world drinking ale and singing such iconic songs at the top of their lungs (me included!) was something I'll not soon forget. But even that pales in comparison with singing "Countess Bathory" from VENOM with Tony 'Abaddon' Bray, ex-drummer of that legendary lineup or talking Metal and Southern Rock and headbanging with SOLDIER guitarist Miles Goodman, who was just an amazing bloke!! All in all, a trip that I don't think can ever be topped!! But I'm sure gonna try.
If my adventure sounds like fun, and you're a fan of the NWOBHM or just a Metal fan in general, the announcement that there will be a Brofest 2015 should make your year and give you something to look forward to. Here's the first band announcements. Horns Up!!!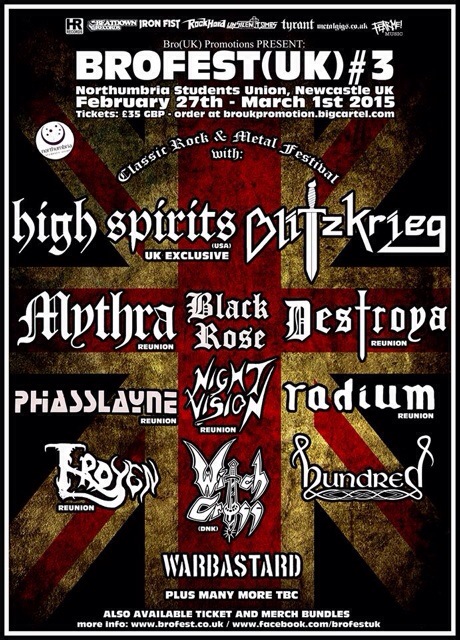 Please log in to view RANTS