TRIXTER Live In Houston, Texas With Photos!


By Larry Petro, News Monkey
Tuesday, August 5, 2014 @ 7:37 AM


| | | |
| --- | --- | --- |
| | | Hair Rockers Light Up The Concert Pub North On August 2, 2014 |
Okay, quiz time kiddies: Who can name a hit song by TRIXTER? Anyone? Unless you really followed this band when they hit the scene in the very late 80's, early 90's chance are that you probably couldn't answer that question and if you did, how many of you said "Give It To Me Good"? Maybe even a smattering few of you said "One In A Million", but that's probably it. Just youngsters when these songs/videos came out, TRIXTER was one of the last bands to come out of the decade of "hair metal", making a small splash with their debut disc (which produced the 2 aforementioned tracks), a smaller splash with their second disc, Hear! and then slowly succumbing to the genre's near fatal blow at the hands of grunge. From then on you heard virtually nothing from the band, but that doesn't mean they disbanded, rather just went into a hibernation of sorts before reiemerging in 2008 with the release Alive In Japan and then releasing a brand new disc in 2012 (how many of you knew that?), New Audio Machine.

The band still plays occasional shows and, in fact, played the Rockin' The Railroad festival in Sheridan, Wyoming the night before jetting into Texas for a show at Houston's premiere concert club of late, the Concert Pub North, a venue that over the past 2 years has established itself as the place that manages to bring in some of the best bands from the era of the 80's, thanks in large part to the efforts of owner Jay Dee and John Escamilla of Jetspeed Entertainment, who have listened to the fans and booked the bands that we all wanted to see. This also marked the band's first Houston appearance in over 16 years!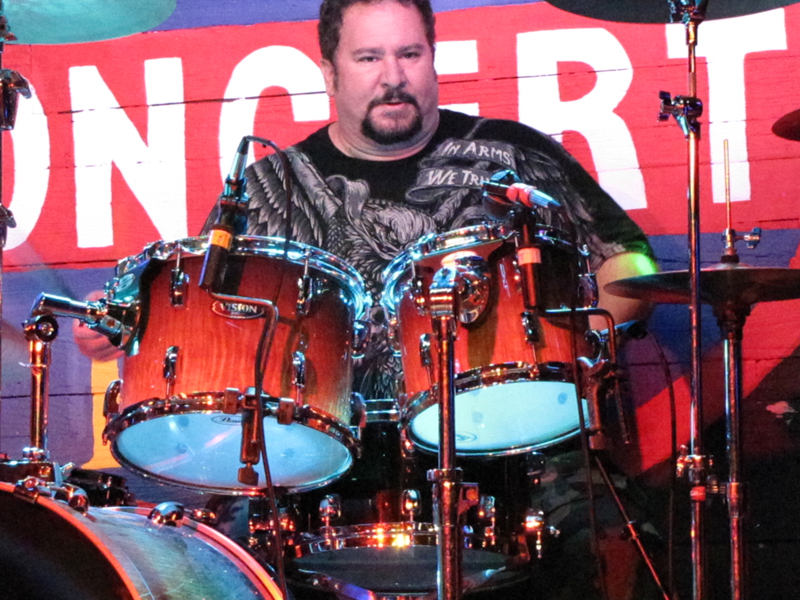 The support act for this show was a local band by the name of THEORY OF THIEVES. The band has been getting some airplay on Houston Buzz station 94.5 and played a very nice set. The band was tight and sounded great, but their style of alternative rock really wasn't a good fit for a band like TRIXTER. Certainly no offenese to THEORY OF THIEVES as I thought their music was really good, it just slahed with the theme of the night. Nonetheless, if you live in the Houston area you will probably be seeing and hearing more of this band in the future, and rightly so.
After a brief changeover and the obligatory upcoming show announcements by Jay and John, it was time for TRIXTER. Taking the stage around 11:15, the kicked off their fun-filled, 13 (only 12 scheduled, more on that in a minute) song performance with "Machine", from that 2012 release I spoke of, New Audio Machine. As one might expect, the bulk of the band's set consisted of tracks from their stellar debut, self titled opus with a full three quarters of that release being performed, including the next 3 songs following the opener: "Heart Of Steel", "Play Rough" and "Ride The Whip". Vocalist Pete Loran and bassist PJ Farley mentioned a few times throughout the show that the band was running on a serious lack of sleep, presumably from all the jetsettings these famous rockers were doing the past week, but you really couldn't tell from the band's performance. There was one miscue, which I think had more to do with the band having so much fun than sleep deprivation. One note about this show is that original guitarist (yes, this band still has all original members) Steve Brown was not present. His slot was filled in by John Allen (AKA J3) a longtime friend of the band who has filled in on numerous occasions and was most impressive in his knowledge of the TRIXTER material. Some might also remember him from Tommy Lee's METHODS OF MAYHEM and also his short stint filling in for Clint Lowery in SEVENDUST many moons ago. Those who have not seen pictures of Steve Brown probably would never have known John was not an actual member, though I'm sure the rest of the guys consider him such. AS it turns out, Steve had to fly out to the East Coast to join up with the KISS/DEF LEPPARD tour because he is Vivian Campbell's backup in the event that Vivian's cancer treatments prevent him from playing. Allen did a fantastic job in Steve's absence, playing so hard that he broke a string about midway through the set.....Thank God for backups!
The band was having a ton of fun and was probably most noted in drummer Mark "Gus" Scott's demeanor; the guy could not keep a smile off of his face. It's nice to see a band enjoying themselves as much as TRIXTER was. The band rolled through their set with tunes like "Tattoos & Misery", also from the 2012 disc, "One In A Million", "Bad Girl" and "Line Of Fire", all from the debut album. The passage of time has been exceptionally kind to vocalist Loran as he even now still looks like he's in his 20's. I want some of what he's drinking.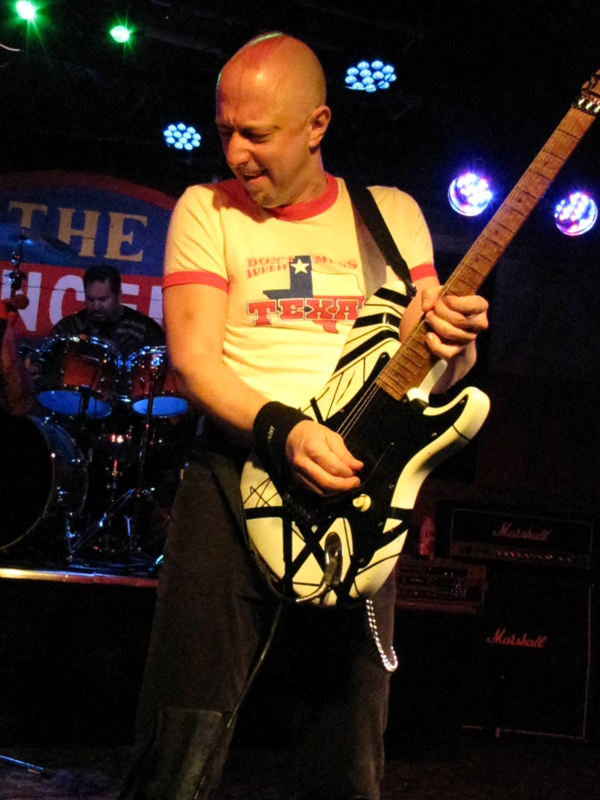 Finally, it came to the end of the set and everyone knew what was coming, but the band actually took about 20 minutes to finally get around to playing it!. During the interim, the bar waitress had taken a band order for some Jagermeister shots, which seemed to take forever to arrive. In a spur of the moment move, John rips off the opening intro to BAD COMPANY's "All Right Now" while he was just up there goofing off, but then Scott and Farley picked it up and the band ended up performing the entire song with John on vocals. And I must add, he did a top notch rendition, both vocally and instrumentally. The shots finally arrived and after a gratituitous "Cheers!" to the crowd, they finished their set off with Give It To Me Good", most arguably the band's biggest hit.
The band came out to hang with the fans following the show and most likely stayed until the last one left, even though they had a 4 a.m. hotel lobby call because they had to fly out to Sturgis, South Dakota that morning for 2 more shows. It was great to finally catch them in concert and hopefully it won't be another 16 years before they return.
Setlist:
"Machine"
"Heart Of Steel"
"Play Rough"
"Ride The Whip"
"Tattoos & Misery"
"Surrender"
"One In A Million"
"On The Road"
"Bad Girl"
"Rockin' Horse"
"Line Of Fire"
"All Right Now" (BAD COMPANY Cover)
"Give It To Me Good"
Catch TRIXTER at one of these upcoming shows:
8.14 - Iowa State Fair - Des Moines, IA
8.15 - Xtra 920 - Appleton, WI
9.12 - Bergen Performing Arts Center - Englewood, NJ (w/JACKYL)
9.13 - Airlift Acres - Berlin, MD (w/LA GUNS, KIX)
Check out a few photos from the show!

All Photos By Larry Petro




Please log in to view RANTS

If you don't have a username, click here to create an account!