ARCH ENEMY, KREATOR, HUNTRESS & STARKILL Live In Cleveland, Ohio With Photos!


By Geoff Ketler, Cleveland Contributor
Wednesday, December 3, 2014 @ 4:40 PM


| | | |
| --- | --- | --- |
| | | War Eternal Tour Hits The House Of Blues For The Final Show |
Once again I found myself on the road to the Cleveland House of Blues, this time it was for a special "early" set as the first band was due up at 6:20pm sharp. The balcony was closed as the bill had not sold up to expectations, but those that had trekked downtown would not be disappointed. This was the final show of the ARCH ENEMY War Eternal North American Tour and they brought with them an eclectic lineup of old school and new school metal bands from across the country and across the planet.

Opening the evening was Chicago's STARKILL. The quartet screamed through a punishing short set. Guitarist/Vocalist Parker Jameson traded screaming lyrics and blazing solos back and forth as the set progressed. The music had a very "power-metal" feel to it. The screeching vocals were balanced by the guitar hooks and melodies. What I gathered from their brief set was that they were talented players and although I was unfamiliar with their material, I could tell that it was deep, complex, and aggressive and they were tight. I wouldn't mind checking them out again.

https://www.facebook.com/StarkillOfficial

SETLIST
"Be Dead Or Die"
"Winter Desolation"
"Breaking the Madness"
"Into Destiny"
"Virus Of The Mind"
Up next was yet another fresh, American, metal band, HUNTRESS. As I entered the House of Blues, I scoped out the merchandise, like I always do. When I arrived at the HUNTRESS table I saw several wicked looking shirts, one of which had the word "clitboner" emblazoned across it. I knew then that I should expect the unexpected. Vocalist Jill Janus was last to take her place on stage as the band ripped into their opening song, "Spelleater". Jill surprised me with her exceptional vocal range; from guttural lows to insane highs, she hit them all. I was not surprised to later find out that she was opera-trained and had a vocal range of four octaves. The majority of their lyrical material covered sex and drugs…what else? Once again, the set was short, sweet, and tight. I would love to catch the Los Angeles-based group again.

http://huntresskills.com/

SETLIST
"Spelleater"
"Destroy Your Life"
"Harsh Times On Planet Stoked"
"I Want To Fuck You To Death"
"Zenith"
"Black Tongue"
"Eight Of Swords"
From new school to old school we went as German thrash heavy weights KREATOR arrived on stage. I was extremely excited to finally catch these guys in concert. KREATOR eased into their set, like dipping a toe into the pool, with "Violent Revolution". The songs seemed to increase in pace as time went on and drummer Jürgen Reil never missed a beat. Vocalist/Guitarist Mille Petrozza often asked for praise from the audience as he commanded the stage. They remind me so much of OVERKILL; just brutal, thrashy, unforgiving, and tight – everything I look for in a metal band. As a four piece, they are not going to wow you with stage presence, but they make up for it with their complex pieces and tempo changes. The kids in the pit really got off to their set, but I mostly just watched in awe. Mille Petrozza talked about KREATOR's history with Cleveland and about how he always remembered how rowdy the mosh pits were in Cleveland. The sparse, yet dedicated, crowd did not let him down. For not being the headliner, KREATOR had a pretty meaty set, highlighted by "Impossible Brutality". I was not disappointed the slightest and will be seeing them again in the future.

http://kreator-terrorzone.de/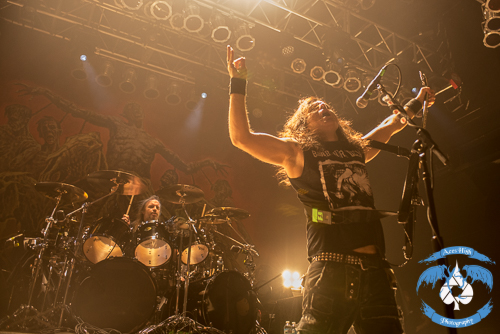 SETLIST
"Violent Revolution"
"Civilization Collapse"
"Extreme Aggression"
"Phobia"
"Enemy Of God"
"Voices Of The Dead"
"Awakening Of The Gods" (Intro Only)
"Endless Pain"
"Suicide Pain"
"Phantom Antichrist"
"Impossible Brutality"
"Hordes Of Chaos (A Necrologue For The Elite)"
"Pleasure To Kill"
It has been a pretty crazy year for ARCH ENEMY. After announcing back in March that long-time vocalist Angela Gossow was leaving the band but remaining the band's manager, I had my doubts about the group's future. Enter Canadian Alissa White-Gluz. The former vocalist of the extreme metal group THE AGONIST had stepped in as Angela's replacement and recorded with the band for their 2014 release, War Eternal. This show was Alissa's chance to prove to me that she had the chops, flare, and stage-presence to carry ARCH ENEMY into the future. She did not let me down.

After the intro, the band went straight into "Enemy Within". It is quite comical to see tiny little Alissa alongside Michael Amott and Sharlee D'Angelo who both look larger-than-life on stage. Alissa looked possessed as she stormed across the stage. She would make her way up onto the drum riser before jumping off. The backdrop had three large white rectangles on it that served as a surface for videos to be played. Sometimes they showed the lyrics – which seemed a little weird to me, and sometimes they would play portions of music videos or other b-roll type stuff that had some relevance to the song content. Michael Amott was Michael Amott. His solos and melodies are so recognizable and he plays them to perfection. ARCH ENEMY is like controlled chaos; where the chaos is mostly vocally, but the control is Michael's hooks and melodies.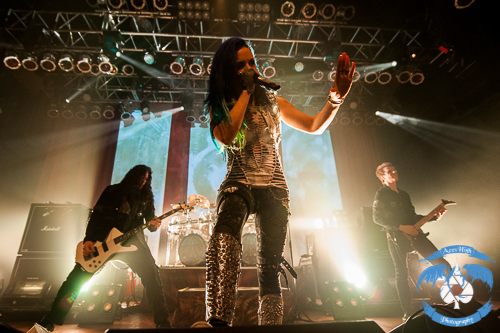 Once again the band called on Michael's brother, Chris Amott for guitar duties once the departure of Nick Cordle was announced. I felt like Chris played well, although he doesn't have nearly enough hair to really fit in. Highlight of the set for me was hearing the abusive "Ravenous". This was the last night of the War Eternal North American Tour. I hope this album cycle brings them back, because it was one helluva show.
http://www.archenemy.net/
SETLIST
"Enemy Within"
"War Eternal"
"Ravenous"
"Revolution Begins"
"My Apocalypse"
"You Will Know My Name"
"Bloodstained Cross"
"Under Black Flags We March"
"As The Pages Burn"
"Dead Eyes See No Future"
"No Gods, No Masters"
"Dead Bury Their Dead"
"We Will Rise"
ENCORE:
"Yesterday Is Dead And Gone"
"Snowbound"
"Nemesis"
Check out the photo gallery from the show right HERE!


Please log in to view RANTS




YNGWIE J. MALMSTEEN, GLENN HUGHES In Worcester, MA With Photos!

ALICE COOPER Road

RAT ROD Four On The Floor

GIRLSCHOOL WTFortyFive?

DANKO JONES Electric Sounds

AVATAR, ORBIT CULTURE, THE NATIVE HOWL In Houston, TX With Photos!

THE DEAD DAISIES In Hollywood, CA With Photos!

KILL DEVIL HILL Seas Of Oblivion

THE DEAD DAISIES In Ottawa, Canada

MAMMOTH WVH In Santa Ana, CA

UADA Crepuscule Natura

BARONESS Stone

KAMELOT, BATTLE BEAST, XANDRIA In Houston, TX With Photos!

CRYPTOPSY As Gomorrah Burns

RAY ALDER II

GHOST, AMON AMARTH In Houston, TX With Photos!

U.D.O. Touchdown

DETHKLOK Dethalbum IV