Review By Michael Warner

ULI JON ROTH
Scorpions Revisited
UDR Music




You always have to go into any kind of re-recording of any kind with an open mind. After all, it goes without saying that Uli Jon Roth recording old SCORPIONS material years after it was released with the original band was certainly sound different. And, over the years of listening to various re-recordings, they really are a mixed bag. Some of them are great, some are ok……..some……are not so good.

I had high hopes for this one though. Before I had the chance to listen to this, I had just recently seen Uli Jon Roth flawlessly perform at Concert Pub North in Houston, Texas. The guy is amazing, and he is easily one of the best guitar players I have ever seen live (and I have seen a lot of great guitarists).

The first thing, which would obviously be expected, is that the track list for this is all early SCORPIONS material from before the band became a huge commercial success. Because of this, right from the beginning of the album, it makes it more interesting because you aren't going to hear re-recorded versions of the same hits from the band anyone who is reading this has probably heard a million times.

There are also a lot of songs here. So, you are certainly getting your money's worth. Some of the songs are the longer songs from this era too, such as "Sails Of Charon" and "Dark Lady". So, you are not only getting NINTEEN tracks, but it's a long listen. This is a good thing as far as I am concerned. Uli himself picked his favorite songs from this era, and considering how good of a guitar player he is, it isn't surprising that he picked some of the more complex songs.

This isn't to say that everything on here is only going to be longer material. Plenty of shorter cuts, like "Virgin Killer" and "We'll Burn In The Sky" are on here too. The mix of shorter and longer songs makes for a varied listen that never gets old. This whole album is enjoyable from beginning to end. There are no weak tracks or filler.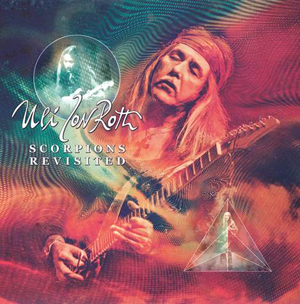 It is amazing how well all of these songs still hold up, even with a different band (aside from Uli) and more modern recording technology. And the performances on this release, on every track, are absolutely flawless.
Uli John Roth absolutely nails everything on this. His guitar playing is perfect. His band is also perfect, especially his singer Nathan James. There are too many instances of solo guitar players who are really talented who have mediocre bands and singers backing them up. You can tell on this release that Uli wants only perfection, so he brings in the best people in he can find.
The production is great too. Everything is perfectly balanced. My biggest compliment on this is the fact that the keyboards aren't blaring, but can still be heard on some of the tracks. To me, most metal and rock releases with keyboards aren't properly mixed. The keyboards either drown everything out, or they are drowned out.
Hopefully, with some of these great songs recorded with more modern technology, and with a band as good as Uli's, once the public hears this, more of the American fan base (who I feel overlooks the pre-commercial SCORPIONS material) will be willing to go back to the original recordings and give them a listen.
Nothing will ever beat the original recordings. Those are classic. But this, this is pretty damn close to replicating the magic of the original, and in my opinion, is way more interesting than the last album the SCORPIONS themselves released.
4.5 Out Of 5.0
Grab your own copy of Scorpions Revisited in the KNAC.COM More Store right HERE.