ECLIPSE
Armageddonize
2015 Frontiers Music




ECLIPSE are a Swedish melodic hard rock band that touts themselves as "The masters of Swedish hard rock." This band's web presence is pretty scarce, and it's hard to find out a lot about them. There have been a ton of bands in the past with the name ECLIPSE, so with a simple name you need to do something to stand out.

Armageddonize is Eclipse's fifth album and the band's heaviest effort so far. It picks up where 2012's Bleed And Scream left off. The attitude and swagger has increased a little on this album, as there are a few F-bombs to be heard here and there. There is a definite effort with ECLIPSE to retain a commercial sound, as the songs are very accessible.

Overall theme of the album is about being strong in life. Opener "I Don't Wanna Say I'm Sorry" gets things going and continues with edgier songs likes "Stand On Your Feet" and "The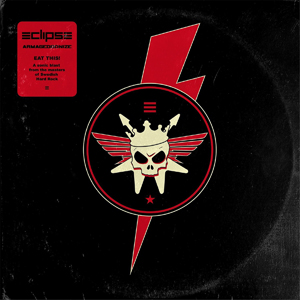 Storm". "Blood Enemies" reminds me a little of DRAGONFORCE. My favorite song on the album is probably "Breakdown" which has a nice acoustic jam that leads to a rollicking groove and sing-along chorus. "Love Bites" (not the JUDAS PRIEST song) is also a nice up-tempo rocker.
What I like most about ECLIPSE is they get right to the point and don't mess around. Almost all the songs are straight-ahead driving hard rock, with the focus on a catchy chorus. There are several potential hits on the album, particularly "The Storm" and "Live Like I'm Dying". Multi-instrumentalist and singer Erik Martensson is the focal point for ECLIPSE. Guitarist Magnus Henriksson compliments the songs with his playing. Drummer Robban Back (formerly of fellow Swedish act SABATON) is a definite upgrade on the drums. Johan Berlin's keyboards are used sparingly for background accents here and there. They also redid "The Storm" as an acoustic bonus track.
Erik Martensson is also in W.E.T. with Jeff Scott Soto and many other melodic rock heroes, a band that fans should check out if they like ECLIPSE.
4.0 Out Of 5.0
Grab a copy of Armageddonize in the KNAC.COM More Store right HERE.