2015 VOODOO FESTIVAL In New Orleans With Photos!


By Larry Petro, News Monkey
Sunday, January 10, 2016 @ 8:36 AM


| | | |
| --- | --- | --- |
| | | Annual Music Fesitval Hits The Big Easy Halloween Weekend |
Review And All Photos By Jeff Savelle
For those of you who have never attended VOODOO EXPERIENCE on Halloween weekend in New Orleans, just a heads up, you don't just attend. You become part of something very special, something etched upon your soul, painted on your heart and crowned upon your memory.
Like a bowl of jambalaya, an estimated crowd of 100 thousand people gather over the course of three days. It's literally a Rock and Roll Magic Kingdom and we're all here for the same reason; to WORSHIP THE MUSIC.
For we folks that have been, we just call it VOODOO or VOODOO FEST. Its roots started in 1999 in City Park, New Orleans, Louisiana for one day only in TAD GORMLEY stadium. Since the acquisition by Live Nation in 2013, the Festival has been renamed VOODOO EXPERIENCE and lasts for 3 days hidden in the 100 year old oaks just behind the Art Museum.
The one impression that will stay with me for the rest of my life was just how big of an event this is and the attention to detail. For example, accommodations include: lockers that you can rent, cell phone charging stations, beer gardens, medical teams, ATM's, a general store, amusements and more. By the way, the T-shirt tent is approximately 1,200 sq. feet and there is a plush open air two story V.I.P. lounge for your viewing pleasure. I can't even imagine what goes into organizing and coordinating such a monumental feat or fest, if you will. VOODOO has been nominated for POLLSTAR's music festival of the year twice. Just to give you an idea, tickets for the 2016 VOODOO EXPERIENCE are already on sale for October 28, 29 & 30th.(Halloween, October 31st is on a Monday in 2016). A festival of this magnitude demands around the clock planning 24/7, 365 days a year by the staff of LIVE NATION and REHAGE management. The VOODOO EXPERIENCE official website is www.worshipthemusic.com You can also download the app to your smart device to view and plan your journey and discovery of over 100 national and local bands, artisans, booths, rides, food, alcohol, more food, metal sculptures and even get a haircut and a hot shave if your like (with rules and regulations of course). Did I mention alcohol?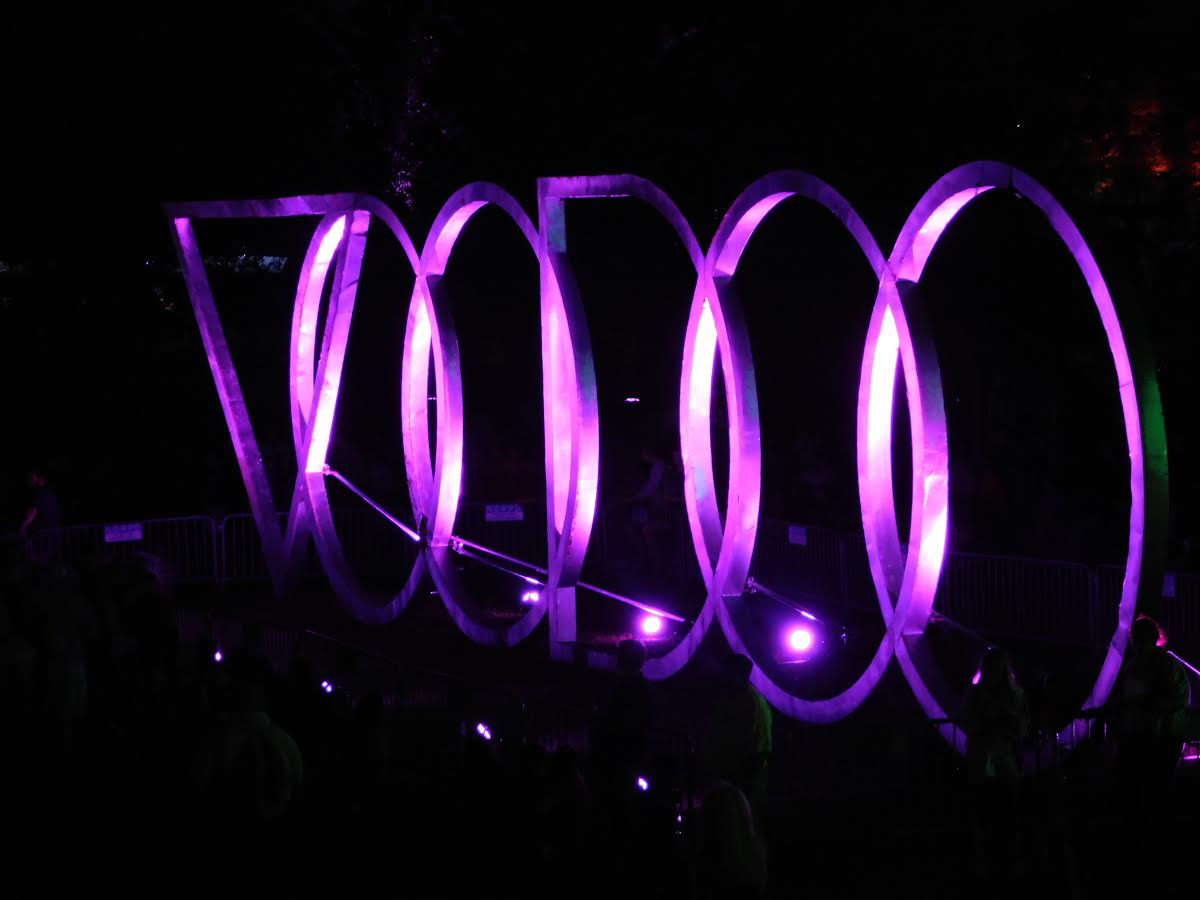 As I sit here to write this article exclusively for KNAC.COM there's a huge part of me that doesn't know where to start, much like the VOODOO EXPERIENCE itself. Once you enter the security gates with your electronic wristband, swipe it against the smart screen and wait for the green light, at that moment you become part of a different world, almost overwhelming yet somehow tranquil. A world designed just for you and with that swipe of the wrist band, LIVE NATION can keep track of attendance records of you coming and going and hopefully get an accurate head count. God help us if more people enter than exit.
So, where do we start? Let's just go straight to the main stage where OZZY OSBOURNE will be headlining with SLASH (GUNS n ROSES) featuring Tom Morello (RAGE AGAINST THE MACHINE, AUDIOSLAVE) and Geezer Butler (BLACK SABBATH). Yea that would be good! Isn't that the same stage where JANE'S ADDICTION is playing ? Yep! And what about THE CULT? Well, they're on the stage across the way and won't play until tomorrow. Cool! No sleep tonight! At this point, 'pace myself' comes to mind. We have 10 hours to kill so lets walk the grounds and catch all four stages and see who's already rocking out at 10:00 a.m. or we can just look up at the massive billboard style band schedules and plan our time accordingly, throw down a blanket under the oaks and people watch. Oh yea! This is people watch paradise. Okay! While you go visit all the artisan booths to check out the leather goods, hand crafted jewelry, clothing, face painting, etc., I'll go get a beer, grilled oysters and a tee shirt. We can meet under the huge metal spider sculpture located in the center of the grounds or just meet at the 20 foot animated metal head. Dang it! I should have brought my fit bit! I'm sure we'll get 10 miles in. I just want to make sure we get to ride on the neon lighted Ferris wheel at night to get a 360 degree view of this rock kingdom hidden in the oaks with purple up lighting. Le ALTAR Stage is so enormous it takes weeks to assemble. Simply massive! If you can justify the extra $$ for V.I.P. tickets, then by all means enjoy the covered outdoor sports lounge to watch the games on a black leather sofa eating hot pizza at a rock concert. Life is good without a line!
While some of the bands aren't really my style of music, I must say there is something for everyone at all times. I actually fell in love with the group JOY THE FORMIDABLE, who I never heard of before. Think about it, 4 huge stages going on all at the same time from 10:00 a.m. till 11:00 p.m. How can you not find something new? And yes, the stages are far enough apart where there is no noise bleed if you can believe that. Each stage has a name and personality all of its own. Each of these areas were designed to uniquely showcase different sides of the personality of the festival and its New Orleans home: "Le Flambeau" features music and sounds consistent with the style of The Big Easy; "Le PLUR" features more mainstream music; "Le Carnival" features indie bands, burlesque, circus acts and THE CULT! And finally, "Le ALTAR" stage features international headlining rock and hard rock acts such as OZZY and JANE'S ADDICTION.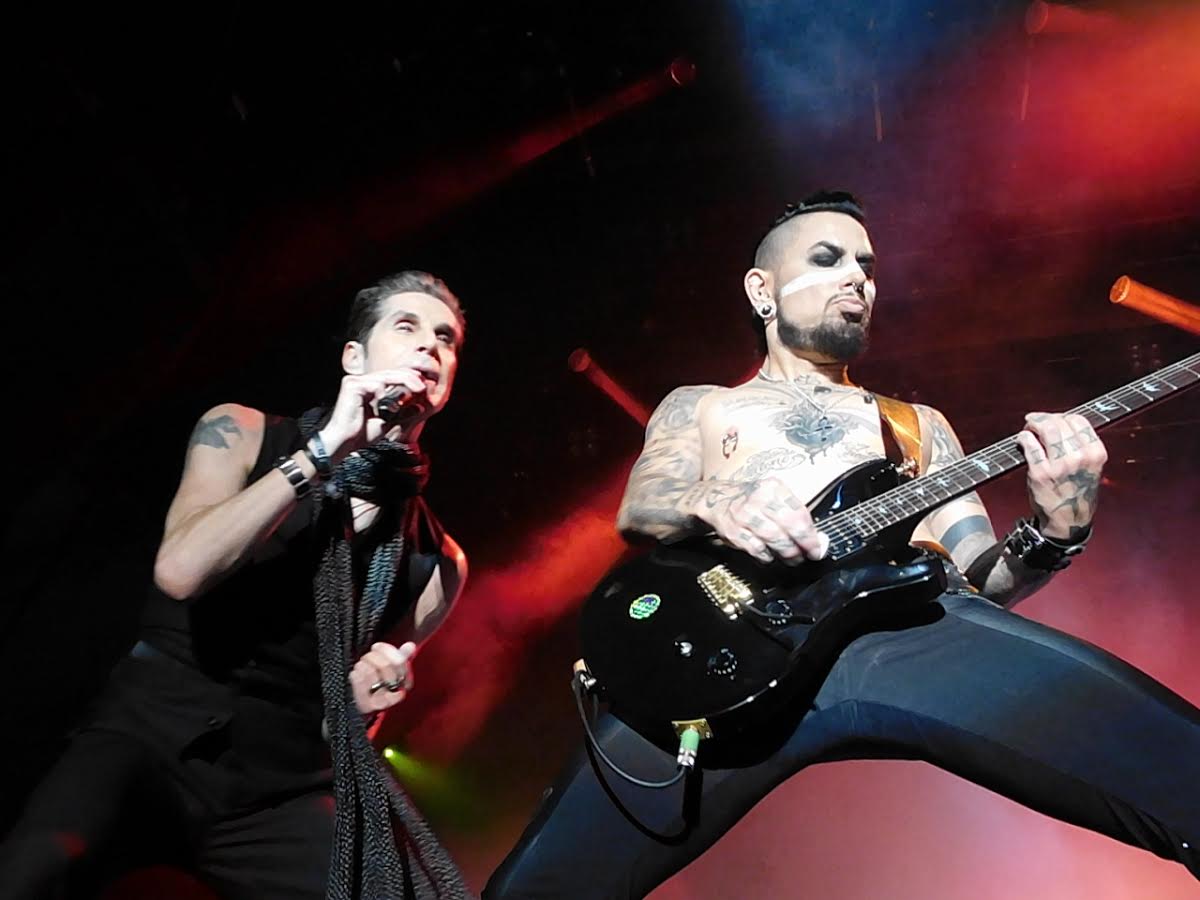 Soooo, it's day two, Halloween night. As the sun's going down, the wind kicks up, the Le ALTAR stage fills with fog, guitar feedback and from out of the darkness rises Dave Navarro. The crowd hails their arms in the air and gives praises as if they had just witnessed a miracle. It was indeed a resurrection. No wonder it's called the ALTAR stage! Have Mercy on us all Dave.
The sound and mix were insanely good and the boys manipulated the stage with the same execution and fineness that could easily addict a girl named JANE. JANE'S ADDICTION came equipped with dancers that were suspended from the 30 foot tresses via chains reminiscent of CIRQUE DU SOLEIL meets a strip club. As I turned my head to see the audience, it took all of a millisecond to realize this venue was rapidly turning into MUDFEST 2015. Oh, let the fun begin. The band knew it too and was the perfect curse to shift in reverse. What could be better than mud sliding JUST BECAUSE? Ahhh, There's no place like home.
This current lineup of the band features three of the four original members with Perry Farrell on vocals, Dave Navarro on guitar and Stephen Perkins on drums. Chris Chaney has replaced Eric Avery on bass.
SET LIST:
"Stop"
"Ain't No Right"
"Mountain Song"
"Just Because"
"Three Days"
"Been Caught Stealing"
"Up The Beach"
"Ocean Size"
"Classic Girl"
"Whores"
ENCORE: As JANE'S ADDICTION closed their night with "Jane Says", at that precise moment you looked down at your arm to check on the pins and needles that make your hair stand up. Now it all made sense, doll. It was an experience that can't be put into words. We transcended to the here and now. We were all one with each other and with the band. We finally arrived at that sacred place we've all been searching for deep down in our soul. A reincarnation of thyself, and why do we do this you ask? JUST BECAUSE.

So now that I'm singing, "When was the last time, you did anything"..... this church of rock blessed me with about half an hour to kill or live, depending on your desires before OZZY takes the stage.
No better time to do a sliced pizza run through four inches of mud. As the mud gets deeper and deeper so does the crowd. At one point I'm not sure if the guy next to me was being held up by his friend or the mud itself. OZ~ZEE, OZ~ZEE, OZ~ZEE echoed throughout the park as the clock ticked down and the wind kicks up. The sky was getting eerie and as I looked up I swear I thought I saw a witch on her broom sky writing "SURRENDER OZZY".
OZZY is 25 minutes late, imagine that. It's now about 9:45 p.m. and the place is wall to wall, or should I say horizon to horizon soaking wet, hardcore OZZY fans. The lights come on and for the love of God, there he is! The Prince of Darkness has arrived! OZZY looked to be healthy and in great shape. He was a little off key at times but that didn't matter much. HE's OZZY ! It just proved he wasn't lip-syncing and at that magical moment you felt that experience accented in black eye liner and a full length leather cloak. And besides, OZZY had SLASH on guitar and GEEZER BUTLER from BLACK SABBATH. Let the VOODOO begin!
SET LIST:
"I Don't Know"
"Mr. Crowley" (with Tom Morello)
"Bark At The Moon (with Tom Morello)
"Suicide Solution"
"Shot In The Dark"
Guitar Solo (Gus G.)
"Rat Salad"
Drum Solo
"Iron Man" (with Geezer Butler)
"N.I.B." (with Geezer Butler)
"Snowblind" (with Geezer Butler)
"Behind The Wall Of Sleep" (with Geezer Butler)
"War Pigs" (with Geezer Butler)
"Fairies Wear Boots" (with Geezer Butler)
"I Don't Want To Change The World'
"Crazy Train"
Encore You couldn't write a better set list yourself. Especially the older BLACK SABBATH Classics like "War Pigs", "Fairies Wear Boots" and "Rat Salad". If you're old enough to remember, OZZY brought you right back to 1970 and if you weren't born yet, OZZY and company took you to the past before you. In this highly digital technical world there was something about the sound where you could almost smell the spinning of vinyl, the musicianship mixed with the talent from the band had the same feeling of my 4th grade chemistry set. Everything just seemed to work. You could do no wrong. From the smoke and strobes to the fireworks display at the end of the night, it was electric.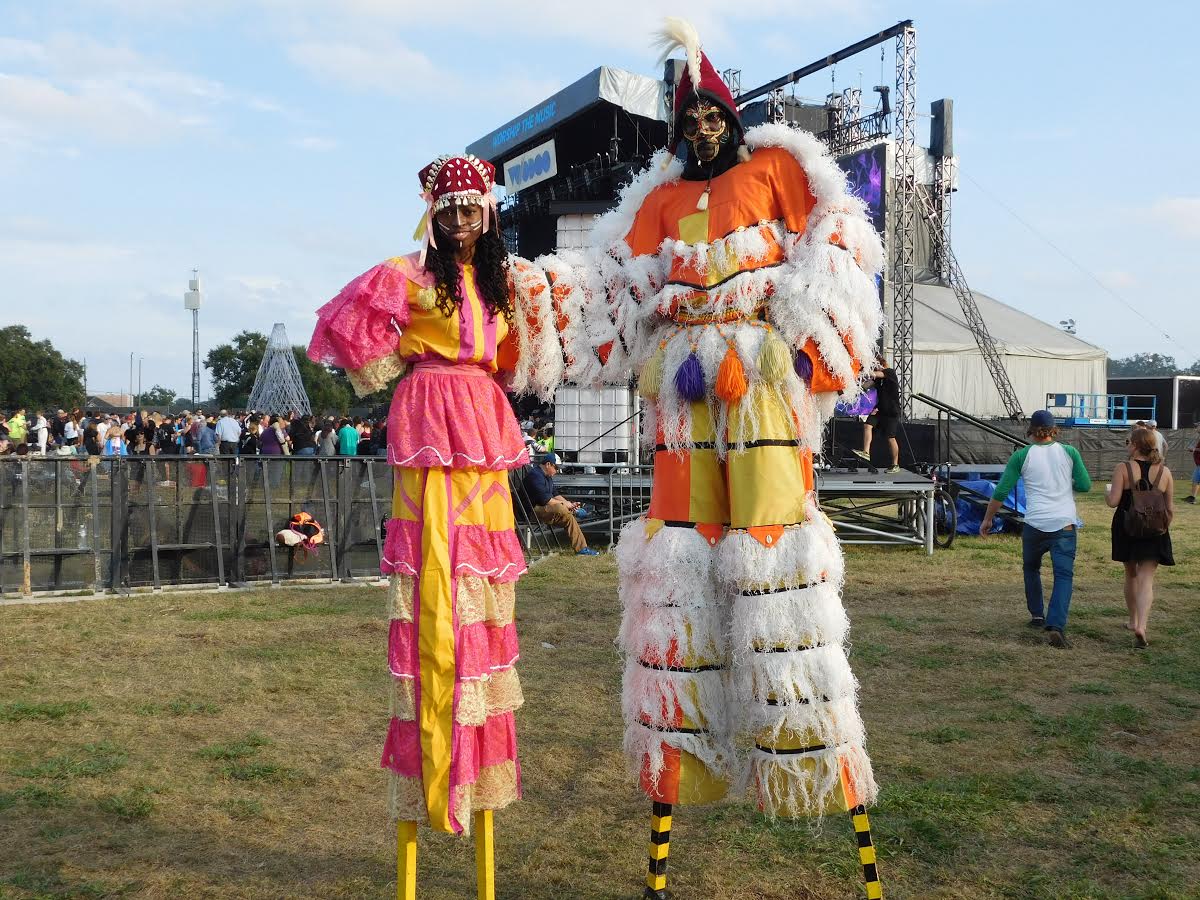 In closing, OZZY in truest form sprayed the front rows of the crowd with his iconic fire hose full of water as if we were not wet enough already. Thank you OZZY! We love you! And OZZY's final words of the night? "I LOVE YOU and GOD BLESS"!
DAY 3 Finally! The reason I came here, THE CULT! OH NOOOOO!
To my disappointment, Day 3 was cancelled due to extreme and dangerous weather conditions. "Concert goers safety will always be our number one priority," said a spokesperson for VOODOO, and rightfully so.
It has to take a lot to cancel an event of this magnitude. I feel genuinely bad for the promoters regarding the amount of revenue lost. I was highly anticipating seeing THE CULT on the final day and had a hard time digesting that THE CULT would not happen. This just reinforces the old saying "BETTER LATE THAN NEVER" because it never happened. However, trenching through the mud and rain the night before, this news really came as no shocker and was definitely the right call.
RAIN OR SHINE is printed on the ticket, however a MONSOON is a different story. So LIVE NATION did what was right thing to do and paid a cash refund to those with day 3 tickets.
In closing, I want our KNAC.COM readers to fully understand that OZZY's management (SHARON) only allowed 3 photographers in the media pit. Those three photographers were hand selected by Sharon and were only allowed to photograph the last three songs of the performance with a written and legal binding agreement. I myself had to sign a legal document swearing I would not publish any photos of OZZY without Sharon's approval and written consent. Sharon only authorized the three photographers associated with printed publications. UGH !.......
SHAAARRROONN!!!!
So! Until October my friends, PEACE, LOVE & VOODOO!
Go to www.worshipthemusic.com throughout the year for constant artist updates, bookings, ticket packaging, etc.
Check out some more photos from Voodoo Fest 2015!
All Photos By Jeff Savelle




Please log in to view RANTS

If you don't have a username, click here to create an account!