BON JOVI In Cleveland, Ohio With Photos!


By Geoff Ketler, Cleveland Contributor
Tuesday, March 21, 2017 @ 6:45 AM


| | | |
| --- | --- | --- |
| | | 'This House Is Not For Sale Tour' Comes To The Q' Arena |
All Photos By Geoff Ketler/Aces High Photography
With the thirteenth BON JOVI studio album under his belt, Jon Bon Jovi alongside remaining original members Tico Torres and David Bryan set out in support of This House Is Not For Sale without longtime guitarist Richie Sambora, who left the band in 2014 and was subsequently officially replaced by touring guitarist Phil X in 2016. I couldn't help but wonder; would this be the same BON JOVI? Surely Richie was missed, but let me tell you, Phil X has the chops and outperformed my expectations.
Kicking off the evening was local talent THE OHIO WEATHER BAND. Typically when the words "Ohio" and "Weather" are used at the same time, the statement is not a positive one. Quite to the contrary, THE OHIO WEATHER BAND was full of soul and energy. The funky quartet won the local contest to open for BON JOVI as part of the tour-wide voting for each date and got things moving early.
After a quick set change, a large banner was draped across the front of the stage depicting a hype video of sorts, showing spots around downtown Cleveland before changing over to the album cover art for This House Is Not For Sale as the band took off into the title track. The partially translucent banner stayed for the first verse or so until it was raised to shrieks and screams. There was Jon Bon Jovi, center stage, flanked by guitarist Phil X to his left. The production was solid, albeit a little stripped down. It was a very open concept, with seats behind the stage filled. The backstage area was actually beneath the stage; down a set of stairs on either side of Tico Torres's drum riser.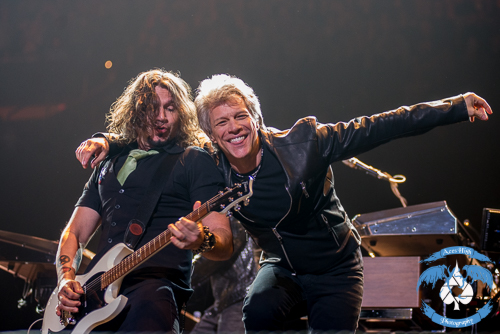 The front half of the massive 24-song set focused primarily on material off of the new album with a few of the hits sporadically peppered in. Although the massive arena, of which its primary purpose is the home of the Cleveland Cavaliers, was packed to the gills, the show had all of the emotion and conversation of an intimate gig. Jon often told stories about the writing process for the new album or where the concept came from for a particular song. He reflected on the past 30+ years of touring and really opened his heart to the adoring fans.
After "New Year's Day", Jon Bon Jovi announced that the rest of the night would be nothing but the hits. He was right. The roof practically came off for "Lay Your Hands On Me" and the crowd drowned out the band during "Bad Medicine". One after another, the hits kept coming. The encore was capped by none other than "Livin' On A Prayer". BON JOVI proved their resiliency and ratified their perpetual chart-topping success with 2.5 hours of energy and captivation. Jon still has the pipes and the band was well-rehearsed. No doubt that life after Richie exists for BON JOVI.
Setlist
"This House Is Not For Sale"
"Knockout"
"You Give Love A Bad Name"
"Lost Highway"
"Whole Lot Of Leavin'"
"Roller Coaster"
"We Weren't Born To Follow"
"Work For The Working Man"
"I'll Sleep When I'm Dead"
"We Got It Goin' On"
"Captain Crush & The Beauty Queen From Mars"
"It's My Life"
"We Don't Run"
"God Bless This Mess"
"Scars On This Guitar"
"New Year's Day"
"Lay Your Hands On Me"
"Born To Be My Baby"
"Have A Nice Day"
"Bad Medicine"
"Keep The Faith"
Encore:
"Who Says You Can't Go Home"
"Wanted Dead Or Alive"
"Livin' On A Prayer"
Check out some more photos from the show!
All Photos By Geoff Ketler/Aces High Photography




Please log in to view RANTS

If you don't have a username, click here to create an account!






ARCH ENEMY, BEHEMOTH, NAPALM DEATH, UNTO OTHERS In Portland, OR With Photos!

HALESTORM Back From The Dead

STABBING WESTWARD Chasing Ghosts

BLACK LABEL SOCIETY, NITA STRAUSS, JARED JAMES NICHOLS In San Diego, CA With Photos!

JEFF SCOTT SOTO Complicated

MEMPHIS MAY FIRE Remade In Misery

EVERGREY A Heartless Portrait (The Orphean Testament)

ANVIL Impact Is Imminent

DAN REED NETWORK Let's Hear It For The King

WATAIN The Agony & Ecstasy of Watain

SCREAMKING Thee Indomitable Spirit

FOZZY, JOHN 5, GFM, KRASHKARMA, THE NOCTURNAL AFFAIR In Houston, TX With Photos!

BLACK STONE CHERRY, THE GEORGIA THUNDERBOLTS In Nashville, TN With Photos!

AND JUSTICE FOR ART ... Live! Stories About Hard Rock & Heavy Metal Live Album Covers Book

FOZZY Boombox

ALICE COOPER, BUCKCHERRY In Portland, OR With Photos!

JOHN 5, THE HAXANS In Garden Grove, CA With Photos!

SKULL FIST Paid In Full

RADIANT Written By Life

BLACK SWAN Generation Mind

SEVEN KINGDOMS, STRIKER In Tampa With Photos!

MONUMENTS In Stasis

DESTRUCTION Diabolical

MICHAEL ROMEO War of the Worlds: Part II

SATAN Earth Infernal

TONY MARTIN Thorns