EXIST So True, So Bound


By Peter Atkinson, Contributor
Monday, July 24, 2017 @ 11:05 AM


| | | |
| --- | --- | --- |
| | | |
EXIST
So True, So Bound
Prosthetic Records




The second album from Maryland prog-metallers EXIST is a surprisingly understated effort that emphasizes a more subtle approach to the music at the expense of the usual bombast and indulgence. And while a bit more oomph might not have hurt here, the band's modus operandi certainly is to be applauded.

This is a group that definitely could have served up a world-class wank-fest, if it had so chosen. As a touring veteran of CYNIC, DEFEATED SANITY and DEATH TO ALL, guitarist/frontman Max Phelps is well-versed in the prog/metal dynamic. And the other members on So True, So Bound are a veritable all-star team. Second guitarist Matthew Rossa is a music instructor. Bassist Alex Weber played in Jeff (ARCH ENEMY, CONQUERING DYSTOPIA, ex-NEVERMORE) Loomis' solo band and guest drummer Hannes Grossman has served stints with tech behemoths NECROPHAGIST, OBSCURA, BLOTTED SCIENCE and ALKALOID. So there are some serious chops to be had here.

But instead of going full-on, a la most of the bands Grossman has been involved with, the music here often has an elegance and jazzy, jammy flair that echoes CYNIC, ATHEIST and some of ex-EMPEROR frontman Ihsahn's solo work. The performances, though unquestionably impressive, are fairly restrained, or at least not overblown, and it takes a few listens to fully appreciate all that is going on here – from the off-kilter rhythms, odd meters and elliptical song structures to the sinewy guitar interplay, especially on "So Bound - One Of The Herd", and unassuming complexity.

The album does have a distinctly epic feel, with six of the eight songs cracking the seven-minute mark. And the unhurried, skittering pace set by Grossman can sometimes make things drag. But it also provides some welcome space and air that a lot of "prog-metal" does not as these guys resist the temptation to try and cram as many notes in as they can or unexpectedly change tempos to chase random whims. The dexterity is definitely there, it just is more relaxed and has room to breathe, leaving one to appreciate what's being instead of merely being overwhelmed by it.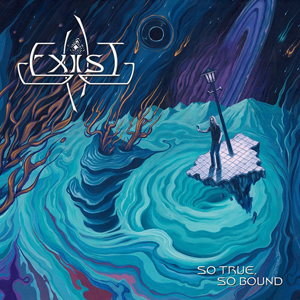 That said, So True, So Bound is not bereft of muscle or bite. Phelps' intermittently gruff, gravely vocals echo Chuck Schuldiner/Ihsahn (at his harshest) and provide a jarring contrast when it's paired with more languid music or add heft when things get noisy. And there are fits and starts of aggression throughout most of the tunes that builds as the album moves along.
Indeed, So True goes out with a feisty flourish, with the monumental, 11-minute-long "To Sever The Strings", which features the guest guitaring of Bobby Koelble, also of DEATH/DEATH TO ALL, and — following the almost new-agey interlude "Shade From My Fire" — climaxing with "Fault's Peak", the most death metal track here as Grossman kicks up some blast beats and the band really lets loose.
So while So True, So Bound may not deliver the instant gratification/bedazzlement prog-metal fans may have come to expect, it is album that will grow on you with each spin. And it is well worth the patience required to do so.
3.5 Out Of 5.0
Grab a copy of So True, So Bound in the KNAC.COM More Store right HERE.




Please log in to view RANTS

If you don't have a username, click here to create an account!