VENOMOUS MAXIMUS
No Warning
Shadow Kingdom Records




In today's Metal world, there's as many genres of Metal as there is bands. Meaning a shit-ton. And I will admit that sometimes it's quite handy to have a sub genre to describe a band to someone whose never heard said band before. You know: Thrash, Doom, NWOBHM, etc.

But occasionally a band comes around that I find hard to categorize. And one band that fits that to a T is Houston's own VENOMOUS MAXIMUS. Formed in 2010 in The Bayou City, the only term I could use is just....Metal. Period. They're like the bowls of porridge in the Goldilocks fable: not too fast, not too slow, just Metal.

2017 sees the new album No Warning drop, a couple of years after their last release, Firewalker. Not necessarily idle, the boys have been fine tuning the VM machine for this latest aural assault.

The mostly electronic instrumental "I" kicks things off, and it reminds me of some trippy 70's movie soundtrack music, like the original Deathrace 2000 or something of that ilk. It sets the tone for the rifftastic "Spellbound" to come marching out. Even some harmony backing vocals make a surprising appearance. A killer groove behind guitarist/vocalist Gregg Higgins makes this a helluva way to kick off the album. A favorite track, no doubt. And speaking of Gregg, his vocals fit this band perfectly. He'll never be confused with Mr. Ronnie James Dio but his vocals work here brilliantly.

"Pray For Me" has a slightly subdued hue, but doesn't meander off the heavy track too far. The closest comparison I can come up with is NEMESIS, the legendary Swedish band that eventually became CANDLEMASS. "Return Of The Witch" proceeds with the pummeling, and continues the ode to that magical witch, joining VM's other witchy track "Give Up The Witch" as a 1-2 punch of magical proportions. A skull crushing riff mid-song makes this almost 6 minute monstrosity lay waste to all but the truest of Headbangers.

"All Of My Dreams" is all acoustic guitar, showing that VM isn't just a mind-numbing one-trick pony. Almost a love story, albeit a bit twisted. "II" is the sister/brother to the bizarre instrumental that kicked the album off, and yes, it's as bizarre as the opener. The title track shows that the boys have not only honed their songwriting skills, but can throw a groove into the song and still not lose its ferocity. "Blood For Blood" tells you there's "nowhere to run" as you become the sacrifice. The rhythm section of Bongo on....what else, drums, and the Maestro of the Hot Sauce and the bottom end Trevi Biles keeps the VM tank rumbling with no signs of surrender.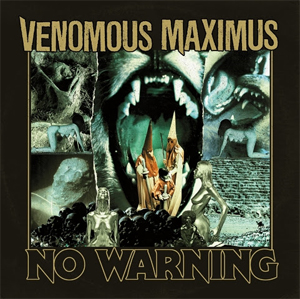 "Endless" is an acoustic instrumental in the fine tradition of BLACK SABBATH's "Orchid" that Mr. Iommi would approve of indeed. Which brings us to the finale, "Sea Of Sleep" with Trevi doing his finest Geezer Butler and some understated guitar from VM's other 6-stringer, Christian Larson. A crisp, clean production gives, at least to these ears, No Warning VM's best sounding album to date. A natural progression in both sound and songwriting. Oh, and let's see how many of you can make it to the 'Hidden Track'. Who dares brave the dark??
An impressive step up for H-town's VENOMOUS MAXIMUS. It's time for the rest of the world to get hip to these cats. I highly recommend VM to Metalheads who like their music HEAVY! How about a Texas Tour of VENOMOUS MAXIMUS, D/FW's BLOOD OF THE SUN and Austin's THE SWORD??? Let the pummeling begin!!!
And for my Vinyl familia, there is a sweet Vinyl version to be had! And Shadow Kingdom is also a distro as well as a label, with several thousand records & cd's at their disposal. Check 'em out! You'll be glad you did!
4.7 Out Of 5.0 Skulls
Grab your copy of No Warning in the KNAC.COM More Store right HERE.