VENOM, INC. Ave


By Rob McNees, Vinyl Aficionado
Monday, October 2, 2017 @ 11:28 AM


| | | |
| --- | --- | --- |
| | | |
VENOM, INC.
Ave
Nuclear Blast




In the annals of the Heavy Metal history books, there are certain bands or songs or both that you look upon with reverence. That kind of transcend the average and move to Cult (or Kvlt) status as it were. Not too many bands can say they influenced a whole genre. But Newcastle, Englandís VENOM can! When their album Black Metal was released in 1982, who knew that those Geordies would be The Godfathers of that whole scene years later? Cronos, Mantas & Abaddon were their monikers.

Letís take it a step further: BLACK SABBATH. JUDAS PRIEST. IRON MAIDEN. METALLICA. SLAYER. VENOM. I believe that VENOM (the original threesome) deserve to be mentioned in the same breath with those other icons. How can this be you ask? Simple really. Now granted, if you werenít around like I was when the greatest bands in Hard Rock and Heavy Metal were making the music that is still the blueprint for everything that will come down the pike, then you wonít recognize the absolute mind numbing & jaw dropping extreme that VENOMís Welcome To Hell was when it was unleashed to an unsuspecting world in the beginnings of the NWOBHM in 1981. On a little Metal label in Newcastle called Neat Records, the label and that album are/were a cornerstone of everything that was to follow. And if you know anything about the NWOBHM, it spawned IRON MAIDEN, SAXON, RAVEN, DIAMOND HEAD, DEF LEPPARD (and yes, they fucking well were METAL when they first came on the scene, contrary to the revisionist history certain lame ass members of that band would have you believe. But I digress.) But VENOM were a monster (or demon, if you will) all to themselves.

But as in life, sometimes all good things must come to an end. And due to in-fighting and what have you, the original VENOM called it a day around Ď86 or so, with various different incarnations of the band releasing albums to varying degrees of fanfare.

The 1989 version of VENOM was Mantas (guitar), Abaddon (drums) and on bass and vocals now, was Demolition Man, who had come from another Neat Records band called ATOMKRAFT, whose first output was Future Warriors in 1985. The first release under the VENOM name was Prime Evil in 1989. Eventually Cronos came back and the original 3 released Cast In Stone in 1997, but old wounds were reestablished and that was the final go of VENOM Mk I. Cronos now is the sole original member in VENOM. In 2010, Mantas and Demolition Man got the bug to play together again, and decided to call the band PRIME EVIL, after the album that they had both played on together. Finding out there was another band in the UK with that name, they settled on M-PIRE OF EVIL. They released several singles, EPís, albums and even a live album as M-PIRE OF EVIL.

But a funny thing happened one evening. Approached by the legendary Keep It True Festival in Germany to have M-PIRE play, they were asked if they would blast thru a couple of VENOM tunes with original VENOM drummer Abaddon, who had been out of the music spotlight for quite some time, to give the Fest a definite one-up on everyone else. They did it, and the place went completely apeshit by all accounts. So much so that promoters from all over the world were phoning, asking about the availability of the band. Well, with 2/3ís of the original band, and them playing select cuts from the full history of the band, another name change was in order. But to make sure there was no mistaking who was doing what, they settled on VENOM INC., even using the original logo that Abaddon himself had drawn for the Welcome To Hell album.

So after touring for a couple of years playing the classic material, the itch to write something new and fresh took hold. But could they capture that magic again? Could they produce the swagger and bombast they had Live, and harness it in a studio with all new tracks? Not wanting or willing to rest on their laurels, they went for it, naysayers be damned!

Now I know that was rather long-winded, and while I do apologize, I did and do think that an abridged history of the band and how we got here today was in order. I had a Welcome To Hell backpatch on my first Metal vest (which I still own!) and considering what this band means to not only me but the underground as a whole, I felt it was my duty to enlighten those who for whatever reason, havenít been bombarded by the VENOM, now VENOM INC. juggernaut yet.

The call to arms that VENOM INC. has unleashed upon mankind is called Avť, and takes no prisoners, as expected. Now what was not expected was the beginning to "Ave Satanas" as angelic music greets your ears. As a voice starts to speak, you get the jest that it is the Darklord, and that after he enlightens you with his manifesto, things will change drastically. And indeed they do. A punishing riff tears into your ears, like talons of a demon tears into your flesh. The first thing that stands out is the crisp, full production that lets the music breathe. In as much as the early VENOM was raw and relentless, I think it was as much to do with the band still learning how to play their instruments and the studio technology of the times, but now in the 21st century, technology and the band's chops have improved tenfold. Live there will surely be some serious headbanging throughout. And clocking in at over 8 minutes, it sets a tone for the rest of Avť.

And thatís what a strong opening track should do. "Forged In Hell" is a mid-tempo stomper that has a memorable chorus that youíll be singing in church no doubt. "Metal We Bleed" is an uptempo banger that shows V.I. can still bash with the best of them! "Dein Fleisch" was the first single released to mixed opinions if truth be told. It sounds to these ears almost of a very heavy RAMMSTEIN, obviously with Demolition Manís angry vocals making sure the comparison ends there. I dig the tune myself. Itís a bit accessible yet as subtle as a tank rolling thru town at midnight.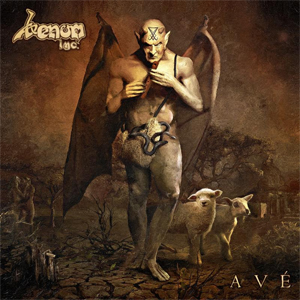 "Blood Stained" is a menacing tune pulls no punches, trudging thru your mind as the bell tolls for thee. Love Abaddonís cymbal & double bass work on this as well. "Time To Die" is an all out Thrash assault that has Mantas speed riffing for all heís worth. A breakdown in the middle will give the pit a chance live to smash the shit out of each other as it ends as a double bass pounder. "The Evil Dead" brings that tempo back up but not quite to blitzkrieg speed with some cool echo effects on Demolition Manís voice. "Preacher Man" is just plain heavy musically as well as lyrically with Demolition Man letting you know in no uncertain terms his feelings on religion and those who preach it.
"War" is another mid-tempo basher lyrically telling you whatís NOT good with this world, if you havenít figured it out yet on your own. WAARRRRRRRR!!! "I Kneel To No God" unabashedly pulls no punches as to DMís thoughts on a holy deity with as much vim and vigor as he can muster. A slow, grinding groove is the fuel for this fire with Mantas showing his chops with a tasteful yet shredding solo. "Black Ní Roll" maybe one of the best tributes to the late Great Lemmy Kilmister thatís been done. DMís Rickenbacker bass leading the onslaught that nails the latter day MOTORHEAD to a T. Abaddon doing his best Mikkey Dee/Philthy Animal Taylor and Mantas bringing a heavier Phil Campbell vibe to the fray, itís as MOTORHEAD as it can get these days for sure.
So there you have it. An album worthy of the pedigree that spawned it. I would say a pleasant surprise, but I knew that if these guys were going to actually put out new music, no half-ass phoned in attempt would be tolerated. Iím very pleased with the results, as I think any of VENOM INC.ís Legions will be as well. It doesnít sound dated in the least, if you were in fact expecting that. In closing, Buy or Die. Miss this at your own peril. And humiliation.
And yes Vinyl familia, there is a sweet wax version out there! Of course thereís black vinyl, but thereís a bone w/brown splatter to boot!! In fact, my ass needs a copy PRONTO!!!
4.9 Skulls Out Of 5.0
Pick up a copy of Ave in the KNAC.COM More Store right HERE.




Please log in to view RANTS

If you don't have a username, click here to create an account!