OBITUARY, EXODUS And POWER TRIP In Ottawa, Canada


By Andrew Depedro, Ottawa Corespondent
Monday, October 9, 2017 @ 11:59 AM


| | | |
| --- | --- | --- |
| | | Battle Of The Bays Thrashes To The Death At The Bronson Center On September 23, 2017 |
Photos By Andrew Depedro
The former Order Of The Grey Sisters once again is the forefront of a metal meeting of biblical proportions as the famous Battle Of The Bays tour made a recent appearance at the fine venue in late September. Two sides went to the war zone to square off against each other and claim supreme dominance over their adversaries. And yours truly was a witness to all as the PA purged the former Mac auditorium of any and all high school assembly singalongs with the sounds of "Aces High" and "Snortin' Whiskey" in between stage setups. That never would've happened during my high school years in the face of hip-hop and NKOTB peak stardom. Maybe I should've run for school president back in the day.....
The tour had consisted of four bands, with two co-headliners among them. But as one of the openers known as DUST BOLT had to unexpectedly bolt from the remainder of the tour, it would be up to thrash/crossover cowboys POWER TRIP to carry the banner for the new breed that night. The Dallas, Texas-based quintet have been an active unit since their 2009 debut EP Armageddon Blues reigned down upon the masses on the Southern Lord label. Now riding high on the strength of their sophomore album Nightmare Logic the band are seeing themselves on larger continental tours including this recent one. Their brand of ST-style crossover punk/thrash combined with heavy modern death elements made their set just as highly anticipated as the headliners; in fact, with crushing numbers such as "Executioner's Tax", "Firing Squad" and "Soul Sacrifice", the latecomers would've been forgiven for mistaking POWER TRIP as one of the headliners. Frontman Riley Gale certainly has the riveting powerful thrash voice to lend to the songs and to command the hordes to circle up and guitarists Nick Stewart and Blake "Rossover" Ibanez can deliver some solid lead and rhythm trades while making it look so easy. If they keep up the roadwork and the studio album count at a measured pace, POWER TRIP's music career will ensure that they won't have to work another day in their lives once the gods told 'em to relax, ensuring that they're gonna be set up right.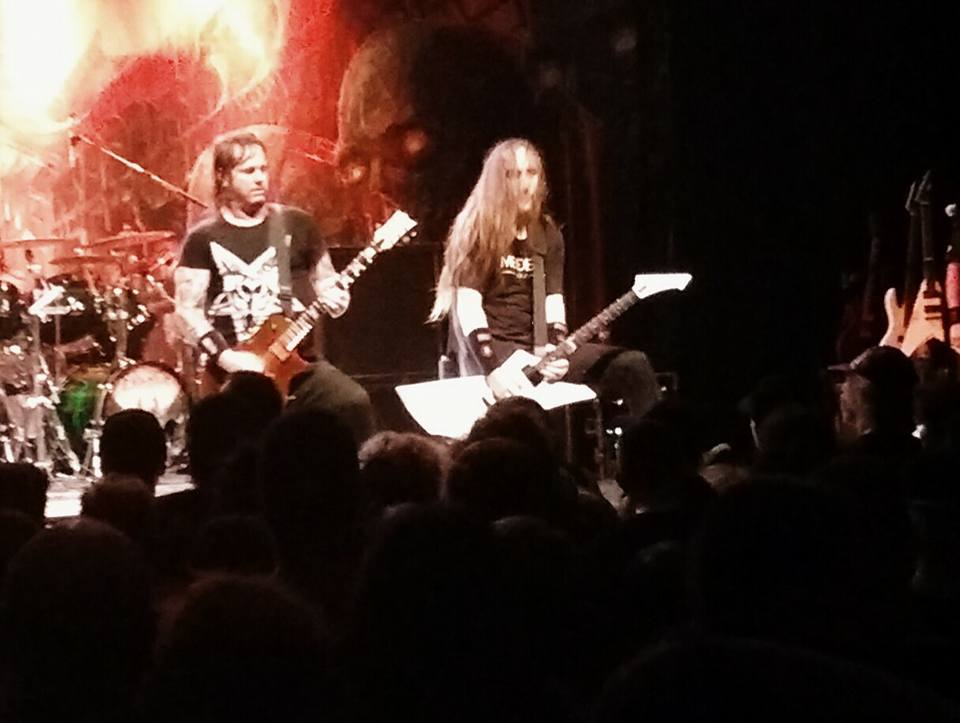 (yes, I went there with the obvious MONSTER MAGNET reference to their name. Remind me again which album of theirs is the often-requested "Space Lord" song off of?)
https://www.facebook.com/powertripTX
https://powertripsl.bandcamp.com/
They've gone through almost as many lead singers as Alanis Morrissette has gone through different hair colors, but EXODUS are the first of the two contenders of the Bay Battle to take the former Immaculata auditorium as they warm up the crowd with "The Ballad Of Leonard And Charles". With the backdrop of their 2014 opus Blood In Blood Out behind them, the Frisco fivesome of Steve "Zetro" Souza (vocals), Gary Holt and Lee Altus (guitars), Jack Gibson (bass) and Tom Hunting (drums) deliver a punishing set which straddles between their 80's catalogue and their recent material. Steve even asks the crowd if they want to hear more of the older EXODUS numbers out of common courtesy and he gets his answer in the form of a rapturous cry in unison. That said, he made sure the crowd work for that particular request as "A Lesson In Violence", "Bonded By Blood", "Deranged" (from '87's first-ever Souza-fronted Pleasures Of The Flesh album) and the closing number (and rarely played) "Strike Of The Beast" came in between a metal command to start up the Wall Of Death. And the crowd complies. Wacken 1992 coming to where I had my regular high school assemblies also back in 1992 and earlier made for some milestone moments right there and then. EXODUS' imminent impact was definitely felt long after the band took their final bow and thanked the crowd for their solid support. And I'm pretty sure we beat their previous Quebec City show in the band's eyes.
http://exodusattack.com/
https://www.facebook.com/exodusattack/
Setlist:
"The Ballad Of Leonard And Charles"
"Blood In Blood Out"
"Iconoclasm"
"And Then There Were None"
"Fabulous Disaster"
"Deranged"
"A Lesson In Violence"
"Salt The Wound"
"Blacklist"
"War Is My Shepherd"
"The Toxic Waltz"
"Bonded By Blood"
"Strike Of The Beast"
Opening up with a lengthy instrumental segueway before launching into "Redneck Stomp" from 2005's Frozen In Time, legendary dealers of death OBITUARY have their turn at the stage. I can't help but be distracted by longtime guitarist Trevor Peres' lumbering stage presence as he plays with his head bowed down, his waist-long hair appearing as if he was giving the stage a sweep with it while in sync with the music. Still, he along with veteran members John Tardy (vocals), Donald Tardy (drums) and recent members Terry Butler (bass) and Kenny Andrews (rhythm guitar) put on a killer show even if by then the venue's become a boiling cauldron of humanity. The temperature outside, as had been for the previous week, was even more hot and unbearable. And this was near the end of September which even the band themselves had noted - and they're from Florida! Still, a tune such as "Brave" from their latest self-titled album made for the perfect follow-up to thank the crowd for turning up on an insanely hot Saturday night. And the setlist featured lots of bonafide classic Sunshine State swampy death ditties for the diehard fans who had either seen the band back in the day or were, like myself, first timers in the audience. "Find The Arise" (originally from their first demo when they were known as XECUTIONER before it was released on their debut album Slowly We Rot), "'Til Death" and "Turned Inside Out" were classic-sounding
OBITUARY to the core as the crowd prepared themselves for yet another Wall Of Death. By the end of the concert, which had ended a good ten minutes early and a clearly exhausted-looking and sweaty Terry Butler thanked the crowd for supporting the scene and ordered everyone "to go out and get some fresh air", the hordes were satisfied with the full frontal death delivery that OBITUARY had fulfilled.

And as far as the battle was concerned, the crowd declared the match a draw that night.

http://www.obituary.cc/
https://www.facebook.com/ObituaryBand/

Setlist:
"Redneck Stomp"
"Brave"
"Sentence Day"
"Chopped In Half"
"Turned Inside Out"
"Visions In My Head"
"Turned To Stone"
"A Lesson In Vengeance"
"Straight To Hell"
"Find The Arise"
"Dying"
"No"
"'Til Death"
"Don't Care"
"Slowly We Rot"

Please log in to view RANTS




YNGWIE J. MALMSTEEN, GLENN HUGHES In Worcester, MA With Photos!

ALICE COOPER Road

RAT ROD Four On The Floor

GIRLSCHOOL WTFortyFive?

DANKO JONES Electric Sounds

AVATAR, ORBIT CULTURE, THE NATIVE HOWL In Houston, TX With Photos!

THE DEAD DAISIES In Hollywood, CA With Photos!

KILL DEVIL HILL Seas Of Oblivion

THE DEAD DAISIES In Ottawa, Canada

MAMMOTH WVH In Santa Ana, CA

UADA Crepuscule Natura

BARONESS Stone

KAMELOT, BATTLE BEAST, XANDRIA In Houston, TX With Photos!

CRYPTOPSY As Gomorrah Burns

RAY ALDER II

GHOST, AMON AMARTH In Houston, TX With Photos!

U.D.O. Touchdown

DETHKLOK Dethalbum IV

STEVE VAI In Ottawa, Canada

PANTERA, LAMB OF GOD In Houston, TX With Photos!