SAXON Thunderbolt


By Daniel Höhr, European Correspondent
Tuesday, February 6, 2018 @ 9:54 AM


| | | |
| --- | --- | --- |
| | | |
SAXON
Thunderbolt
Militia Guard, 2018




The back catalogue of British heavy metal titans SAXON shows a steady history of regular releases, now comprising twenty-two studio albums. Since the second return of drummer Nigel Glockler in 2005, the band's line-up has been the same for the last six studio studio albums. While other bands are struggling to keep their personnel together and crank out an album when you haven't had a sign of life from them for many years, SAXON stand for regularity and reliability when it comes to publishing awesome heavy metal albums.

Now Thunderbolt, the band's twenty-second album, is on the shelves. Talking about stability and steadfastness, the album's artwork was designed once again by Paul Raymond Gregory. Produced by Andy Sneap, Thunderbolt features eleven tracks plus a raw version of "Nosferatu", which is not available on the vinyl version of the album.

Now, after these details it would be perfectly enough to write that the new SAXON album is friggin' awesome and you need to get it if you want to be worthy of the title metalhead. Indeed, you know what to expect from a SAXON record and Thunderbolt will not disappoint you – much to the contrary. Still, there is so much to discover on Thunderbolt that it would be unforgivable not to go into more detail here.

After the promising intro, "Olympus Rising", the album's title track kicks in with Paul Quinn and Doug Scarratt's signature riffing. When the vocals set it, there is no trace of a doubt that Biff Byford's charismatic voice comes across as strong and as straight-in-your face as on albums released many moons ago. In fact, the tiny bit of patina on his vocal chords that invariably come with age gives his voice extra depth and a timbre that make him sound even more metal than on the albums of the early days of SAXON. Some singers get older, others get better and the latter is certainly true for Biff Byford and this is obvious right from the first track.

The lead guitar part in the intro to "The Secret Flight" bears more than just a superficial resemblance to ARCH ENEMY's "Set Flame To The Night", the intro to Will To Power. However, it goes without saying that the SAXON track very soon goes into a totally different direction and turns out to be a SAXON-style melodic rocker featuring all the qualities you associate with the name of SAXON, including some awesome lead guitar work.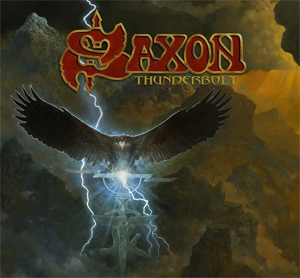 Then the atmosphere on Thunderbolt gets spooky and the music fairly progressive: "Nosferatu (The Vampires Waltz)" features eery keyboard sounds and passages that remind me of NIGHTWISH or SYMPHONY X as well as quite a complex song structure and timing. I wasn't quite able to work out whether it is in 3/4 time but I'm sure you can waltz to it if you've had enough to drink. Otherwise bang your head and sing along – the chorus is certainly catchy enough.
On "They Played Rock And Roll", SAXON pay tribute to MOTORHEAD. The song is pretty much in MOTORHEAD's style but at the same time distinctively SAXON – just listen to the chorus. A hint of "Solid Ball Of Rock"? Maybe. Biff Byford and his bandmates even incorporate a recording of Lemmy saying "We're MOTORHEAD and we play rock and roll" in the middle section, which is bound to send shivers down your spine. You gotta love Nibbs Carter's fat bass sound on "Predator", which is followed by the epic "Sons Of Odin", a "Crusader"-type of heroic groover, definitely one of the highlights on Thunderbolt. But then again, which of the tracks isn't? "Sniper" is a kick-ass, no-frills metal track, "A Wizard's Tale" has a good dash of progressive feel to it while "Speed Merchants" fully lives up to its name. The mid-tempo rocker "Roadies's Song" nicely rounds out this awesome album.
SAXON's Thunderbolt is already one of the heavy metal highlights of this year and a sure candidate for the pole position of my 2018 picks of the year. A mighty album by a mighty band. Anything below 5.0 would be a sin of omission.
5.0 Out Of 5.0

Please log in to view RANTS