THE DEAD DAISIES, HOOKERS 'N BLOW In Ottawa, Canada With Photos!


By Andrew Depedro, Ottawa Corespondent
Thursday, September 20, 2018 @ 11:56 AM


| | | |
| --- | --- | --- |
| | | Unplugged In Orleans And Makin' Some Noise At The Brass Monkey: Two Back-To-Back Shows, August 25, 2018 |
Photos By Andrew Depedro
With four studio albums to their name since their formation in 2013 including this year's Burn It Down the Australian/American supergroup known as THE DEAD DAISIES have been a force to be reckoned with in the rock scene. Their members have come from far and wide from different groups ranging from INXS and NINE INCH NAILS to JOURNEY, MOTLEY CRUE, WHITESNAKE, Sass Jordan and THIN LIZZY – and you can thank a blonde shaggy-haired Australian guy named David Lowy who makes sure that his passion for rock 'n roll and flying planes is kept separate from his other day job as a businessman for an investment firm. It's a bizarre match-up at first on paper, but Lowy always has the best top-notch musicians by his side in THE DEAD DAISIES to make the best music. In this case, frontman John Corabi (MOTLEY CRUE/UNION), guitarist Doug Aldrich (DIO/WHITESNAKE), bassist Mark Mendoza (THIN LIZZY/WHITESNAKE) and drummer Deen Castronovo (JOURNEY/BAD ENGLISH) are part of the current lineup and they've been touring non-stop for Burn It Down since the spring – including performing acoustic sets before their scheduled concerts such as the one they did at local musical instrument store Long & McQuade out in Orleans prior to their set at the Brass Monkey on the other side of town.
The Long & McQuade show
The first of two performances that day was organized courtesy of both THE DEAD DAISIES' management and also my good friend Patrick Fynn who manages Long & McQuade's Orleans branch. The show started at a modestly prompt 2 in the afternoon as the all-star team of Corabi, Aldrich, Mendoza, Castronovo and Lowy kicked off their impressive short acoustic set with "Dead And Gone" and "Lock 'N Load". Corabi's vox was in fine form for both a singer as well as a storyteller as he chatted with the audience and encouraged them to like the "Dead And Gone" video on YouTube – lest you put your goldfish's life at stake, he said jokingly. The rest of the performance featured some killer covers of FREE's "All Right Now" and George Thorogood's "Get A Haircut" – the latter song having such personal significance to David "I Don't Speak Much" Lowy that he simply had to take over vocal duties from Corabi as he explained that his rock 'n roll image/lifestyle often conflicted with his "real job" at his father's investment firm. He delivered the song with all measure of passion and fire that even the most experienced job consultant would've told him a long time ago "you were born to do this rather than be sitting at a desk perusing through numbers all day". After a monumental closing rendition of THE BEATLES' "Let It Be", the next two hours were spent getting as many autographs as possible from all of the band members often in exchange for KNAC.COM stickers. Corabi and Lowy got the first two with the third and final sticker going towards the collection of renowned collector Doug Aldrich. An odd travel souvenir for a Californian to be receiving from a fan during a trip up to Ottawa, but he asked first.
And I also got the giant DEAD DAISIES promo poster I received signed by all of the members after much persistence and waiting. But with a three-hour window between Orleans, stopping off at home to clean up and shower and then tailing it to the Brass Monkey across town in Nepean, I felt that I had a long way to go and no time to get there…
Setlist:
"Dead And Gone"
"Lock 'N Load"
"All Right Now" (FREE cover)
"Get A Haircut" (GEORGE THOROGOOD cover)
"Let It Be" (BEATLES cover)
The Brass Monkey show

So, obviously, I'd made the Brass Monkey show in time (kinda) to be able to deliver a proper review. Unfortunately, if you're in CRAZY JANE or in a few of the other opening local bands from that night I'd missed when my hour-long nap went a bit longer than anticipated, sorry about sleeping on the job on my end. I was, however, on time to catch Dizzy Reed's HOOKERS 'N BLOW as they started their set. The one-time GUNS 'N ROSES keyboardist along with Alex Grossi (QUIET RIOT), Johnny Kelly (TYPE O NEGATIIVE/DANZIG), Robbie Crane (BLACK STAR RIDERS), Mike Dupke (W.A.S.P./John Mellencamp) and the female blonde backup singer whose name never seemed to appear on any of the flyers I'd seen for this show launch into GNR's "Pretty Tied Up" as the opening number. For the next 45 minutes or so, HNB delivered a damn fine set of the GNR classics many of us who'd seen the GNR tour last summer had wanted on their setlist. True, they had to play "Sweet Child O' Mine" and "Don't Cry" anyway as they were some of GNR's best hits. Otherwise, the aforementioned "Pretty Tied Up" and the underrated lean sleazy number "Dust 'N Bones" were exactly what solidified the perfect GNR setlist. Reed's gritty vocals made for the perfect tone for "Dust 'N Bones", substituting former bandmate Izzy Stradlin's vocals on the track (also one of the rare GNR songs where Axl wasn't the main vocalist) and on other tracks, without even trying to match his predecessor's vocal range, he still churned out a decent rendition
of "Sweet Child O' Mine" and "It's So Easy". A surprise cover of Bowie's "Ziggy Stardust" also found its way in between the setlist and just about brought the house down. Elsewhere, Reed's own material such as "This Don't Look Like Vegas" and closing number "Rock 'N Roll Ain't Easy" proved that he was as much of the quintessential vocalist/songwriter as Axl was once given the chance. His backing band was also on cue, from Alex Grossi's decent Slash-inspired licks and solos to Robbie Crane's solid bass playing (and this being his first return to Ottawa since BLACK STAR RIDERS' tour with JUDAS PRIEST this past spring, he was as much at ease playing in a smaller venue like the Brass Monkey as he was at TD Place recently) down to Mike Dupke's ample drumwork. HOOKERS 'N BLOW, despite their claim of the hardships of rock 'n roll, delivered a performance that might not have come easy for them after over 30+ years or so in the business with their respected members, but the catharsis for that night certainly was easy for both the band and its audience to appreciate.
"When you're playing at a venue with 'monkey' in the name, you know you're gonna have a good time!" - Dizzy Reed speaking the truth
https://www.facebook.com/HNBMerch/
Following their five man acoustical jam out in Orleans, it was time for headliners THE DEAD DAISIES to be plugged in and resurrected as the electrified force to be reckoned with. It would probably explain why they really did open with "Resurrected" from their latest album Burn It Down but it set the pace for a consistent and entertaining show throughout the rest of the night. An equal balance of originals and covers dominated the band's set as the crowd favorites such as "Rise Up", "Mexico", the aforementioned "Dead And Gone" (make sure to give the video on YouTube a proper like, everyone!), "Make Some Noise", "Long Way To Go", "Leave Me
Alone" and several other songs known for their strut and swagger share the setlist with some high-energy renditions of "Bitch", "Fortunate Son" and "Highway Star" in between. Even during the introduction of the band members, there was a neat medley of assorted rock classics which acted as the intro songs for each member. And if that exhausting performance wasn't enough to satisfy the ecstatic crowd, it took an appearance by Dizzy Reed during the final encore as both him and the DAISIES conquer the last two songs of the night – two rambunctious covers of "Midnight Moses" by the SENSATIONAL ALEX HARVEY BAND and THE BEATLES' "Helter Skelter". The band members all looked like they were having as much fun on stage as the crowd were in watching them which made for the perfect show and setting.
While most supergroups are known to quickly extinguish themselves over a brief career spanning a couple of albums at most, it's a relief to know that in 2018, a band like THE DEAD DIASIES can both bring the fire live and in the studio to this day.
With special thanks to Chip Ruggieri (Chipster P.R.), Patrick Fynn (Long & McQuade Orleans), the News Monkey (Larry Petro), the Brass Monkey and the bands and the fans for making this event possible.
https://thedeaddaisies.com/
https://www.facebook.com/TheDeadDaisies/
Setlist:
"Resurrected"
"Rise Up"
"Make Some Noise"
"Song And A Prayer"
"Dead And Gone"
"What Goes Around"
"With You And I"
"Last Time I Saw The Sun"
Drum solo
"Fortunate Son" (CREEDENCE CLEARWATER REVIVAL cover)
"Devil Out Of Time"
"Highway To Hell"/"The Boys Are Back In Town"/"Rock And Roll All Nite"/"Smoke On The Water"/"Heaven And Hell" medley
"Leave Me Alone"
"Bitch" (ROLLING STONES cover)
"Mexico"
"Long Way To Go"
"Highway Star" (DEEP PURPLE cover)
Encore (with Dizzy Reed):
"Midnight Moses" (THE SENSATIONAL ALEX HARVEY BAND cover)
"Helter Skelter" (THE BEATLES cover)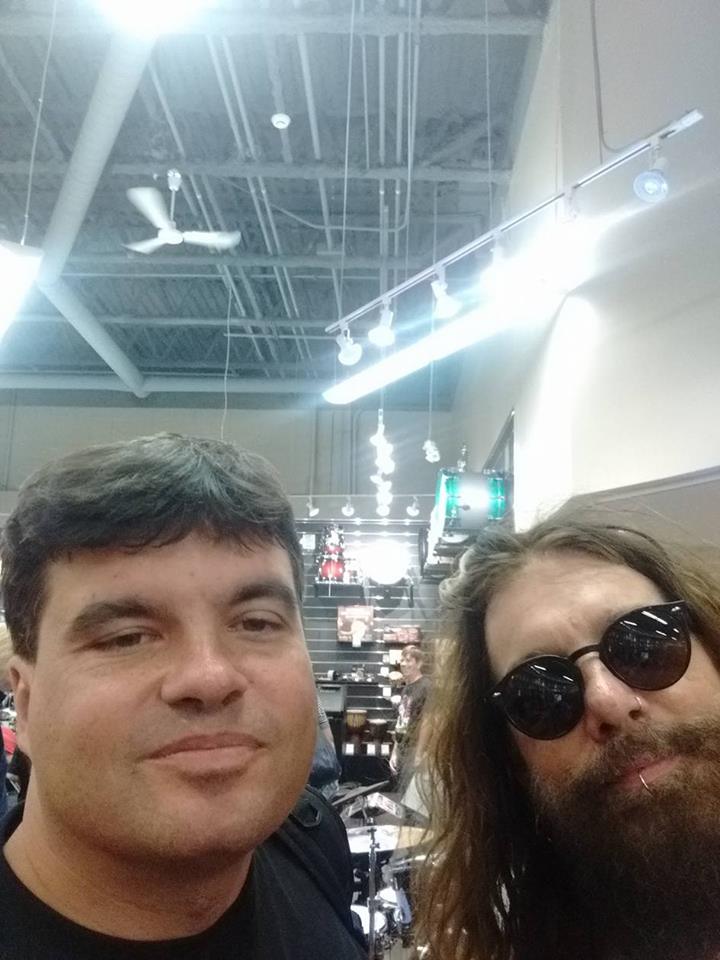 Please log in to view RANTS

If you don't have a username, click here to create an account!