CLUTCH, SEVENDUST In Houston, TX


By Rob McNees, Vinyl Aficionado
Monday, September 24, 2018 @ 1:02 PM


| | | |
| --- | --- | --- |
| | | At The House Of Blues |
Photos By Rob McNees
Sometimes a tour rolls into town and you think ďI just donít know if those bands are a good fit togetherĒ. Such was my mindset when the SEVENDUST & CLUTCH show rolled into town here in Houston, Texas on Friday, September 21st. In my mind I was thinking that musically theyíre polar opposites with SEVENDUST riding the Nu-Metal craze when they released their debut album in 1997, while CLUTCHís pure Rock fury debuted in 1992 with the Passive Restraints EP. But after watching the show and being throughly entertained by both bands, as I pondered about it on the long drive home it made much more sense. A good move on both bands because they ARE different, and what better way to bring your music to a different crowd that might not normally check your music out? It brought back to me memories of tours in my younger years that had the same polar opposite effect, like THE OUTLAWS/BLACK SABBATH tour from 1982.
The House of Blues was packed to the gills and it was a friendly, fun-lovin crowd who were definitely ready to rock! SEVENDUST had great sound and a full accompaniment of lights and smoke, and the crowd was really getting into it. Featuring songs "Pieces", "Face to Face" and the one big song that I remembered from them, "Denial", they put on a highly energetic performance that I bet garnered them a few new fans and solidified the love from the fans they already had.
Then came time for CLUTCH. Itís been a very long time since Iíve seen the crew from Maryland, and they have gotten extremely popular since my last show. But do not think that CLUTCH is resting on their laurels, because they came to kick some ass and that they most certainly did! Musically, CLUTCH are a hard band to pinpoint, which certainly is not a problem. I know some bands get irritated with being labeled as this or that, but with so many genres of music now I donít think itís a bad thing to be able to explain what type of sound a band has to someone who's never heard them before. But with CLUTCH you just cannot pigeonhole them in one genre. I just say kickass Rock music as I think that certainly covers it!
The crowd was restless and ready and when the lights went down, they were ready! If youíve never seen them before, CLUTCH is a no frills Rock band. No pyros or explosions, they let the Rock do the talking, and talk it did! Kicking things off with the opening track off of their brand spanking new opus Book of Bad Decisions, they stormed out to "Gimme the Keys" and like a PPV fight, it was on! Another new track "Vision Quest" followed and then the asskicking "Firebirds" from 2015ís Psychic Warfare and the crowd was going insane! Itís fun to watch the completely different stage personas with the animated Neil Fallon and axeman Tim Sult, who probably never moved more than a foot in either direction. But as I alluded to earlier, itís all about the songs and after "Escape From Prison Planet" is was a pleasant surprise to hear "El Jefe Speaks" come creepiní out from 1993ís Transnational Speedway League album. The newest album was well represented by "How to Shake Hands", as well as "In Walks Barbarella" and "Ghoul Wrangler" as well. It was almost destiny that the boys
had to play the groovy "A Quick Death in Texas" and the HOB was really rocking! The set ended with the smokin "X-Ray Visions" from Psychic Warfare but I doubt anyone there thought the band was done. With the band cooled down yet the crowd fired up, the boys dug into "The Mob Goes Wild" from Blast Tyrant and I gotta say now that the last 2 H-Town concerts Iíve been blown away by the crowd response!!! At CLUTCH and also ALICE IN CHAINS both the crowds were so loud and singing every word that literally the singers didnít have to sing a note as Houston was loud & proud!!! Well done indeed!! The final selection on the evening was "D.C. Sound Attack" from 2013ís Earth Rocker album and finished the show off in grand style!
The crowd was still buzzing as everyone made their exit or grabbed some swag and not an unhappy face was seen anywhere. And as Paul Stanley once exclaimed, ďThatís what Rock ĎNí Roll is all aboutĒ!!!
Support Live music and support your favorite bands. Till next time, keep it Heavy!!!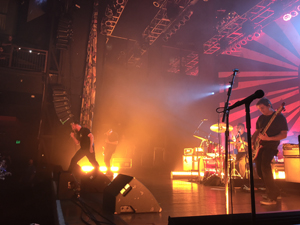 Please log in to view RANTS

If you don't have a username, click here to create an account!