IRON MAIDEN Album By Album Book


By Chris "Chili" Pirri, So Cal Contributor
Friday, January 11, 2019 @ 2:14 PM


| | | |
| --- | --- | --- |
| | | |
IRON MAIDEN: Album By Album Book
By: Martin Popoff
Voyageur Press




Martin Popoff has once again delivered us another outstanding book. In his previous books on RUSH and AC/DC he dissected the full studio albums by these bands. This time he tackles an even bigger challenge as he takes on the legendary heavy metal group known as IRON MAIDEN. All of us metal heads have sat around and discussed what is the best album put forth by the band one time or another. We probably even had a conversation of who is the best singer ever to front this iconic band who is still going strong and touring 44 years later.

Album by Album was put forth not to argue and slam forth why a certain album or song should be their best in their catalogue. It was to give us insight and stories behind the albums and songs. Not only do we get Martin's views, but we also get thoughts and anecdotes from other famous musicians and music journalists. Alice Cooper guitarist Nita Strauss, who once was in an IRON MAIDEN cover band called THE IRON MAIDENS, has some excellent feedback on some of Martin's questions. However getting in the mind of Blaze Bayley was quite enlightening, talking about some of the classic songs he sang on stage. It was odd not to hear his reflection on the two albums he accomplished with the band though. To me that is the only downfall of this book.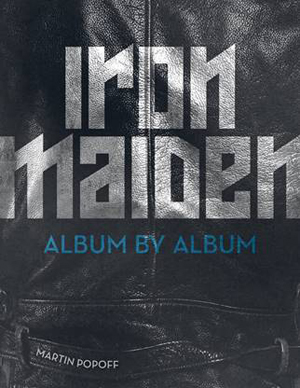 This book was made by a fan for the fans. Even if you don't like to read this is a book worth the price. There are hundreds of photographs of the band. The pictures range from backstage to the band goofing around in various locations that will have you laughing aloud. Not only do we get full color shots of their albums, Martin has also thrown in various tickets and tour posters that I have not seen before. Even Eddie is present. No book on IRON MAIDEN would be complete without their beloved mascot. Once I finished the book I went back and re-read it. This time I enjoyed it one chapter at a time and then listen to the album that I read about.
This is a very enjoyable book and does not feel like a chore to get through. Martin is one of my favorite authors in the music field. I highly recommend his other books on MOTORHEAD (Beer Drinkers and Hell Raisers: The Rise of Motörhead) and BLACK SABBATH (Sabotage! Black Sabbath In The Seventies).
5.0 Out Of 5.0

Please log in to view RANTS




YNGWIE J. MALMSTEEN, GLENN HUGHES In Worcester, MA With Photos!

ALICE COOPER Road

RAT ROD Four On The Floor

GIRLSCHOOL WTFortyFive?

DANKO JONES Electric Sounds

AVATAR, ORBIT CULTURE, THE NATIVE HOWL In Houston, TX With Photos!

THE DEAD DAISIES In Hollywood, CA With Photos!

KILL DEVIL HILL Seas Of Oblivion

THE DEAD DAISIES In Ottawa, Canada

MAMMOTH WVH In Santa Ana, CA

UADA Crepuscule Natura

BARONESS Stone

KAMELOT, BATTLE BEAST, XANDRIA In Houston, TX With Photos!

CRYPTOPSY As Gomorrah Burns

RAY ALDER II

GHOST, AMON AMARTH In Houston, TX With Photos!

U.D.O. Touchdown

DETHKLOK Dethalbum IV