Monster Magnet
Monolithic Baby!


By Mick Stingley, Contributor
Monday, July 12, 2004 @ 9:37 AM


| | | |
| --- | --- | --- |
| | | (SPV) |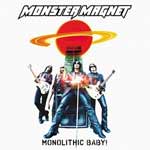 Monster Magnet is a band from Red Bank, New Jersey that came to prominence on the strength of such songs as "Negasonic Teenage Warhead" and "Space Lord." Brandishing a propensity for heavy guitars, long acid-rock lead runs, and singer Dave Wyndorf's growling, (coupled with his gift for snappy, cool, conversational lyrics that most Hollywood screenwriters would give their eye-teeth to be able to pen), MM have carved a nice little niche for themselves as a solid touring rock band with enough cool songs to satisfy even the casual listener.

It's been some five years since the release of their last disc, and notwithstanding record company issues; their debut on the German based SPV comes as a welcome surprise. The time off has clearly given MM a chance to write some fantastic stuff, and put together a great collection of songs to showcase their dedication to the craft of making great rock.

The "Limited Edition" version of the disc features a slipcover over a jewel case with both a DVD and a CD with a two bonus tracks. The difference in price is about two dollars more than the regular version, and well worth it. The DVD features two videos as well as concert footage and an EPK (Electronic Press Kit) with interviews and stills; the bonus tracks include cover of "Venus in Furs" and an update of their own "King of Mars" (simply called, "King of Mars 2004").

The single that went to radio is called, "Unbroken (Hotel Baby)" and while it rivals "Space Lord" in excitement and energy, it is only one of the many songs that blast the hard-rock vibe. Again, even a casual fan of this band, (i.e. anyone who only likes "Space Lord"), is likely to enjoy the music overall. The first seven songs ("Slut Machine," "Supercruel," "On The Verge," "Unbroken," "Radiation Day," "Monolithic" and "The Right Stuff") are just sensational, and the rest of the songs, while enjoyable, simply pale in comparison.

One of the things that make Magnet such a fun listen is, again, the lyrics. "Monolithic," for example, comes across as a scathing indictment of pop-culture and sounds like Dave Wyndorf was writing it simply to please rock critics. Whatever his inspiration, Wyndorf is nothing if not unique.

"You know you're quite a hot topic/
you've got a-nothing in your head/
you've got your ass in the back seat/
we are the the breeder overfed…
You're from the soft generation/
like a doggy with a bone/
you like your lame fuckin' music/
you love a-talkin' on your phone/
You're So Monolithic/I can smell it on your breath/ you got about a nothing to say
So buy your stupid garbage and love yourself to death/
'til Daddy takes your T-Bird away…"

This CD is worth the investment of twenty bucks at the local whatever; although it can likely be found cheaper online. To quote their tee shirts from the last tour: "Listen to Monster Magnet."

* * * *

Please log in to view RANTS




ALICE COOPER Road

RAT ROD Four On The Floor

GIRLSCHOOL WTFortyFive?

DANKO JONES Electric Sounds

AVATAR, ORBIT CULTURE, THE NATIVE HOWL In Houston, TX With Photos!

THE DEAD DAISIES In Hollywood, CA With Photos!

KILL DEVIL HILL Seas Of Oblivion

THE DEAD DAISIES In Ottawa, Canada

MAMMOTH WVH In Santa Ana, CA

UADA Crepuscule Natura

BARONESS Stone

KAMELOT, BATTLE BEAST, XANDRIA In Houston, TX With Photos!

CRYPTOPSY As Gomorrah Burns

RAY ALDER II

GHOST, AMON AMARTH In Houston, TX With Photos!

U.D.O. Touchdown

DETHKLOK Dethalbum IV

STEVE VAI In Ottawa, Canada

PANTERA, LAMB OF GOD In Houston, TX With Photos!

OVERKILL, EXHORDER, HEATHEN In Los Angeles With Photos!

PUPIL SLICER Blossom