DARKEST HOUR, UNEARTH, TRIPLE MURDER In Ottawa, Canada


By Andrew Depedro, Ottawa Corespondent
Wednesday, February 13, 2019 @ 8:53 AM


| | | |
| --- | --- | --- |
| | | Keeping It True To The 'Core: Bands Circle Up The Hordes At The Brass Monkey, February 2, 2019 |
Snow!

Circle pits!

Longer sets by the other bands after the AGONY SCENE were denied entry into the country!

This was the Death To False Metalcore tour which is currently blast beating its way across the continent. Explosive trigger blast beat drumming, 300 mph soloing and vocals about as clean as the AGONY SCENE's criminal record was the nucleus of the tour as the audience at the Brass Monkey that night was a sea of black T-shirts and skin tight jeans. The trimmed-down lineup didn't disappoint as the stage was graced with the first of three bands on the bill.

With their stage lights set to the highest level of red as they thrashed through their 30-minute set, local bangers/band who traveled the least distance to the venue, a.k.a. TRIPLE MURDER, were either reinforcing the power of their sonic bloodlust, or they were just eager to celebrate International Ginger Day a few months early. Likely the former if whiplash-inducing numbers such as "Drenched In Murder" and "Cannibalistic" are anything to go by even if the band must've felt like they were playing inside a rotating police car light. And being the only local band on the whole bill tonight, this was the chance for TRIPLE MURDER to seize success by the throat and shake their way to recognition. Judging by the shout outs they'd received from the other bands, TRIPLE MURDER's blinding rock performance killed in threes once more.

https://www.facebook.com/Triple.redruM/

Co-headliners UNEARTH had always had the distinction of appearing on lots of more highly-anticipated headlining bills over the course of their 20-year career – including, in some cases, stepping up to become the headlining band themselves almost each time I'd seen them play Ottawa. They'd subbed for GOD FORBID at a show on their 2001 tour when the latter had lost much of their equipment to theft following a show in Montreal the night before, and again in 2004, they covered for ALL THAT REMAINS on their tour after the original headliners were stranded in Montreal when their bus broke down. Each time, the Boston quintet managed to punch above their own weight and played like they earned the headlining slot through their own merits. And with their first tour underway since the release of their seventh album Extinction(s), the Boston quintet certainly kept true to their reputation of being one of the genre's most consistent bands. The core of the original lineup – frontman Trevor Phipps and guitarists Buzz McGrath and Ken Susi – perform with as much raw ambition two decades into their band's lifespan as they have back when I'd seen them conquer the stage at Barrymore's back on that fateful summer day in 2001. Along with their new rhythm section comprised of bassist Chris O'Toole and drummer Nick Pierce, UNEARTH's new material from Extinction(s) such as opening numbers "Incinerate" and "Survivalist" delivered as much of a powerful impact as their well-known numbers as "Giles", "Zombie Autopilot", "My Will Be Done", "The Great Dividers" and the closing number "Black Hearts Now Reign". McGrath and Susi responded back to their new rhythm section's rapid fire groove delivery with every improvised riff and solo they had in them while Phipps's voice was raw and well projected, whether he was singing or commanding orders for the crowd to start up a pit. And judging by the crowd's reception that night, Unearth are still surfacing and above two decades later, poised for headlining status.

That said, I wished I'd pushed harder to get an interview with the band to reminisce about those shows now…

https://www.facebook.com/unearthofficial/

Setlist:
"Incinerate"
"Survivalist"
"This Lying World"
"Never Cease"
"Endless"
"Watch It Burn"
"One With The Sun"
"Zombie Autopilot"
"Dust"
"Giles"
"My Will Be Done"
"The Great Dividers"
"Black Hearts Now Reign"
Despite UNEARTH having already demonstrated that their quest for the headlining slot has been long overdue, this tour would still remain the headlining domain of DARKEST HOUR, who, being from Washington, DC and seen as one of the founding bands of the metalcore genre, came jokingly "in peace" but left the stage in a state of devastation. With close to a quarter century of touring/recording experience to boast about, the quintet – comprised of frontman John Henry, guitarists Mike Schielbaum and Mike "Lonestar" Carrigan, bassist Aaron Deal and drummer Travis Orbin – were prepared for shutdown as they commenced their set with "Knife In The Safe Room" from their most recent and ninth studio album Godless Prophets & the Migrant Flora. As mentioned, the quintet don't take themselves too seriously – especially if your rhythm guitarist is sporting a black metal Like A Virgin-era Madonna T-shirt – but their intense performance definitely wasn't anything to laugh at. And in between their nine-album catalogue they were able to sneak in their own rambunctiously chaotic and heavy version of the DEAD KENNEDYS' "Nazi Punks Fuck Off" which they'd started rehearsing and later performed at two previous shows in Quebec.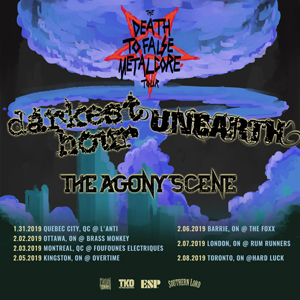 Other high-scoring points for the band would be when Mike Carrigan brought out a replica Dimebag Darrell Ibanez guitar customized in the same design as Eddie Van Halen's original Ibanez from the first VAN HALEN album. The instrument certainly got the job done as it was used during renditions of "Widowed" and "Those Who Survived". Also, Mike Schielbaum, being one of the two remaining members of the original DARKEST HOUR and well used to lengthy tours and ravenous audiences, never seemed distracted by the two girls in the audience who seemed to be flirting with him throughout his performance – or by their friend who ended up onstage for the last two songs of the evening attempting the famous Ashlee Simpson jig before trying her hand at stagediving as frontman John Henry kept belting out the lyrics to "Demon(s)" and "Tranquil", appearing bemused by it all. Not so much the security personnel when they had to assist in catching her twice during the band's set.
Still, all in all, for a genre that's been sporadically grabbing my interest off and on for the better part of 15 years, the Death To False Metalcore tour delivered on a promise of earnest and raw-sounding aggressive metal straight from the halcyon days of the New Wave Of American Metal era. And at a time when the whole metal scene has begun seeing off many of its original players on such a high scale over the past few years with the growing concern as to who will continue to stoke those proverbial embers, it's a relief to see more bands regardless of their own subgenres come together to keep the scene true and real.
That is, once they've cleared everything with customs.
Thanks to all of the bands who participated and to the Brass Monkey and its staff for bringing this tour to town.
http://officialdarkesthour.com/
https://www.facebook.com/DarkestHourDudes/
Setlist:
"Knife In The Safe Room"
"Convalescence"
"In The Name Of Us All"
"For The Soul Of The Savior"
"Savor The Kill"
"Sadist Nation"
"Rapture In Exile"
"Widowed"/"Those Who Survived"
"Nazi Punks Fuck Off" (Dead Kennedys cover)
"With A Thousand Words To Say But One"
"Demon(s)"
"Tranquil"




Please log in to view RANTS

If you don't have a username, click here to create an account!