LAST IN LINE II


By Andrew Depedro, Ottawa Corespondent
Tuesday, February 19, 2019 @ 8:10 AM


| | | |
| --- | --- | --- |
| | | |
LAST IN LINE
II
Frontiers Music SRL




Even after leaving behind a monumental 50-year career nearly a decade after his passing, the legacy of the late great Ronnie James Dio continues to flourish and grow. And in 2011, that same legacy began to take shape in the form of the first of several LA studio jam sessions amongst three of RJD's most esteemed musical songwriters – Vivian Campbell, Vinny Appice and Jimmy Bain, all of whose work on DIO's albums Holy Diver, The Last In Line and Sacred Heart remain the stuff of legends. Even after their first jam session together in 27 years, the trio discovered that not only were they still on top of their game, but their chemistry was as solid as ever. This led to a second recording session, but on this occasion the trio wanted to maintain the spirit of RJD with a frontman who could channel that same passion as their predecessor. Queue-er, cue the entrance of acclaimed singer Andrew Freeman, whose past work with diverse bands ranging from THE OFFSPRING to HURRICANE and LYNCH MOB appealed to the veteran trio, and copping their name from the title of DIO's aforementioned 1984 album, and LAST IN LINE were ready to cut in front of the pack. They started with a series of shows in and around LA, which eventually transpired into more continental tours, which in turn became some overseas tours in Europe and Japan; by mid-2014, LAST IN LINE were being scouted both by Italian label Frontiers Records to cut some albums of original songs and by longtime friend Jeff Pilson (DOKKEN, FOREIGNER) to produce them. Their impressive debut album Heavy Crown – featuring the hits "Devil In Me" and "Starmaker" – wasn't just a reflection of the new start that the fledgling supergroup were about to embark on in celebrating DIO's legacy; originally slated for release in January of 2016 and having made its debut on DEF LEPPARD's Hysteria On The High Seas, the album was marred by Jimmy Bain's own sudden passing during its promotion, leading to its release date being pushed to February and with Phil Soussan taking over from Bain.

Unabated and aware that both RJD and Jimmy Bain would want for them to keep their legacy alive, LAST IN LINE's current lineup kept busy with touring/recording commitments both inside the band and out. The end process has now culminated in their sophomore release simply titled II, with the band sounding more dynamic than ever and with Jeff Pilson's return to the production console, bringing out even more of the best from Freeman's fiery soulful vocals and the previously untapped harmony between Campbell, Appice and Soussan.

If Heavy Crown wasn't seen by listeners as enough of a full display of the wide berth of LAST IN LINE's powerful sound, they'll be pleasantly surprised by II's accomplishments. Freeman fully delivers on songs such as "Gods And Tyrants", "Give Up The Ghost" and lead-off single "Landslide" which can easily shoulder up against much of the classic DIO material, their lyrical imagery well defined for the ages. On faster numbers such as "Year Of The Gun" and the aptly-titled "Electrified", Freeman's past collaboration from touring with punk veterans THE OFFSPRING seems to have influenced Campbell's soloing and Appice and Soussan's rhythm work in a fine display of sonic heaviness that's easily adaptable in incorporating much of the freestyling DIY punk ethos – even though few, if any, fast thrashy-sounding songs with a punk rock vibe climax with a magnified soul-bearing vocal performance as Freeman's on "Electrified". Imagine BAD RELIGION being fronted by Paul Rodgers for a better perspective here.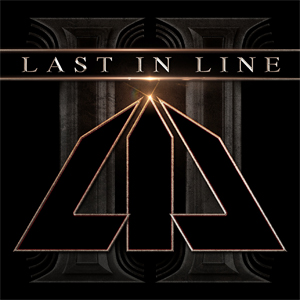 Further adding to the well-roundedness of this album would be "The Unknown", whose thumping and quirky intro would fit in well with almost every SYSTEM OF A DOWN song but without their overall complexities. "Blackout The Sun" incorporates a lot of the lumbering rhythm sound prevalent in much of SOUNDGARDEN's – and even a touch of STP's – early material thanks to Appice and Soussan's rustic primal grooves and Freeman's near-accentuation of Chris Cornell's own powerful vocal technique (and you'd be forgiven for wanting to nickname the song "Blackout The Hole Sun" to be honest), and at over 6 minutes, "Sword From The Stone" is well comparable to some of DIO's own work from the BLACK SABBATH/RAINBOW period; while not quite "Heaven And Hell" or "Stargazer", the song still hints towards that direction while charting its own course.
They might have had to endure more adversity and even tragedy than most aspiring supergroups starting out, but LAST IN LINE appear unfazed and more eager to push forward from start to finish on II and beyond. Even Ronnie and Jimmy would agree that LAST IN LINE have come full circle on their legacy strictly on their own terms without the need to sound or flash its own horns to come from last to first.
5.0 OuT Of 5.0
http://www.lastinlineofficial.com/
https://www.facebook.com/LastInLine

Please log in to view RANTS