BEAST IN BLACK From Hell With Love


By Daniel Höhr, European Correspondent
Tuesday, March 12, 2019 @ 10:51 AM


| | | |
| --- | --- | --- |
| | | |
BEAST IN BLACK
From Hell With Love
Nuclear Blast Records, 2019




This one's been sitting on the shelf for far too long now, so it's about bloody time to give BEAST IN BLACK's seminal album From Hell With Love a good listen. Having entered the metal scene with their 2017 debut album Berserker, the Helsinki-based five-piece are the living proof that the legacy of the 1980s is alive and kicking. Just like the debut, From Hell With Love combines bona fide heavy metal with earworm-inducing hook lines, flamboyant lead guitar work and lots of synth. And yes, there is also a good dash of pop music in there. The first three tracks on From Hell With Love, "Cry Out For A Hero", "From Hell With Love" and "Sweet True Lies", as well as the overly pop-infused "Die By The Blade" are exemplary of this style.

But BEAST IN BLACK also have other stops to pull. While "Repentless" is more reminiscent of Century Child-era NIGHTWISH and has more than just a passing resemblance to "End Of All Hope", the epic (and thoroughly cheesy) orchestral ballad "Oceandeep", complete with acoustic guitars, flute and a medieval folk feel, will definitely appeal to fans of RHAPSODY OF FIRE and other bands in that genre. Amid all the 80's synth sounds, there is also a great deal of neo-classicism, folk and power metal elements to discover.

And yes, you definitely need to put any "true metal" attitude aside and prepare yourself for quite a lot that is definitely regarded as "unmetal" in certain circles of the metal community if you want to enjoy this album. It is, however, absolutely worth it. "Unlimited Sin" will be regarded as such by the true metal faction but is great fun to listen to and so is "True Believer", a track that is drenched in 1980's AOR clichés, which can certainly be regarded as a virtue rather than a vice, as the successs of bands like THE NIGHT FLIGHT ORCHESTRA proves. "This Is War" brings back the medieval-style folk feel and anthemic vocal lines. "Heart Of Steel" is not a cover of the MANOWAR ballad but brings back the NIGHTWIAH reminiscences mixed with a good dose of FOREIGNER. As if to appease the headbangers, BEAST IN BLACK wrap up their second album with "No Surrender", an up-tempo rocker that, at least in the intro and the verse, is vaguely reminiscent of JUDAS PRIEST.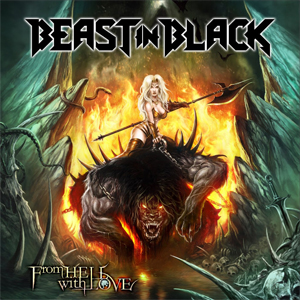 On From Hell With Love, BEAST IN BLACK coud have shown more development from their debut album but the stellar songwriting, awesome playing and, above all, the great singing make up for that. Kudos to vocalist Yannis Papadopoulos, who shows a wide range of different singing styles, vocal timbres and an exceptional vocal range. Together with Anton Kabanen's and Kasperi Heikkinen's virtuoso but always melodic lead guitar work and a tight rhythm section consisting of bassist Mate Molnar and drummer Atte Palokangas, he delivers 11 tracks that are really good fun, even though the concept does tend to get a bit repetitive after a while and some moments exceed my personal cheesiness tolerance level by a fair bit. Nevertheless, this album will hit the spot with AOR, W.A.S.P. and NIGHTWISH fans alike and may even appeal to 1980's pop music fans.
4.0 Out Of 5.0

Please log in to view RANTS