MEGADETH Warheads On Foreheads


By Geoff Ketler, Cleveland Contributor
Sunday, March 24, 2019 @ 11:03 AM


| | | |
| --- | --- | --- |
| | | |
MEGADETH
Warheads On Foreheads
AG Records




It has been a storied 35 years of thrash, evolution and sonic domination for the mighty MEGADETH. To celebrate this feat, a collection of 35 songs (see what they did there?) handpicked by the sole mainstay – vocalist and guitarist Dave Mustaine is being released in multiple bundles, packages including CD, digital and vinyl alongside extras such as shirts, hoodies, flight jackets, etc.

I am not going to re-hash MEGADETH history for you, I am sure most of us are quite familiar with the "Big 4" member's past as well as the group's relationship to other bands in the aforementioned "Big 4". With Warheads On Foreheads, Mustaine lays out the chronologic map from Killing Is My Business…And Business Is Good! to 2016's Dystopia. All facets of MEGADETH's career are conveniently packaged, ripe for the listening. Like never before the listener can navigate through the band's everchanging sound and hear Dave and Co go from "Mechanix" to dabbling in progressive rock with "Trust" and even over to the experimentation side with "Wanderlust" (thanks a lot Marty).

For the casual listener or someone who is perhaps new to the genre, this is a fantastic one-stop-shop to tickle your MEGADETH fancy. However, for the hardcore fans of the band, like myself, there is nothing new here and you likely already own all of these tracks in some capacity. You are simply paying for the convenience of the package deal. There are no smoke and mirrors, remixes, remasters, guest vocalists – no BS, or "previously unreleased" tracks, just the songs as they were originally intended, in order of release date.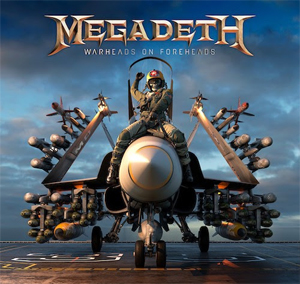 As for the songs themselves – there are a few "deep cuts" alongside the obvious selections. I was delighted to see "Set The World Afire", "Tornado Of Souls" and "Public Enemy No. 1" made the list. All of the regulars are in there; "A Tout Le Monde", "Symphony of Destruction", save for "Peace Sells…But Who's Buying". Where the hell is "Peace Sells"? …and "Sleepwalker" I might add. But I digress. It is also worth noting that this is the first MEGADETH anthology to include several of the new albums – that is the post radial nerve damage version of Dave Mustaine and MEGADETH albums. So if you have not kept tabs on MEGADETH for the past 15 years or so, Warheads On Foreheads will get you all caught up on what you have been missing.
Like I mentioned before – Warheads On Foreheads presents a tidy collection of some of MEGADETH's best work to date, but there really is not much more offered other than a multitude of packages, bundles and formats. This is an excellent option for new listeners. The rest of us droogies will just patiently keep waiting to hear news of that new album, hopefully later this year.
3.0 Out Of 5.0




Please log in to view RANTS

If you don't have a username, click here to create an account!