ALEXISONFIRE, THE OFFSPRING, THE DIRTY NIL At The Ottawa Bluesfest


By Andrew Depedro, Ottawa Corespondent
Tuesday, August 6, 2019 @ 5:51 AM


| | | |
| --- | --- | --- |
| | | Pretty Punk For A Blues Festival: ALEXISONFIRE, THE OFFSPRING And THE DIRTY NIL Burn Up The Ottawa Bluesfest, July 12, 2019 |
What would 2019 be without an annual report on the Ottawa Bluesfest a.k.a. Rock On The Range On The Rideau? Well, this year, at least, the headlining could've been a bit better leveled on the pure rock side of things – the BACKSTREET BOYS simply aren't headliner material to my ears – but with past headlining favorites either retiring from touring by choice (KISS, LYNYRD SKYNYRD) or no longer able to tour or record due to the loss of a founding key member (TOM PETTY & THE HEARTBREAKERS, THE TRAGICALLY HIP), one had to really dig deep for their pure rock fix with this year's lineup. As Rodrigo Y Gabriela would be playing on the same date I was working crowd control at a RedBlacks game and THE PSYCHEDELIC FURS don't meet KNAC pure rock criteria, this would be the closest to a KNAC Bluesfest review as one will get as it also meant working crowd control at the only rock/metal show at the festival.

Opening the festivities would be THE DIRTY NIL who were a garage rock/punk trio from Hamilton, Ontario known for their short yet fast-paced songs. Having honed their proverbial chops in the scene since their inception in 2006, the band have released two full-length albums to their name including last year's Master Volume and have even boasted a couple of opening slots for THE WHO among other legendary bands. Maybe credit a cleverly-titled EP from 2017 titled Minimum R&B that got Daltrey and Townsend's attention back then but their music also manages to stand well enough on its own merit. Their best known numbers throughout their energetic 18-song set included "That's What Heaven Feels Like", "Bathed In Light", "I Don't Want That Phone Call" and "No Weaknesses". And for the avid pure rocker among us still needing convincing that the aspiring trio are something more than ¾'s of a quasi-decent CLASH tribute band with mad-looking Devin Townsend-style skullets, their renditions of "Unchained" and "Hit The Lights" are surprisingly impressive when performed with reckless abandon and different tempos. Let's just say that, much as I adore their music, even THE CLASH in their halcyon days couldn't cover these KNAC staples in the same fashion as effortlessly as the NIL were able to during their Bluesfest inauguration. Zero the hero indeed.

https://www.facebook.com/thedirtynil/
https://thedirtynil.com/

If you're in California's Orange County right now and doing a double take on the order of this review – and, yes, I'm well aware that they've been played on KNAC even back when the station was terrestrial – this was the actual order of the bill which the bands and the festival organizers agreed upon. Hence why OC punk legends THE OFFSPRING have claimed the co-headlining slot on this bill. Insert any "keep 'em separated" joke here if you like as it ties in nicely regardless. That said, with their debut album Smash celebrating quarter century status this year, the plucky quartet fronted by the charismatic Dexter Holland covered their nearly 3-decade career nicely. Highlights included their post-Smash hits such as the punking-it-hard-to-the-Caucasian-hip-hop-wannabes "Pretty Fly (For A White Guy)" (and its clearly-copped intro from "Rock Of Ages" which the members of DEF LEPPARD have been cool with for the past two decades), the career-motivating "Why Don't You Get A Job?", a surprisingly decent piano interlude of the first couple of bars of "Gone Away" and a solid version of "Whole Lotta Rosie" to round out the setlist. Even from the perspective of someone who spent the whole concert honoring a volunteer shift working at the Coors beer tent ushering patrons in and out of the tent, this was a smashing performance which pretty much flew by for all of the right reasons.

Setlist:
"Americana"
"All I Want"
"Come Out And Play"
"It Won't Get Better"
"Want You Bad"
"Staring At The Sun"
"Whole Lotta Rosie" (AC/DC cover)
"Bad Habit"
"Gone Away"
"Why Don't You Get A Job?"
"(Can't Get My) Head Around You"
"Pretty Fly (For A White Guy)"
"The Kids Aren't Alright"
"You're Gonna Go Far, Kid"
"Self Esteem"
https://www.offspring.com/
https://www.facebook.com/Offspring/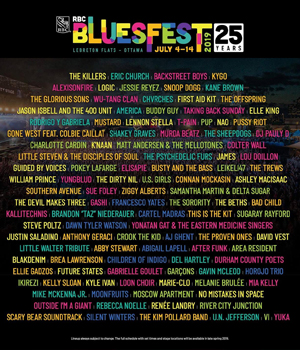 And speaking of pushing familiar drugs again, the night belonged to headliners ALEXISONFIRE as the St. Catherines, Ontario-based hardcore quintet, back from a prolonged hiatus lasting for about five years, took the stage with opening number "Accidents". Normally they'd be one of the last bands on such a bill that I'd go out of my way to see let alone review but on this occasion it looks like a sudden appreciation of their aggro-fused hardcore over time has tempered my general indifference to them. And not just because of the general lack of proper rock bands on this year's lineup but also since the band itself had been on an initial hiatus that was seen as permanent at first, mostly due to guitarist Dallas Green having been the first member to forge out his own solo career with troubadour project CITY AND COLOUR before the other members – Wade MacNeil (lead guitar), Chris Steele (bass), Jordan Hastings (drums) and George Pettit (vocals) – promptly followed afterwards, with their own side projects' success varying slightly compared to CITY AND COLOUR's. Eventually ALEXISONFIRE's sporadic comeback shows including a surprise performance during a show by fellow Canuck punksters BILLY TALENT in Toronto in 2017 culminated in a full-blown reunion which led to the recording of their comeback single "Familiar Drugs". And it would be the only new song among their rambunctious performance at Lebreton Flats as they played to a sold-out crowd of 20,000 fans.
From old crows and young cardinals alike, Pettit and his backing team of bulky-sized tattooed lumberjack musicians owned the stage and commanded the audience which even THE OFFSPRING would've been in awe of. His gritty unclean vocals fused well with Dallas Green's soft-sounding backing vocals (credit his own time with CITY AND COLOUR which helped with his own vocal delivery) as tracks such as "Boiled Frogs", "No Transitory" and "This Could Be Anywhere In The World" relied on both their voices for a solid delivery. Even the new song "Familiar Drugs" featured both Pettit and Green's impeccable vocal chemistry. Whether inspired by the famous footage of the wheelchair-bound concertgoer carried up by fans at a metal festival in northern Spain that's been circulating around the net recently, Pettit in turn invited a similar wheelchair-bound fan from the front row up to the stage – also assisted by fans and security personnel alike – as he declared each and every ALEXISONFIRE show as a safe space zone. Closing the set with a medley of "Happiness By The Kilowatt" and THE TRAGICALLY HIP's "Looking For A Place To Happen", ALEXISONFIRE's comeback seemed so universally Canadian (rather than being any place in the world) for all of the right reasons with even the concertgoers leaving as little of a mess as possible on their way out. Suggs from MADNESS would've been impressed especially after noting how clean the grounds were following their performance at the festival back in 2013.
In summary, ALEXISONFIRE never needed familiar drugs to make their return to familiar territory after all and made for a perfect culmination of the 2019 Bluesfest edition that appeared to be mostly dominated by rap and country.
Approved by this old crow on his own 10th Bluesfest volunteer anniversary.
https://theonlybandever.com/
https://www.facebook.com/AOFofficial/
Setlist:
"Accidents"
"Pulmonary Archery"
"Drunks, Lovers, Sinners And Saints"
"Boiled Frogs"
"Side Walk When She Walks"
"Rough Hands"
"Crisis"
"Control"
"Old Crows"
"To A Friend"
"We Are The Sound"
"The Northern"
"Familiar Drugs"
"Dog's Blood"
"No Transitory"
"This Could Be Anywhere In The World"
"Young Cardinals"
"Happiness By The Kilowatt"/"Locked In The Trunk Of A Car" (THE TRAGICALLY HIP cover) medley




Please log in to view RANTS

If you don't have a username, click here to create an account!