AIRBOURNE Boneshaker


By Andrew Depedro, Ottawa Corespondent
Monday, October 14, 2019 @ 2:04 PM


| | | |
| --- | --- | --- |
| | | |
AIRBOURNE
Boneshaker
Spinefarm Records




For many a seasoned country music fan, when one thinks of the legendary RCA Studio A a.k.a. Studio City in Nashville, the timeless music of Elvis Presley, Roy Orbison, Willie Nelson and Waylon Jennings among countless others who had recorded some of their earliest and best-known raw-sounding material comes to mind, their framed photos and gold and silver records adorning the building's hallowed walls. Even back in 1973, Dolly Parton recorded both "Jolene" and "I Will Always Love You" (which Whitney Houston later turned into 1992's most inescapable song in The Bodyguard) in the 5,000 square foot studio in one day.

Fast forward from the halcyon days of the 50's to the 70's when country music was raw and lawless-sounding to, well, this past April when the members of plucky Australian quartet AIRBOURNE showed up at 30 Music Square West with little more than a pocketful of riffs and a burning desire to make the truest rock 'n roll record of their 16 year career – and thankfully an invitation by six-time Grammy Award-winning producer Dave Cobb, best known for his work with country superstars Chris Stapleton, Brandi Carlisle and Sturgill Simpson. Any other band attempting a similarly bold move would've been shown the door, but Cobb wanted to challenge himself by recording a full-tilt, earth-shaking, balls-to-the-wall hard rock band – the kind of band which had set his pulse racing as a teenager growing up in Savannah, Georgia. And AIRBOURNE just simply like the thrill of a challenge, having paid their own musical dues starting from playing in bars in and around their hometown of Warrnambool, Victoria State. If they could survive a couple of years practically living the lyrics to "It's A Long Way To The Top" by their musical spirit guides AC/DC during the early stages of their career with 24-hour long drives to the nearest local watering hole full of rough-looking patrons who aren't big fans of music interrupting their drinking time, the band could easily survive Nashville.

But the question on many hard rock/metal fans' minds lingers: Will AIRBOURNE's identifiable high voltage sound survive the influences of the birthplace of country music following the release of their fifth studio platter Boneshaker recorded in the same studio?

Well, for starters, with their previous four albums stemming from 2007's debut album Runnin' Wild having sold well over 1 million copies and beyond on the first day of release and having played everywhere from the Wacken Festival in Germany (where the video for the title track was filmed) to opening slots for the ROLLING STONES, AIRBOURNE are not about to alter their credo of "Rock 'n roll for life". And the list of Dave Cobb's previous clients, despite thankfully being as far removed from mainstream country as possible, also suggests that Cobb himself is a producer who relentlessly pursues the rawest-sounding aesthetic from the artists he's worked with. "Cobb is a rock 'n' roller at heart," explains frontman/guitarist Joel O'Keefe, "When he was growing up, he was learning the same AC/DC and LED ZEPPELIN riffs that I was learning growing up, on the other side of the world." Doesn't exactly scream "Steel guitars and duets with Tim McGraw" to me, but Boneshaker lets the music do the talking here. As it should.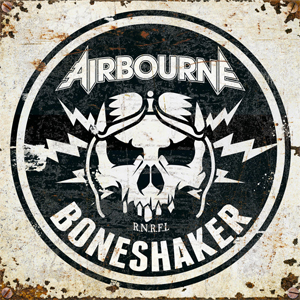 The title track opens the fierce-sounding album, an ode to the faithful AIRBOURNE fanbase for backing the band for many years and giving off as much of a loud vibe as the band gives back (hence why the video was filmed at Wacken). Joel's vocals are surprisingly more focused and magnified-sounding than ever before thanks to Cobb's idea to have him record all of his vocals with a hand-held mic (for anyone who's seen Joel perform, he's otherwise comfortable with both singing/playing in the same manner that James Hetfield would be when in the studio). With Joel's brother Ryan (drums), Justin Street (bass) and Mike Harrison (guitars), AIRBOURNE's adaptation into the outlaw country spirit on Boneshaker is practically effortless. And it helps that the proverbial territory is somewhat familiar in parts. "Blood In The Water" is a menacing prison rocker best described as '74 Jailbreak-era AC/DC meets Merle Haggard thanks to Joel's snarling vocal intro. "This Is Our City" is an ode to their former stomping ground of Melbourne, though with the enthusiasm on the track, the band may as well be referencing Nashville itself for its equal levels of musical inspiration. "Burn Out The Nitro" even reflects the influence of Nashville's surroundings due in part to the western twang that Joel adopted for the song's intro. Not without its cheeky sense of humor either, tracks such as "Sex To Go", "She Gives Me Hell" and "Backstreet Boogie" are abound with the playful lyrical double entendres which both AIRBOURNE and AC/DC are always dependable for.
Finally, the closing number "Rock 'N Roll For Life" is AIRBOURNE's own mission statement finally put into music form and likely to be a popular closing number for future tours. They're probably already closing shows on their current European tour with this song as we speak, its mantra of no shame, no surrender, no regrets, no wasted moments prevalent throughout the album as much as it is in the song itself.
And sometimes, willful spontaneity is just as important as meticulous detail in achieving the best possible success. No bones about it.
5.0 Out Of 5.0
http://airbournerock.com/
https://www.facebook.com/airbournerock




Please log in to view RANTS

If you don't have a username, click here to create an account!