Trans-Siberian Orchestra Live in Seattle


By Chris Slack, Contributor
Monday, January 3, 2005 @ 2:11 PM


| | | |
| --- | --- | --- |
| | | Trans-Siberian Orchestra Live |
Hello faithful readers, Santa Chris is back with his annual review of the Seattle stop of the west coast touring company of Trans-Siberian Orchestra's tour. This year the show was after the official holiday so it seemed a bit odd as I have grown accustomed to the show being a part of my family's pre-holiday festivities. No matter though, the spirit was still fresh in the air, so much so that I gave my comp ticket (I already had purchased four) to a person who was panhandling to try to get enough cash together to get into the show. Ah, the kindness of strangers…

While hanging around by the mixing board in the back of the arena waiting for the show to begin I was once again amazed at the diversity of the crowd; senior citizens, parents with small children, crusty metalheads with faded Savatage tees, people dressed to the nines and every other type known. This is a testament to the ever-growing appeal of the band who just a few years ago were playing in venues which could only hold a couple of thousand; it's rare that a hard rock act can transcend cultural boundaries in such a fashion.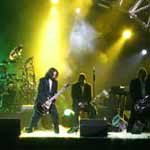 After Al Pitrelli and some local radio personality came out to present an oversized check to a local charity (TSO donates one dollar from every ticket sold) the house lights dimmed and the members of the group took the stage. The men were dressed in their traditional tuxedos and the women were sporting new gowns for this year's tour, which were quite flattering to say the least. They started the set with the instrumental "Wizards in Winter" from their latest album "The Last Christmas Eve," a nice change from the "Boughs of Holly" opener that they've been using year after year. Anthony Gaynor then got the spotlight with his incredible speaking voice to set the stage for the "Christmas Eve and Other Stories" segment of the show, something fans have come to expect over the years as it's what the band is best known for. I returned to my seat just as "First Snow" began and was treated to a nice snowfall which lightly dusted the first ten or so rows up seats. While the band played the tale of "Christmas Eve…" with the perfection that is expected from a close knit group of musicians the star of the show was once again Anthony Gaynor who delivers his narration with such conviction that one would have to be a truly cold person not to be affected by the heartfelt emotions conveyed by his words. Although this was the same "Christmas Eve…" that has been performed year after year I feel that with the latest light show (designed by Bryan Hartley, lighting director for KISS and numerous other acts) this was the best performance of the story to date.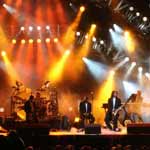 The spotlight was then turned on Tommy Farese who introduced the various members of the group, however there were a few very loud people in the audience which brought a more comedic vibe as this gave him the chance to joke around with off the cuff responses to said audience members. The soulful Michael Lanning then returned to the stage for a high energy rendition of "Christmas Nights in Blue" which seemed to have the effect of helping the audience to unwind and cut loose a bit, then transitioned to a cover of "With a Little Help from my Friends" which, thanks to the gravelly voice of Mr. Lanning sounded a lot more like Joe Cocker than The Beatles. We were then treated to a very progressive instrumental that I haven't heard before although it sounded a lot like something Emerson Lake and Palmer would play. Skipping ahead a bit, the next big highlight was "Beethoven" and "Requiem (The Fifth)" where the group brought out the big guns (literally) in the form of a huge pyro show that could possibly make KISS envious. There were easily four times as much fire and fountains as last year, extending well past the sides of the stage and startling a lot of people who didn't seem to be expecting it. The encore started off with some very entertaining keyboard dueling courtesy of Jane Mangini and Carmine Giglio which led into "Wish Liszt." The evening was concluded with a reprise of "Christmas Eve (Sarajevo 12/24)," a perfect capper for an almost perfect evening of hard rocking holiday entertainment.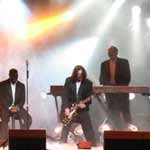 The only criticism of the performance I have is that the volume was way too low for my metal ears. I can understand the band wanting so spare the tender ears of those who aren't necessarily accustomed to arena rock but in my opinion they need to crank it up a bit for maximum impact. Regardless of that minor detail TSO still delivered the best live performance I have seen to date, once again putting the pervious year's concert to shame. Tran-Siberian Orchestra will be releasing a new non-seasonal album sometime in 2005, if they tour for it (and maybe "Beethoven's Last Night" some of you who are turned off by the whole holiday theme should check them out, this is one band who I feel should not be missed by any self-respecting hard rock fan.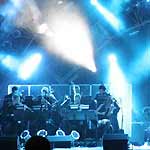 Set Liszt:
Wizards in Winter
An Angel Came Down
O'Come All Ye Faithful / Holy Night
Prince of Peace
First Snow
A Mad Russian's Christmas
Christmas Eve (Sarajevo 12/24)
Good King Joy
Ornament
Old City Bar
Promises to Keep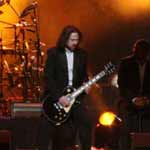 This Christmas Day
An Angel Returned
Christmas Nights in Blue
With a Little Help from My Friends
Unknown Composition Instrumental (Emerson Lake and Palmer cover?)
A Last Illusion
An Angel's Share
Mozart
Christmas Canon Rock
Carmina Burana
Queen of the Winter Night
Beethoven
Requiem (The Fifth)
Wish Liszt (Toy Shop Madness)
Christmas Eve 12/24 Reprise

Click on the photos to enlarge!
(Photos © Chris Slack)

Please log in to view RANTS




RAT ROD Four On The Floor

GIRLSCHOOL WTFortyFive?

DANKO JONES Electric Sounds

AVATAR, ORBIT CULTURE, THE NATIVE HOWL In Houston, TX With Photos!

THE DEAD DAISIES In Hollywood, CA With Photos!

KILL DEVIL HILL Seas Of Oblivion

THE DEAD DAISIES In Ottawa, Canada

MAMMOTH WVH In Santa Ana, CA

UADA Crepuscule Natura

BARONESS Stone

KAMELOT, BATTLE BEAST, XANDRIA In Houston, TX With Photos!

CRYPTOPSY As Gomorrah Burns

RAY ALDER II

GHOST, AMON AMARTH In Houston, TX With Photos!

U.D.O. Touchdown

DETHKLOK Dethalbum IV

STEVE VAI In Ottawa, Canada

PANTERA, LAMB OF GOD In Houston, TX With Photos!

OVERKILL, EXHORDER, HEATHEN In Los Angeles With Photos!

PUPIL SLICER Blossom