NIGHTWISH Decades: Live In Buenos Aires


By Daniel Höhr, European Correspondent
Monday, December 16, 2019 @ 12:00 AM


| | | |
| --- | --- | --- |
| | | |
NIGHTWISH
Decades: Live In Buenos Aires
Nuclear Blast (Warner), 2019




So this is what Saint Nicholas left in my polished boot this year: Decades: Live In Buenos Aires. The concert contained in this impressive blu-ray/2CD package was filmed and recorded on Sunday, 30 September 2018 in Buenos Aires, one of the highlights of NIGHTWISH's 2018 tour through 82 cities in Europe, North and South America on the back of their Decades compilation to celebrate the first 20 years of the Finns' band history. Filmed with 19 cameras, the blu-ray will throw you right into the show. If you haven't seen NIGHTWISH live, this release won't make up for it – no decent concert video or live album does – but it will surely make you think twice next time you decide to skip a NIGHTWISH show. On this release, the sextet serve you a visual and musical feast that will nicely see you through the winter holidays, especially when you can't be arsed spending time with your family, having dreary conversations and basically overeating. And even if you enjoy that sort of thing, NIGHTWISH are exactly the sort of family-friendly band whose live performances can be enjoyed by the whole family, so you might even stick this blu-ray/2CD on after Christmas dinner when everyone is having a well-deserved digestif.

Apart from being family friendly, the 21 tracks on this live release won't leave any doubt as to why NIGHTWISH are the undisputed symphonic metal titans they have become. From the intro, the celtic folk instrumental "Swanheart", to the concluding epic "Ghost Love Score", NIGHTWISH take you through the many highlights of their career, which has been marked by constant musical development as well as by a few line-up changes. Each of the band's eight studio albums is duly represented on Decades: Live In Buenos Aires, from the tinkling power metal of the early days such as "Gethsemane", "Sacrament of Wilderness" and "Elvenpath" to more recent cinematic epics such as the 16-minute composition "The Greatest Show on Earth". And of course there is also many a breathtaking, goosepimple-inducing moment on this live release: take the longing "Come Cover Me" or the eerie "Dead Boy's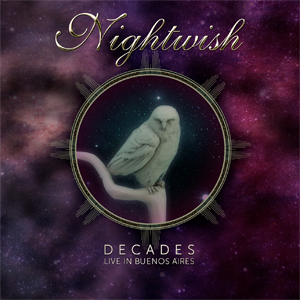 Poem", beautifully sung, initially almost whispered, by Floor Jansen. While the Dutch singer shines through all the tracks she sings lead vocals on (I hardly miss Tarja, even on what used to be her signature songs, I have to say), her voice blend's perfectly with bass player Marco Hietala's (e.g. on "Wish I Had An Angel"), who is also a formidable lead vocalist, as evident on "The Carpenter". Whatever they do, NIGHTWISH's sound is big and mighty on this release but at the same time so transparent and well balanced that you can easily follow each instrument. The hot atmosphere of that Argentinian night will spill over, regardless of whether you're watching the blu-ray or listening to the CDs – the passionate enthusiasm of the Buenos Aires crowd and the Finns' fiery performance blend to a unique and captivating live experience.
Decades: Live In Buenos Aires is a grand live release, musically, sonically, and visually. It is a landmark in NIGHTWISH's history and gives us every reason to believe that the Finns have many more epic deeds in them. So you may want to put this on your wish list for Christmas or just buy it regardless of the season, you won't regret it. The only thing I regret is that I have already handed in my list of 2019 top ten picks, because Decades: Live In Buenos Aires should most definitely have been included. But as the year is almost over and this live release will certainly accompany me well into 2020, it is certainly the first candidate for my list next year.
5.0 Out Of 5.0

Please log in to view RANTS




YNGWIE J. MALMSTEEN, GLENN HUGHES In Worcester, MA With Photos!

ALICE COOPER Road

RAT ROD Four On The Floor

GIRLSCHOOL WTFortyFive?

DANKO JONES Electric Sounds

AVATAR, ORBIT CULTURE, THE NATIVE HOWL In Houston, TX With Photos!

THE DEAD DAISIES In Hollywood, CA With Photos!

KILL DEVIL HILL Seas Of Oblivion

THE DEAD DAISIES In Ottawa, Canada

MAMMOTH WVH In Santa Ana, CA

UADA Crepuscule Natura

BARONESS Stone

KAMELOT, BATTLE BEAST, XANDRIA In Houston, TX With Photos!

CRYPTOPSY As Gomorrah Burns

RAY ALDER II

GHOST, AMON AMARTH In Houston, TX With Photos!

U.D.O. Touchdown

DETHKLOK Dethalbum IV

STEVE VAI In Ottawa, Canada

PANTERA, LAMB OF GOD In Houston, TX With Photos!