APOCALYPTICA
Cell-0
Silver Lining Music




Finland's symphonic cello-metal group APOCALYPTICA is back with their first instrumental album in 17 years. Their 9th studio album Cell-0 is set to release January 10th.

APOCALYPTICA debuted in 1996 with Plays Metallica by Four Cellos . There wasn't a Metal-neoclassical group like them. All members studied classical music at prestigious Sibelius Academy in Helsinki. Crossing different genres of music seems to be effortless for these talented musicians. This prodigious quartet consists of Eicca Toppinen, Perttu Kivilaakso, Paavo Lotjonen and Miko Siren.

Cell-0 is a conceptual album, an environmental concept. "It's tough to express without lyrics, but in Cell-0, we found particles of our universe previously unknown to us," they explained. Millions of notes combine to create music just as millions of cells combine to create life, and when you visualize the whole thing, similar patterns appear. Were worried about the facts and what's going on in the world. Humans have lost the understanding and respect for the fact we come from a system, and we are not the system." - Cell-0

There are 9 songs on Cell-0. The 1st single released along with a video was "Ashes of The Modern World". Cell-0 sees the band soaring into ethereal space on "Ashes of The Modern World", while diving headfirst into aggressive thrash 'cello-riffery' during "En Route to Mayhem". Eicca Toppinen - "These new songs have so many layers and are so complex, and its not always easy to point exactly what they are about. But I think that's the beauty of instrumental music, that the listener always can feel free to experience the same songs in very, very different ways. It's also one reason why we don't want to explain the songs before they're experienced."

What Eicca says about not explaining the new songs leads me into my overwhelming feelings that I kept going back to when I heard each song. You get lost in the music and don't even miss or care that there are no lyrics. When I listened to the first song "Ashes of The Modern World" I was immediately consumed with thoughts of the movie War of the Worlds. Several songs on Cell-0 in my opinion fit into different parts of that movie. I completely understand the environmental awareness issues that APOCALYPTICA feels strongly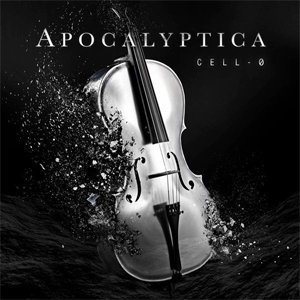 about. When I say this album could have been the soundtrack for War of the Worlds I'm aware the environmental issues that the band advocates for are different than what happens in the movie but I kept hearing "En Route to Mayhem" when the aliens were scooping up humans and sending them back to the ground, now becoming part of the Earth. "Ashes of the Modern World" is what I listened to as I remembered the scene in the beginning when the storm comes and it all starts and the Earth is changed forever.
I know my cross reference to the movie seems a bit odd but in W of the W's Earth lacked the lethal pathogens to defeat the invaders or those sent to destroy the planet. The narrators quote at the end of the movie sums up our crisis with our planet and environment. When I read the quote, I can hear "Beyond the Stars". "From the moment the invaders arrived, breathed our air, ate and drank they were doomed. They were undone, destroyed after all of mans weapons and devices had failed, by the tiniest creatures that God in his wisdom put upon this earth".
This album is an absolute masterpiece. It has such perfect composition and each song just blends into the next. You literally feel the music. "Rise" is hauntingly beautiful. I honestly got emotional listening to this entire album. I am biased towards APOCALYPTICA. I have had the pleasure of seeing them live a few times and they truly are phenomenal. You go on a personal journey listing to every song. Their North American tour starts in May of 2020.
5.0 Out Of 5.0